For many families, the dining room is the space in the home where the family gathers. It's where you eat dinner, do homework, play board games, and have tough conversations. Dining rooms are also hubs for get-togethers with friends. While there's a place for formal dining rooms, there's a need for cozy and welcoming dining rooms, too.
If you want to design a dining room that invites friends and family to stay awhile, here are six tips for creating a cozy and welcoming dining room.
Tip #1: Opt for a Round Table
Most people default to a rectangular table, because it's the standard, most-popular option, but round tables tend to allow for more natural conversation. This need for better and more comfortable interaction is why large groups and families prefer restaurants with round tables. There's plenty of space, while still promoting an inclusive flow of conversation.
Additionally, for your dining room, round tables make board games and food sharing easier. They're also optimal for smaller dining rooms as round tables often take up less space and contribute to a better overall flow.
Tip #2: Think About the Lighting
Lighting is a huge component of interior design. In fact, not having enough light in your home can contribute to depression. On the other hand, good lighting can cause an uptick in mood and energy. When we're talking about the dining room, lighting contributes to appetite. Soft light tends to make people more relaxed and more apt to eat a little more food. So, if you want a cozier dining room, go for softer lighting.
Natural lighting has also been shown to improve mood and increase people's overall emotional well-being. So, if you have a window in your dining room, design your space in a way that highlights and allows the flow of natural light.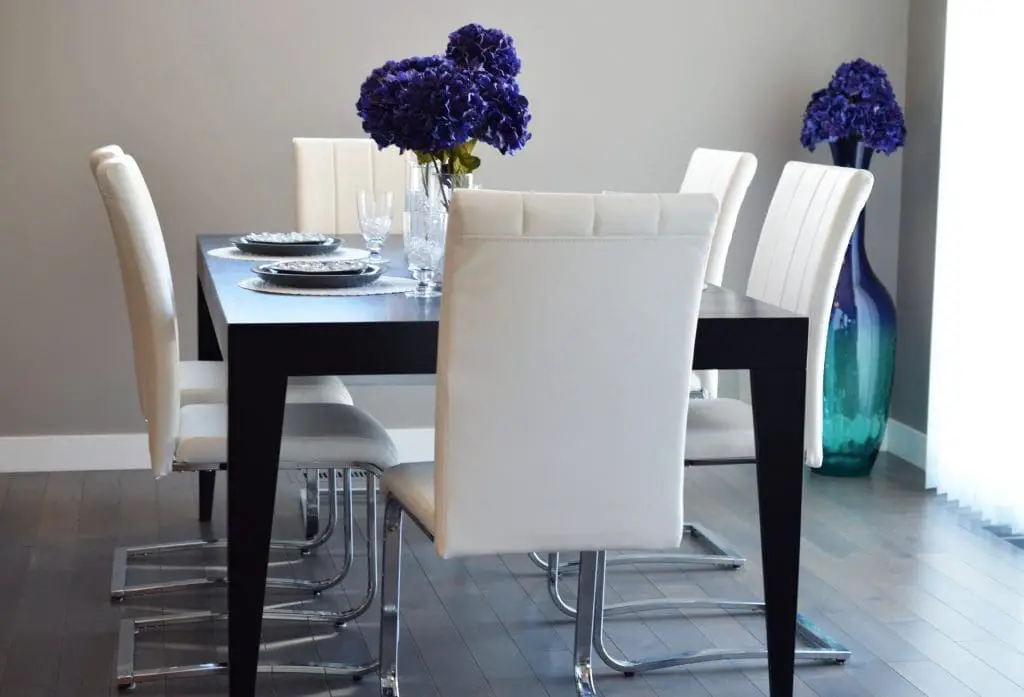 Tip #3: Add a Rug
While a rug in the dining room might sound like a nightmare if you have small children, rugs can add a sense of warmth and comfort to any space. When you add a rug to your dining area, it's not only cozy; it's unexpected.
You typically see rugs in dining rooms with more modern design aesthetics. So, if your motif is already modern, then there's even more reason to add a rug.
Tip #4: Choose Warm or Cheery Colors and Textiles
You have a couple of color choices for your welcoming dining room. You can go with warm, deep colors, like a forest green, rich cream, or a deep brown. These colors are cozy and warm. If you have a small dining room, you want to be careful with dark colors, because they can make small spaces feel even smaller.
The other option is going with a neutral, and adding pops of bright, happy colors, like yellows or oranges. You can add these pops via furniture, wallpaper, painted on stripes, curtains or framed textile art.
Tip #5: Add a Couch
A couch in the dining room? While it sounds a little unorthodox, a sofa in the dining room is a perfect element to warm up a space. Now, this is for those of you that are craving a truly comfortable vibe. You can add a couch either to an available wall or use the couch instead of chairs for one side of the table.
If you decide to use the couch as a chair alternative, you'll want to make sure that the height of the table and the height of the couch work together before making any purchases. You don't want guests to be unable to reach the table.
Tip #6: Decorate with Pictures and Quirky Knick-Knacks
Personalize your space by hanging up pictures. Nothing makes a space more inviting than by infusing personality into it. Rooms that lack personal elements and touches feel colder and more uninviting, so by having pictures around your dining room, you'll immediately create a warmer vibe.
Also, quirky knick-knacks serve the same purpose. You can display these knick-knacks in a cabinet or on a shelf, or even in the center of the table. Adding eccentric decorations to your dining room helps show your guests that you're fun and approachable.
Create a Welcoming Dining Room Today!
Designing a cozy and welcoming dining room doesn't have to be complicated. If you follow these six interior design tips, you'll be well on your way to creating a warm dining room that your friends and family will want to visit.