Yes, Zac Efron might have officially left his home in Los Angeles to settle permanently in the "Land Down Under." But the abode he left at Los Feliz, L.A. is definitely worth a quick look. Having starred in a wide range of films (from adventure to horror and teen romance), his home definitely exudes his taste and preference as an artist.
In this post, we'll go through the stylebook and features of Zac Efron's home. Who knows his home's design could inspire your next dream home project.
Structure, Cost, and Neighborhood
Efron's two-story Los Feliz perch home is a mid-century modern property built in the 1960s. He bought it in 2013 for a price of $4 million and sold it for $5.3 million in 2021. That means he'll walk away with a profit of more or less $1 million, which is already a hefty addition to his cash when he settles down in Australia. Listings usually describe the home as a "stylish Zen contemporary compound."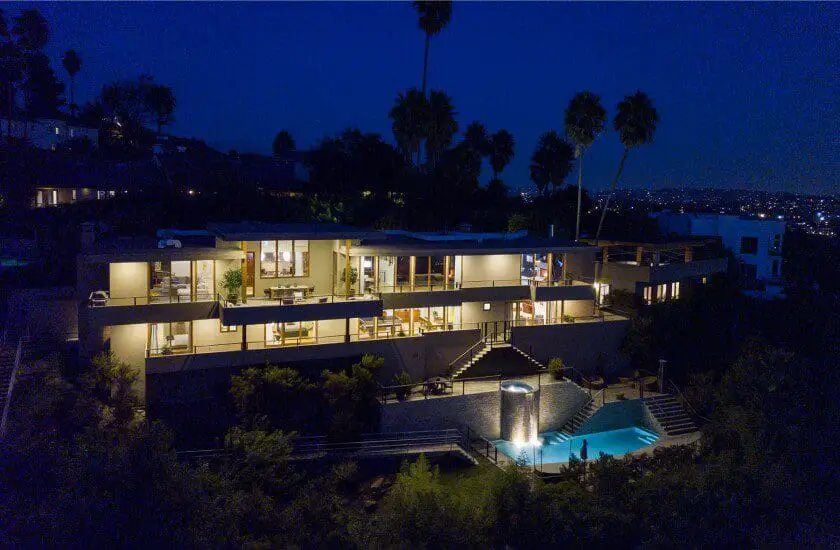 The Los Feliz neighborhood is also a prime location that attracts both up-and-coming and established creatives. Hip shops are abundant, as well as watering holes, and cafes. It is also where you can find a pair of Frank Lloyd Wright's iconic homes. Griffith Park, The Greek Theater, Vista Theater, and Griffith Observatory are other must-visit spots in the neighborhood.
Zac Efron House Interior
Zac's 5,644-square-foot property in Los Feliz is nothing short of luxury and style. Yes, it is definitely spacious with its 5 bathrooms and 5 bedrooms. The interior features an open-plan layout with the chef's kitchen, the dining area, and the living room adjoining the family room. On the main level, you can find the spa-like bathroom.
The home also features sparsely furnished living areas with floor-to-ceiling windows, glossy wood floors, and numerous personal touches. The "Down to Earth" star also has a collection of skateboards, which he hangs over the stairwell next to the dining area. He also displays a painting of Bruce Lee in the foyer. One corner of the family room also boasts a vintage pinball machine.
The main-floor bedroom's color scheme is a stylish shade of charcoal. It also has floor-to-ceiling windows and a fireplace. The bathroom is spacious and wrapped in a decadent mix of faux-crocodile wallpaper and slate tile.
Exterior
When viewed from a distance, Zac's hillside property exudes Hollywood glamor. The home's floor-to-ceiling glass doors, view decks, and terraces also afford panoramic city views. These are perfect areas for get-togethers with friends and family, especially for outdoor dining and lounging.
At night, one can see the breathtaking city lights from the property. And during the day, the home looks like every bit a majestic mansion as one drives toward it.
The backyard has 2 sets of stairs. One leads to a spa, and the other goes straight to the swimming pool. The pool was recently renovated and added with a spa with a waterfall.
Other Notable Features and Amenities
As a modern home, Zac's compound has a distinct indoor-outdoor flow due to its open-floor plan layout. It has long decks that either wrap around a side of the house or open up into an area with a scenic view.
As a multi-faceted artist, Zac also added a lot of personal touches to his property. His property truly manifests his love for adventure, sports, and performing arts.
He turned his contemporary interior walls into a gallery for his collection of artworks, skateboards, and sports memorabilia. He also has a media room and a wine cellar. His spacious game room is located on the lower level. It has a lounge, ping pong table, and other game equipment.
Aside from the main house, the property also has a one-bedroom one-bathroom guest house, which Zac converted into a fitness and gym room.
Safety is also foremost on the mind of the High School Musical star. He equips his home with security cameras.
Yes, by the looks of it, it is easy to say that Zac's Los Feliz perch is too good a property to let go. The property has everything one needs to have fun even without going outside the house. However, the actor is already set on selling the property before relocating to Australia permanently. Perhaps, the surf-centric and scenic Byron Bay, which he said is going to be his next home, is also too good a place to miss for the actor. Just be sure to stay tuned for any updates on the design, features, and architectural style of his next property.
Who Else Owns A Home In L.A
Here on strangebuildings.com we wrote about Denzel Washington's House, Billie Eilish's House, Zendaya's House and Demi Levato's House all located in L.A.