Even before turning 20 years old, Shawn Mendes already has three singles that landed on the top spot of different music charts. And as a 3-time Grammy-nominated music recording artist, he's already flaunting a very fat paycheck from his advertising deals, concert tours, movies, and other appearances. No wonder he was able to invest (even at a young age) in premium real estate properties, the latest of which is his penthouse in downtown Toronto.
Downtown Toronto Penthouse
His recent property acquisition cost him an astonishing $1,750,000 downtown Toronto penthouse. But it's totally worth it. The penthouse is located in one of Toronto's best areas. And it's on top of one of the best viewpoints of the city. The building was built in 2011. And Shawn's space has 3 bedrooms and 2 bathrooms. Overall, his penthouse has 1,444 square feet of living space. On top of that, he also secured 2 heated parking spaces for himself below the building. Aside from the one-time purchase fee of $1,750,000 for the penthouse, Shawn also has additional monthly fees to pay, which is estimated at $1,114, for other amenities and services he needs (e.g. security, maintenance, and parking).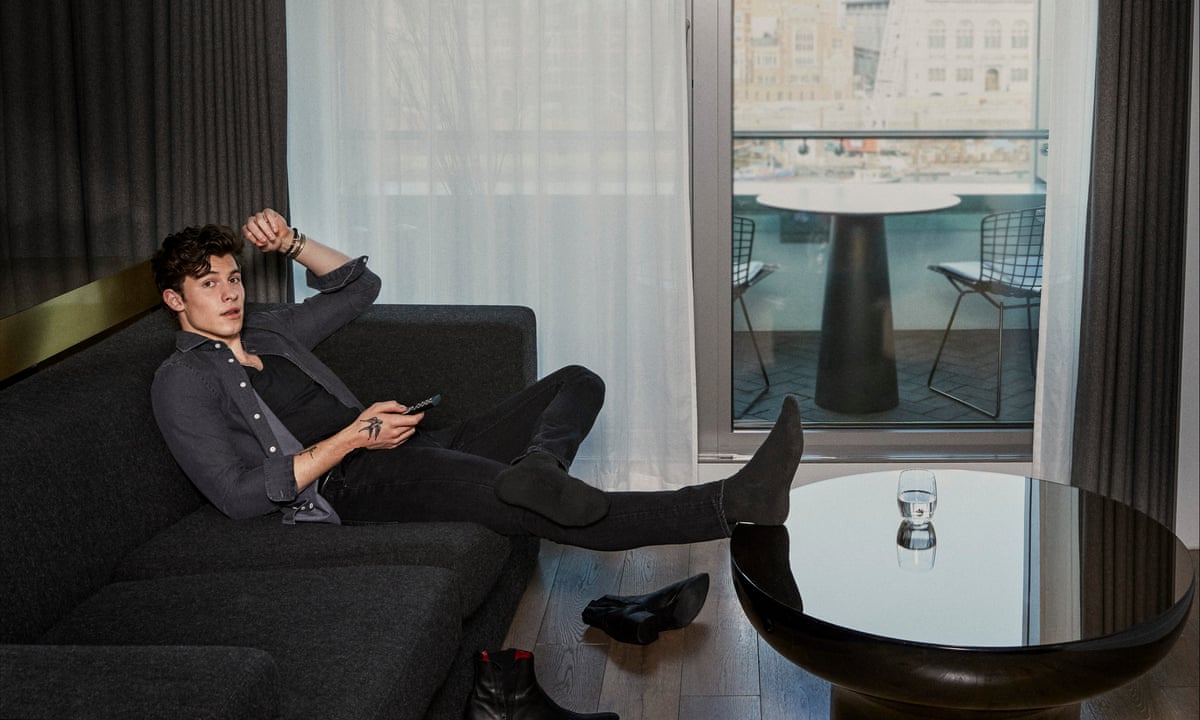 Shawn Mendez shares breathtaking views from his penthouse in Toronto in his new Netflix documentary Shawn Mendes: In Wonder. And the following are some of the most remarkable features of his abode:
Terrace – The property comes with a 750 sq. ft. outdoor area. The gorgeous space is the perfect place to enjoy a panoramic view of downtown Toronto's cityscape, specifically the CN Tower and the surrounding area. There's also plenty of room for BBQ parties and outdoor furniture.
Living Room – The living room of the penthouse is also a great place for Shawn and her girlfriend Camila Cabello. It has four floor-to-ceiling windows that afford a great vista of the Rogers Center.
Bedrooms – Shawn's penthouse includes 3 bedrooms. The 1st bedroom has a decent-sized closet. It also has direct access to the outdoor terrace, as well as to the hallway that leads to the main living spaces where the dining and kitchen areas are located. Down the hallway and past the living room, you can find the 2 remaining bedrooms. The one on the left is the guest bedroom with windows that face the Rogers Center. Adjacent to it is the master bedroom, which has four floor-to-ceiling windows.
Kitchen – The kitchen features stone countertops and dark wood grain cabinets. It also has a refrigerator with doors that match the color of the surrounding cabinets. The kitchen might not be massive, as typical for apartment living, but it does cover everything Shawn and Camila need.
Dining Room – The dining room is a spacious one. The dining table can accommodate 6 people. And an elegant chandelier provides dramatic lighting to the area. It also has floor-to-ceiling windows that allow them to enjoy the cityscape while eating.
Bathrooms – The penthouse also has 2 bathrooms. The master bathroom has a massive soaking tub and dual vanities. It also has a walk-in shower with a rainfall showerhead. Then, next door is a decent size walk-in closet. The 2nd bathroom of the penthouse is a smaller one. It has a walk-in shower and a single vanity. Next door is the laundry room that also doubles as a storage closet.
Building Amenities – Aside from the amazing features of the penthouse itself, Shawn also gets to enjoy the 5-star amenities of the building itself. As you enter the building, there's a nice and spacious lounge area with an electric fireplace, floor-to-ceiling windows, and accent lighting. The space exudes a modern and chic vibe with its red, black, and white color scheme. There's also a private gym, which Shawn most likely uses when he's not on tour. One thing that Mendes commented on, though, was the never-ending construction of buildings, malls, and other projects that's happening in the area.
Yes, it's easy to say that Shawn Mendes is living the life many people can only dream about. And he deserves it. His talent and dedication to his craft indeed took him a long way, and he still has a long road ahead of him. For sure, he's eyeing a lot of other real estate properties to buy in the future, each one more design-forward than the last. Until then, we'll just have to listen to his music and watch his movies.