Washing, sorting, folding, cleaning, drying…The list of chores goes on and on, which you'll already know if you run a household. Having a dedicated space to tackle certain tasks is a great way to keep on top of the work and not let it spill into other areas of the home. You know, the ones meant for relaxing? A utility room (or laundry room) takes pressure off of your kitchen, hallway or other shared areas by keeping those chores separate and organised out of sight.
But so many of us tend to neglect this area of the home, treating it as a dumping ground for all the odds and ends that don't have anywhere else to go. We should instead see a utility room as a golden opportunity to get organised and take some of the stress out of daily chores, while having a little fun decorating to boot.
The first step towards designing a utility room is to decide what you're using it for. You may just want a room for doing laundry (a laundry room). Or a multipurpose space. Make a list of everything you need from your utility room (let's stay realistic). This might include laundry, ironing, space for pets, larder storage, space for your fridge freezer, cleaning supplies, bike storage…the list goes on.
Where should a utility room be?
If you don't already have a utility space, but you're already convinced you want one, it's worth thinking about where this could go in your home. The best location for most utility rooms tend to be just off the kitchen. If you're keeping food or cleaning supplies in there, you'll want quick and easy access. Some people have created a utility room environment in their garage, making the most of the ample space. Or, if you're really stuck for space, under the stairs or portioning off a section of kitchen or bathroom can work, too. Wherever you plan your utility space, try to avoid spots near to bedrooms or the living area, as machines can be noisy and disruptive.
Plan the layout
Next, you'll want to plan your utility room layout. To do this, you should take into consideration power sockets, ventilation and water supply. Your laundry machines should be close to electrical outlets, so you're not tripping over wires. And, if you have a vented tumble dryer, you'll want it to be close to a window. If you're planning on hand washing clothes or other items and you have the space, a sink is a good feature to include. Which means ensuring there is a water supply close by.
Work out how much space any appliances will take up. For example, the average front loading cheap Bosch washing machine measures around 60cm in width, 60cm in depth and 80-85cm in height. Some people save space by stacking appliances on top of one another. Or, instead of a separate washing machine and dryer, consider investing in a washer dryer. Same goes for fridges and freezers. If your appliances are too big to fit under your counter, consider installing a worktop shelf above them so you won't lose out on the space.
Consider storage options
One of the main jobs for your utility room is storing things. Which means you'll need…storage! A lot of it. If you're short on space, you'll want to make the most of every corner to fit everything in. Take advantage of your walls. Install wall shelves, cupboards or open shelving.
To stop shelves looking cluttered, invest in some storage boxes. These are often inexpensive and you can mix and match. How about vintage wine boxes or wicker baskets for a touch of style? Have some fun looking around your local thrift store or flea market for some cool storage containers. 
The internet is awash with clever storage solutions. From premade cupboards with hidden compartments to DIY hacks. There are tons of ways to make the most of your storage space. Some of our favourites include hanging a shoe holder on the back of the door or placing a lazy susan inside a cupboard for rotating storage.
Don't forget space for the laundry basket. Instead of lugging around a heavy basket, some clever people have put their hampers on wheels that glide around their laundry room with ease. Also, if you lack the space for a drying rack, why not suspend one from the ceiling? If you have coats or outerwear that needs hanging up, install some wall hooks.
What materials to use?
Materials have come a long way in recent years. Practical and low maintenance doesn't have to mean boring. When designing your utility room, consider the types of materials that will suit its use. For areas where there is a lot of foot traffic or where spillages are likely, carpet or wood might not be the best solution.
And, if you want to limit your time spent cleaning, focus on low maintenance, easy to clean materials for your surfaces. Materials such as laminate are great for worktops and are easy to keep clean. While glass or tiled backsplashes protect wallpaper and can be cleaned with the swipe of a cloth. Comfortable vinyl flooring is our top choice for utility room flooring as it is soft underfoot, inexpensive and durable. Not to mention waterproof. These are all available in different styles and textures, patterns and designs to suit your style.
Clever camouflage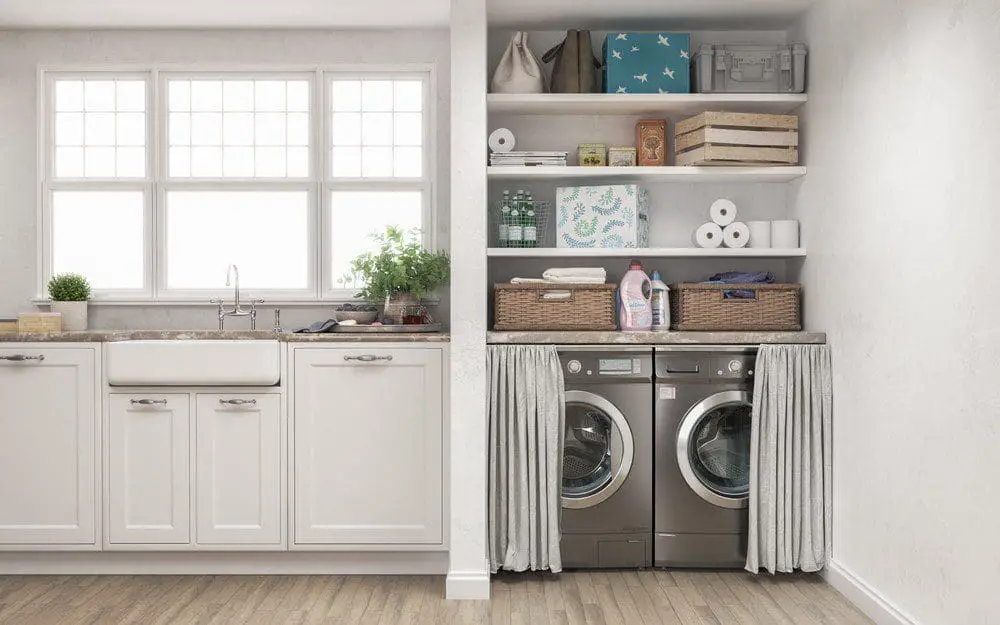 Some people like to go for a more minimalist look when it comes to stylish design. Instead of having everything on show, here are some clever ways to camouflage and hide items to make your utility room look more sleek and finished.
Hide appliances behind cupboards or curtains. This will give everything a more uniform look and you won't be confronted with all those red flashing lights when you walk in the room. Alternatively, invest in some integrated appliances for a sleeker, built in look.
We've already said this, but it's worth saying again. Put things like food, cleaning supplies and tools in storage boxes on your shelves. If you're super organised, you might want to label the boxes so you can easily find what you need when you need it.
If you've got pets and you want to keep their food bowls in the utility room, you could use a pull out feeding station that can slot back underneath the cupboards after your pets are done using it. 
Dreamy decor
The fun bit of design is always the decor. A chance to experiment and express yourself. Maybe you're after a traditional, country style utility room that's an extension of your kitchen. Or you've been inspired by sleek, minimalist Scandi style. It makes sense to stick with a theme that is consistent within your home. A country style utility room next to a deluxe style kitchen might look out of place.
It's important to create a room that you'll be happy spending time in. Even if that is difficult while doing chores. Add special touches to brighten up the space, like a hard wearing yet colourful rug or some artwork for the walls (if you haven't already filled them with shelves). You can find relatively inexpensive prints online or discover some hidden treasures in thrift stores or garage sales.
If you want your utility room to look stylish as well as being practical, don't skip this step. Taking a little time to think about decor and choosing pieces and materials that go together will help make your space all the more special. 
Creative colour schemes
Your colour scheme is also important. Perhaps you want a pop of bright colour like living coral or buttery yellow. Or you'd rather stick to classic white shades complemented by subtle hints of colour. If your utility room is on the small side, avoid too many dark colours. Lighter colours naturally create the illusion of more space.
Similarly, if there is an absence of natural light, dark colours will just absorb any available light. That's not to say you can't get creative and inject some of your favourite shades into the room using accessories or art, or even appliances.
So, there you have it. Your guide to designing a utility room or laundry room that is both stylish and practical. If you're looking for more design inspiration, visit our blog for tips on interior design, decor and home trends.