Vanessa Hudgens, a multi-talented artist, gained immense popularity for her outstanding portrayal in the High School Musical franchise. Thanks to her fruitful career, Vanessa has built a fortune of nearly $14 million, and she has been a constant presence in the entertainment industry for over two decades.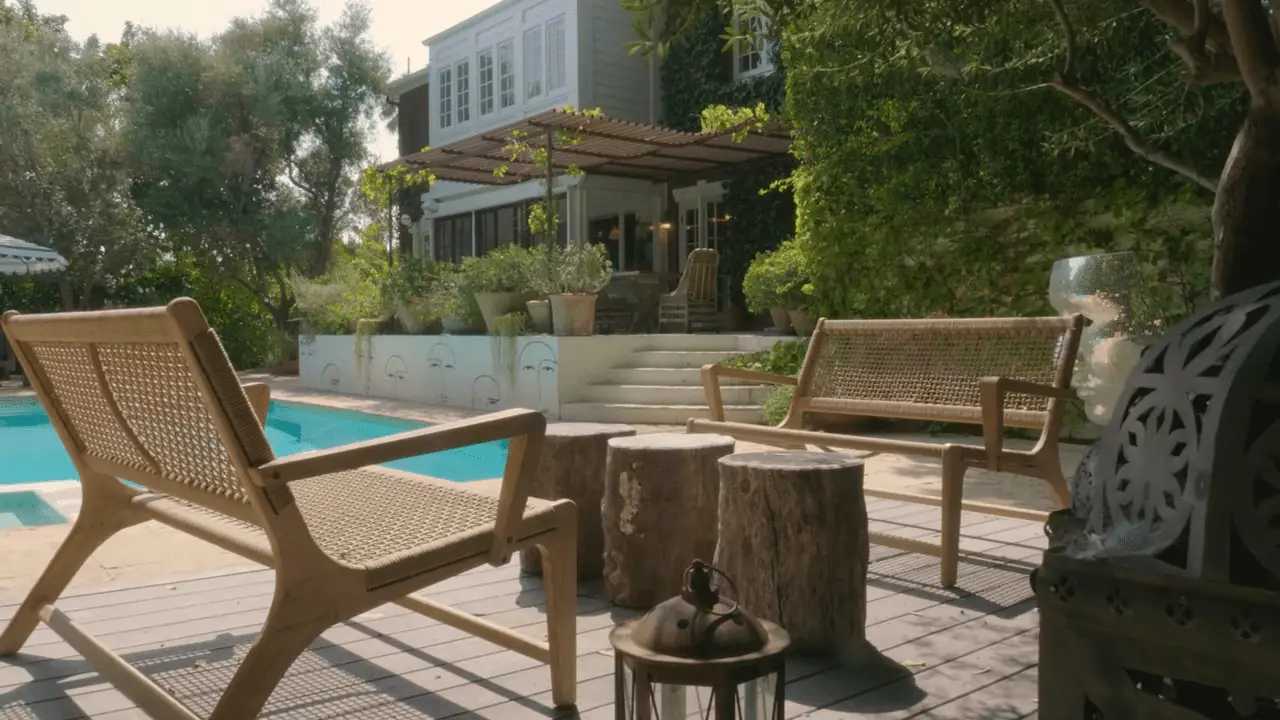 Vanessa Hudgens' Los Feliz house (Source: YouTube)
In 2018, the talented actress Vanessa Hudgens made a wise investment by purchasing a beautiful new house located in Los Feliz, California. This stunning home boasts a grand total of 3,168 square feet, four cozy bedrooms and five immaculate bathrooms, along with a lovely guesthouse for visitors.
The house is situated on a sprawling lot encompassing approximately 0.43 acres, providing ample opportunities for outdoor activities and relaxation.
Where Does Vanessa Hudgens Live?
Vanessa Hudgens lives in 2338 Observatory Ave, Los Angeles. Hudgens' residence in the Los Feliz neighborhood was constructed in 1922 by American cinema pioneer, Cecil B. DeMille, for his mistress, actress Julia Faye. The former Faye house was purchased by Hudgens in 2018 for $4.9 million from actor Gary Oldman.
Post-purchase, she made several changes to the Georgian colonial structure, adding a touch of her own flair to the mix. She personally renovated the kitchen and commissioned designer Jake Arnold to create a "cave-like" ambiance for the master bedroom suite.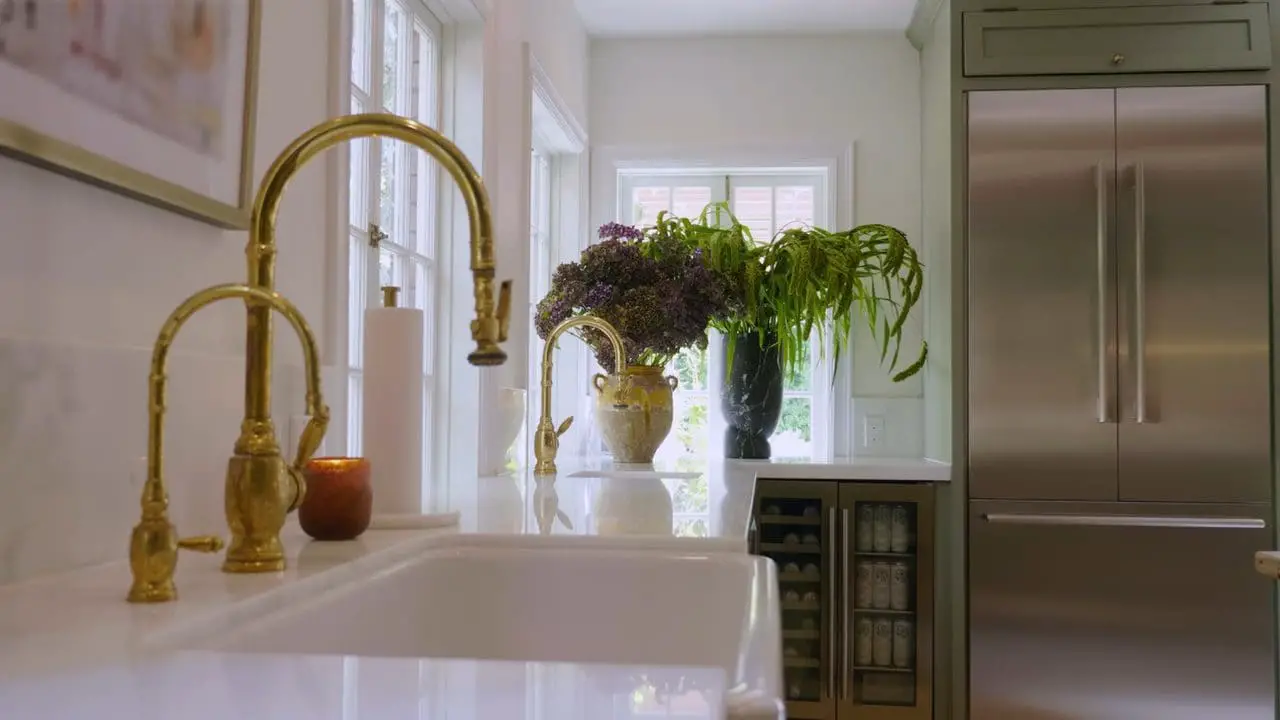 Vanessa Hudgens' kitchen details (Source: YouTube)
To further add character, she installed vibrant House of Hackney wallpaper in the breakfast nook and incorporated "super feminine" decor throughout the house.
Vanessa Hudgens' Interior Design
Upon entering the home, visitors are greeted by a living space that exudes French charm. The piano, rarely used, sits in the corner, a reminder of Hudgens' love for music. Candlesticks are scattered throughout the space, casting a warm glow that makes the room feel inviting.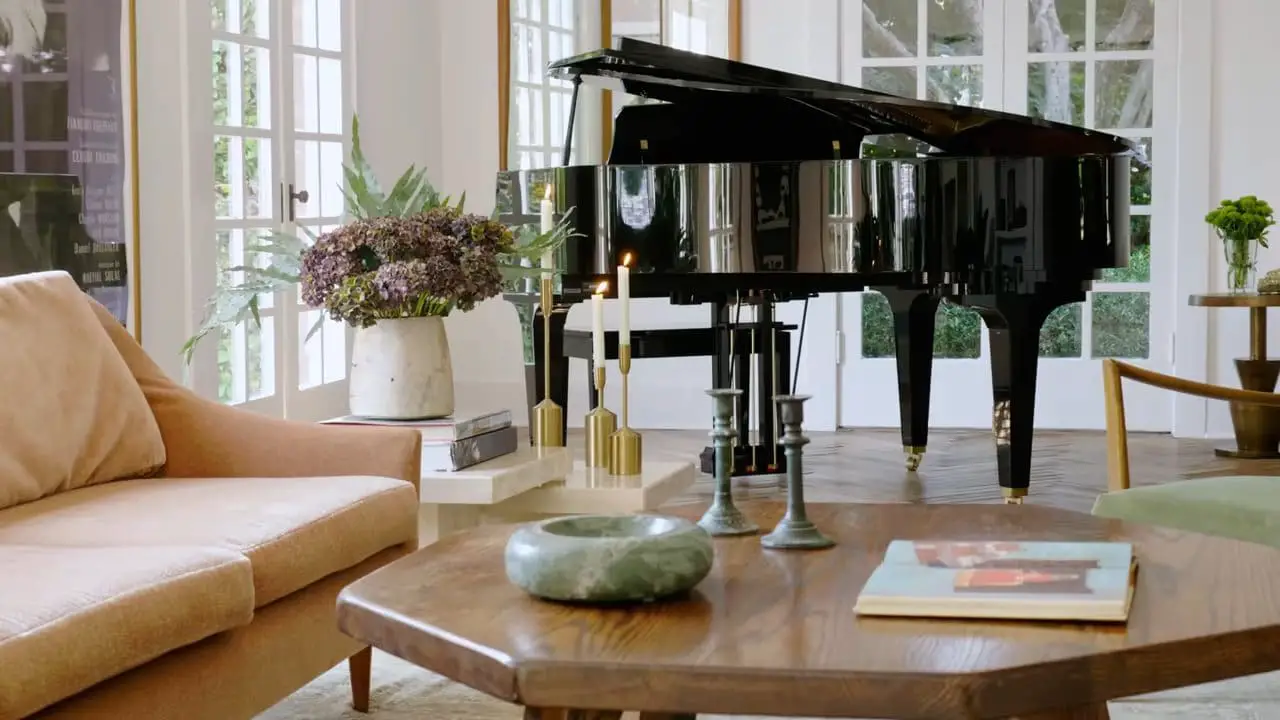 Vanessa Hudgens' living space (Source: YouTube)
Hudgens' affinity for vintage pieces is on full display, from the little Tavern Tine stacking tables to the vintage movie poster of Breathless, an iconic French film.
The centerpiece of the room, however, is the clock that chimes on the hour. Though Hudgens admits it can be terrifying, the clock is undeniably charming and adds to the home's overall French aesthetic.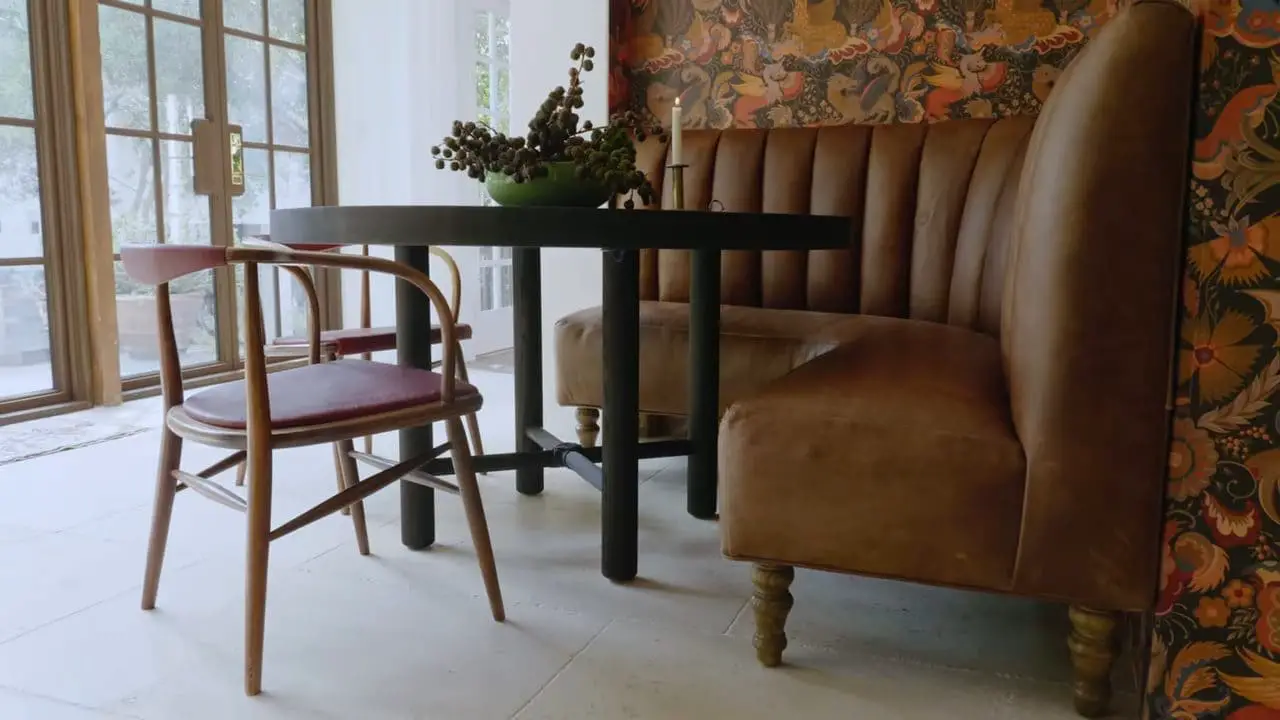 Vanessa Hudgens' breakfast nook (Source: YouTube)
The home's designer, Chatwood, worked closely with Hudgens to create the most stunning bouquets and arrangements, which can be seen throughout the living space. In one corner, there's a nod to Hollywood history with a photo of Cecil B. DeMille himself, a reminder of the home's storied past.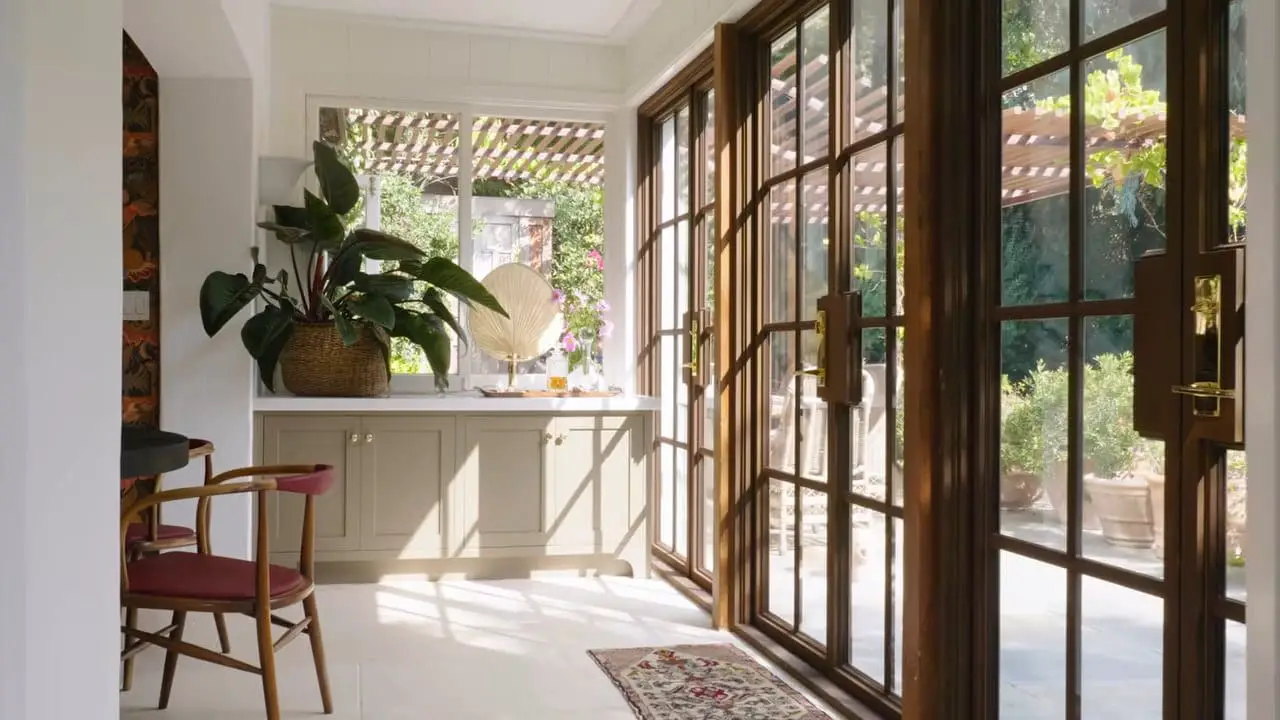 Vanessa Hudgens' house area (Source: YouTube)
As one moves into the dining room, the organic, neutral tones of the space immediately stand out. Hudgens' intention was to create a romantic atmosphere, and she's certainly succeeded. The table's pattern is reminiscent of the floors, and the Italian chandelier harkens back to the 1950s. The dining room opens up to the olive trees outside, creating a seamless flow between indoors and out.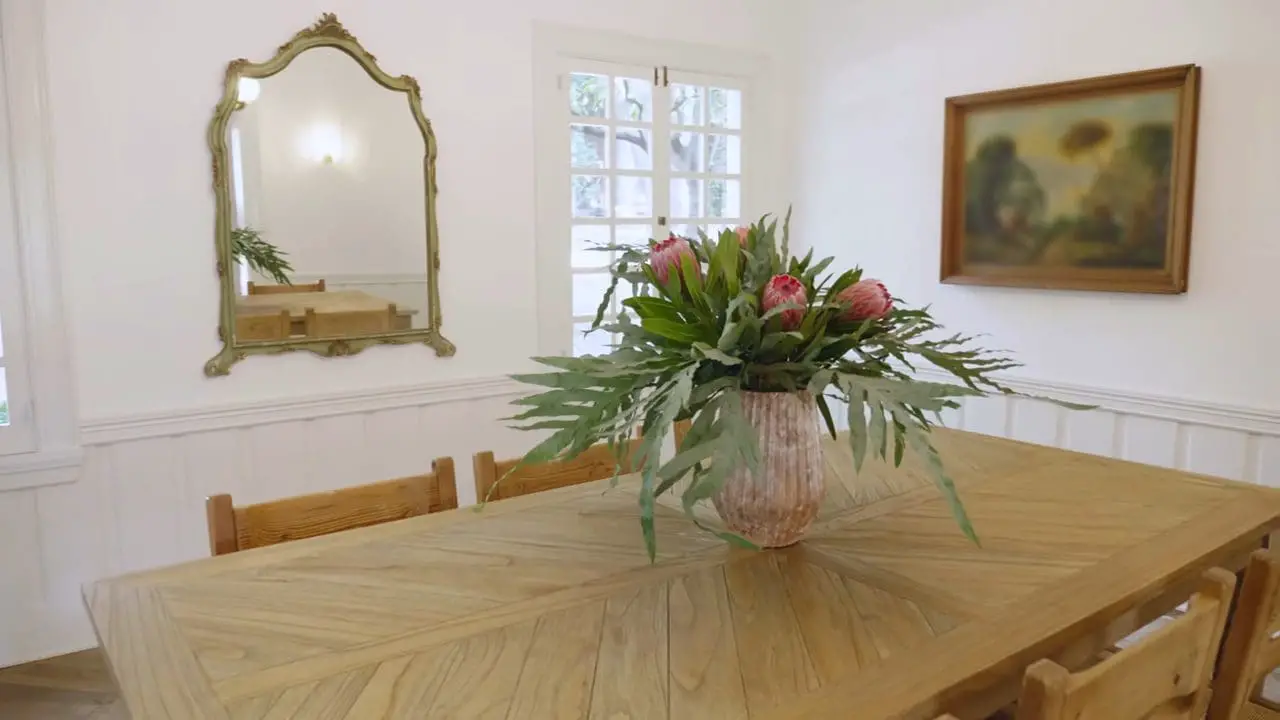 Vanessa Hudgens' dining room (Source: YouTube)
The powder room is a particular point of pride for Hudgens. The tiles, likely original from the 1950s, remain intact, while the walls are covered in a wallpaper by House of Hackney, adding an old Hollywood feel.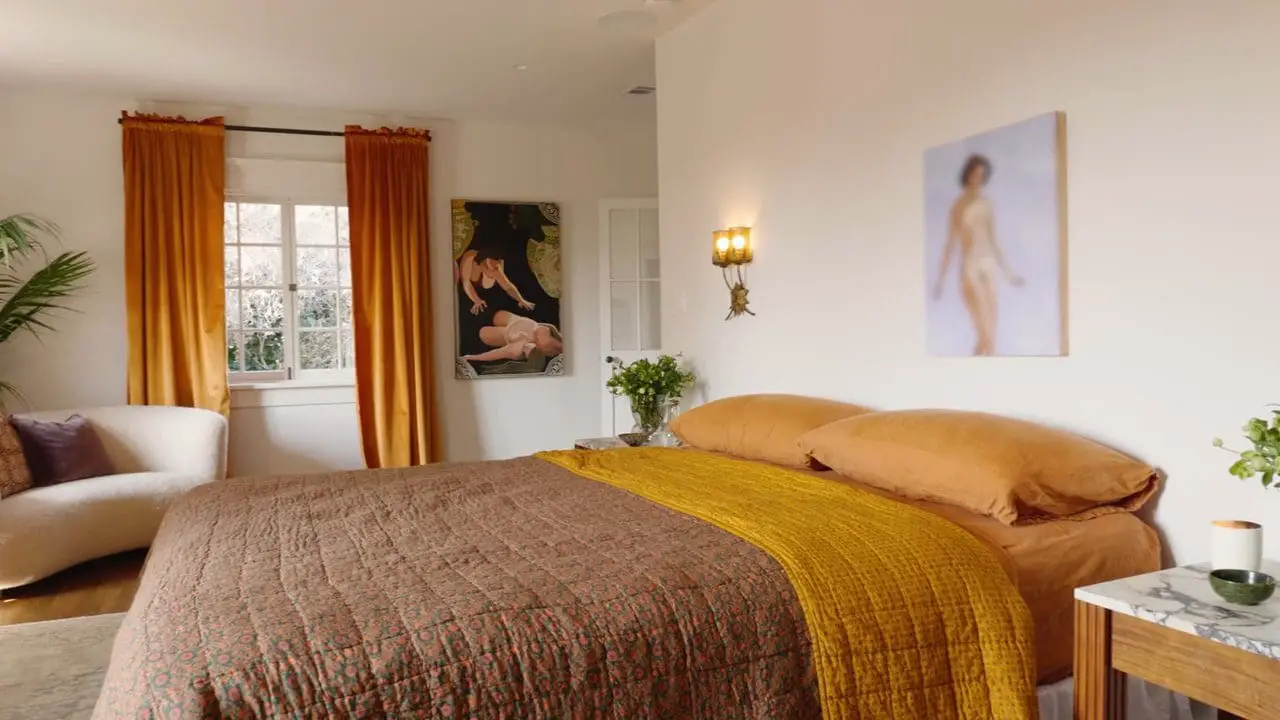 Vanessa Hudgens' bedroom (Source: YouTube)
Hudgens' kitchen underwent a major remodel during the pandemic, and it's clear she put a great deal of thought into the space. The floors are travertine, which give the room an Italian feel. Open shelving and a surplus of plants and fruit create an earthy, organic atmosphere. One particularly quirky piece in the kitchen is a door that swings open, a reminder of the home's rich history.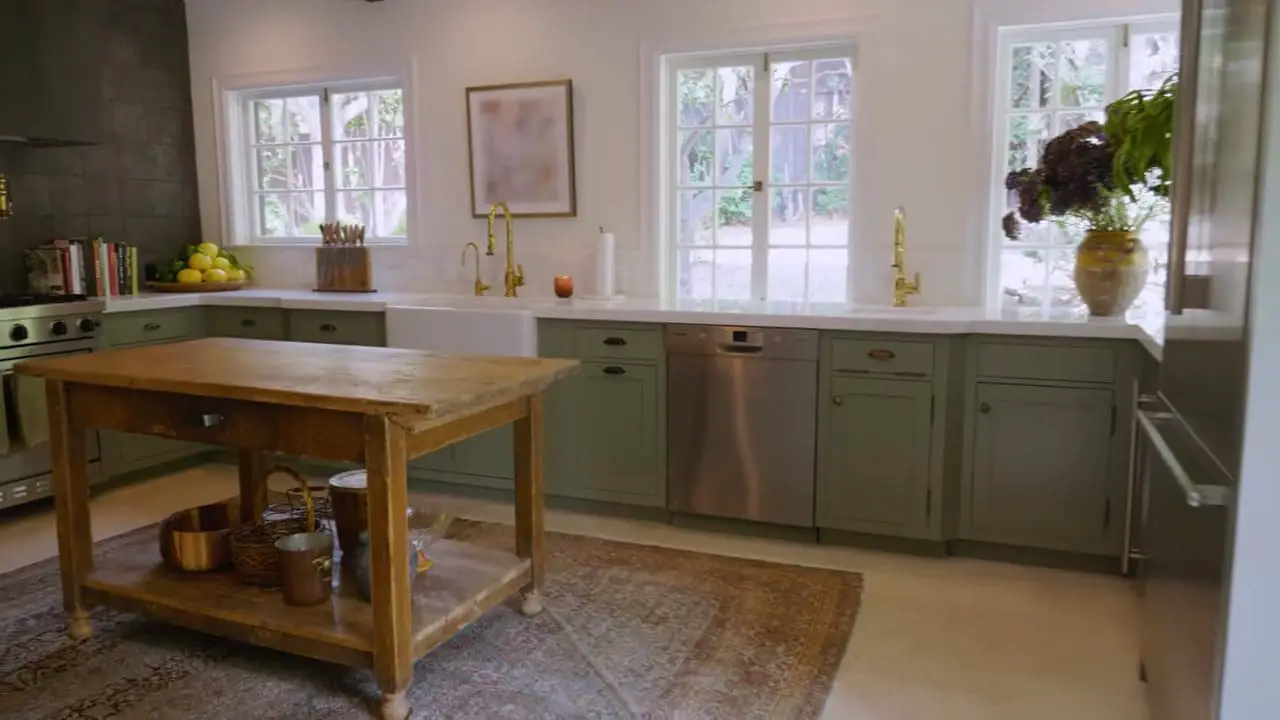 Vanessa Hudgens' kitchen (Source: YouTube)
Vanessa Hudgens' Stunning Outdoor Area: A Tour of Her Garden and Patio
Vanessa Hudgens' LA house is a true gem for those who adore outdoor spaces. The wooden beams that gracefully follow the curvature of the iron lend the house an exceptional touch that harmonizes perfectly with the brick walls enveloped in ivy.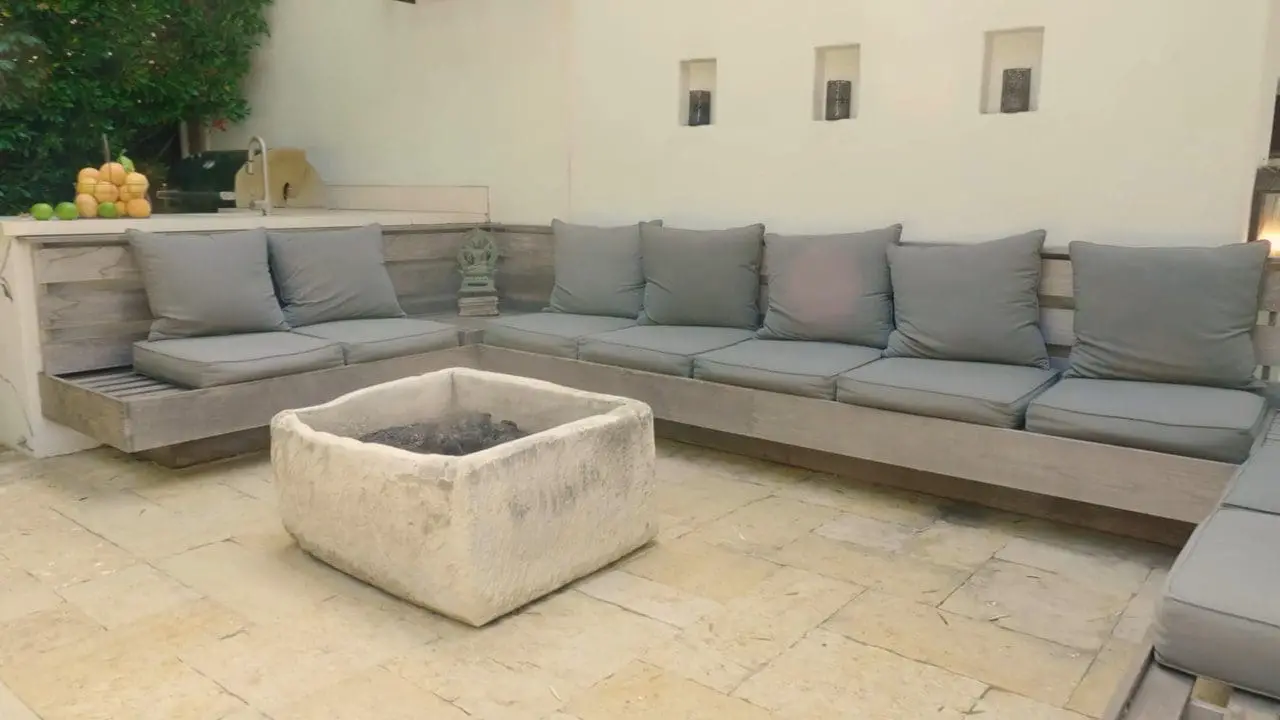 Vanessa Hudgens' outdoor area (Source: YouTube)
The Ivy, a personal favorite of Vanessa, is a sight to behold. It's not every day you come across a brick house swathed in ivy in LA, and it adds a whimsical and romantic element to the property that is simply enchanting.
The pool area is truly a sight to behold. It's like a masterpiece that Vanessa herself has curated. The vintage mural is a stunning addition, giving off an air of timelessness and history. And let's not forget about the amazing seating area beneath the magnificent olive trees.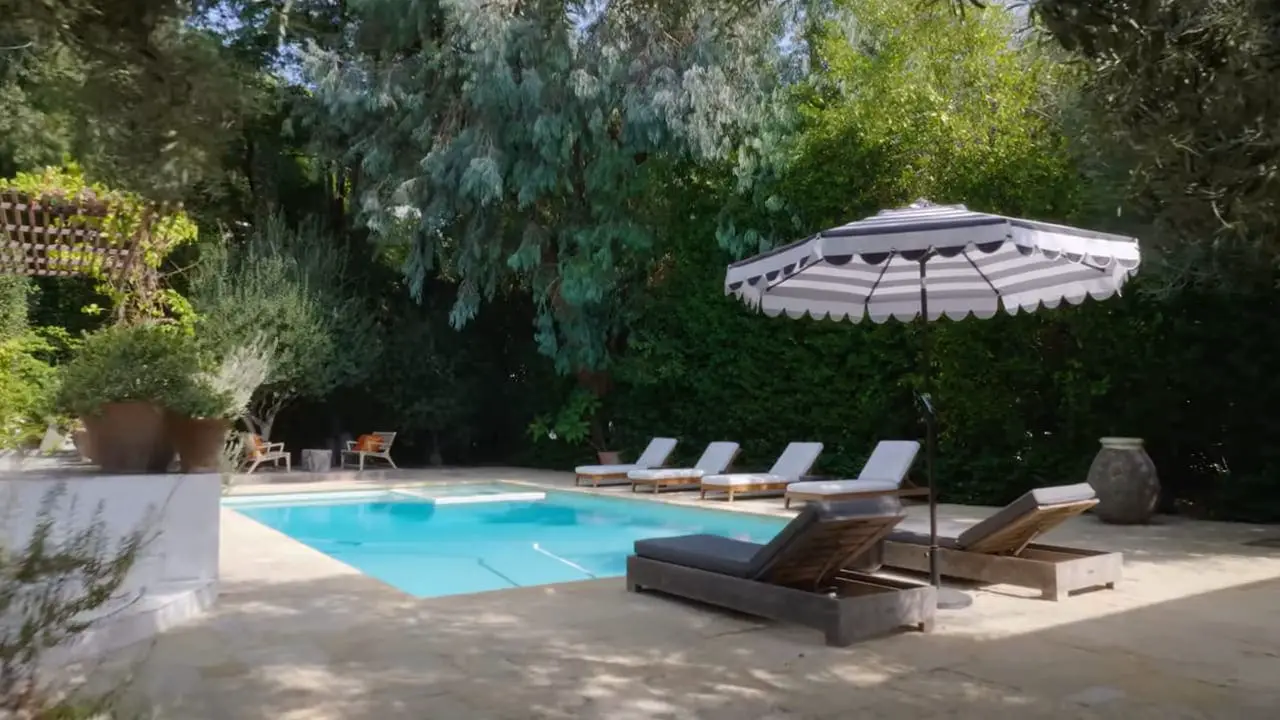 Vanessa Hudgens' pool (Source: YouTube)
It's the perfect place to relax and soak up the sun. Vanessa's favorite flowers, the plumerias, are scattered throughout the property, bringing a sense of warmth and comfort. These flowers hold a special place in her heart, reminding her of her father who used to have them around. The massive avocado tree is a real showstopper, adding even more beauty and functionality to an already amazing space.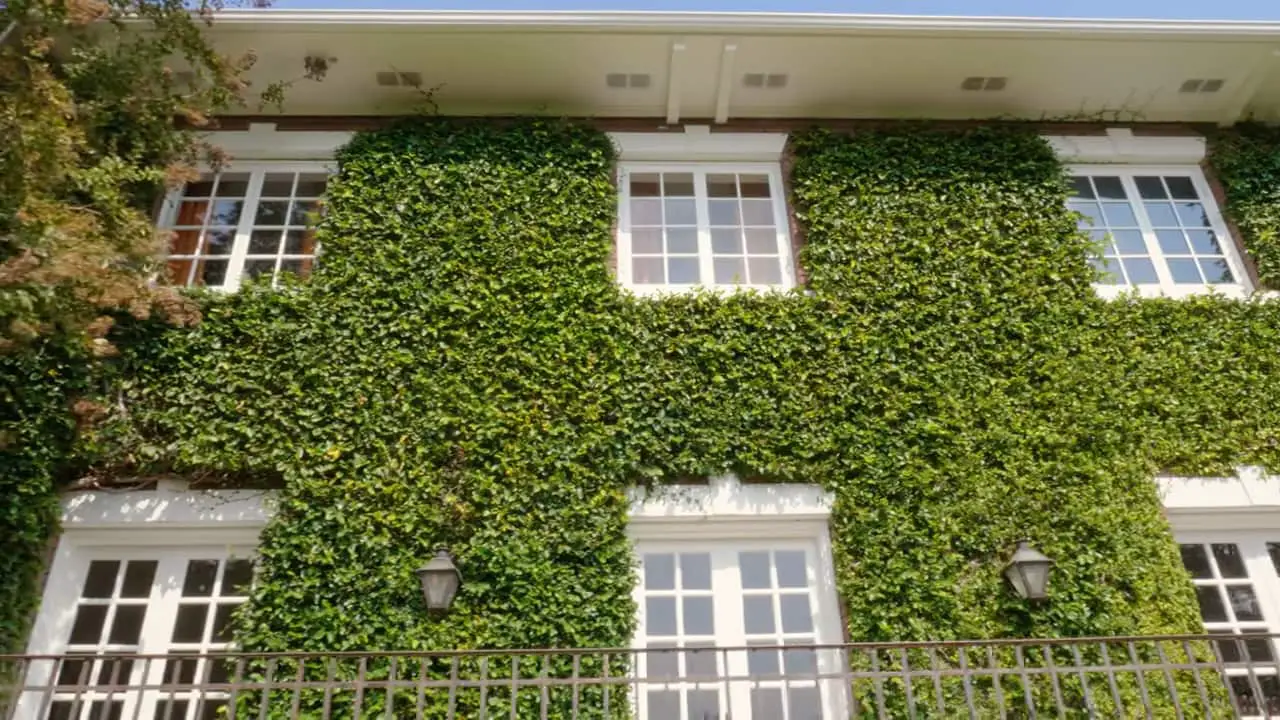 Vanessa Hudgens' house (Source: YouTube)
The guest house – a former carriage house that is now a cozy hangout spot – is filled to the brim with all kinds of books from around the world, waiting to be explored.
Vanessa's Teen Choice Awards are proudly on display, alongside signed books from icons such as Kate Kelly Slater and Annie Leibowitz. And if that's not enough, there's even a vintage Polaroid camera just waiting to capture those spontaneous photo sessions with her friends.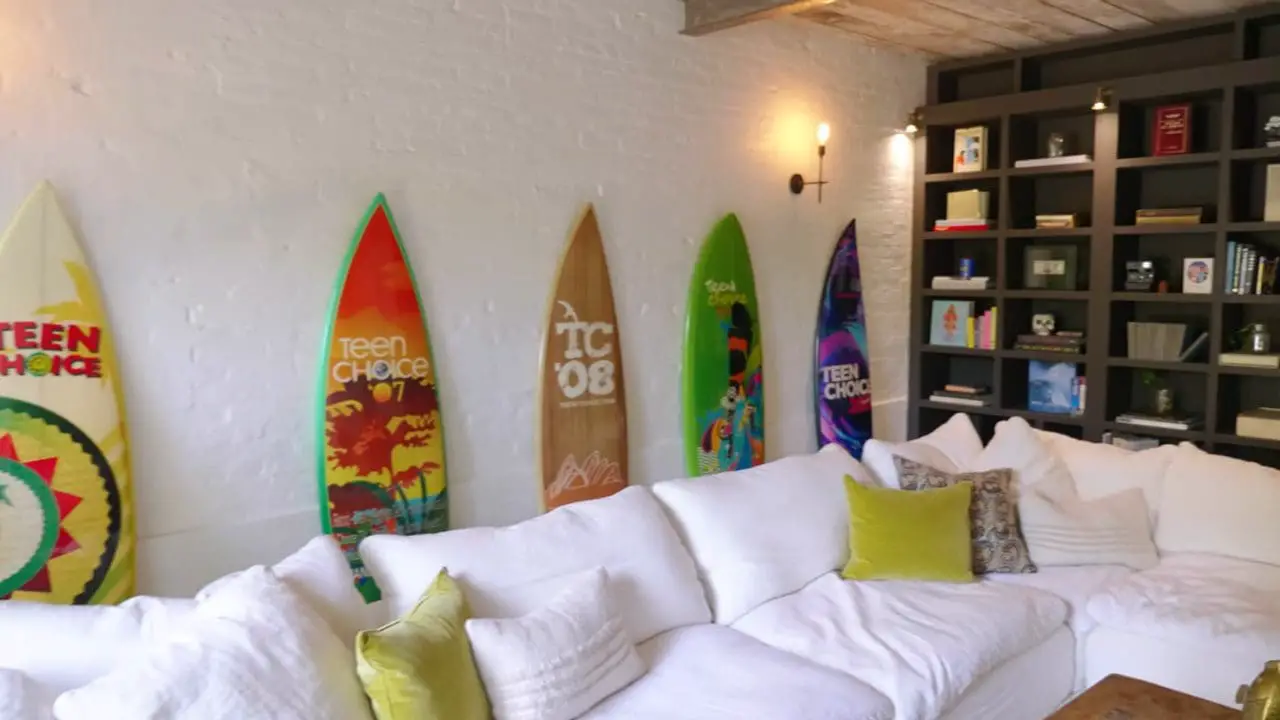 Vanessa Hudgens' guest house (Source: YouTube)
Vanessa's Secret Garden holds a special place in the heart of the property as one of its most captivating features. This open space was designed by Vanessa herself to capture the essence of a whimsical park where she and her friends could frolic, throw water balloons, and snap some delightful photos.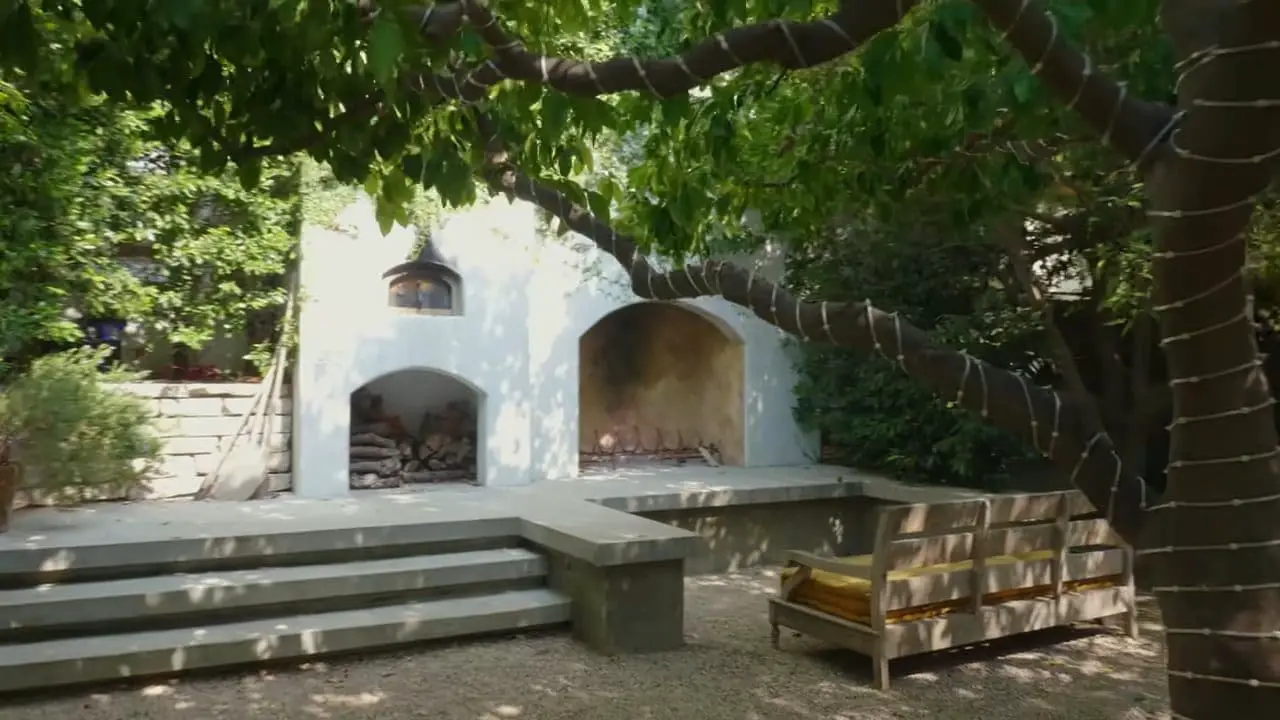 Vanessa's Secret Garden (Source: YouTube)
Not only does the garden boast a pizza oven, but it also boasts a grand fireplace and eerie gas lanterns that add to its charming yet mysterious ambiance, which utterly enchants Vanessa.
A Closer Look at Los Feliz: Vanessa Hudgens' Home
Los Feliz is simply divine neighborhood, bursting with charm and history in every corner, and a community that radiates vibrancy. From cozy cafes to incredible restaurants and unique boutique shops. Also, the Griffith Observatory and Griffith Park are located in this neighborhood! Some other celebrities like Kristen Stewart, Angelina Jolie, and Ryan Gosling also call this place home.
Vanessa Hudgens' living room (Source: YouTube)
Beyond Los Feliz: A Look at Vanessa Hudgens' Other Stunning Properties
Apart from Vanessa's primary residence, she also owns another property in Los Angeles. In 2020, Vanessa purchased a stunning new home in Studio City, California. The house is said to be around 5,000 square feet, has four bedrooms, five bathrooms, and is situated on a lot of about 0.5 acres.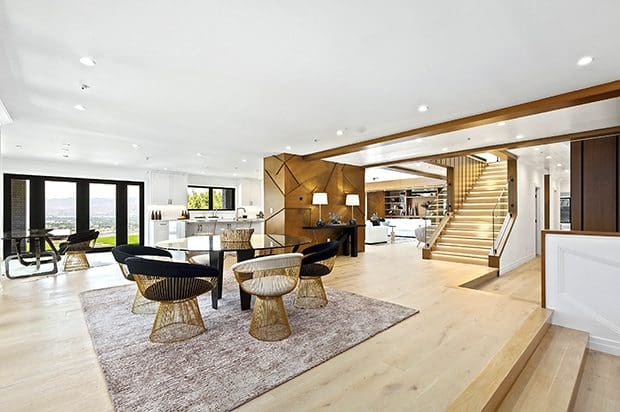 Vanessa Hudgens' Studio City house (Source: Backgrid)