Your home is one of the biggest investments you have on hand. It can bring you a tidy income each month and is a nice safety net you can fall back on if things go south. 
Similar to any other kind of investment, though, it's not wise to just sit back and expect the rental income to come rolling in. As a landlord or homeowner, you need to know how to add value to your home. Doing so will not only make the most of your space but also attract buyers and make it possible to raise a higher revenue. 
This sort of effort is also necessary if you have mobile homes for sale. The same goes for single-family homes, apartments, or a mid-century modern house. 
Increasing value doesn't have to mean expensive restoration or renovation projects either. If you're on a budget or pressed for time, here are some mini-projects that can increase home value almost immediately. 
Paint the Front Door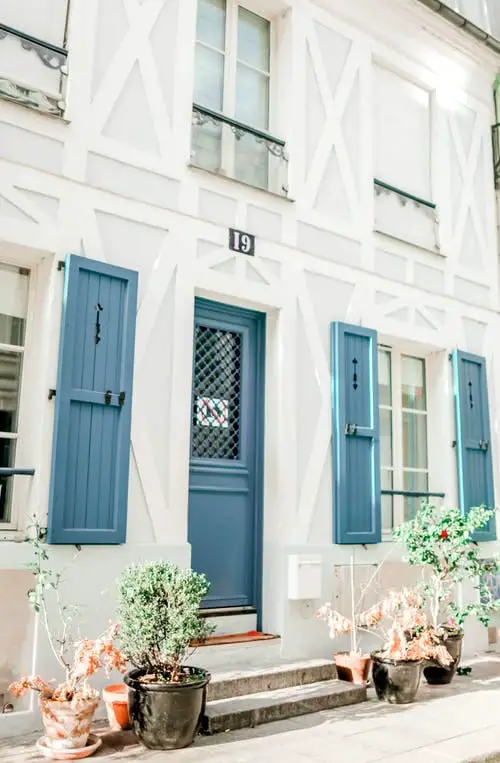 If you want to increase the value of your home, something as simple as a fresh coat of paint on the front door might help. It's a simple enough step and probably won't take up more than a day. 
However, a trendy and attractive door color will catch the eye of buyers much more easily. It's now considered a bonus if you have a door color like red or navy blue or even black. It should be anything that makes the door pop. 
Not only can this increase the likelihood of high-paying tenants but it can add value to your property as a whole. Charcoal and black doors can even bump up the value by at least a few thousand.  
If you want to minimize costs and maximize profits here, consider a DIY paint job. If you have the relevant tools and a bit of experience, painting a door isn't a hard job. There's no need to hire a professional to up your curb appeal in this case. You can take some color suggestions from a friend and see what he says.
Add Smart Devices
Smart homes are definitely a valuable asset. So, why not increase your home value that way? Getting energy efficient appliances and smart devices is relatively easier and even cheaper in the long run. 
Many of your potential tenants will probably be on the younger side which means that technology is a large part of their lives. Curb appeal is all very well but you can add value to your home for the most likely tenants by making it smarter. 
Fortunately, products for making a smart home are easy to install and use. They can even help save money for the party who is paying for the utilities. If you bundle utilities into the rent price, this means a win in that area as well. 
Even if the tenants have to pay the utility bills, they would love the smart kitchen appliances and other options that help them save every month. 
If you aren't sure of how to begin the journey of achieving a smart home, here are just a few ways to make a smarter home: 
Adding a smart thermostat
Getting smart locks
Installing moisture sensors
The devices above should be able to monitor several aspects of your home and send out an alert if anything goes wrong. This way, landlords will be able to get to small repairs and install updates before a larger problem arises. 
In the same manner, buyers will also appreciate not having to invest so much in fixing large repairs and other issues.  
Update Appliances
You don't have to shell out a load of cash for the best energy efficient appliances. But it's still a good idea to invest a little for increasing your home value. 
Every house needs a properly functioning kitchen which potential buyers plus tenants will look at while making a decision. If the appliances are refreshed, the home value goes up. Consider some more kitchen upgrades if you want to really wow the buyers. 
Focus on Detail
If you want the best return on investment for your square footage, see if you can make some simple changes to enhance the details. We've already talked about painting the front door. You might want to consider the interior and back doors as well. 
Painting the whole exterior of your home might not be feasible and it might exceed your budget. But repainting the shutters or wall trim could be just what the place needs. When you increase home value in this manner, you'll probably get the most for your time, money, and effort. 
Change the Cabinet Hardware
Changing up the kitchen cabinets might be a long and expensive renovation project. But switching out the hardware takes only a fraction of the time and cost. In fact, this is such a simple project that even noises might be able to tackle it. 
Getting new hardware for the cabinet will also increase your home value. If you make the right choices, the kitchen of any house will start looking a bit more modern and updated. 
If you have a little more time and some space in your budget, think about installing standard-sized cabinets as well. This will help to make the most of the kitchen's square footage and will also make more sense to modern tenants or buyers. 
Alternatively, consider resurfacing the cabinets if they're in passable shape. If you're changing the cabinets or just the polish, opting for darker lower cabinets and lighter upper ones is more likely to increase home value. 
Again, all the potions will help to increase the home value on the market. 
Take Away the Carpeting
Carpets might have been a sign of luxury in older houses. But they're definitely not fashionable or convenient now. Home buyers and renters are all too aware of the dirt, grime, and dust that carpets can harbor. With allergies and asthma on the rise, it just makes more sense to strip away any carpeting in the house. 
In fact, you might even have some decent floors under that carpeting already. If not, a nice wooden floor will be an excellent addition. While this might cost a fair bit, the addition to home value will be significant. 
To speed up the process and cut costs, you can consider attentive to authentic wooden flooring. Laminated or vinyl floors will look nice and won't take up more than a few hours for a couple of rooms. 
Give Power Washing a Thought
Spring cleaning your home space for new potential buyers is an excellent idea. But don't confine your efforts to the inside. Take a shot at power washing the outside; it can add to that home value and get you a tidy return at the end of the day. 
By 'the outside', we mean the driveway and surrounding sidewalks. Don't forget the garage, though. The exterior of the actual house should probably be left to a professional analysis. 
There could be years of grime and dirt accumulated in the places around your house. A power washing session could reveal brand-new surfaces which will certainly catch the attention of the buyers. 
Trim the Plants
One of the few little projects you should do before showing your house is to trim the plants. If the yard and bushes are unkempt and scraggy, the buyers will probably be turned off before they even enter the living space. 
You also want to pay attention to the kitchen garden if there is one. This could be a very valuable selling point. If it's feasible, consult a landscaping expert and see what he/she says about the outdoor layout.  
Consider Outdoor Lighting
If your electrician says it's safe, you might want to get some lights outside of your house. These will increase home value by showing buyers how your backyard or patio can be spaced for entertaining company. 
If you don't have a yard or a patio, just a couple of lanterns can still enhance the space. Landscape lighting will cost a few thousand dollars but you can easily recoup that cost when you make the sale. 
Open the Space
If you want to add a lot of home value to your house space, try opening it up as much as possible. Decluttering is one good way but you might want to get permission to knock down some walls as well. 
Open floor plans are trending these days. So, see if you can blend the kitchen with the living room for a start. More and more people are now working from home as well as entertaining friends in their own space. When buyers come to see your house, they'll be making plans for the future at the same time.  
If buyers can see themselves easily moving around in that space, they'll be more likely to make a good offer. They can imagine cooking along with working and interacting with their family at the same time. With all that the younger generations have gone through recently, these factors are very important ones. 
Put in an Irrigation System
Whether you have a kitchen garden or a lot of flower beds to maintain, a sprinkler system is a convenient addition to any house. 
Homeowners and potential buyers both love a lush garden to look out upon. However, lawn and garden upkeep is a challenge for most. This is why your potential buyers or renters would appreciate an irrigation system that will lighten the load. 
The NAR's 2018 Remodeling Impact Report says that adding an irrigation system is likely to add to a home's resale value. The expected ROI goes above 80 percent, which is pretty impressive. 
Construct a Patio
You can instantly up the appeal of your space by making a patio in it. The  NAR's 2018 Remodeling Impact Report says that new patios are among the most desirable upgrades for home exteriors and outdoor features. You can get in on the trend and also expect more than a 50 percent ROI for your work. 
The main benefit of a patio or porch is that there's an outdoor sitting area for your house. This could be just the touch you need for upping that curb appeal and the exterior appeal in general. 
If possible, furnish the patio as best as you can when showing your house to potential buyers or renters. Some wicker or wooden patio furniture, comfortable cushions, outdoor rugs, and a grill on the side can make a world of difference. 
If the area is sheltered enough, you might even be able to install a television in there. While all this might cost you a serious amount of money, it won't be as expensive as adding on a whole new room. At the same time, you get to expand your house's square footage at least in the minds of the buyers. 
If you really want to boat the value of your home, though, think about making a deck instead of a regular patio. Listen to what your local carpenter says and see if the outdoor space allows for this project. If you can swing this, the return would be almost 70 percent when you finally sell. 
If you plan on renting your property, the rates will go up with such additions. This way, you just might be able to earn back what you invested over the course of a few months. 
The Takeaway
The discussion above will hopefully guide you on how to add value to your home. These little projects are doable within a short period of time and also perfect for a landlord on a budget. Just a few of these steps might freshen up the home between tenants or attract a crowd even when the market is slow.
Look around your home as soon as possible and see whether you can make any of these changes for the better. At the same time, make sure to avoid the common interior design mistakes that might actually decrease the value of your asset.