Sleep is the foundation of robust health. Lack of restful sleep leads to diseases such as diabetes, coronary heart disease, and obesity. Having a sound and rejuvenating sleep is the fundamental right of every human being, there is no reason that people on the larger side should be robbed of the right to sleep in peace.
But, more often than not, they are robbed of this utility due to smaller or inferior quality bed frames that restrict your movement during sleep as well as in and out of bed.
Heavy Duty Beds are for individuals with large frames who weigh over 350 lbs, or individuals between 250-350 lbs, along with medical conditions like mobility impairment, back pain, and others around the clock. By design, Heavy Duty Beds withstand extreme pressure and high weight without inflicting any injury on the body. Heavy frames are made of strong materials to ensure that large-sized individuals have a good quality of sleep at night without incurring injuries on their backs or any other body part. In addition, heavy Duty beds have many health benefits such as increased mobility, decreased chances of back pain, and stronger joints.
Live larger than life in every moment with top-of-the-line extra large bed frames that can hold a lot of weight.

1. Heavy Duty Metal Bed Frame By Barton
If you are planning to get a bed frame for a large-sized person yet are short on budget, this Barton platform bed frame was formulated and assembled just for you.
In addition, the ample height of this bed frame makes it a perfect fit for tall individuals who often suffer discomfort due to their sporadic structure.
The sturdy and robust steel frame and its superior quality help you save more money by eliminating the need for a box spring.
The offsets underneath every edge to prevent the tipping of the frame and your toes from injury is by far the best feature of this frame.
Though a bit heavy to carry home, this frame is easy to assemble on your own.
2. Platform Bed Frame By Zinus
Zinus has been spearheading the comfort industry by redefining it through its innovations.
This platform bed frame by Zinus boasts a compact design that guarantees smooth passage through narrow stairways and slender doorways.
Apart from the ample 14-inch deep bed frame, it also consists of a 12-inch clearance under the frame, which makes for the perfect storage space for your most prized possessions.
The Easy to Assemble SmartBase features several contact points to the floor, which provides greater level support and enhanced weight distribution. At the same time, its solid steel structure will effectively protect your mattress against damages and sagging, allowing you to enjoy it for much longer.
This highly innovative and extra sturdy bed frame is ideal for a heavy person who seeks enhanced comfort, noise-free and slip-free support.
Zinus promises easy assembling of the bed frame by eliminating the need for any hardware tools whatsoever. You won't feel the need for even a hardware box spring.
The SmartBase feature consists of multiple contact points to the floor, ensuring ergonomic weight distribution and stable support.
Zinus' Platform Bed Frame is a perfect fit for couples or individuals who prefer a noise-free and slip-free bed frame.
3. Malouf STRUCTURES STEELOCK Headboard
Malouf has hit no less than a home run with this metal bed frame with steel wedge locks.
You can use it as just a bed or as a substitute for bed rails. The footboard and the headboard can be connected through universal brackets and bedrails that span across their lengths.
This bed is unique owing to its wedge lock feature. The more weight you put on these connectors, the stronger they get, sounds magical, doesn't it? Well, science can be magical indeed.
It consists of six height glides, allowing you to customize and adjust it according to your comfort for your storage and height needs.
If you are judging the durability of this frame by any chance, please don't. The Malouf STRUCTURES STEELOCK comes with a lifetime warranty, what more assurance would one need?
On top of it all, it comes in Cal King, Twin, King, Queen, and even full configurations.
If you're still not convinced, its affordable price is sure to seal the deal for you.
4. 7 Leg Adjustable Bed Frame By Kings Brand Furniture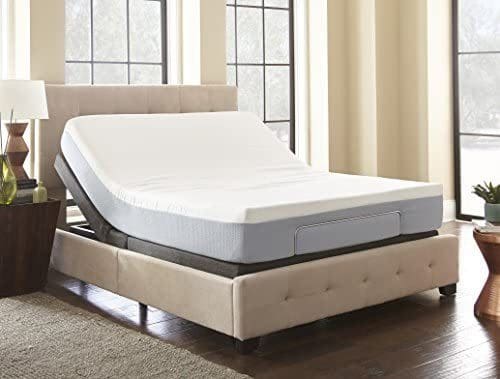 This bed can be considered the King Of Beds with seven legs and the option of facilitating easy movement by fitting the frame with wheels. The comfort, structure, durability, and quality offered by Kings Brand Furniture are unparalleled.
Though not available in King size configuration, the strong steel frame provides strength and durability to carry the weight of the headboard and the mattress for full, twin, and queen configuration.
The center support promises stable weight distribution, and the rug rollers and wheels allow you to move it around the house with ease. The rug rollers require a carpet so that they don't slip.
If you're a minimalistic individual or couple, this bed is for you since it is low-key and offers ample storage space underneath the mattress.
Not only is this bed frame strong and sturdy, but it is also cost-effective.
5. T-3000 Bed Frame By Olee Sleep
With a 15-inch mattress slot, the T-3000 bed frame by Olee Sleep offers sturdy support and sheer comfort without having to invest in box springs.
The bed frame comes with all the required tools and screws to assemble it without scratching your head. In addition, the bed frame comes packed in styrofoam plastic which saves the trouble of cleaning it after assembling.
Not only does the bed come with a five-year warranty, but in case of a damaged frame, the supplier is more than happy to replace it within 24 hours.
The entire bed frame area is available for storing items that are less than a foot in size. Thus you might not place your bags below it, but it makes for the perfect place to store boxes and bins.
For those whose homes have hardwood floors, it is necessary to practice caution by placing a carpet below, as this bed frame has been shown to slip on such floors.
Plus-sized individuals and couples don't need to get disheartened or surrender to inferior quality of sleep. With so many options available for large-sized beds, at least now you don't have to lose sleep over the search for a bed frame that fits your needs. Before making a decision, always have a realistic idea of how much floor area you have, how much you would be willing to allow for the bed so that there is ample space for movement and other essential accessories in your bedroom, and choose wisely.