There is no better time than summer to enjoy your outdoor space, whether it's a patio or garden. But If you want to take advantage of your outdoor space to the fullest, you'll need the right garden decor. And there are countless options to choose from, from comfortable seating and benches to stylish dining sets. Check out these 7 must-have garden decors to elevate your outdoor space and create the perfect summer retreat.
Outdoor dining sets
Outdoor dining tables and chairs are perfect garden furniture for providing a comfortable seating area when entertaining friends and family. Whether you're hosting a summer barbecue or enjoying a leisurely brunch in the sun, an outdoor dining set provides the perfect setting for a meal al fresco. Also, there are a wide variety of outdoor dining sets available, from classic wooden sets to concrete tables and chairs.
When choosing an outdoor dining set, don't forget to consider the size of your backyard, its weather-proofing qualities and even the comfort of your guests. Look for chairs that have comfortable cushions and backrests, and a table that is the right height for dining. One popular option is the rattan dining set. Rattan is durable and weather-resistant material that is perfect for outdoor use, especially synthetic rattan. It also comes in a variety of sizes and styles, from small bistro to large dining sets that can seat up to 10 people.
Coffee table and chairs
Coffee table sets are a fantastic addition to any backyard space. They offer a convenient and comfortable spot to gather with friends and family while enjoying the great outdoors. They can enhance your backyard decor and transform it into an inviting and stylish space with a modern look.
When choosing a coffee table set for your backyard, think about your personal style and the look and feel you want to create in your outdoor space. If you prefer a sleek and modern aesthetic, you may want to consider purchasing a concrete set, whereas if you want a more rustic and cosy look, a coffee table made from wood or wicker may be better. Another important consideration when choosing an outdoor coffee table set is the size of your outdoor space. Larger sets with multiple chairs will be better suited to a large backyard or patio, but if you have a smaller space, a single table with two chairs may be more practical.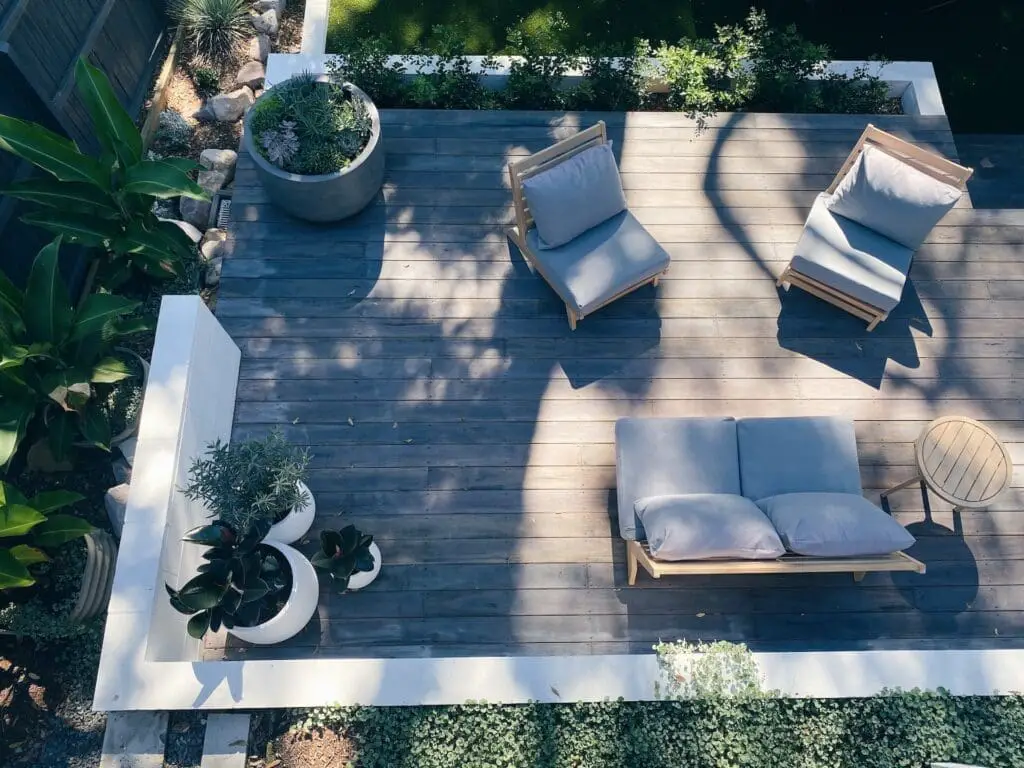 Benches
Benches are the perfect addition to any backyard space looking to achieve a natural and cosy feel. They are great for creating a warm and inviting atmosphere while also offering a comfortable spot to relax and enjoy your surroundings. Whether you prefer a modern or a more rugged and natural look, benches come in a variety of styles and materials that will fit right into your backyard. From concrete and metal benches to teak wooden benches, you'll be able to enjoy the great outdoors in comfort and style.
Relaxing hammocks and swings
Hammocks and swings are perfect garden decor for lounging in the sun, enjoying a lazy afternoon, or creating a peaceful and comfortable spot to read. It's always a good idea to consider the size of your garden and the level of comfort you're looking for when choosing hammocks, as there are many sizes and options available. From cosy single-person hammocks to larger-double seaters that are perfect for sharing, from traditional rope to more modern and durable fabrics, choose the ones that allow you to enjoy the tranquillity of your garden.
Cosy rugs and cushions
Outdoor rugs and cushions are ideal for defining seating areas and adding a splash of colour and personality to your outdoor space, from bold geometric patterns to more subtle natural designs. They are also a great way to add extra comfort to your existing garden furniture. When selecting rugs and cushions, look for ones that are weather-resistant and easy to clean, and choose colours and patterns that complement your existing garden furniture or backyard space.
Garden umbrellas or pergolas
Garden umbrellas or pergolas are another must-have garden decor piece that will improve the looks of your garden while also providing much-needed shade in your backyard. These pieces are perfect for hosting outdoor parties or simply enjoying a peaceful afternoon in the sun. Garden umbrellas are available in a variety of shapes and sizes, so you can easily find one to match your personal preferences and outdoor furniture. Pergolas are also available in many different sizes and styles, but if you're looking for a customisable option, choose a retractable pergola that allows you to adjust the level of shade as needed. This way, you'll be able to enjoy the outdoors in comfort while adding sophistication to your garden decor.
Outdoor lamps or string lights
In order to make your outdoor space feel cosy and welcoming for evenings and nights, consider adding some outdoor lighting. Garden lamps are excellent for lighting up walkways and seating areas, and they can also add a little flair to your outdoor space. String lights, on the other hand, are great for creating a cosy yet dramatic atmosphere and mood in your backyard, making them perfect for hosting parties and outdoor dining. When buying garden lighting, you'll have to think about the level of brightness you'll need since you don't want it too bright or too dim. Consider looking for garden lamps or string lights that have adjustable brightness and colour settings.
Other garden decors to try out
If you haven't found the ideal decorations for your garden, there's no need to worry. There are many more garden decor options available for you to explore and try out. This can be anything from outdoor statues and sculptures to birdhouses and wind chimes, which are a great way to experiment with and add a touch of personality and style to your garden. Potted plants, bird feeders, a small pond, sun loungers, carpets and rugs, and garden ornaments are other great options. Before getting garden decorations, you'll also want to think about the level of maintenance required. Teak tables, benches, and chairs, for example, are low-maintenance garden furniture that is easy to clean and maintain and can be left outside all year, regardless of the weather.
To sum it up, outdoor decor can come in a variety of types, shapes, sizes, colours, patterns, prices, and so on. So there's something for every garden, whether you want a cosy hammock, a stylish dining set, or a comfortable seating area.