Big cities are losing some of their appeal as more Americans look for homes that offer them space as opposed to convenience.
COVID-19 has had a drastic impact on the real estate market, and small towns and suburban areas are receiving a lot of unexpected attention as a result. People are taking advantage of remote work policies that have been introduced as a result of the pandemic, hoping that after this is all over, they will only need to come into the office a couple of times each week. Or maybe, they won't need to come in at all.
But, with high demand comes higher prices, and not everyone can afford to participate in a bidding war. If you're in this situation, you may consider thinking outside of the box.
Most of us would be happy with a nondescript home; a roof, walls, maybe a front yard. But would you ever consider living on a boat? What about on your own private island? If the answer is yes, then you're in luck. Below is a list of unique, non-traditional homes for sale.
At the time this article was written, all of the homes listed were still available. So, if any of these unusual structures appeal to you, you can probably still make a bid.
This beautiful work of art is also a fully functional home. Award-winning architect, Bob Chappelle, designed and hand-built the Vermont Earth Home from polystyrene. It is coated with mud and cement, giving it a dense, yet inviting aesthetic. The oval windows are built directly into the walls. It is currently selling for $220,000, but the owner must be as unique as the structure itself.
The Earth Home includes a large pond and is surrounded by nature. Shopping and restaurants are about 20 minutes away.
You won't be sleeping in a tent if you purchase this private island. This piece of land comes with a magnificent home that includes 4 bedrooms, 2 boating docks, and views of Putnam Lake from every room. The cost of the house is surprisingly reasonable; the asking price is $850,000.
You do need a boat to reach the house, located in Patterson, New York, and the lake is "non-motorized," but the island does come with its own solar-powered boat. The home is modern and bright, and comes with a deck overlooking the lake, an oversized mudroom, and it is available furnished if you're worried about how you will move large appliances by boat.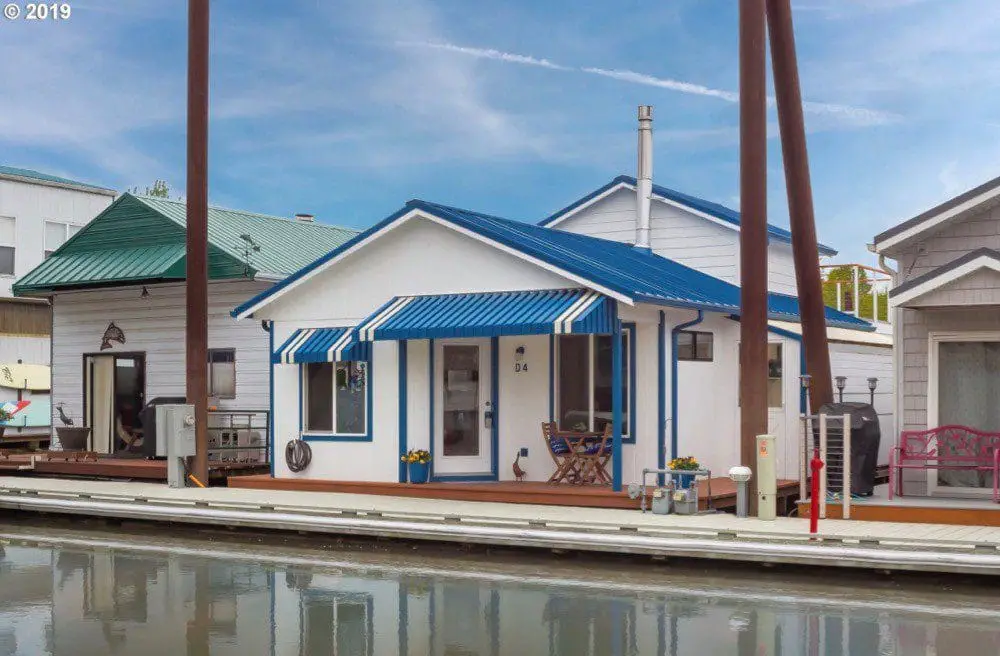 Waterfront property is generally expensive, and the prices have only increased in most communities. But, properties that can actually float might…well, float your boat. This cute Portland, Oregon home is on sale for $170,000 (the price has been reduced). It's situated in a quiet area, known mostly for its industrial and office buildings, but the views are anything but ordinary.
The standard cottage-like exterior might make this house look tiny, but the large windows and open layout make it feel bigger inside. The second-story deck in the back is an added bonus.
Spanish Castle
This old castle needs a bit of TLC, but if you've ever dreamed of having a balcony overlooking your living room, this is the home for you. The historic Florida house has 4 bedrooms, a detached apartment out in the back, and is selling for a modest $274,900.
Many of the finishes are dated, which is to be expected considering the castle was erected in the 1920s. Electrical and plumbing work has been recently done, and the old flooring and windows are absolutely gorgeous. This property also comes with a sizeable front and back yard.
This Wisconsin church is over 125 years old, and it could be your new home. The stain-glass windows, hard-maple floors and hand-crafted door are simply remarkable, and are arguably the main selling points. The expansive rooms will be appreciated by anyone looking for more space. Though this is only a 1-bedroom structure, a buyer could get creative and section off another area of the home to create a second bedroom. The current asking price is $287,500.
Some of the infrastructural improvements added to the church include natural gas heat, and a gas tankless hot water heater. A new roof was installed in 2020.
Conclusion
Finding your dream home takes a lot of work, and the competition is stiff right now. Many people want more space, and fewer crowds, and are looking outside of big cities to get what they want. That doesn't mean you won't find what you're looking for, but it could mean making several small compromises, or moving further out than you had initially anticipated. House hunters who are willing to get creative and think outside of the box might be pleasantly surprised at what they find.
About the author: Kim Brown is a writer for Condo Control.