Antoni Gaudí, a name synonymous with Catalan Modernism, created several architectural marvels across Barcelona in the late 19th and early 20th centuries. Among them, La Pedrera, also known as Casa Milà, stands as an extraordinary tribute to Gaudí's genius. The building, with its distinct and innovative design, perfectly exemplifies Gaudí's daring approach towards architecture.
Construction and Inception
The construction of La Pedrera began in 1906, and was commissioned by Pere Milà and his wife Roser Segimon. Gaudí's ingenuity transformed the project into a unique edifice that would eventually become an iconic structure in the Barcelona cityscape. Despite the initial controversies and challenges associated with its construction, La Pedrera was officially opened to the public in 1912, forever changing the face of Passeig de Gràcia.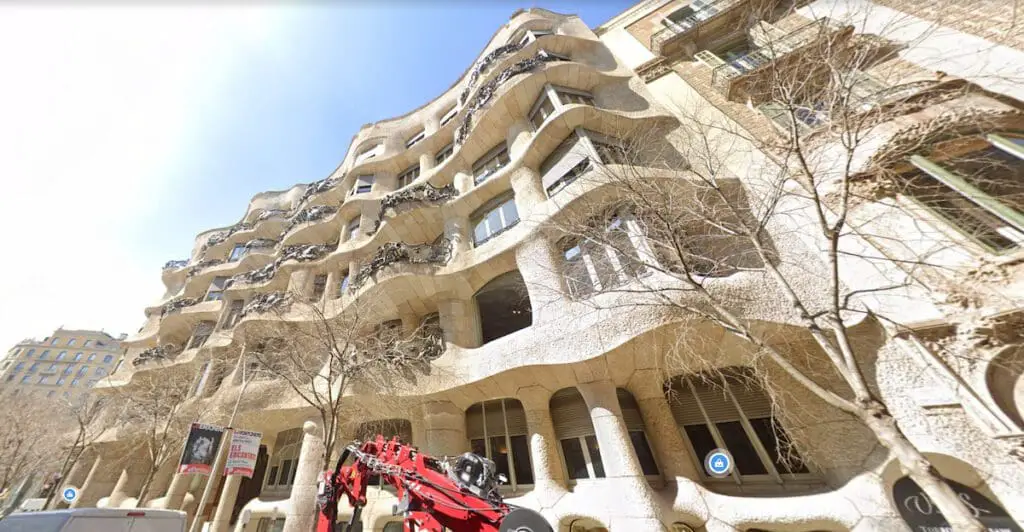 Design and Architecture
Gaudí's predilection for nature-inspired motifs is evident in La Pedrera's design. The façade, undulating and devoid of straight lines, mirrors natural forms and brings to mind a cliff sculpted by the sea waves. Stone and wrought iron, used abundantly, provide an earthy feel to the building. The façade's organic appearance is punctuated by the irregularly shaped windows and intricate wrought-iron balconies, designed by Josep Maria Jujol, a frequent collaborator of Gaudí's.
At its highest point, La Pedrera stands approximately 30 meters tall. The building covers a total floor area of about 1,300 square meters, effectively utilizing the space within the irregular plot. Each floor hosts a different function – residential apartments, offices, and even an educational institution have all found their places within this grand structure.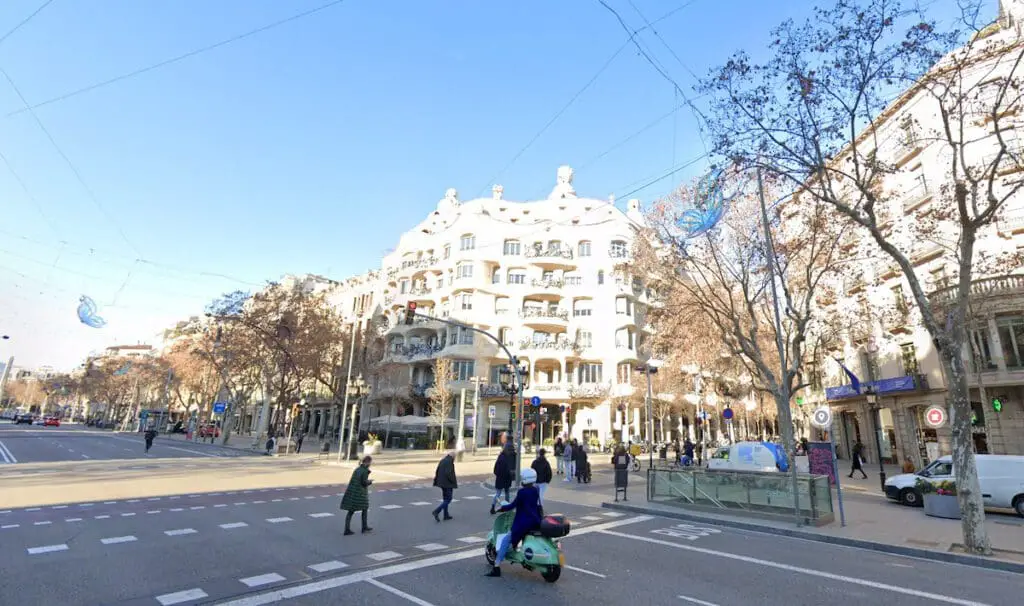 Inside La Pedrera
Inside La Pedrera, the architectural style continues to reflect Gaudí's love for natural forms. The building's inner courtyard, another signature feature of Gaudí's designs, ensures that each room receives ample natural light. The stairwells, inspired by the spiral shells Gaudí collected, are an exploration of both form and function.
One of the most fascinating areas is the rooftop, with its surreal landscape of sculptural chimneys. These structures, often referred to as "espanta bruixes" or "witch scarers," are renowned for their unique and imaginative designs.
Another striking feature is the attic, where Gaudí's understanding of geometry is displayed. It houses a collection of catenary arches that support the roof. This area currently serves as the Espai Gaudí exhibition, showcasing models, drawings, and photographs of Gaudí's work.
Present-Day Function and Access
Today, La Pedrera is a UNESCO World Heritage site and hosts the Catalunya La Pedrera Foundation, which organizes a range of cultural and educational activities. The building also houses a few private residences, maintaining its original function.
You can visit this unique piece of architecture at Passeig de Gràcia, 92, 08008 Barcelona, Spain. You can check the official website www.lapedrera.com for more information. The visiting hours is 0900 AM to 0630 PM. 
La Pedrera, through its daring design and enduring functionality, stands as a testimony to Gaudí's vision and the spirit of Catalan Modernism. Despite its age, this modernist building continues to inspire architects and artists, demonstrating the timeless nature of Gaudí's work.
In 2014, the foundation Cataluya La Pedrera decided to renovate the entire façade in a huge renovation project. So, the entire façade was cleaned and repaired, stone by stone. The work carried out over a period of 9 months. The original texture, color, and other features like stuccowork, and paintings have been restored. Similar restoration was also carried out in 2007, and 1995. 
Further Information On The La Pedrera Barcelona In Spain
Date Construction started: 1906
Date Opened: 1912
Architect: Antoni Gaudi & Josep Maria Jujol
Architectural style: Modernisme
Size or floor area: 1,300 square meter
Height: 30 meters with 84 meters of extension uneven. 
Function or purpose: Tourism – cultural & social usage – hosting exhibitions, conferences
Address: Passeig de Gràcia, 92, 08008 Barcelona, Spain
Website: www.lapedrera.com
Opening hours: Everyday (9:00 AM to 6:30 PM)