Creating a home exterior that is both functional and beautiful isn't easy. It takes some research, forethought, planning and time. However, the result is well worth it. A home exterior that feels natural in your space while also enhancing its appeal can do wonders for your property value and overall happiness while at home. Follow these useful tips to help you create a home exterior that is practical, appealing, and detailed to meet your needs. Read on to discover how you can upgrade the appearance of your house.
Change The Windows And Doors
New windows and doors are a great addition to any home exterior. If you have old windows, you'll be surprised at how much of a difference new windows can make to your home. New windows are great for blocking out excess noise and keeping out the elements and can be designed to fit the style of your home. If you want to add value to your home and improve the aesthetics of your exterior, new windows and doors should be at the top of your list. When you change your windows, you can also change the doors. If your current doors are outdated or don't match the style of your home, consider changing them out.
Consider Installing A Electric Car Charging Port
If you have an electric car or you're looking into getting one, adding a charging port is a fantastic addition to your home. This will allow you to rapidly charge your car while at home instead of having to find a public charging station. They're easy to install and come in a variety of styles to match just about any home exterior. Additionally, having a charging port at home will not only add convince to your day but will also help to save you money. You can learn more about charging ports as well as the maintenance and fuelling of electric cars in this guide from ElectriX.
Add Flowers And Shrubs To Create A Front Garden
When people go through the process of revamping the exterior of their home, often they will neglect their front garden and only focus on the back. While, of course, you will be spending more of your time in the back garden, your front garden is the first thing people will see as they approach your house, so it is important that you have a presentable front garden for people to walk through. It is very common for weeds and other invasive plants to take over a front garden, so perhaps take the time to remove the weeds and instead plant some nice bushes or flowers. While some people prefer the clean, paved look of a front garden, we suggest embracing wildflowers instead as this will make your garden look better. Not only this, but having some bushes, wildflowers, and trees in your front garden can give you some extra privacy as well, so it could be a good option if your house is situated on a busy street or you have some particularly nosy neighbours. Ultimately, you will know what your style is and what is best for your house, but it could be a good idea to make some changes that can give your house a nicer appearance.
A front garden is an easy way to add charm and appeal to your home's exterior. You can begin by planting a rose garden or adding some flowering shrubs to your existing landscaping. If you don't have much outdoor space, you can add a small flower bed at the front of your house. You can also add a small bench to your front garden for a place to sit and enjoy the flowers and plants. Making small changes to your front garden can make a major difference to your home's exterior. A front garden is a great way to add colour to your home while also providing some functionality. 
Adding greenery and florals is among the simplest (and most powerful) ways to add curb appeal to your home. If you run out of cash or lack time to invest in growing a garden, planters and window boxes will work fine. Plants can also be useful in highlighting and attracting attention to features like windows and entry points.
However, if you have limited space for a standing planter, get a hanging one. Even a beautiful plant layout will tremendously boost your home's attractiveness.
Clear Out The Gutters On Your Roof
While it may not be a fun job, clearing out the gutters of your roof is an important step in revamping the exterior of your home. As we head into Autumn, it is important that you clean your roof gutters as they can easily get clogged up by the dead leaves. Sometimes it can be difficult to notice when your roof gutters are clogged until it gets really bad, and water starts to overflow. Leaving the gutters to build up can cause damage to your roof and exterior walls as the overflowing water can seep through. Although it is recommended that you clean your roof gutter twice a year, if you are already planning to revamp the exterior of your home, then you may as well take that opportunity to have a deep clean of your roof gutters. The best way to clean the gutters is to go up with a ladder and use something sturdy to scoop out all of the dead leaves and mud. If you clean your roof gutters more frequently, then the job will be easier as you won't have months of dead leaves and mud to contend with. However, if you are unsure about how to clean them out or you are cautious about getting up on a ladder, then you can always pay a professional to do the job for you.
Install Solar Panels
Another good step for revamping the exterior of your home is to install solar panels. The idea of sustainability has gained vast amounts of popularity over the last decade as people are starting to see the effects of climate change and want to make changes in their own lives. A big part of that is sustainable energy, so if you are able to install solar panels on your roof, you could be making a huge difference. Solar panels provide renewable energy to your home meaning that you will end up paying less for your monthly bills. Although it may seem like a high cost, to begin with, you have to think of the bigger picture and the fact that you will be saving money in the long run. Especially with the looming cost of living crisis, it is important that we find ways to reduce what we are spending. If you have never considered solar panels before, then you may not have a full understanding of how they work or the different types available. Federation of Master Builders lets you compare solar panels so you can do some research and find which one is best for your home.
Cater for your lawn
Lawn care is a major aspect of creating curb appeal. Thus, it is important to cater to your lawn by trimming the grass, cleaning leaves and uprooting weeds. Ensure your flowers are watered on a timely basis to look beautiful. Lawn care is not an expensive or complex project. However, if you lack the time, you can opt for lawn alternatives such as artificial turf.
Outdoor Lighting
Dark entryways are not inviting prospective homebuyers. Replace your outdated lamp or hanging bulb at the front entrance of your home with something fascinating and contemporary. Remove cobwebs and other dust from the outdoor light fitting as it will quickly improve the area's appearance. You can also add some string lights to illuminate the pathway.
Invest In A New Exterior Finish
If your exterior is in poor condition, you can easily spruce up the look of your home by adding a new finish. Finishes like cladding are easy to install and can completely transform the look of your house. Whether you want to change the colour of your home or give the exterior a fresh, new look, finishing materials are a great option.
Replace Your Old Roof
A roof is an important feature of your home's exterior. That's why it's important to replace your roof if it is falling apart. Roofs are usually the first thing to show wear and tear on a home's exterior. If your roof is old and damaged, it can leak and cause damage to your home's interior.
Use symmetry
Symmetrical layouts are key to appealing focal points and improving cohesion in your home. You can create this effect by placing flower pots or lanterns on both sides of your entrance door.
Update your mailbox
Replace your outmoded mailbox with a more elegant one. It's a quick and simple project to carry on. It can add a subtle but important difference to your home's visual appeal. The price may vary between £40 to £250 depending on the kind of mailbox you want (a freestanding or wall-mounted one).
Clear the gutters
Clear out the interior and exterior parts of your gutter, remove the dirt and wash the surface until they appear neat and spotless. This extra effort can improve the appearance of your home exterior.
Add Front door décor
Decorations are not just for holidays. Decors such as wreaths are easily available throughout the year and can improve the appearance of your doorway. Opt for wreaths manufactured from dried wildflowers and plants, or better still, buy ones made with faux plants. Stay away from wreaths that will look untidy during seasonal changes. Instead, choose the one that is low-maintenance and will look beautiful all season.
Paint your garage door
A new garage door is costly. However, you can update the look of an old one without the high expense by repainting it in a fresh colour. Begin by pressure washing the door to totally clean the surface, and then give it a fresh coat of paint.
Make the necessary repairs
Ensure you repair any minor issues such as cracked panels, flickering bulbs or peeling paint. These minor defects can be very easily noticed by potential home buyers, so it is important you spend time repairing them. Go around your home exterior and watch out for anything that demands quick repair, then attend to them.
Garden Art pieces
A great way to improve the appearance of your home exterior is by adding beautiful outdoor art pieces. Some examples are sculptures, statues, paintings and even bird feeders. Make sure they are weatherproof and sturdy enough to last through seasonal changes. Garden art pieces exude a creative ambiance and can dramatically add style to your outdoor space.
Put In A Porch
A porch is a classic upgrade for the exterior of any home. It can also add value to your home. You can easily install a porch at the front of your house by adding a simple frame. If you want a more elaborate porch, such as one that will allow you to relax and enjoy time with friends and family, you can always hire a contractor to build one for you. You can build a porch that is as simple or complex as you like, but another great reason to install one on your home is that it's the ideal spot for a parcel to be left when you're out. This is because the porch will protect them from the elements, and if your porch has a door, it will also keep them out of sight from people passing by your home.
Outdoor Furniture
Having lots of outdoor furniture can make your outdoor space seem cluttered, while too little can make it appear abandoned or scanty. Thus, a nice balance is necessary. Also, ensure that your furniture is neat and well-maintained. If your goal is to create a sustainable, low-maintenance yard, consider adding an eco-friendly composite decking board and increase appeal by setting up some foldable seats and flower pots on it.
Modern outdoor furniture and decor allow homeowners to assemble new spaces that extend their indoor living space into their backyard and inspire them to spend more time outside. The right furnishings for your backyard match the design style of your home as well as your other decor elements to create a pleasing aesthetic appeal and extend the space's functionality. However, there's so much more to your outdoor space beyond the actual seating options. The ideal seating arrangement blends the comfort of your indoor space with the natural beauty of your garden.
Regardless of whether your outdoor space is spacious or narrow, outdoor decor and designer furnishings can give your area a luxurious finish. There are many options for improving your lawn, deck, or patio, from fire pits to weatherproof recliners. Ready to assemble the perfect outdoor seating space in your backyard? Here are a few of the products and arrangements you'll want to consider before purchasing any of the upgrades for this space.
Sofas and Sectionals
Your outdoor seating arrangements can be so much more than a few lawn chairs sitting on your deck or patio. To establish a seating area that offers considerable comfort for you and your guests, select an outdoor sofa that matches your home's design style. If the exterior of your house follows a modern pattern, you'll want outdoor furniture items that match. If you have more of a traditional design instead, you may want to consider the less contemporary or trendy selections rather than, the sleeker, newer options.
Before selecting a sofa or sectional for your space, check to ensure that both the frame and the cushions are weatherproof. This step is vital for anyone living in the pacific northwest or any other region where it rains during the summer months. The metalwork that forms the frame for the furnishing can easily rust if left to the elements. If you're purchasing chairs to situate in the same arrangement, you may want to consider an outdoor furniture set instead of individual items.
Relaxing Patio Chairs
The right patio chairs for your home allow you and your guests to relax and recline outdoors for several hours at a time without feeling any discomfort. When you're making a decision about which chairs match up with your plans, choose functionality over visual draw. Your outdoor chairs should offer flexibility in terms of movement and location, so you can move them around with ease. As with normal indoor furniture, it's usually better to select products that have a higher back. Ottomans and other footrests are a good option for anyone seeking to make their space even more comfortable and luxurious.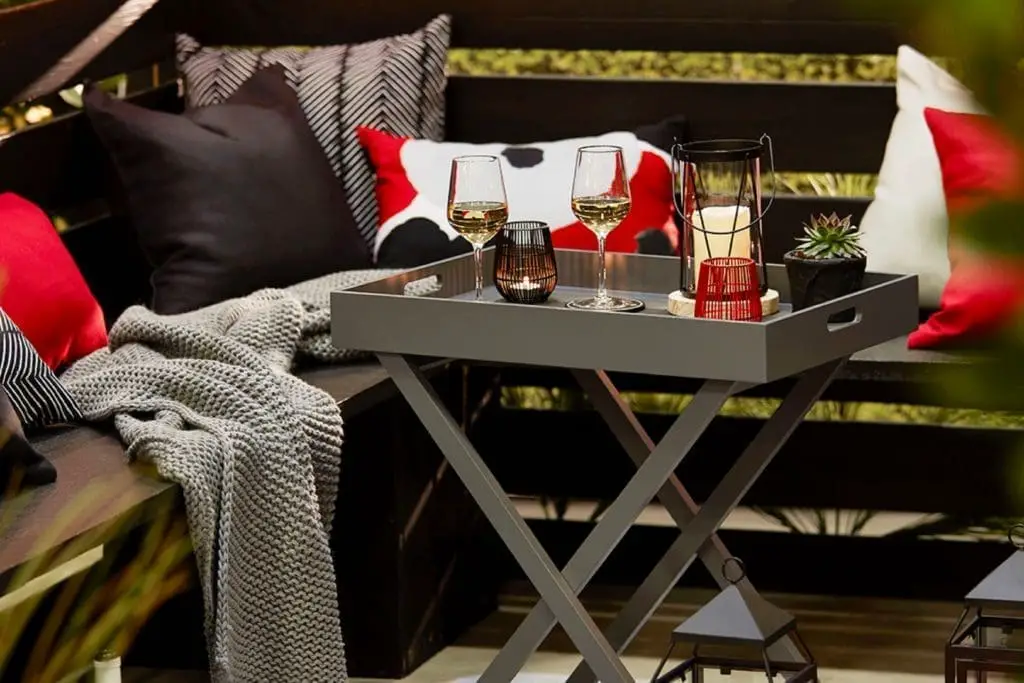 Coffee Tables
Coffee tables are a practical addition to any outdoor seating arrangement, serving as a pleasant centerpiece for almost any occasion. Whether you're entertaining guests or simply enjoying the evening, a small coffee table makes your space all the more functional. Alternatively, you may want to consider a small end-table for your backyard seating arrangement, particularly if you're a little short on space. Make sure you're selecting the right design aesthetic to match your other decorative and furnishing elements.
Improve The Drainage Around The House
If there is water pooling around your home, it's time to take action. If this water isn't diverted away from your home, it can cause serious damage to your foundation and exterior over time. Consider adding a drainage system around the exterior of your home to help to divert water away from the structure. Improving the drainage around your home is an easy way to protect your house in a very simple and cost-effective way. If you want to make sure your house stays dry, you should make sure you have adequate drainage around your property.