In the pristine wilderness of Alaska, where the rugged beauty of snow-capped mountains meets the shimmering expanse of the Northern Lights, luxury homes stand as a testament to opulent living. As we venture into 2023, the allure of these grand estates has never been more profound. From architecturally intricate abodes nestled in Anchorage to waterfront masterpieces overlooking the Pacific, Alaska's luxury real estate market offers unparalleled sophistication and magnificence. This article delves deep into the world of lavish homes, offering readers a glimpse into the epitome of modern elegance set against a backdrop of nature's timeless beauty. Join us as we unveil these gems, celebrating not just their price tags, but the stories and artistry that make them truly exceptional.
10. 4014 N Point Dr, Anchorage – $2,025,000
Nestled gracefully along the serene shores of Campbell Lake, with the majestic Chugach Mountains as its backdrop, the residence at 4014 N Point Dr stands as an architectural marvel. Built in 1993, this SingleFamily styled home boasts an impressive 6,986 sq ft of pure luxurious living space.
From the moment you step in, panoramic lake views sweep through every room, providing a tranquil setting that's simply unparalleled. Imagine waking up to these views from any of the home's 4 spacious bedrooms or perhaps enjoying a quiet evening in one of its 4 elegant bathrooms.
Delight in the gourmet kitchen fitted with a 6-burner Viking Range, twin Bosch dishwashers, and sophisticated granite counters. The Brazilian Ironwood deck promises countless enchanting sunsets over the lake, while the temperature-controlled wine cellar awaits the finest of collections.
This house's design astounds at every turn. An expansive dock with a hydraulic lift for both plane and boat is a testament to its exclusivity. The detailed finishing extends to a sprawling walk-out basement complete with a sauna, wet bar, and a wood-burning firepit right on the waterfront backyard patio.
But that's not all! There's ample room for vehicles and toys in the 6-car garage, and a new 25-year tar shingle roof installed in September 2021 ensures peace of mind. All of this, splendidly spread across a 0.29-acre lot in Anchorage, with a price tag of $2,025,000. Truly, a residence that redefines luxurious lakefront living.
9. 10554 Whitby Cir, Anchorage – $2,599,000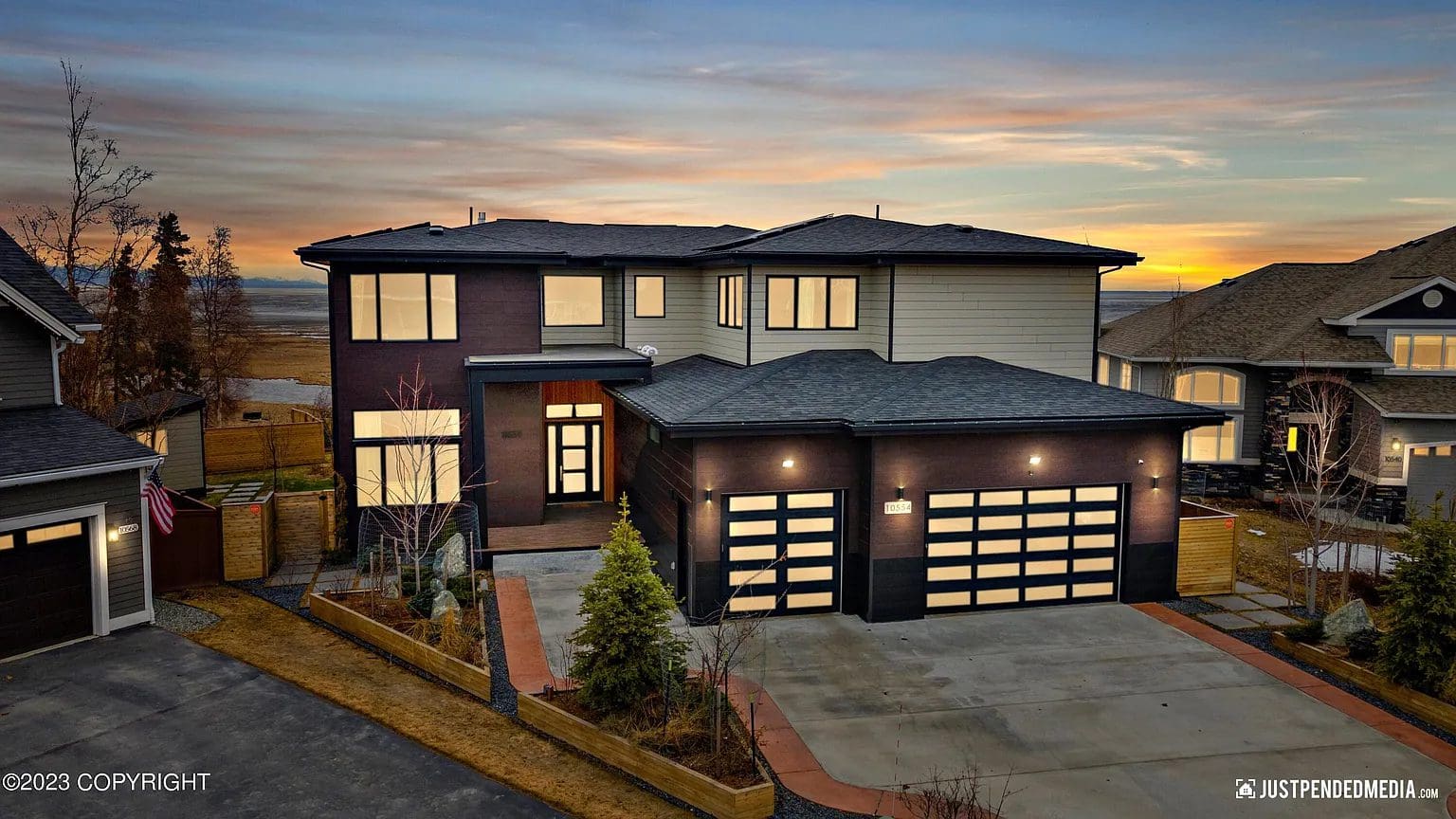 Step into a dream realized – a 5,348 sq ft masterpiece of modern living nestled at 10554 Whitby Cir in the heart of Anchorage. Built in 2021, this architectural gem offers more than just a home; it delivers an experience. Occupying a premium 0.32-acre bluff lot, it boasts jaw-dropping panoramic views that few can rival.
A glimpse inside unveils a world of unmatched luxury and innovation. The tasteful office space is an ideal enclave for remote work. The main floor plays host to a magnificent bedroom complemented by an en suite bathroom, encapsulating a personal oasis. As you traverse, the sunroom's inviting fireplace offers a heartwarming ambience, its connection to the deck painting a picture of harmonious indoor-outdoor living.
Gourmet chefs and novices alike will be smitten by the state-of-the-art kitchen, replete with Signature appliances and a Thermador built-in coffee maker. As we ascend to the second story, two more bedrooms unfold, each accompanied by expansive walk-in closets and a shared Jack & Jill bathroom. The pièce de résistance, however, is the master bedroom, grandiose with its twin decks and a mesmerizing see-through fireplace.
A sumptuous retreat is guaranteed with 5 bedrooms and 4 bathrooms laid out across two stories, with an extra touch of luxury – a media room for the ultimate entertainment experience. Practicality isn't forsaken – a 3-car garage, 14.9 KW Solar Panels system, and a 20 KW Generator stand testament. Craftsmanship, opulence, and comfort – all under one roof, crafted in the timeless SingleFamily architectural style. Welcome to the pinnacle of Anchorage living.
8. 4500 Cheveley Cir, Anchorage – $2,750,000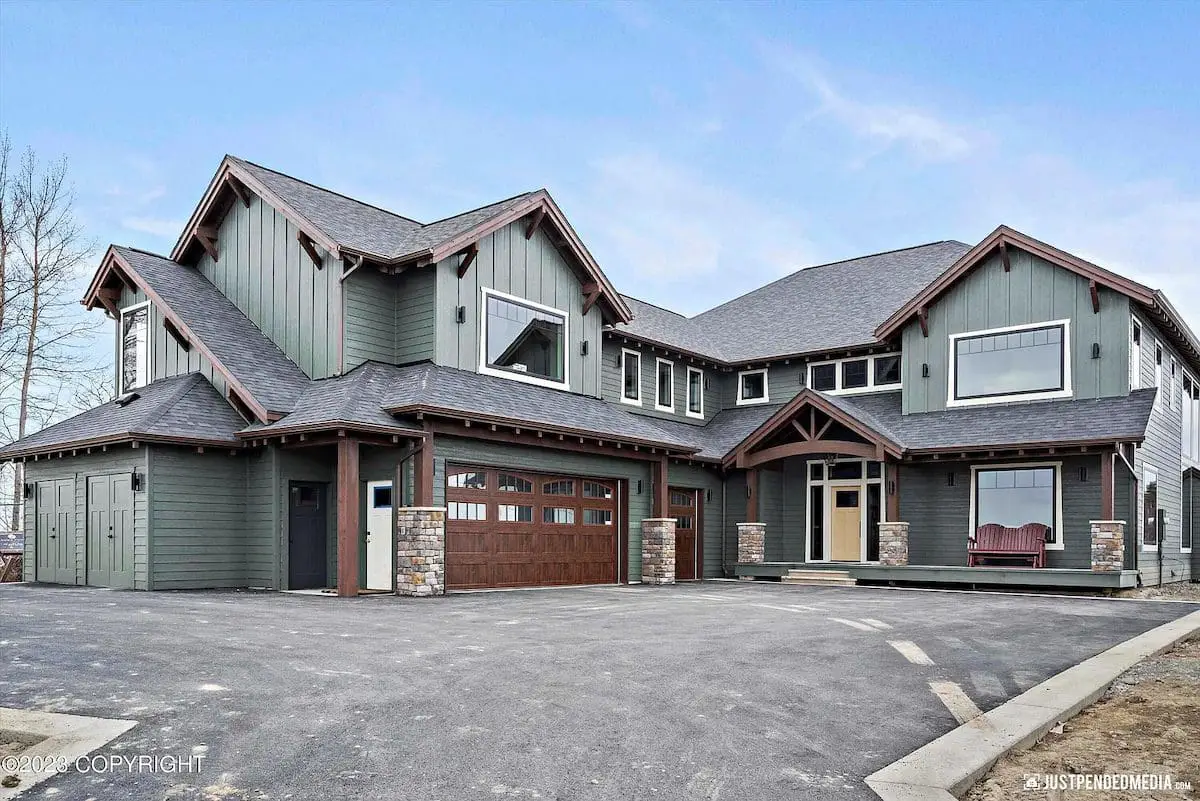 Perched gracefully amidst Anchorage's stunning landscape, overlooking the mesmerizing vistas of the Inlet, Campbell Lake, and Campbell Creek Estuary, lies an architectural jewel at 4500 Cheveley Cir. This modern craftsman home, constructed in 2022, spans an impressive 5,496 sq ft of sheer elegance, enveloped within a 0.45-acre lot. Priced at a deserving $2,750,000, it promises the zenith of refined living for those who value design perfection.
This masterpiece stands tall as a two-storied marvel, staying true to the SingleFamily architectural style, ensuring each of its 4 bedrooms and 6 bathrooms resonates luxury and function. But what truly stands out is the ingenious great-room. Here, walls give way to floor-to-ceiling windows, allowing inhabitants a seamless panorama of nature's beauty. You're not just living close to nature; you're living with nature.
The house's interior effortlessly combines contemporary elegance with classic touches. Warm walnut ceiling panels collaborate with a cozy stone fireplace to provide a sanctuary-like ambiance. All while sunlight, in its abundance, ensures a vivid and buoyant atmosphere.
Last, but certainly not least, for those who value their vehicles or need that extra space, a generous 3-car garage awaits. This house is not just a living space; it's a testament to design, function, and sheer architectural prowess. Experience Anchorage like never before!
7. 37211 Skywagon St, Soldotna – $2,800,000
Dive into a rich tapestry of history and nature at 37211 Skywagon St in Soldotna, a remarkable abode situated on an expansive 440-acre landscape, formerly a fragment of the esteemed Tennessee Miller Homestead. Its charismatic main house, once the Miller's residence, stands tall and regal, a testament to the past, encompassing a generous 4,000 sq ft of livable space. Built in 1969, this single-story haven, designed in the Hlsd Rnch/Dlt Bsmnt architectural style, is both majestic and intimate.
With 8 commodious bedrooms and 11 luxurious bathrooms, this property promises room for memories, dreams, and stories yet to unfold. But the main house is just the beginning. The vast acreage also encompasses 3 unique rental silos, a duplex, two cozy cabins, a sprawling hangar boasting 2 apartments, another hangar, and a vast workshop. And for the aviation enthusiast, a 2,200-foot runway awaits your adventurous spirit.
Soldotna Creek, with its serene whispers, winds gracefully across the verdant hay fields, and for those who admire the rustic, a gravel pit stands as a reminder of the land's versatility.
As if painted by a master artist, the property seamlessly blends nature with human-made marvels. A considerable garage space accommodating up to 8 vehicles ensures your prized possessions have a home too. This is not just a property; it's a legacy, a story, a dream encapsulated in every brick, beam, and blade of grass.
6. 52735 Halibut Cove Trl, Homer – $3,000,000
Nestled within the heart of Homer, the 52735 Halibut Cove Trl is not just a property – it's a nature lover's dream destination. Imagine waking up to pristine surroundings where wildlife roams free; that's the daily experience here in Halibut Cove, a sanctuary right inside the Narrows.
This expansive retreat covers a whopping 10.87 acres and encompasses a main house accompanied by two cabins. And that's not all! The estate expands with two more adjacent properties, each housing a cabin, and a deep-water dock. A culmination of traditional charm and modern updates, these structures, built in 1986, exude the classic cabin architectural style. The main house alone spreads across 5,985 sq ft, flaunting 7 inviting bedrooms and 6 well-designed bathrooms.
Stories? It boasts three captivating levels! The property not only provides a massive garage with space for two vehicles but is also eco-friendly. Each building integrates a biocycle system, a testament to sustainable living. And to cap it all? Every property stretches right up to the water's edge, offering unparalleled waterfront vistas. All this beauty, history, and modernity come together at a price of $3,000,000.
The ambiance, the history, and the breathtaking views create a narrative of peace, tranquility, and timeless elegance. This isn't merely a house; it's a story waiting to be lived.
5. L153 Big Gull Is, Sitka – $3,499,000
Nestled in the heart of Alaska, on L153 Big Gull Is in Sitka, lies a gem that is sure to take your breath away! Imagine owning a slice of Alaskan paradise on 11.57 acres of pristine island beauty. Built in 1993 with contemporary architectural flair, this unique abode boasts a sprawling 5,200 sq ft of livable space spread over three meticulously designed levels.
Every nook of this home screams grandeur! Towering ceilings welcome sunlight, creating a canvas of mesmerizing sunsets and ocean vistas. With 4 bedrooms, each offering a soul-soothing view of the water, and 5 lavish bathrooms, comfort is a given. But that's not all! The uniqueness of the house is highlighted with wood stoves in each bedroom, ensuring warmth and coziness during Alaska's chillier days.
The heart of this home is its living room, graced with a grand fireplace, adding an old-world charm. The sunroom and kitchen too share this warmth. For those who love the outdoors, this house doesn't disappoint. Decks galore, offering different perspectives of nature's grandeur. A sizable garage, extensive basement, and the magic of 2 stories make it a sanctuary for those seeking serenity.
The Big Gull Island retreat is not just a house, but a testament to the confluence of nature and architectural brilliance.
4. L2 B Lake Crk #6, Pt Alsworth – $3,500,000
Tucked away in a tranquil cove on Lake Clark, Stonewood Lodge is a dream realized! Spanning 2.4 acres and surrounded by the undisturbed beauty of Lake Clark National Park, Alaska Peninsula, and Southwest Alaska, this retreat is a harmonious blend of natural splendor and architectural elegance.
Constructed in 2012, Stonewood Lodge encompasses a sprawling 13,000 sq ft of livable space, effortlessly combining chalet and A-frame architectural styles. Every inch of the two-story structure is meticulously designed, housing 14 lavish bedrooms and 8 bathrooms. Four expansive garage spaces make for a car enthusiast's haven.
Amidst serene mountain views, one can engage in world-class activities from hunting and fishing to bear-viewing and hiking. Float trips on the pristine waters are merely the tip of the iceberg when it comes to adventures here. And while you're immersed in off-grid living, the house ensures you miss none of the home comforts.
For flying enthusiasts, the cherry on top is the local gravel airstrip and a grass cub strip situated right in front of the house, complete with an attached hangar. All this beauty and luxury finds its place at L2 B Lake Crk #6, Pt Alsworth, and is valued at a cool $3,500,000.
Stonewood Lodge doesn't just offer a place to live; it promises a lifestyle that's an ode to nature and luxury in perfect harmony.
3. 6096 Cliff Point Rd, Kodiak – $3,950,000
Step into a world of unparalleled beauty and architectural mastery at 6096 Cliff Point Rd in Kodiak. This exquisite 2019-built timberframe cabin offers more than just an abode; it's an experience that awakens the senses. Encompassing a generous 2,348 sq ft of livable space, the house flaunts not one, but two master suites, along with another bedroom and a total of 3 impeccable bathrooms.
However, what truly sets this property apart is its unique blend of luxury and nature. Imagine a sprawling 29.95-acre estate, providing the potential to subdivide into multiple 2-acre lots, and you're still left with a paradise of diverse landscapes. The approach to the house is just as mesmerizing with a 1,000′ gravel driveway leading to a securely gated entrance.
For those who appreciate intricate details, the timberframe construction offers a charm unlike any other. Custom detailing further enhances its character, showcasing a craftsmanship that's genuinely timeless. And, of course, who wouldn't love the additional Carriage House with its full kitchen and master suite? As for your vehicles, the 3-bay garage isn't just spacious but offers radiant heated floors for that added touch of luxury.
This residence, located at a prime spot with nearby services and amenities, is priced at a well-deserved $3,950,000. It's not just a house; it's a statement of artistry, nature, and luxury coming together in harmony.
2. 6223 Cliff Point Rd, Kodiak – $4,150,000
Imagine dwelling in a home that embodies luxury in the heart of Alaska's pristine wilderness. The "Olive Home" at 6223 Cliff Point Rd in Kodiak offers just that – a harmonious blend of upscale modern living, nestled amidst Kodiak's breathtaking landscape.
Sprawling across 4,600 sq ft, this 2019 masterpiece, priced at $4,150,000, stands tall with two stories of architectural brilliance. Its SingleFamily style is evident in every inch, from the timber-frame construction to the vaulted reclaimed-wood ceilings. While a commodious garage can comfortably fit two vehicles, it's the interior that truly dazzles.
The heart of this residence is its grand two-story fireplace, set against the backdrop of panoramic ocean and mountain views. Every room, including its 4 bedrooms and 6 bathrooms, is meticulously designed, radiating warmth and elegance. Thermador gourmet kitchen, in-floor heating, and hardwood floors add to the home's opulence, while custom cabinets and quartz counters exhibit a touch of sophistication.
And if the lot size of over 2 acres doesn't allure you, the expansive deck and outdoor living space certainly will. It's a place where morning coffees become an exquisite ritual, overlooking the vast ocean and the beautiful Pacific horizon.
Kodiak itself is a treasure trove, and living in the "Olive Home" is akin to having a front-row seat to nature's theatre. Indeed, a residence that truly feels like a serene oasis, a place where luxury meets the wild.
1. 5260 Kachemak Dr, Homer – $8,500,000
The most expensive house in Alaska is located at 5260 Kachemak Dr, Homer and is priced at $8,500,000.
Nestled in the heart of Alaska's breathtaking landscape is a residence that epitomizes luxury and elegance: 5260 Kachemak Dr in Homer. Constructed in 2011, this 17,000 sq ft architectural masterpiece stands tall with 3 stories, all fashioned in the timeless SingleFamily design. It's more than just a house; it's an experience.
Imagine waking up in one of its 7 opulent bedrooms, pulling back the curtains, and being greeted with sweeping views of Kachemak Bay through expansive walls of windows. The vast canvas of nature paints a picture of seals, otters, eagles, and whales, as they frolic in the sparkling waters. With 12 bathrooms, this home is built not just for comfort but luxury at every corner.
Entertaining is a breeze, especially with a garage space for 6 vehicles, ensuring guests have ample parking. Should you fancy a night of culinary delights, the dining area is ready to seat thirty, turning any meal into an extravagant feast. And post-dinner, the conservatory offers an ambiance like no other – nature, luxury, and tranquility, all rolled into one.
Resting on a majestic 2.47-acre lot, priced at $8,500,000, this haven is more than just bricks and mortar; it's a testament to the grandeur that is Alaska. Whether you find solace in the mesmerizing landscapes or the sheer luxury, 5260 Kachemak Dr is undeniably Alaska's pride.