As one of Hollywood's A-list actresses, Anne Hathaway is one of the highest-paid actresses in the entertainment industry. She got her first TV role in 1999 and was nominated for the Teen Choice Award for Best Actress in a Drama right after. In over 20 years, Hathaway already won over 60 awards from different award-giving bodies, one of which is the prestigious Academy Award for her supporting role in Les Misérables. The Oscar-winning actress has had a long list of blockbuster films, including The Princess Diaries, The Devil Wears Prada, Ocean's 8, Catwoman, and Brokeback Mountain.
In the same way that her talent brought her fame, her stardom also helped her build her wealth. Her current net worth is estimated at $80 million. Her unique and elegant style doesn't only show in her outfits; it also manifests in her own home.
In this post, we'll have a look at Anne Hathaway's house.
Where does Anne Hathaway live?
Although she was born in Brooklyn, New York, Hathaway currently lives in California with her husband and two kids. Her 2-story residence sits on a 3,500-square-foot space. The house has 4 bathrooms, 3 bedrooms, 3 stone fireplaces, a secret library, and a music room.
Anne's property is a historic structure, which was previously owned by the iconic Yves Saint Laurent and filmmaker Wes Anderson. In an interview with the home's designer Pamela Shamshiri, it was revealed that the couple loves to collect designs from different countries and centuries. The Swiss Chalet-inspired structure boasts Italian mid-century furniture, Turkish rugs and linens, handmade African decor, English leather chair, and other furnishings.
Beautiful Features of Anne Hathaway's new house
In this Anne Hathaway house tour, we'll take a closer look at the property's beautiful features. If you're planning to redesign your home or build a new one, her stylebook could be a great inspiration for you.
Exterior
From the outside, the home exudes a rustic country vibe with its stone foundation, brick and walls, and some wooden structural features.
The most striking feature of Anne's home exterior is the covered living area. This space is furnished with rattan couches covered with checkered cushions and throw pillows. A wooden coffee table is placed at the center of the area. There's also a stone fireplace nearby and some potted plants and shrubs. The pergola also looked stunning with vine trunks winding around its pillars. This is the perfect place to enjoy a stunning view of California's mountains.
Interior
Anne's sense of style is enough to turn the property into a Swiss chalet-inspired home. But she also got help from Studio Shamshiri's interior designer Pamela Shamshiri. Thanks to the color scheme and wood paneling, the home exudes a relaxing Swiss-style rustic country vibe.
Main Entrance and Mudroom – Anne and Pamela opted to replace the original sheetrock finish with board-and-batten walls. Then, they opted to have a buff pink and Burgundy brick red color scheme. They also added a Chinese Deco rug, closet doors with molding, and a Sawkille Co. bench.
Living Room – The living room features a wide range of seating options, including a leather armchair, a navy blue crescent sofa, a carved African stool, and a wingback chair. A wall-mounted shelf was installed right above the stone fireplace. And at the center is a wooden circular table. The floor cover is a custom Patagonia goat hide rug.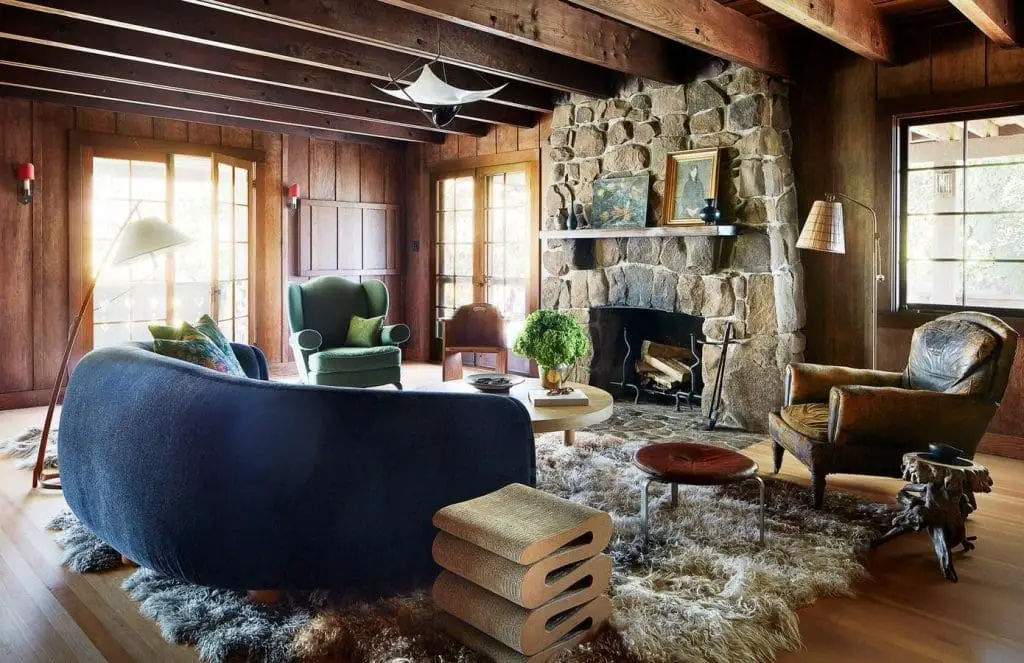 Master Bedroom – Located on the 2nd story of the house, the master suite has a light pink color scheme. It's fitted with huge French windows, vintage brass swing-arm reading lights, a stone fireplace, and a bronze overhead light fixture. The bed has a wooden frame and 2 bedside tables flank it.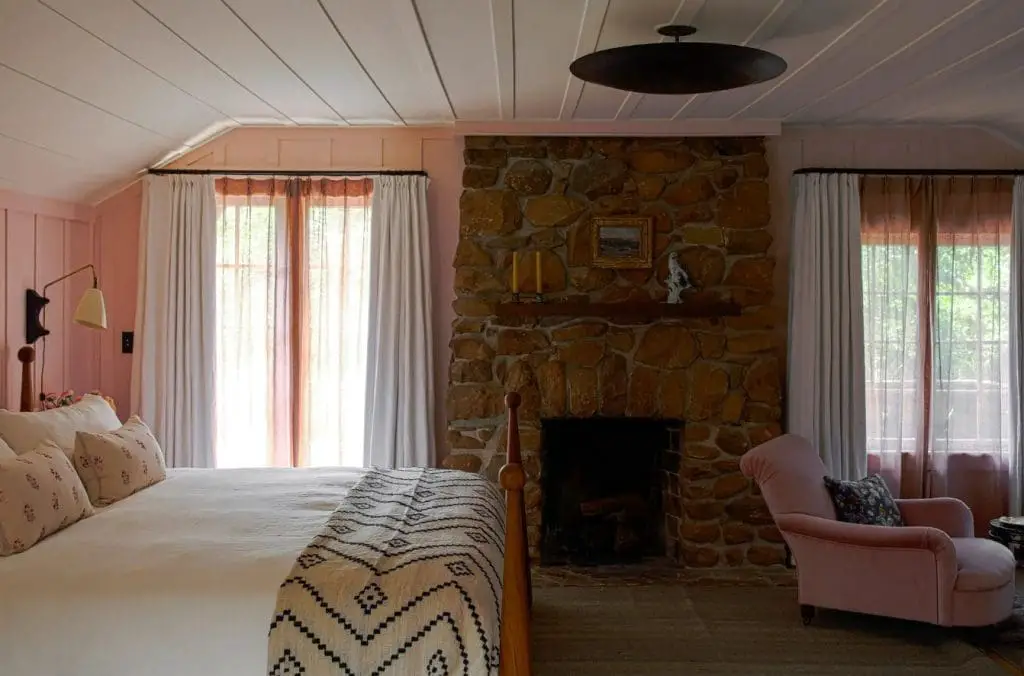 Kitchen – The spacious kitchen is furnished with a wooden wall-mounted utensils hanger, a slim wooden kitchen island with stools, pendant lights, and open shelves.
Music Room – In an interview, Anne said that this area is "the house's beating heart." She said she can imagine herself, her husband, and her friends hanging out in the music room and just having fun. This is why she furnished this area with a wide range of comfy seating, such as a double-sided sofa upholstered in cotton velvet, wingback chairs, and a pink tufted seat. She also placed a Yves Klein Monogold table, an early–20th-century disco ball, and A. Kazantste's 1964 oil painting called Portrait of A Young Woman.
Dining Area – The dining area features vintage Scandinavian mid-century spindle chairs, a BDDW credenza, a 6-seater wooden oval table, a Christopher Farr purple rug, and Adolf Loos' 1945 pendant light.
Breakfast Room – Aside from the dining area, Anne also made a space for her breakfast room where one can enjoy an abundant view of the outdoor greenery. Here she opted to have Jonah Meyer's handmade Springsteen table and Michael Anastassiades' jewel-like brass pendant lights.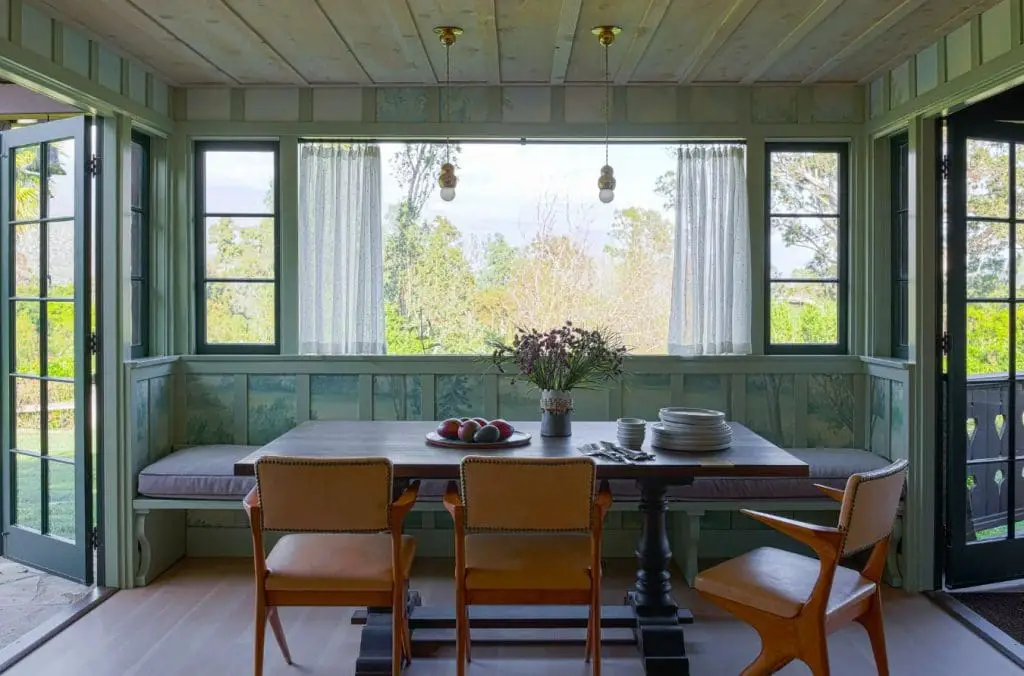 Anne Hathaway's California house is indeed a perfect haven to raise a young family. Aside from the basic spaces, she also has a covered deck, as well as a casual room fitted with a 1940s Deco Turkish rug, a shearling wing chair, a custom table with a blue Ashbury Hide leather top, a BDDW sofa, and two vintage lamps from Sweden. Of course, as a mother of two, Anne never forgot to have a nursery. She furnished this area with vibrant teal for the woodwork for the shelves and tables. The pink and blue color scheme is also perfect for a kids' room.
The Neighborhood Near Anne Hathaway's home
Although not much is known about the exact location of Anne's home, the Southern California neighborhood where it's located is definitely a tourist magnet. Among the many attractions in the Southern California area are the Santa Monica Pier, Joshua Tree National Park, Universal Studios Hollywood, Balboa Park, and Griffith Observatory. Southern California is also known as the home of the country's best wines.
Other Houses Owned by Anne Hathaway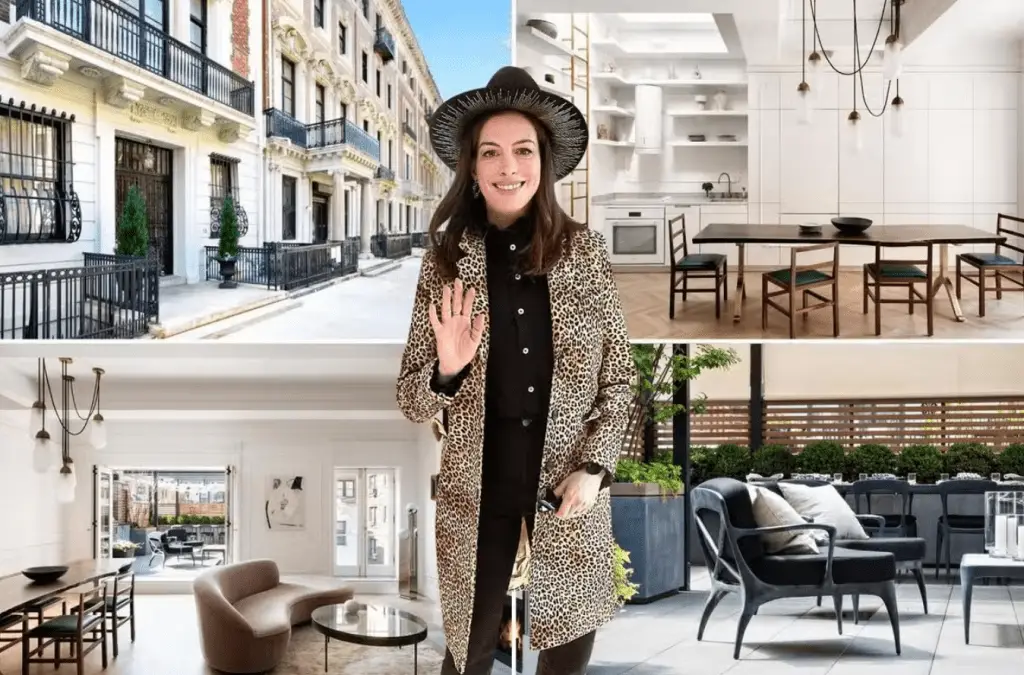 It seems that Anne has a home on both the East and West Coast. Aside from her California chalet, she also has a house in New York. Her 1,200-square-foot property is located in the affluent Upper West Side Manhattan neighborhood. The penthouse is worth $2.55 million and has 2 bedrooms, 2 bathrooms, and 18-foot ceilings.
Anne's house is indeed a perfect inspiration for those who want to create a rustic, country-home vibe for their interior. The woodwork, stone features, and multicultural decor and furnishings worked together to create an artistic and holistically beautiful space.