Modern outdoor furniture and decor allow homeowners to assemble new spaces that extend their indoor living space into their backyard and inspire them to spend more time outside. The right furnishings for your backyard match the design style of your home as well as your other decor elements to create a pleasing aesthetic appeal and extend the space's functionality. However, there's so much more to your outdoor space beyond the actual seating options. The ideal seating arrangement blends the comfort of your indoor space with the natural beauty of your garden.
Regardless of whether your outdoor space is spacious or narrow, outdoor decor and designer furnishings can give your area a luxurious finish. There are many options for improving your lawn, deck, or patio, from fire pits to weatherproof recliners. Ready to assemble the perfect outdoor seating space in your backyard? Here are a few of the products and arrangements you'll want to consider before purchasing any of the upgrades for this space.
Sofas and Sectionals
Your outdoor seating arrangements can be so much more than a few lawn chairs sitting on your deck or patio. To establish a seating area that offers considerable comfort for you and your guests, select an outdoor sofa that matches your home's design style. If the exterior of your house follows a modern pattern, you'll want outdoor furniture items that match. If you have more of a traditional design instead, you may want to consider the less contemporary or trendy selections rather than, the sleeker, newer options.
Before selecting a sofa or sectional for your space, check to ensure that both the frame and the cushions are weatherproof. This step is vital for anyone living in the pacific northwest or any other region where it rains during the summer months. The metalwork that forms the frame for the furnishing can easily rust if left to the elements. If you're purchasing chairs to situate in the same arrangement, you may want to consider an outdoor furniture set instead of individual items.
Relaxing Patio Chairs
The right patio chairs for your home allow you and your guests to relax and recline outdoors for several hours at a time without feeling any discomfort. When you're making a decision about which chairs match up with your plans, choose functionality over visual draw. Your outdoor chairs should offer flexibility in terms of movement and location, so you can move them around with ease. As with normal indoor furniture, it's usually better to select products that have a higher back. Ottomans and other footrests are a good option for anyone seeking to make their space even more comfortable and luxurious.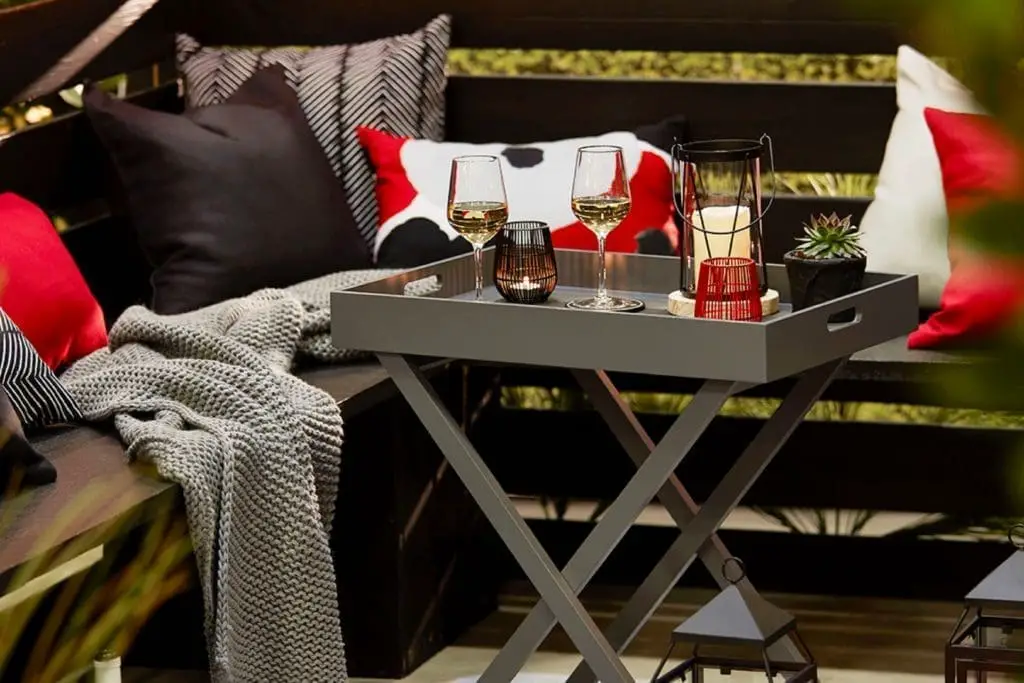 Coffee Tables
Coffee tables are a practical addition to any outdoor seating arrangement, serving as a pleasant centerpiece for almost any occasion. Whether you're entertaining guests or simply enjoying the evening, a small coffee table makes your space all the more functional. Alternatively, you may want to consider a small end-table for your backyard seating arrangement, particularly if you're a little short on space. Make sure you're selecting the right design aesthetic to match your other decorative and furnishing elements.
Fountains
Modern outdoor garden fountains boost the appearance of your space while creating an unmatched zen atmosphere. In feng-shui, water is considered one of the key calming elements to interior design. Though you'll be adding this decorative item to your outdoor space, the same principle applies. The sounds of a water fountain can also help reduce the sounds of a busy nearby street or a particularly noisy neighbor. While these aren't necessarily the cheapest addition to your backyard, they go a long way in elevating all of your other design elements.
Firepits
A fire pit is another fantastic centerpiece for your backyard that adds both warmth and visual appeal. Both concrete and metal fire pits work well in place of a coffee table, allowing you and your guests to spend more time outdoors as the evening continues. A gas fire pit is also the best option for your seating arrangement, as it allows for little to no smoke output, so your furniture doesn't smell like a campfire.
Dining Arrangements
Outdoor seating areas don't always have to be an extension of your indoor living room. An outdoor dining space is a popular luxury addition for anyone that enjoys cooking outdoors. Whether you have a grill or you're working with a full-scale outdoor kitchen, a few comfortable dining chairs along with a patio table go a long way towards making your backyard more comfortable and functional. In many cases, you can purchase the necessary furniture pieces for a dining area as a set, though ideally, these would only be the foundation for this space.
Lighting
Outdoor string lights offer a boost to any outdoor living space and ensure you can spend more time outdoors in the late evening. Ground lighting is also a popular addition to outdoor seating arrangements, though it typically offers a less direct light source. If you're creating a covered area with a shade sail or large umbrella, these outdoor lighting elements are all the more essential.
Design Finishes
To create a high-quality seating arrangement for your backyard, you'll need to pay close attention to the smaller design details in addition to the furnishings. An outdoor rug can go a long way in establishing a relaxed vibe for the space. Designer throw cushions can be a nice addition for boosting the seating area's color elements.
Plants
Because you're decorating an outdoor space, you'll have plenty of opportunities to add a bit of greenery to your area. Potted plants fit in with almost any furnishing arrangement and design style. If you want to assemble a truly luxurious outdoor space, you may even want to consider speaking with a professional landscape designer or outdoor design consultant.