WonderWorks Pigeon Forge: An Architectural Marvel that Defies Gravity
A wonderful scene greets visitors in the heart of Pigeon Forge, Tennessee: traveling down Parkway–the town's central artery; your eyes are drawn to WonderWorks. This delightful oddity represents a unique fusion of architectural panache and engaging edutainment, it appears as if an upside-down building has been ripped from its foundation by some fantastical force and placed on its roof.
Terry Nicholson, the celebrated architect renowned for his daring approach to architectural design and love of experimental styles, conceptualized WonderWorks. The construction of this tower, a striking exterior that now serves as a hallmark for Pigeon Forge due to its defiance of gravity and conventional design principles, commenced in 2006; it opened its doors to the public on April 4, 2007. Approximately $40 million constituted the total cost of constructing this unique attraction.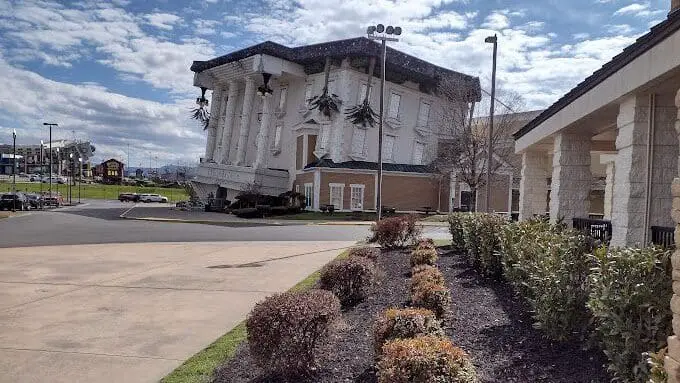 WonderWorks, embodying Constructivist and Postmodern architecture elements, testifies to architectural ingenuity. The three-story building spans 55,000 square feet; its design creates an illusion of being upside-down. Greek-style columns detail the stark white edifice, Romanesque arches, and Victorian trimmings, all humorously out of place due to this extraordinary orientation in space. At a cursory glance, one might deem it a traditional, old-fashioned mansion, as if an eccentric architect or capricious deity had playfully turned it over from another era.
The building's interior maintains the upside-down illusion, yet it evolves into an atmosphere conducive to exploration and learning. WonderWorks transcends mere architectural curiosity and actively fulfills a functional role. As a playground for intellectual pursuits, WonderWorks features over 100 interactive exhibits that seamlessly integrate education with entertainment. From a simulated earthquake to a replica of the Mercury space capsule, visitors can actively engage with various experiences.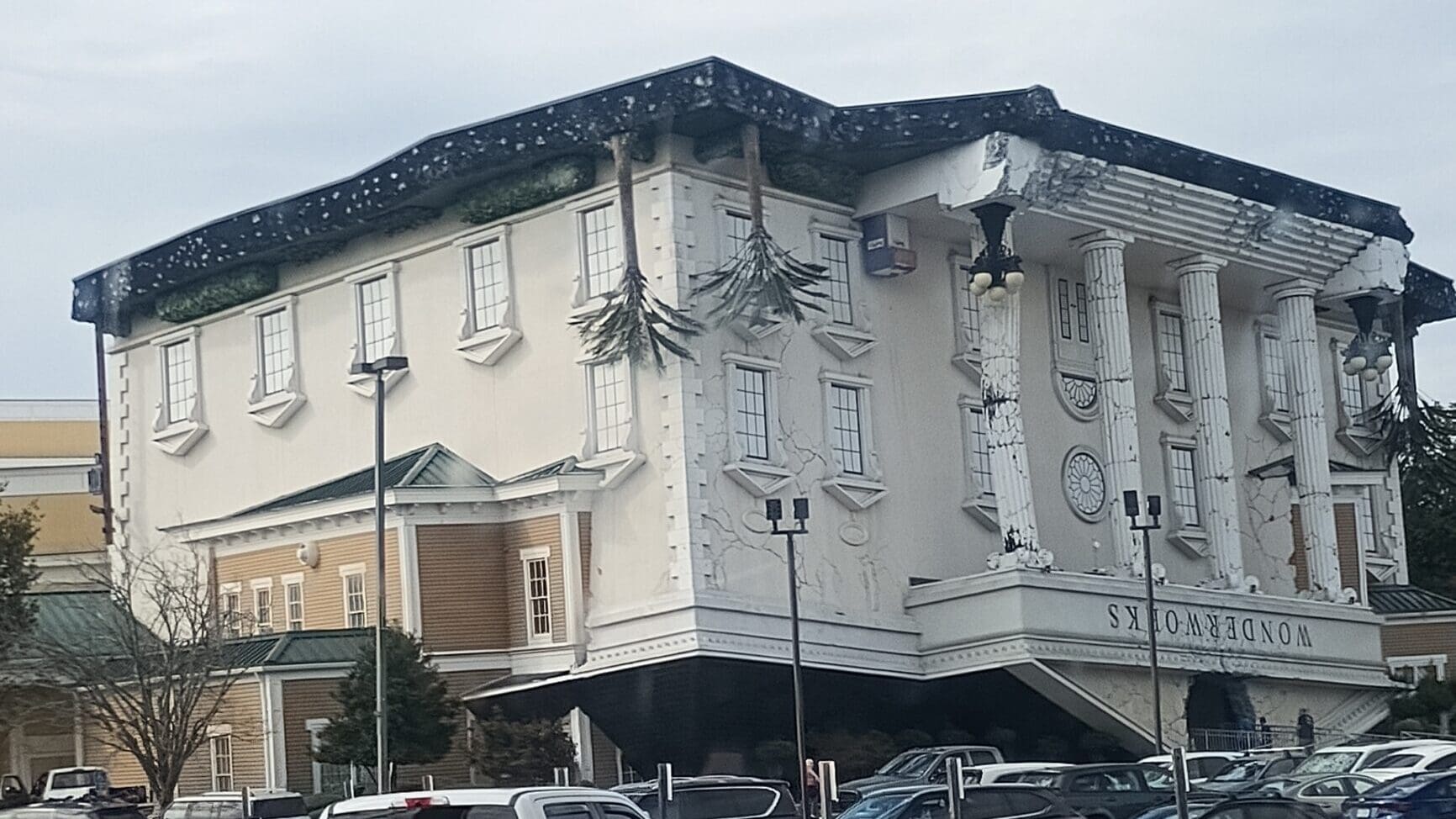 WonderWorks Pigeon Forge – located at 100 Music Rd, Pigeon Forge, TN 37863 in the USA – boasts a central address that ensures easy accessibility. This iconic stop garners significant visitor attention within Pigeon Forge. To obtain further information or make inquiries, please get in touch with them directly via their listed number +1 865-868-1800. Their official website, www.wonderworksonline.com/pigeon-forge/, provides access to further details regarding the attraction, including updates and events.
WonderWorks, an architectural marvel and fun-filled educational hub invites you to embrace the upside-down and sideways. Its operating hours vary by season; however, it typically opens at 10:00 AM—providing ample time for visitors to explore its exhibits.
During the summer break, children can actively engage in science and math learning through an interactive experience Wonderworks has developed. Furthermore, guests can explore the expanded WonderZone featuring a Twister activity that presents a digital rendition of the beloved 1960s game.
WonderWorks Pigeon Forge, both inside and out, manifests architectural audacity and creativity, a true testament to the spirit of 'wonder'. Its unique design integrates seamlessly with its educational purpose, thus positioning it as a notable structure within innovative architecture. Indeed, the concept embodied in this building's name reverberates through semantics and down into every strand of its architectural DNA. Stepping into WonderWorks' surreal world, visitors taste the remarkable possibilities that a fusion of architecture and imagination presents.
Further Information For  The Wonderworks Pigeon Forge
Date Construction started: 2006
Date Opened: April 4, 2007
Cost of building: $40 million
Architect: Terry O. Nichoson
Architectural style: Ancient-Roman style
Size or floor area: 55,000 square feet
Height: Three-story
Function or purpose: Entertaiment
Address: 100 Music Road Pigeon Forge, TN 37863
Phone number: +1 865-868-1800
Website: https: //www.wonderworksonline.com/pigeon-forge
Opening hours: Daily: 10:00 a.m. to 9:00 p.m.