Japanese homes are well-loved for their refreshing vibe, minimalism, and elegance. Plus, these homes are also known for their layout efficiency and multi-functional features, despite being small. So, if you're thinking of an apt stylebook to follow for your dream home, these Japanese-inspired houses might give you the ideas you need.
1. Sui Generis Luxury Estate in Brielle, New Jersey
This 31,281-square-foot, nine-bedroom luxury estate sits on the edge of the Manasquan River. It also has a wine cellar, home theater, outdoor kitchen, and two-story atrium. And the most stunning feature of the property is the Japanese-style garden with wisteria-covered pergolas.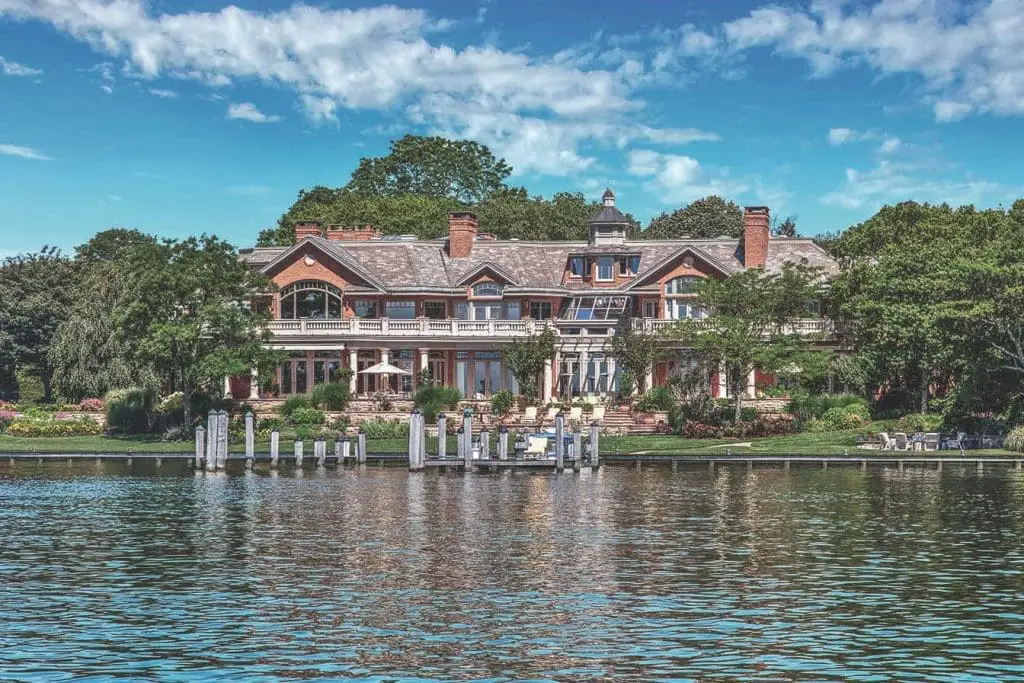 2. Rustic Japanese Home in Lake Georgia, NY
Located near the picturesque mountain range near Lake Georgia, this home combines country style with intricate Japanese home design. This 1,650-sq.ft. property has two bathrooms, two bedrooms, and a tailor-made sanctuary with an unparalleled view of the surrounding mountains.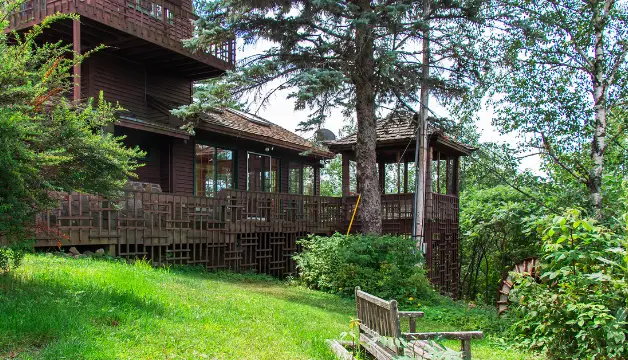 3. Engawa and Wabi-Sabi Home in Southern California
Architect Sebastian Mariscal designed this home to exude a wabi-sabi spirit. The home is made of concrete, shou sugi ban timber, and other materials. The property's best features include a koi pond and an "engawa," a tertiary space common in traditional Japanese houses.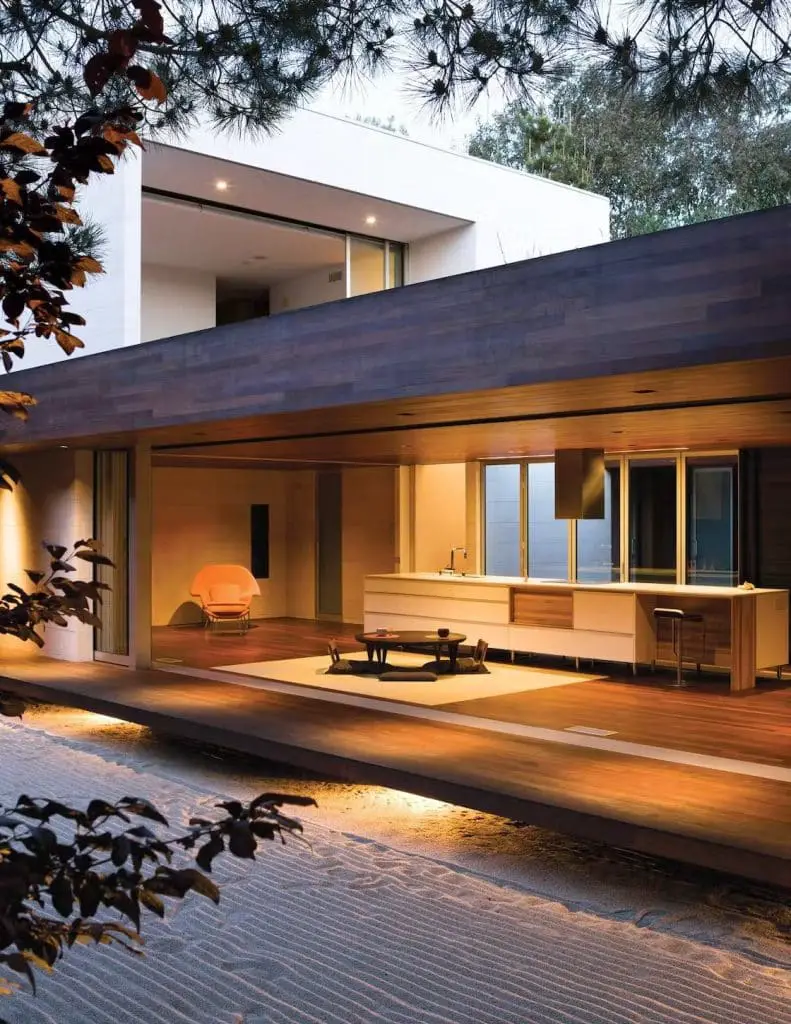 4. Traditional Japanese Home in El Prado, New Mexico
This home combines columns and tiles with traditional Japanese home design elements. The 3,037-square-feet property has seven bathrooms and seven bathrooms spread in four little houses. The exterior and garden area also features a spring, benches, waterfalls, footbridges, and fountains located in the meadow.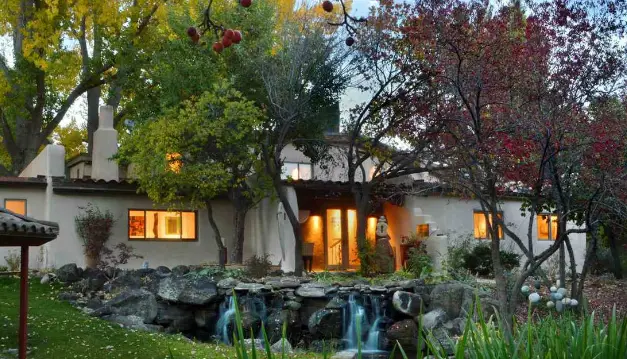 5. The Louis Penfield House in Lake County, Ohio
This is one of the Japanese-inspired homes designed by Frank Lloyd Wright and constructed in 1955. The 1,730-square-feet residential property features "goutenjou" coffered ceilings, a floating wooden staircase, and ribbon windows.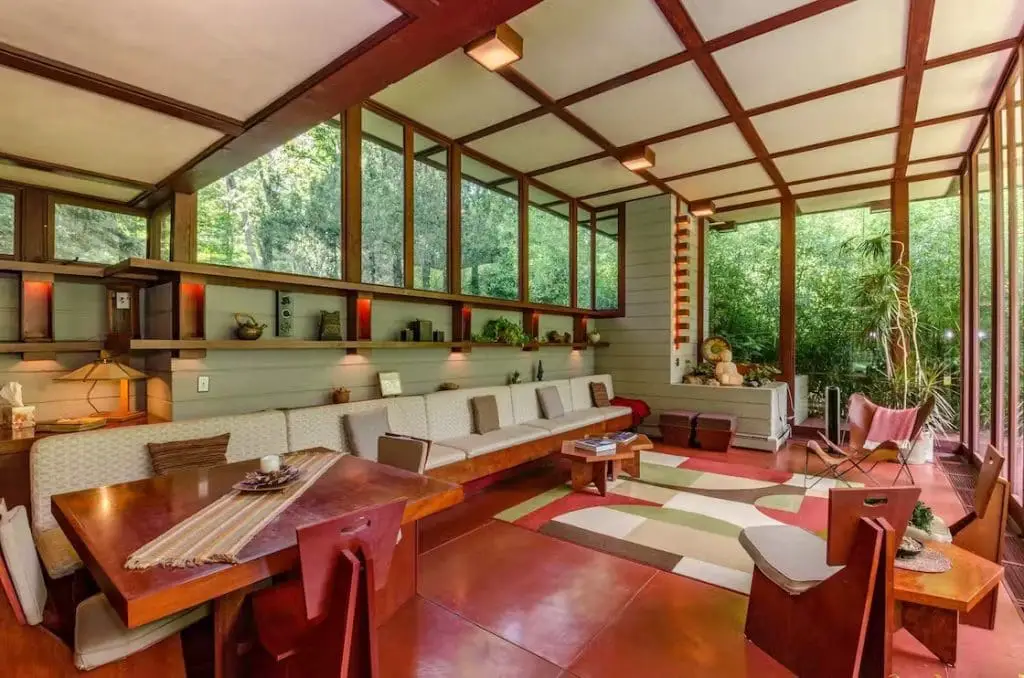 6. Sukiya Style House in Rhinebeck, NY
This house is surrounded by a verdant eight-acre forest on three sides. It also has a Japanese-style garden with a stream-fed pond. The three-bathroom three-bedroom home might be located in seclusion in the middle of a forest, but it's actually within five miles of different schools, making it perfect for a growing family.
7. Josie Natori's Home in Pound Ridge, NY
As a huge fan of classic Japanese architecture, fashion designer Josie Natori designed her Pound Ridge home with a Japanese-style outdoor area, exposed-timber structure, timber-framed verandas, and an antique foundry water fountain. The 2,900-square-foot property also has an open plan and floor-to-ceiling glass doors and windows. She shares the house with her husband Ken Natori.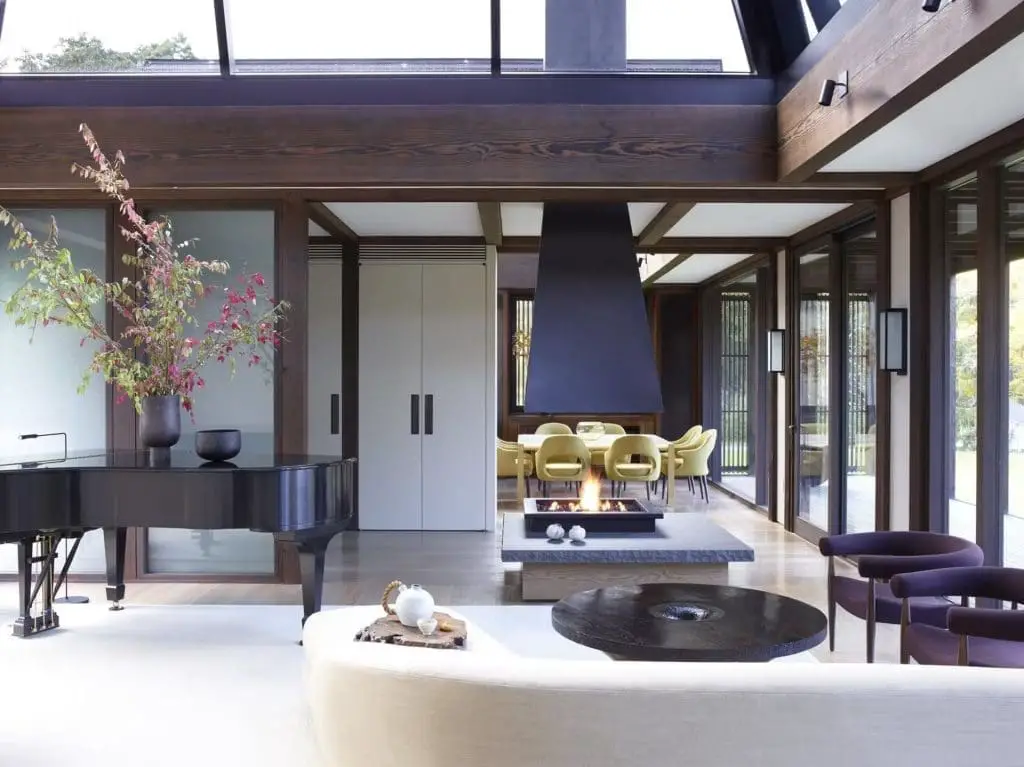 8. California Mix
This 5,285 square feet home combines 21st-century contemporary home style with traditional Japanese design. It is located in the middle of a vibrant meadow with a beautiful view of the garden and the sea. The house has a separate Japanese-style bath, meditation room, seven bathrooms, and five bedrooms.
9. Suteki House in Portland, Oregon
This two-story home has an L-shaped floor plan that combines a Japanese house exterior with 21st-century comforts. Following the concept of shakkie (borrowed scenery), the 4,739-square-feet abode features floor-to-ceiling glass to capitalize on the natural landscape outside.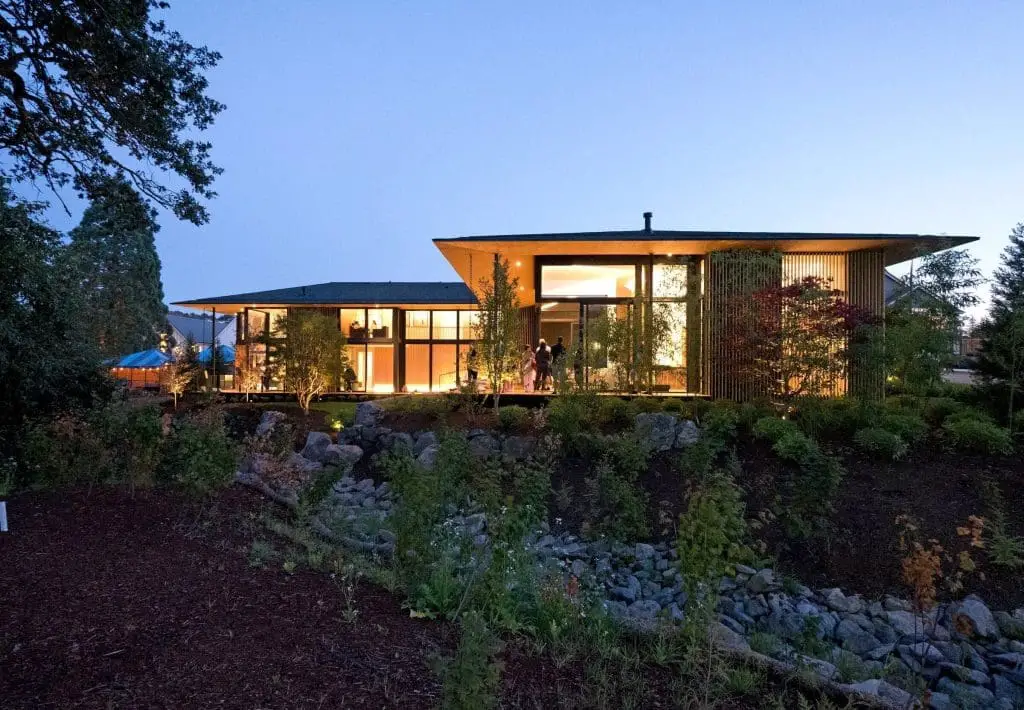 10. Shofuso Home in Philadelphia
Designed by renowned Japanese architect Junzō Yoshimura, this home was originally constructed in Japan, then moved to NY, then to Philadelphia. It features open spaces and huge windows that let in a lot of natural ventilation, illumination, and of course, breathtaking landscapes of the garden outside.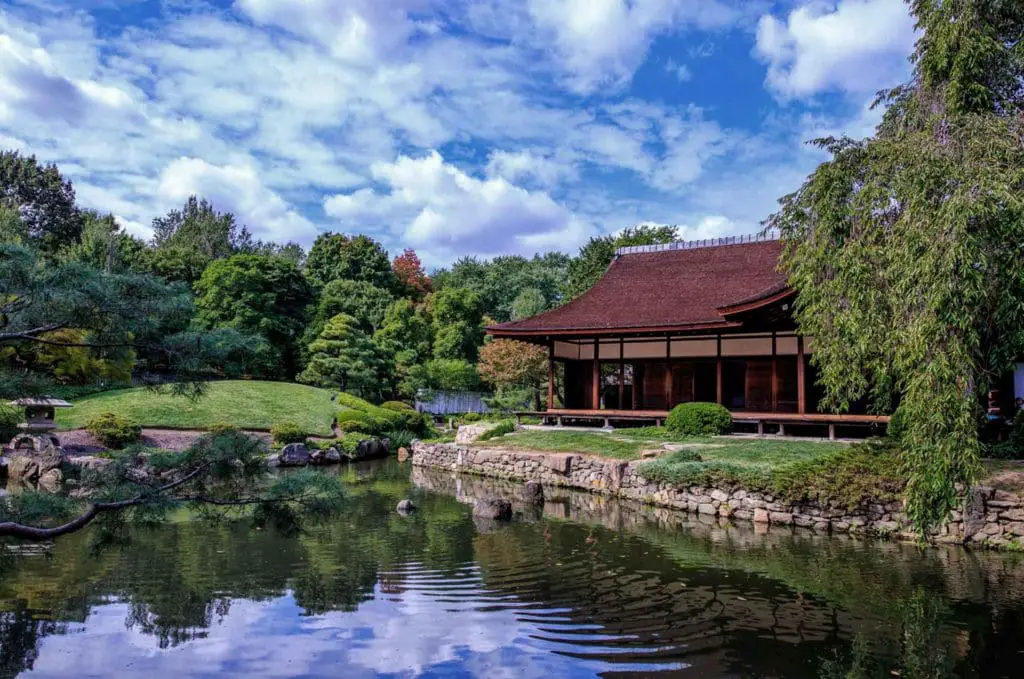 11. Traditional Japanese Style Maisonette Duplex in NY
Originally a loft-space, master designer Shigeru Kobayashi redesigned this property following the traditional Japanese home style. The home interior features tatami flooring, oriental lighting, sliding doors, and shoji screens. Guests will surely feel like they're living in Japan, although they're in the heart of New York City.
12. Home of East Wind's Owner in the Sierras, California
East Wind is one of the leading home designers and builders in the US that focus on integrating Japanese styles with modern elements. And as can be expected, the firm's owner opted to build a cozy and elegant Japanese zen house for his family. It features furniture pieces, flooring, walls, lintels, and posts made of natural wood. Plus, the sliding doors, movable screens, and glass walls allow one to enjoy the natural scenery while inside the house.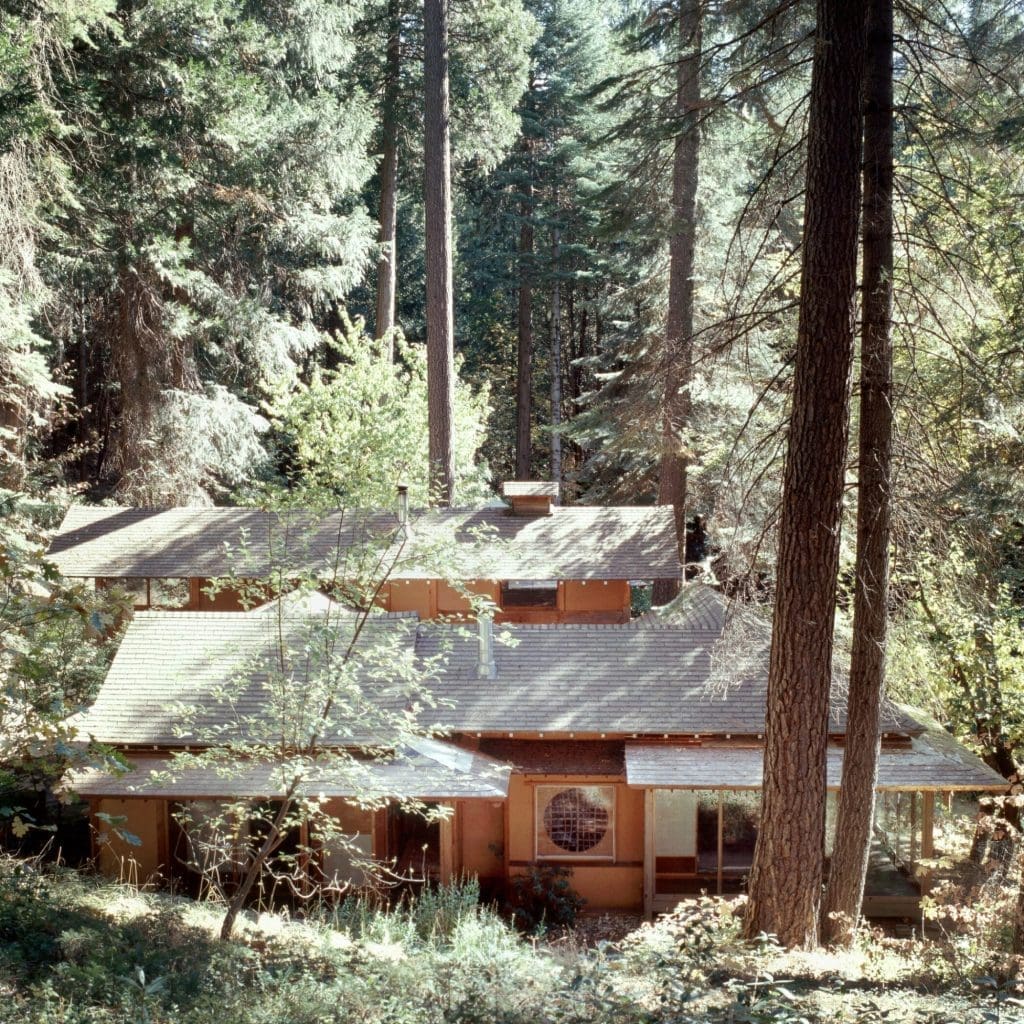 13. Montauk Beachfront Retreat, Montauk, New York
The 7,000-square-foot oceanfront property has an elegant Japanese-inspired blue-tiled roof. The property has its own nature preserve, as well as private access to the beach and a world-class surfing site. It's a masterpiece by designer Frank Hollenbeck.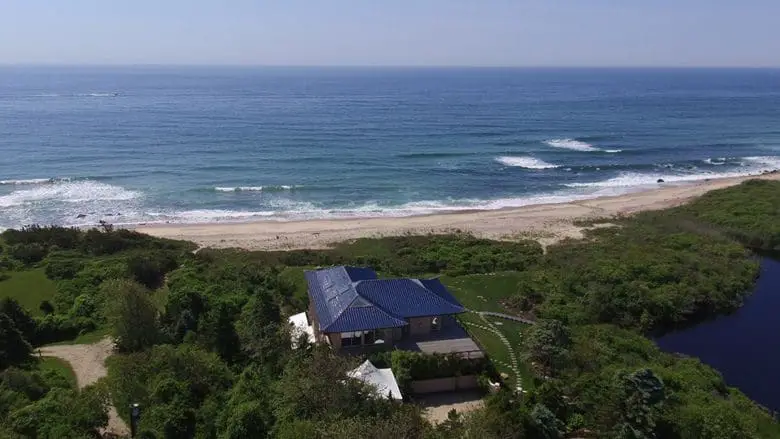 14. Chowa House Concept Home in Las Vegas
This two-story home has four bedrooms, two garages, and five and a half bathrooms strategically located in its 5,470 sq. ft. of living space. The home upholds the "living in balance" vibe designed to "make the home the happiest place in the world," says Sekisui House's representative director Yoshihiro Nakai.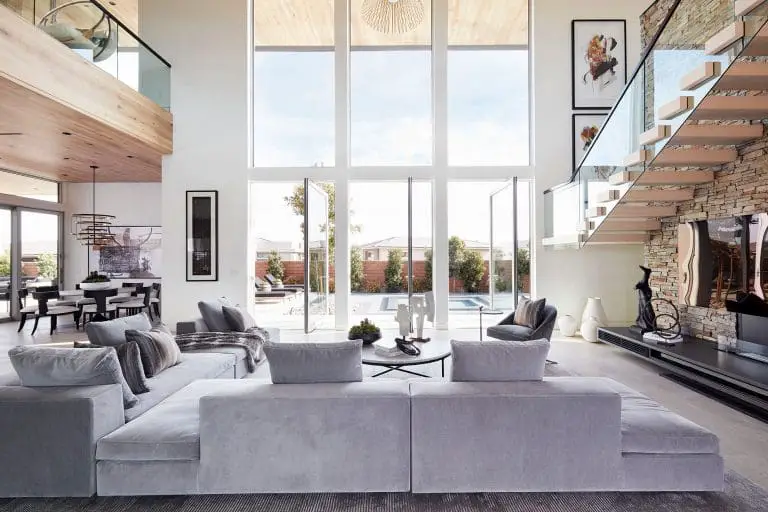 15. Japanese-Usonian Home in Sparta, Michigan
Designed by architect Mitch Witkowski, this home perfectly embodies the best of three home designs – traditional design, contemporary, and mid-century. Japanese features include hardwood floors, stone lanterns, and other beautiful Shibui aesthetics. The 2,179 square feet property has two bathrooms, two bedrooms, a kitchen with top-of-the-line appliances, and clerestory windows that offer a 360-degree view of the surrounding ten-acre forest.
16. Holmby Hills Estate in Los Angeles, California
This 2.3-acre estate has beautiful features, including a pool, tennis court, pool house, and two detached guest houses. The main house follows the Tudor Revival design. But the property's most significant feature is the Japanese tea house that has a wraparound koi pond.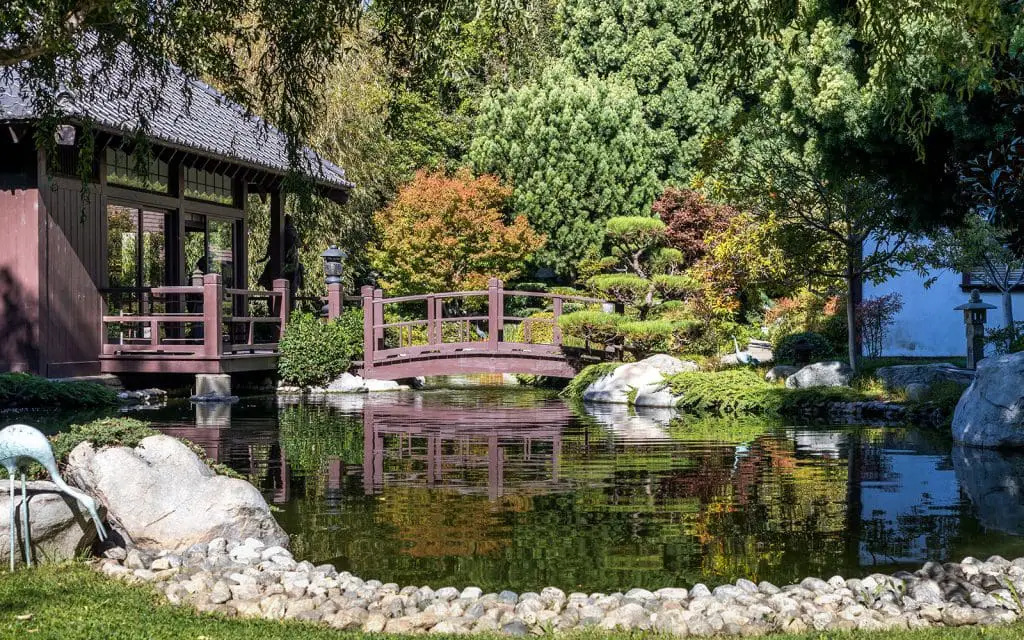 17. Christopher Robertson's Japanese-inspired Home in Texas
Inspired by Japanese architect Tadao Ando, home designer Christopher Robertson created a home that reflects traditional Japanese architecture with a touch of Western elements. His home features concrete minimalism, huge glass windows, sequenced entries, an open plan interior layout, and a rock-garden-style yard.
If you're looking to create a cozy, elegant, and peaceful abode for yourself or your family, building a Japanese-style house might be worth it. With the elements in the properties mentioned above, you can mix and match the features you need for your private space, be it a Japanese garden, blue-tile roofs, tatami floor, engawa, water fountains, gated entries, or soaking tubs.