Do you need a break from your hectic schedule in the urban jungle? Or are you looking for some design inspiration for your upcoming dream home construction project? Whether you're in search of an apt Zen-vacation destination or house design, these cozy houses in the woods are worth considering.
1. San Jose Treehouse (California)
If you're not afraid of heights, feel free to book a stay at San Jose Treehouse via Airbnb. This 250-sq.ft. rustic house in the woods could be accessed via a winding staircase. The house itself is built on top of a wooden platform supported by three sycamore trees.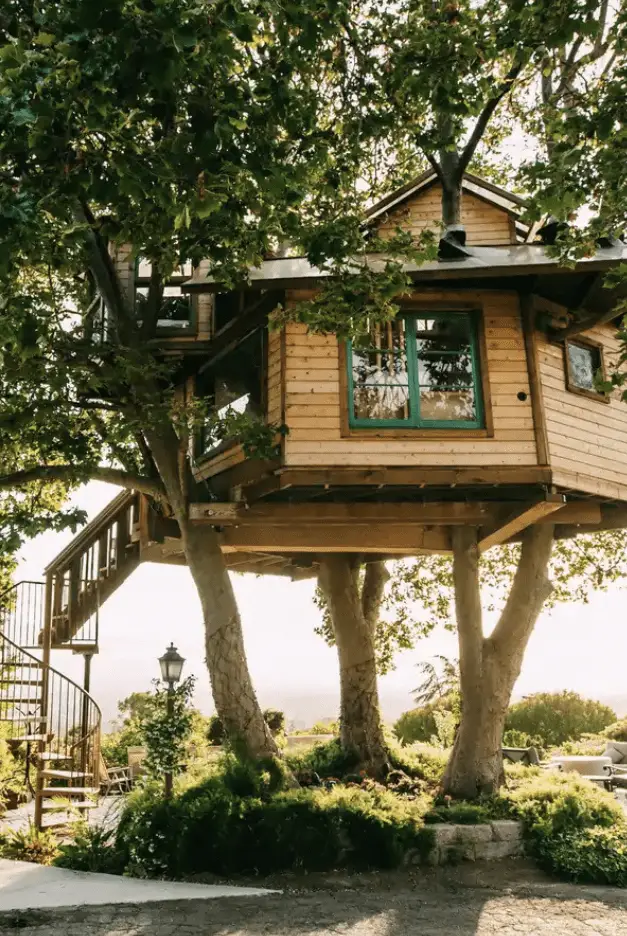 2. Whidbey Island Treehouse Retreat (Washington)
Book an Airbnb accommodation at this treehouse and get a chance to sleep, eat, and relax 13 feet above the ground on the sturdy trunks of a cedar tree. Plus, there's a covered deck where you get to enjoy 360-degree views of the surrounding wildlife and trees.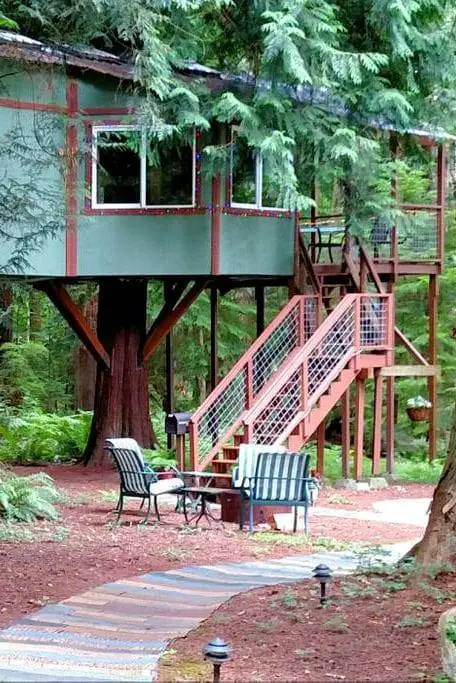 3. Mountaintop Lookout Treehouse (Oregon)
Located within the Umpqua National Forest, this property is built on a raised platform that stands 40 ft. above the ground. The house has modern essentials, such as cold and hot running water, an oven, a hot tub, and a working stove. Most importantly, guests enjoy a panoramic view of the surrounding mountains.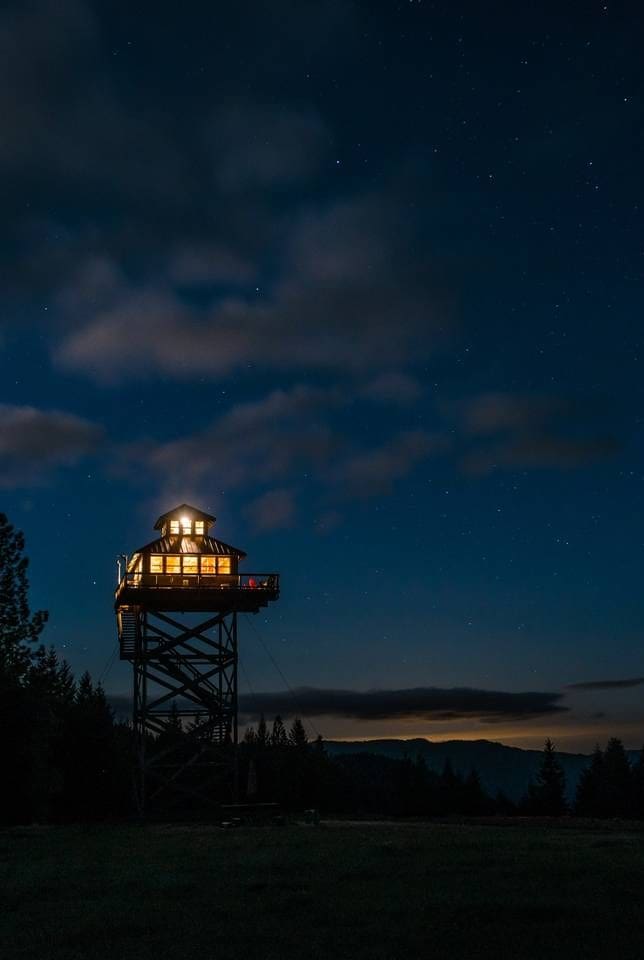 4. Secluded Intown Treehouse (Georgia)
If you're looking for a replica of your childhood mountain paradise, this is the Airbnb accommodation to book. Swinging rope bridges connect the different areas of the house, such as the deck, bedroom, and living room. The lush foliage of trees offers a natural canopy, and the tree trunks covered with climbing plants are a marvel to look at.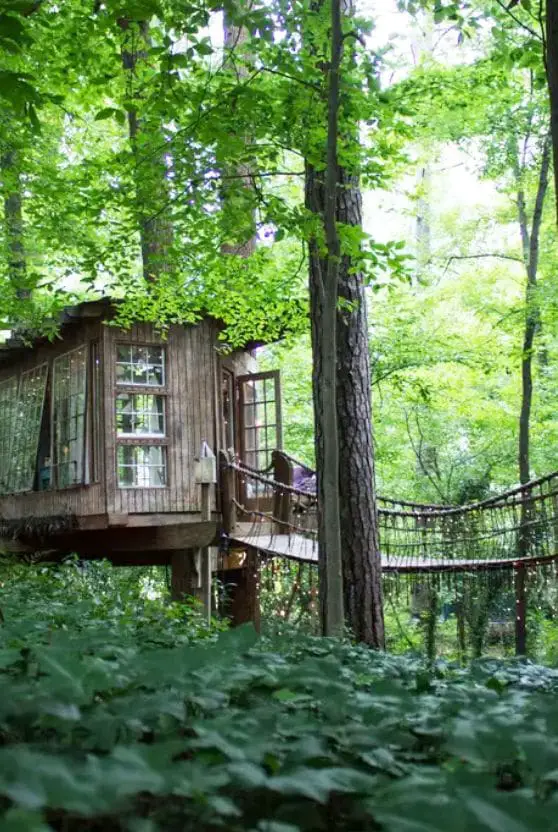 5. Moose Road (California)
Designed by Mork-Ulnes Architects, this home features a one-of-a-kind three-pronged floor plan, which provides a breathtaking view of the surrounding mountain and vineyard. It's also constructed on steel stilts, reducing its environmental impact by protecting the roots of the surrounding oak trees. The interiors exude a charming rustic vibe with its built-in cabinetry, doors, and walls that are created from local plywood.
6. Pleated House (Wisconsin)
Located near Lake Michigan, Johnsen Schmaling Architects designed this 1855 ft² home to exude an unassuming, but elegant, comfortable, and refreshing vibe. It sits in the middle of dense coniferous and deciduous trees. The house in the woods features a creative mix of modern and eco-friendly elements, such as charred wood boards, glass, dark-anodized aluminum, varnished clear cedar, and a green roof.
7. The Extraordinary Treehouse (Texas)
As you approach or hike around the property, you'll enjoy walking on gravel footpaths lined with trees. There's also a lake and running brook within walking distance. The best thing is that this place isn't too far away from the bustling city, and you can book your stay on Airbnb.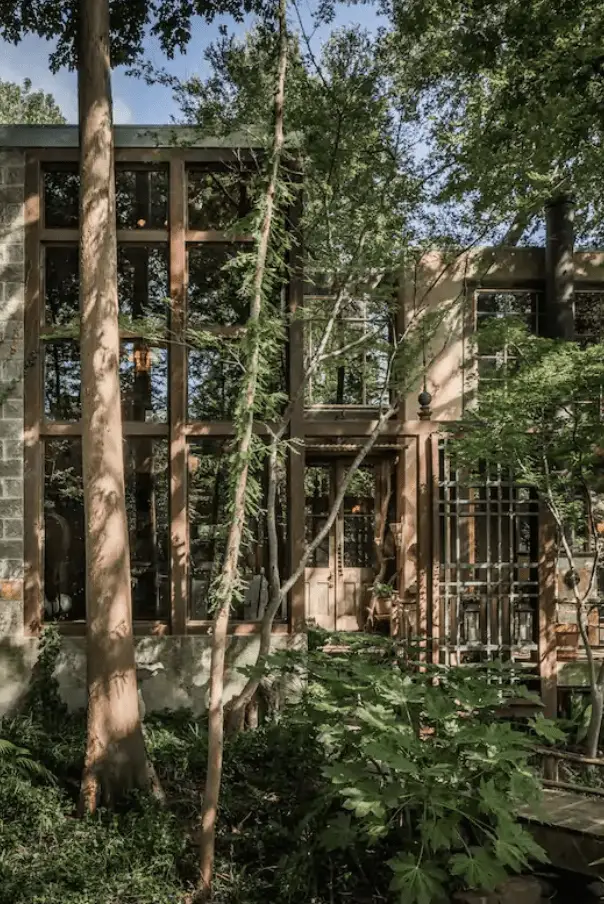 8. Crow's Nest (California)
Located near Sugar Bowl Ski Resort, Crow's Nest features high, beamed ceilings, huge glass windows, a winged roof, and square windows. The property is equipped with essential amenities (e.g., outdoor dining, fire pit, hot tub, bedrooms) to ensure guests could enjoy peace and tranquility in nature. The 5,600-sq.ft. home is a recipient of CATT 2013 Residential Project of the Year and Tahoe Quarterly's 2014 Mountain Retreat Award.
9. Casteel Creek Retreat (Colorado)
This 439-acre property is located in the heart of Vail Valley, Colorado. The dense forest that surrounds the house provides natural privacy. Most importantly, the refreshing vibe of the lush forest around could surely provide that much-needed Zen-inspired retreat.
10. Tower House (New York)
Located in the Catskill Mountains, this four-story house in the woods designed by Gluck+ has a unique T-shape. It's also enclosed in glass, allowing it to reflect the natural scenery outside. The combined dining, living, and kitchen areas are located in a cantilevered space 30 feet above the ground.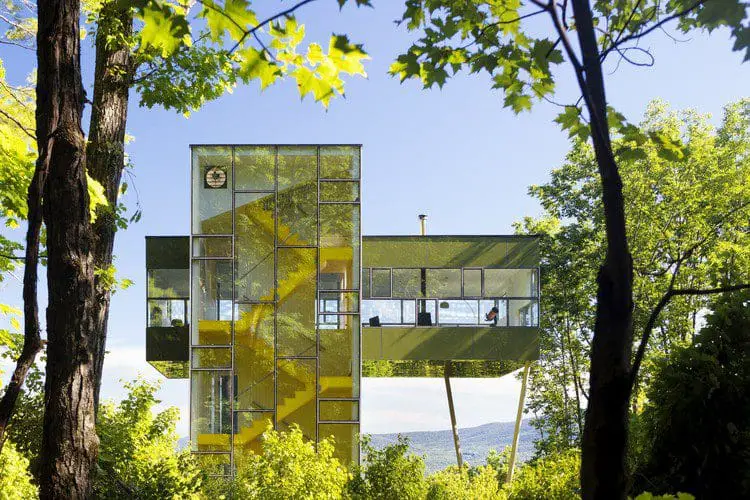 11. Double Decker Treehouse (Montana)
This two-story treehouse is located near Glacier National Park. That means that if you book your stay here during the winter, you'll have easy access to the nearby resorts that offer outdoor activities, such as skiing or snowboarding. This Airbnb accommodation also features a bedroom, a bathroom, and a fully equipped kitchen.
12. Winvian Farm (Connecticut)
Relax and indulge in the refreshing music of nature at one of the 18 cottages at Winvian Farm. Each cottage has a different interior design inspiration, from 18-century luxury to rustic. Plus, you have access to all the home essentials you need, such as a bathroom, kitchen, and deck.
13. Fallingwater (Pennsylvania)
Located over a waterfall in the mountains of Southwestern Pennsylvania, the concrete terraces hover over the falls and natural rock formations and cliffs protrude from the walls and fireplaces. This house in the woods perfectly embodies the organic architecture philosophy, seamlessly combining nature and art. Renowned American architect Frank Lloyd Wright designed this home in 1935 for the Kaufmann family, who donated the property and the 469 acres of land surrounding it to the Western Pennsylvania Conservatory in 1963. In 1964, the Conservatory opened the property as a museum, attracting thousands of local and international tourists per year.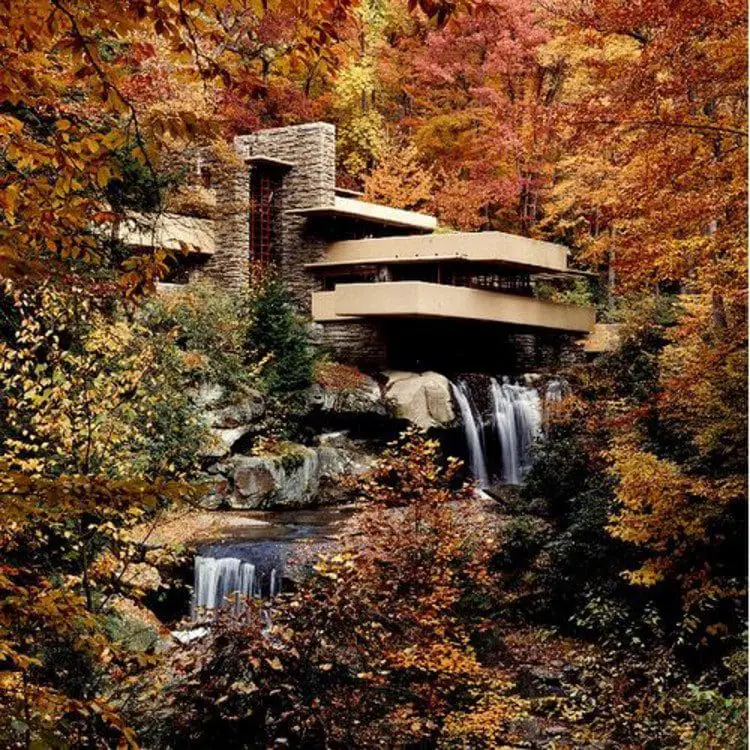 14. Hayes Residence (West Virginia)
Located in the middle of West Virginia's woodlands, Hayes Residence features glass cubes that offer an unobstructed view of the vast forest surrounding the house. The property's long pavilion sits on a raised platform. The designer, Travis Price Architects, just adjusted the house to the trees, making square or circular holes on the flooring to allow the trees to continue growing inside glass-protected atriums.
15. Willow Treehouse (New York)
Located just 15 minutes from Woodstock, NY, Willow Treehouse is the perfect getaway for those looking to enjoy a refreshing forest vibe and a panoramic view of a lake. The property's best features are its spacious living area and mid-century modern interiors.
16. Pond House (Connecticut)
This property combines the refreshing music of water in the pond and the breeze through the trees. With its open-plan interior and floor-to-ceiling glass windows and walls, the Pond House looks airy and spacious. Outside the house is a 4.3-acre woodland that provides ample natural scenery.
17. Canopy Treehouse (Maine)
This 350-square-foot property is the true testament that a small house could be stylish and comfortable. The loft-style home features everything you need to enjoy a relaxing stay, including queen-size beds, a kitchen with appliances and cookware, and a raised deck. Its green glass windows and doors give a breathtaking view of the trees outside while filtering the sunlight.
18. Treehouse at The Hermitage (Missouri)
This property might look like a cuckoo clock, but it does offer a range of enjoyable indoor living. Plus, it is located near Missouri's top-rated distilleries, wineries, and breweries, which is perfect if you like to indulge in a wine tour experience. Just don't drink too much as you might not be able to climb up the wooden staircase that leads to your room!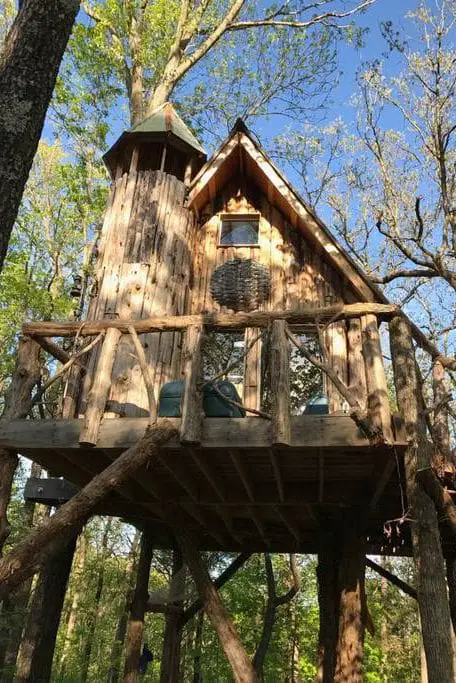 19. The Beaver Pond Treehouse (Vermont)
Are you an avid skier? If you are, this is the perfect Airbnb place to book. Located within Green Mountain National Forest, the elevated, log cabin-style property offers an overlooking view of a beaver pond. It's also near Sugarbush and Killington resorts where guests can enjoy skiing adventures.
Visiting one of these houses in the woods could be the perfect weekend get-away you need to enjoy a break from the hectic city life. Or you could get inspiration from the stylebook of one of these breathtaking properties for your dream home project.