In the world of music and entertainment, Dr. Dre stands tall as a hip-hop legend, entrepreneur, and producer extraordinaire. Known for his immense talent and contributions to the industry, Dr. Dre's net worth has soared over the years, allowing him to indulge in a lavish lifestyle.
The entrance to Dr. Dre's house
One of the crown jewels in his possession is his opulent house located in the heart of California. This sprawling estate, boasting an impressive 29,884 square feet, was a significant purchase that made headlines in the real estate world. Let's take a closer look at Dr. Dre's house, the place he calls home.
Where Does Dr. Dre Live Now?
Dr. Dre lives at Brentwood Country Estates, 12780 Chalon Rd, Los Angeles, California. The house itself is a magnificent work of art, purchased in 2014 for a staggering $40 million. Spread across 29,884 square feet, it boasts 7 bedrooms, 10 bathrooms, and expansive living spaces, reflecting the grandeur befitting a music icon.
Dr. Dre's Contemporary House Interior
When you step inside Dr. Dre's house, you can see a luxurious indoor space with an impressive staircase and a large chandelier hanging from the ceiling. The walls are painted in a warm nude color, and there is white molding along the edges of the room. A window can be seen on one side of the room, with metal bars across it for decoration. On another wall, there is a doorway leading to another area of the building, with a clock visible in the background. In addition to these features, there is also some greenery present in this space – including a plant in a pot near one corner.
The hall of Dr. Dre's house
The hall leads to the main living room with modern décor. In the center of the room is an elegant fireplace surrounded by two black leather couches. On one side of the couch there is a coffee table with books on it, and on the other side there is an end table with a lampshade and vase. Above the fireplace hangs a ceiling fixture that provides additional lighting to this area of the room. To one side of this seating area, there is another window that looks out onto what appears to be an outdoor patio or garden space beyond it.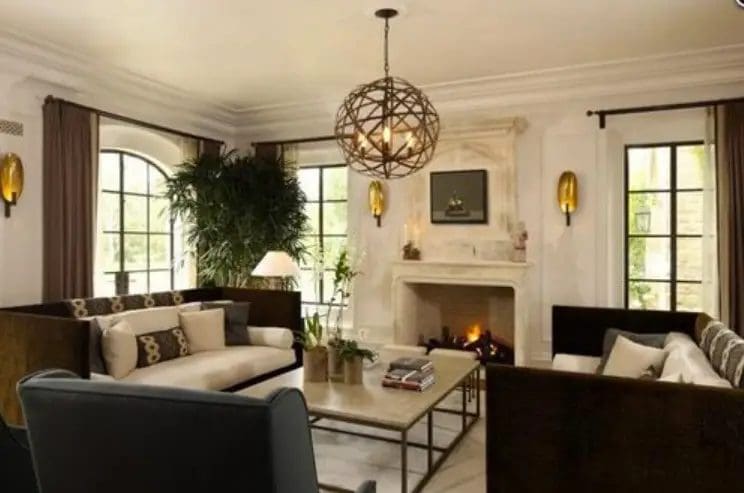 Dr. Dre's living room
The kitchen has a large island and a wooden floor. The countertop of the island is white, and there is a stove in the corner of the room. On one side of the stove, there is a cabinet with drawers for storage. Above it all, there is an ornate ceiling featuring intricate designs that add to the overall aesthetic of this space. There are also windows on either side of the room which allow natural light to enter and brighten up this area. This kitchen has been designed with functionality in mind as well as style; everything from appliances to furniture have been carefully chosen to create an inviting atmosphere that encourages people to gather together and enjoy each other's company while cooking or eating meals.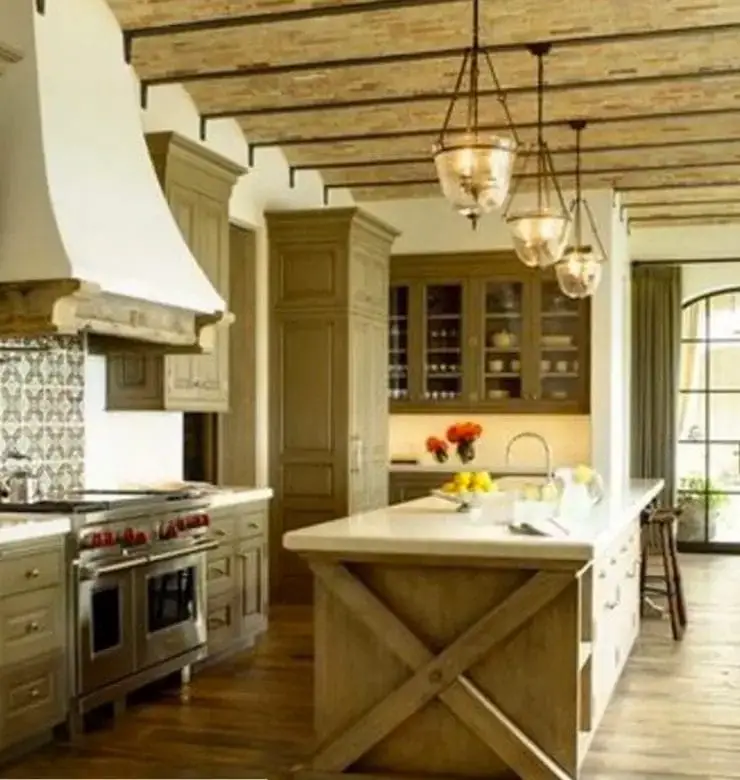 Dr. Dre's kitchen
Over the years, Dr. Dre has tastefully renovated the mansion to suit his family's style, including an in-house gym, a sauna, and a master closet.
Dr. Dre's gym
Dr. Dre's master closet
One of the most remarkable features of the property is the vast underground studio that rivals the size of the main house. Ensuring that music remains an integral part of his life, Dr. Dre designed this studio to continue producing his iconic tunes in seclusion and comfort.
Dr. Dre's Outdoor Area Has a Massive Pool
As one approaches the mansion, it is surrounded by a moat with tranquil coy fish gracefully swimming about. A picturesque bridge provides access to the majestic castle-like structure that houses five bedrooms, nine bathrooms, and a spacious six-car garage. Outdoors, a stunning infinity pool overlooks the breathtaking landscape, complemented by a cabana and a pond with a soothing waterfall.
Dr. Dre's pool
The outdoor loggia has an elegant fireplace and comfortable couch. A white chandelier hangs from the ceiling, adding to the sophisticated atmosphere of the room. On one side of the couch is a coffee table with magazines and newspapers neatly stacked on top. There is also a loveseat nearby for additional seating options. Pillows in various shades of white adorn both pieces of furniture, creating an inviting space for relaxation or entertaining guests. In front of the fireplace is an area rug that adds texture and warmth to this cozy indoor venue.
Dr. Dre's loggia
Dr. Dre's Neighborhood
Dr. Dre's mansion is located in Brentwood Home, a neighborhood that exudes exclusivity and sophistication. Many other notable celebrities call this area home like Reese Witherspoon, Arnold Schwarzenegger, and Heidi Klum. Privacy is highly cherished here, allowing the stars to enjoy their lives away from the prying eyes of the public.
Dr. Dre's neighborhood
Other Houses Owned by Dr. Dre
In addition to his magnificent Brentwood mansion, Dr. Dre's real estate portfolio includes several other impressive properties in California. Among his notable acquisitions is a lavish Woodland Hills home, purchased for $2.35 million, where he resided for many years. In 2019, he expanded his holdings by acquiring a stunning Calabasas residence for $4.9 million, adding another gem to his collection. Another one of his prized possessions is a $2.25 million Pacific Palisades property, showcasing his penchant for prime real estate in prestigious locations. With an eye for luxurious living, Dr. Dre's additional residences complement his California retreat and offer him and his family an array of lavish havens where they can bask in comfort, elegance, and style.