Gwyneth Paltrow, the multi-talented actress, influential entrepreneur, and lifestyle icon, has caused a stir with her breathtaking house in the idyllic city of Montecito, California.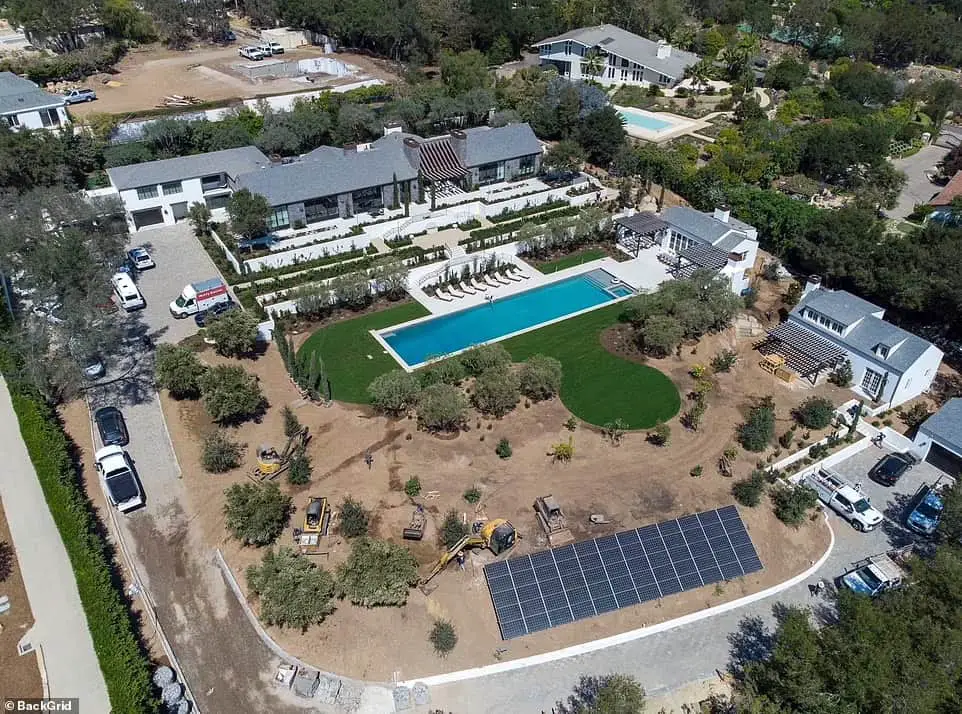 Gwyneth Paltrow's house (Source: BackGrid)
Known for its exclusive charm and coveted by celebrities seeking tranquility and opulence, Montecito was an irresistible choice for Paltrow's new house.
(Source: Redfin)
Join us as we uncover the fascinating details of this extraordinary property and gain insights into Paltrow's remarkable life and accomplishments.
Where Does Gwyneth Paltrow Live Now?
Gwyneth Paltrow lives at 1948 Tollis Ave, Montecito. Paltrow's main residence in Montecito is an architectural masterpiece nestled within the serene neighborhood. This neighborhood offers breathtaking views of the surrounding hills and is known for its exclusive, gated properties.
Gwyneth Patrol's Stylish Interior
Inside Paltrow's Montecito house, guests are immediately captivated by the grandeur that unfolds before them. A charming fireplace and floors made from reclaimed stone, create an elegant and sophisticated atmosphere throughout the residence.
Gwyneth Paltrow's entryway (Source: YouTube)
The design of the house draws inspiration from traditional barns, blending classical features with a modern touch. The roof is made of shingles and the walls resemble the uneven texture of ancient stone construction.
Inside Gwyneth Paltrow's living room (Source: YouTube)
The proportions and geometrical patterns of the house create a sense of balance and harmony. Every detail in the house is carefully chosen to create a beautiful and unique living space.
The fireplace in Gwyneth Paltrow's entryway (Source: YouTube)
Paltrow's attention to detail can be seen in the carefully selected decor and unique accents throughout the house.
Details in Gwyneth Paltrow's living room (Source: YouTube)
One exceptional feature of the house is the spa, which combines the grandeur of ancient Roman baths with the luxurious atmosphere of a high-end resort.
Gwyneth Paltrow's spa (Source: YouTube)
Some details in Gwyneth Paltrow's bathhouse (Source: YouTube)
The dining room, for example, seamlessly blends sleek modernism with moody, old-world-looking hand-painted wallpaper.
Gwyneth Paltrow's dining room (Source: YouTube)
Lavish furniture, carefully curated art pieces, and high-end finishes adorn the living spaces.
Gwyneth Paltrow's living room (Source: YouTube)
The kitchen is centered around a rustic farmhouse table, creating a warm and inviting space where family and friends can gather for meals and conversations.
Gwyneth Paltrow's kitchen (Source: YouTube)
Throughout the house, you'll find a curated collection of contemporary artwork and antique treasures, adding a timeless and distinctive character to the interior.
Gwyneth Paltrow's Enchanting Outdoor Area
Paltrow's Montecito residence extends its allure to the outdoors. The sprawling estate features meticulously landscaped gardens, creating a serene and tranquil environment. The highlight of the outdoor area is an expansive pool, perfect for relaxation and entertaining guests.
Gwyneth Paltrow's outdoor area
A winding stone pathway leads to a tranquil meditation garden with a soothing fountain and lush greenery, providing a peaceful retreat for reflection and introspection. The pool area is a relaxing oasis surrounded by native plants, offering panoramic views of the landscape.
Gwyneth Paltrow's pool (Source: Architectural Digest)
The Glamorous Montecito Neighborhood
Montecito has long been a preferred neighborhood for numerous celebrities, and Paltrow's new residence neighbors some of Hollywood's elite. Privacy and exclusivity are paramount in this upscale community, which is known for its well-manicured streets and luxurious properties. Some of Gwyneth Paltrow's neighbors are Oprah Winfrey, Katy Perry, Ariana Grande and much more.
The community surrounding Gwyneth Paltrow
Other Houses Owned by Gwyneth Paltrow
While the focus of this article is primarily on Paltrow's Montecito mansion, it is worth noting that she is a proud owner of multiple properties.
Gwyneth Paltrow's house in London (Source: England Underground)
Paltrow's real estate portfolio includes residences in other desirable locations, reflecting her refined taste and investment acumen.
Gwyneth Paltrow's house in Amagansett (Source: Google Maps)
Besides her house in Montecito, she also owns properties in London, Amagansett, and in Charlotte. It is evident that Paltrow's real estate ventures are as diverse and remarkable as her career.