Rickie Fowler, a renowned professional golfer, has recently made headlines with his extravagant house purchase in Jupiter, Florida.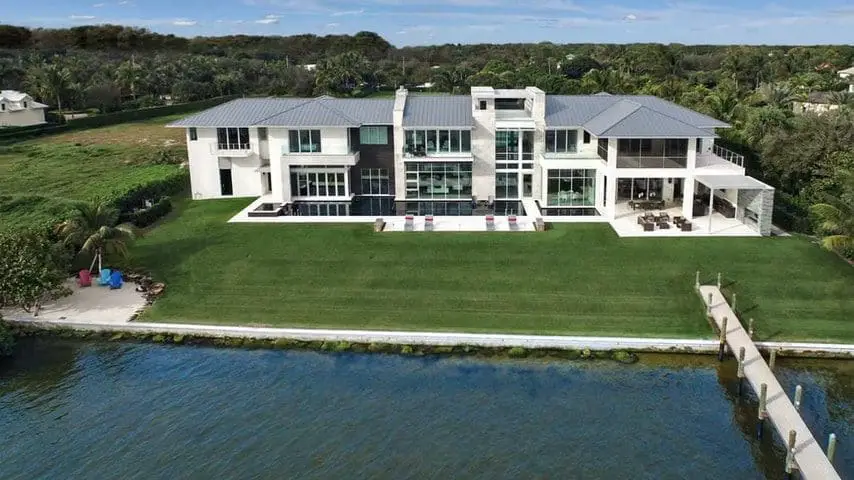 Rickie Fowler's house (Source: YouTube)
Known for his impressive skills on the golf course, Fowler has established himself as one of the most prominent athletes in the sport. With numerous achievements and a vibrant personal life, Fowler's residence reflects his success and lifestyle.
(Source: YouTube)
In this article, we delve into the details of his opulent house, providing insights into its features, location, and other aspects.
Where Does Rickie Fowler Live Now?
Rickie Fowler lives at 5215 Pennock Point Rd, Jupiter. This splendid residence, reportedly acquired in late 2016 by a renowned figure in the sporting world, embodies both opulence and sophistication.
Whispers suggest that the esteemed owner, a four-time PGA Tour champion, invested a substantial sum of $14 million in securing this extraordinary oasis. This sprawling architectural masterpiece, boasting an impressive 11,573 square feet, stands as a testament to the illustrious career of its esteemed proprietor.
The Interior of Rickie Fowler's House
Step inside, and one is immediately enchanted by the expanse of this residence. Every corner reflects meticulous attention to detail and a commitment to refined aesthetics.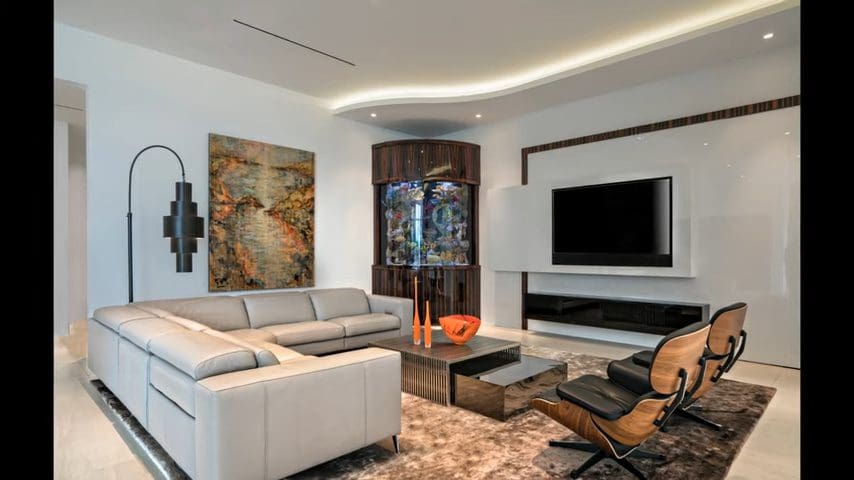 Rickie Fowler's interior of the house (Source: YouTube)
Designed by the visionary architect Roger Janssen, the house seamlessly blends contemporary elements with clean lines, offering a modern, yet timeless ambiance.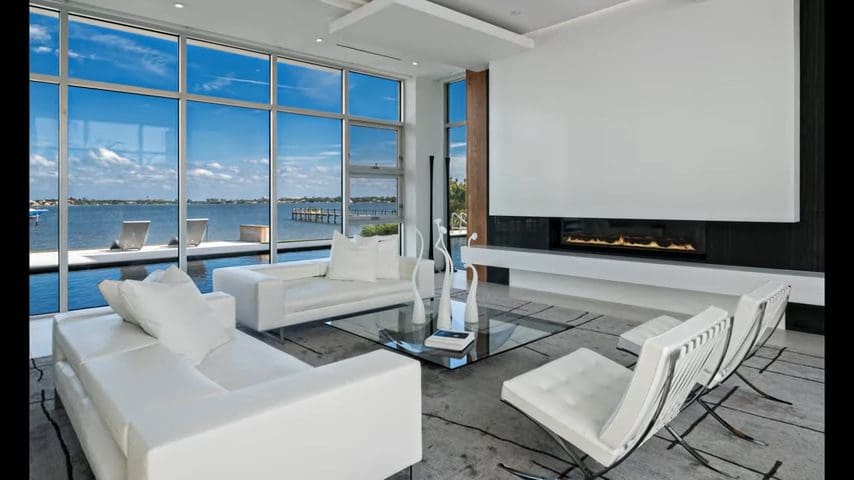 Rickie Fowler's living room (Source: YouTube)
Six luxuriously appointed bedrooms and nine lavishly adorned bathrooms provide the perfect balance of privacy and elegance for Rickie Fowler.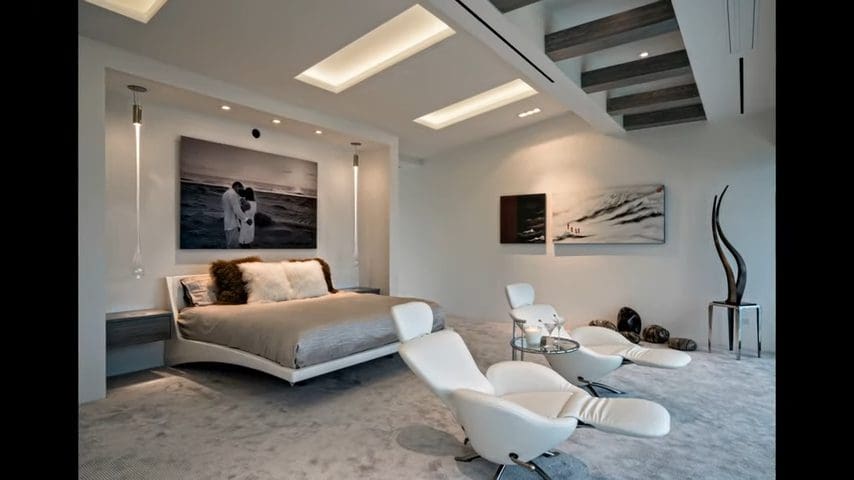 Rickie Fowler's bedroom (Source: YouTube)
The furniture selection exudes sophistication, with a blend of modern and classic pieces creating a harmonious atmosphere throughout.
Rickie Fowler's breakfast nook (Source: YouTube)
The kitchen features state-of-the-art appliances and a sleek design that reflects Fowler's impeccable taste.
Rickie Fowler's kitchen (Source: YouTube)
Entertainment is paramount within this abode, as evidenced by the inclusion of a dedicated games room, colloquially known as the "mud room," where friends and family can gather for lively activities and friendly competition.
Rickie Fowler's game room (Source: YouTube)
Adjacent to this recreational haven lies a well-appointed sports bar, serving as a testament to the owner's passion for the game that brought him international acclaim.
The Outdoor Area of Rickie Fowler's House
Beyond the exquisite interiors lies a utopia for outdoor enthusiasts. Majestic floor-to-ceiling windows frame picturesque views of the serene waterfront, while multiple outdoor spaces beckon residents to bask in the natural beauty that surrounds them.
Rickie Fowler's outside of the house (Source: YouTube)
At the heart of the property, a magnificent outdoor swimming pool sparkles under the sun, providing a haven for relaxation and recreation.
Rickie Fowler's pool (Source: YouTube)
However, this haven is not limited to the boundaries of the main residence. The estate boasts its very own private golf hole, replete with a variety of tees catering to the owner's desire for relentless practice and refinement of his formidable skills.
Rickie Fowler's private golf (Source: YouTube)
It is within these idyllic grounds that the owner, along with his beloved partner Alison Stokke, finds solace and a place to nurture their growing family.
Rickie Fowler's outdoor area (Source: YouTube)
The grounds of this remarkable property extend beyond the lush green fairways. A sprawling yard, meticulously manicured, offers ample space for leisurely strolls, while a private pier invites the owner to embark on tranquil voyages across the glistening waters.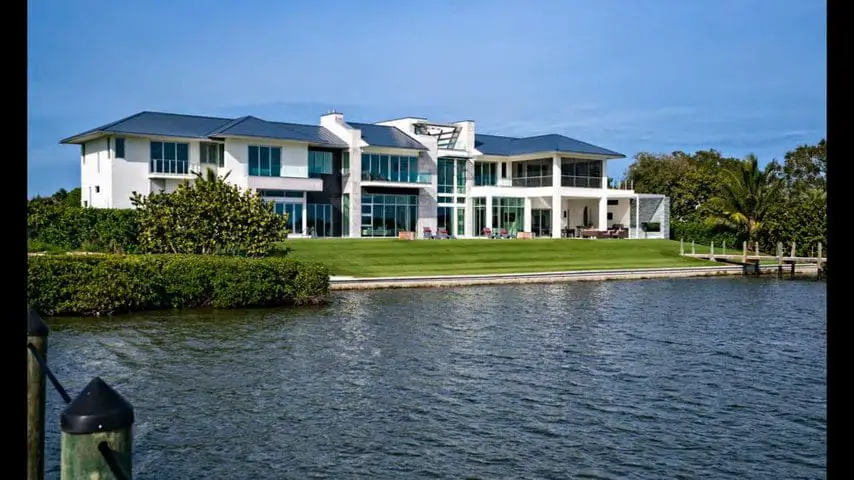 (Source: YouTube)
And for the fitness enthusiast, a fully equipped gym awaits, ensuring that every aspect of a healthy and balanced lifestyle is nurtured.
Rickie Fowler's Neighborhood
Jupiter, Florida, attracts many high-profile individuals, and Rickie Fowler's neighborhood is no exception. Several celebrities and affluent personalities call this area home, including Rory McElroy, Phil Mickelson, Justin Thomas and many others.
Rickie Fowler's property (Source: YouTube)
Its proximity to the water allows residents to indulge in aquatic pursuits and enjoy the serenity of coastal living. With an array of upscale amenities and fine dining establishments, the neighborhood offers a perfect blend of tranquility and sophistication.
Other Houses Owned by Rickie Fowler
In addition to his opulent residence in Jupiter, Florida, it is worth mentioning that Rickie Fowler owns a notable property in Murrieta, California.

Rickie Fowler's house in Murrieta (Source: Google Maps)
This house, last sold on June 30, 2004, for $1,250,000, spans an impressive 5,413 square feet and offers ample space with six bedrooms.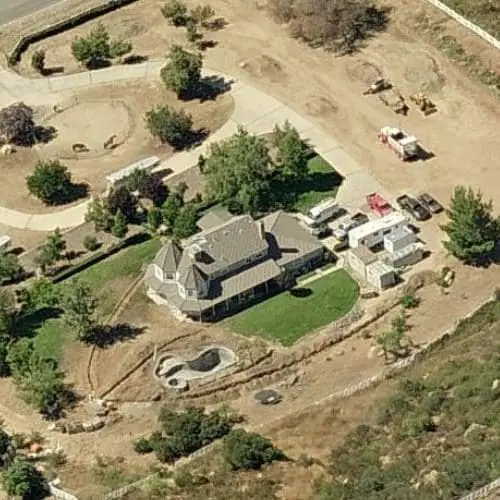 (Source: Google Maps)
While we won't delve into further details about this particular property in this article, it serves as another testament to Fowler's penchant for luxurious living. Each of his houses possesses its unique charm and style, perfectly tailored to complement his diverse lifestyle.