Gardens can almost feel like they're locked into fate. As the seasons change, outdoor spaces transform, often in ways that the owner would rather not like.
Even much-loved green spaces can fall into dire straits, but not every incident like this is out of everybody's control. If you're overseeing your garden area, it's important to know you can take a series of measures to protect and preserve it.
Much of this comes down to creating a more adaptable garden to change and circumstance. But how is this achieved? What might you need to do?
Here are some suggestions that might help you make your garden a more adaptable space.
Install Patio Awnings
No patio area should be exposed to the elements. When they are, there can always be a sense of pressure when you're using them, as if you need to enjoy them while you can or prepare to move, repair, or replace the furniture due to the harsher elements.
Patio awnings have a diverse range of applications. They can shield your garden furniture from rain, debris carried by the wind, and harsher sunbeams that counter UV and prevent faded colouring. Of course, they can also create a sense of transition between indoor and outdoor spaces, helping spaces feel larger and airier.
However, like all products, there are different versions of patio awnings to enjoy. The state-of-the-art range boasts adaptable features, such as remote controls, self-cleaning technologies, and smoothly functioning motors. You can find out more about these innovations with Nationwide Home Innovations awnings, a helpful business that takes great care to provide the latest and most exciting stock available with an affordable and convenient service.
Use of Unconventional Materials
Knotted netting is typically used in poultry but can also be adapted in protecting your garden. One way is by using it to create a trellis or support system for climbing plants, such as vines and flowers. This can help to create a vertical element in your garden, adding interest and dimension to the outdoor space. You can also create a temporary fencing or enclosing system from knotted netting to protect small or young plants from animals and strong winds. 
Additionally, knotted netting can be used to create a shade structure for plants that require partial shade or provide a space for creepers to grow horizontally. With a little creativity, you can create a dynamic and adaptable garden space using this unconventional material because it is versatile and easy to use.
Install Sensors
A motorised and self-cleaning patio awning isn't the only innovation that can help you make a more adaptable garden space. Certain types of sensors can play a part too.
Of course, some garden lights will switch off and on so long as there's someone in the vicinity, helping you cut costs on electricity bills and generally run a more energy-efficient space. It's worth investing in them, especially during these bleaker times with the cost of living crisis.
Still, you should try to note other types of sensors too. There are robots you can now purchase that roll over your garden, using sensors to detect weeds and chop them up. Other smart sensors can help you more closely monitor the humidity in any greenhouse space you might have, sending the data to your smartphone. Other sensors can also analyse the moisture in your soil and self-emptying rain collector varieties of the tech.
Sensors can help you run a tighter ship when managing your garden. You'll have fewer blindspots, and you'll be able to adapt your gardening techniques to each change sooner and more efficiently.
Install a High-end Sprinkler System
Keeping your garden hydrated can be a time-consuming task, especially if it's on the larger side. A sprinkler system can eliminate the hassle of this task and free up your schedule.
The latest sprinkler systems are highly adaptable. They have Weather Intelligence features installed, enabling the system to monitor outside conditions and decide whether their input is necessary. If there's lots of wind and rain, it will operate accordingly. Watering times can be less, or there might be more frequent cycles, depending on the weather.
Some of these devices can also be paired with virtual assistant technologies. Simply speak the command you'd like your sprinkler systems to follow, and specify the duration or even the desired watering zone of your yard.
Sprinklers can sometimes seem a little bit excessive, especially for regular-sized gardens. Try to remove those thoughts from your mind if you have them. As you can see, the latest technologies operate very acutely to your needs.
Create a Thriving Ecosystem
Technology is useful, but it certainly isn't everything. Sometimes the old ways are the best, and your garden is more than just a sandbox for your gadgets and entertainment. Many creatures will call it home.
At the same time, these creatures can be highly useful in helping you maintain your garden. They can help with pest control and thus keep your outdoor areas thriving. It's best to facilitate more natural efforts in these aims, as it'll mean you can avoid using chemical products and pesticides. You'll also exert less effort in maintaining your garden things yourself, long-term.
Therefore, it's a good idea to encourage natural predators into your garden via all the means at your disposal. Installing bird feeding stations, building pond areas, and planting trees, hedges, and flowers can help you to create a self-sustaining ecosystem. It's also recommended to put bells on the collar of any pets you have, giving your garden wildlife plenty of notice and a chance to escape.
A garden that almost runs itself can be a marvel to behold. There can be a therapeutic aspect to seeing your garden bursting with different types of life throughout the year. When your outdoor space has a mind and lifecycle of its own, it'll truly be an adaptable area.
What furniture to choose for the garden
The wide choice of garden furniture discourages any homeowner. No matter how much you want to buy everything, it will be difficult to place all the purchases on the plot. Therefore, it is necessary to gather the will in a fist and decide which pieces of furniture you need and for what.
It is critical to think about the furniture selection before finally deciding the furniture you want to purchase. This helps you focus on the type of furniture you want. You could opt for traditional or modern furniture. There are several issues that you should think about in-depth as you select your outdoor furniture. The outdoor furniture is open to all elements, showing a big difference from the inside furnishings. Invest in good quality garden furniture so that it will last for many seasons. Ensure that the weight of your furniture complies with the strength of the wind. Light furnishings will fall when a strong wind blows. You can opt for colors that will complement the stuff in your garden.
The most popular pieces of garden furniture
Table complete with comfortable chairs for joint breakfasts, lunches, lunches, dinners outdoors. Wooden benches from Dubai can be used instead of chairs;
Outdoor chairs and sofas with removable cushions. Place them in the shade of trees and create a great place to relax;
Loungers to lie in the sun and sunbathe or just to read a book or magazine;
A rocking chair. Everyone seems to love rocking in it, not just older people. The main thing is not to flip backward or forwards while having fun;
Hammock — a chic thing to relax in;
Garden swing — a wonderful way to relax outdoors in the shade of the canopy, if there is one. Places to create a recreation area: among the trees, on the terrace, near the pool, in a gazebo, near the barbecue area.
The peculiarity of garden furniture is constant, frequent use of it in the open air, where it is exposed to precipitation, sunlight, birds and insects. For a long service life, you should choose the appropriate materials for the conditions.
Outdoor dining sets
Outdoor dining tables and chairs are perfect garden furniture for providing a comfortable seating area when entertaining friends and family. Whether you're hosting a summer barbecue or enjoying a leisurely brunch in the sun, an outdoor dining set provides the perfect setting for a meal al fresco. Also, there are a wide variety of outdoor dining sets available, from classic wooden sets to concrete tables and chairs.
When choosing an outdoor dining set, don't forget to consider the size of your backyard, its weather-proofing qualities and even the comfort of your guests. Look for chairs that have comfortable cushions and backrests, and a table that is the right height for dining. One popular option is the rattan dining set. Rattan is durable and weather-resistant material that is perfect for outdoor use, especially synthetic rattan. It also comes in a variety of sizes and styles, from small bistro to large dining sets that can seat up to 10 people.
Coffee table and chairs
Coffee table sets are a fantastic addition to any backyard space. They offer a convenient and comfortable spot to gather with friends and family while enjoying the great outdoors. They can enhance your backyard decor and transform it into an inviting and stylish space with a modern look.
When choosing a coffee table set for your backyard, think about your personal style and the look and feel you want to create in your outdoor space. If you prefer a sleek and modern aesthetic, you may want to consider purchasing a concrete set, whereas if you want a more rustic and cosy look, a coffee table made from wood or wicker may be better. Another important consideration when choosing an outdoor coffee table set is the size of your outdoor space. Larger sets with multiple chairs will be better suited to a large backyard or patio, but if you have a smaller space, a single table with two chairs may be more practical.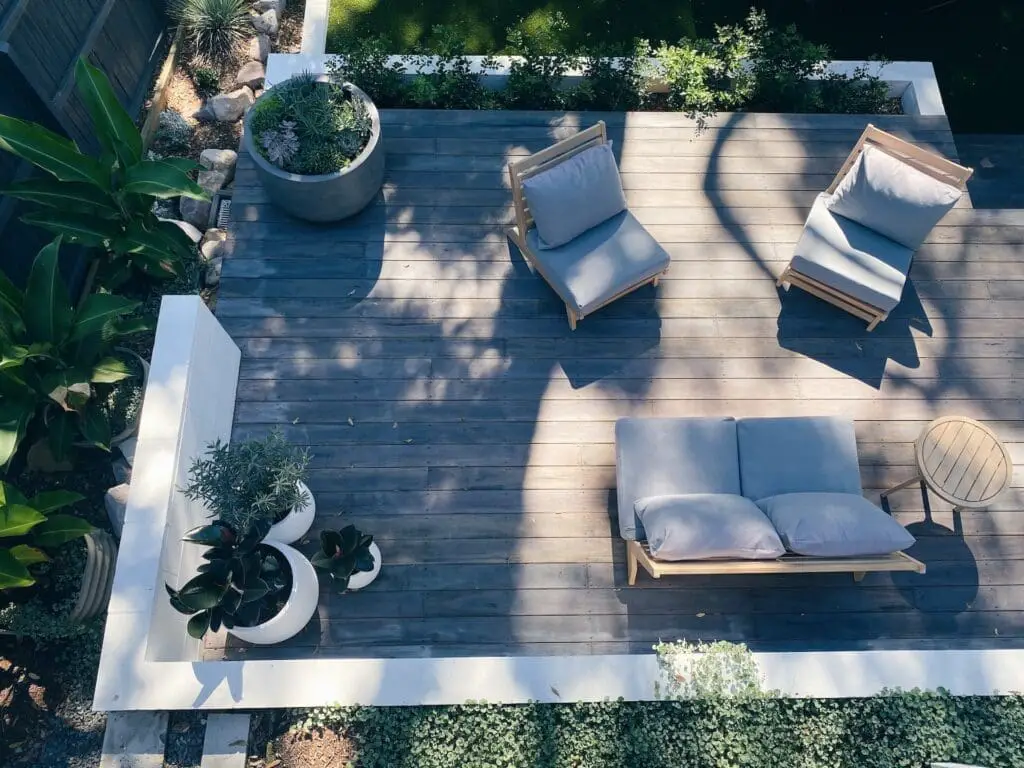 Benches
Benches are the perfect addition to any backyard space looking to achieve a natural and cosy feel. They are great for creating a warm and inviting atmosphere while also offering a comfortable spot to relax and enjoy your surroundings. Whether you prefer a modern or a more rugged and natural look, benches come in a variety of styles and materials that will fit right into your backyard. From concrete and metal benches to teak wooden benches, you'll be able to enjoy the great outdoors in comfort and style.
Relaxing hammocks and swings
Hammocks and swings are perfect garden decor for lounging in the sun, enjoying a lazy afternoon, or creating a peaceful and comfortable spot to read. It's always a good idea to consider the size of your garden and the level of comfort you're looking for when choosing hammocks, as there are many sizes and options available. From cosy single-person hammocks to larger-double seaters that are perfect for sharing, from traditional rope to more modern and durable fabrics, choose the ones that allow you to enjoy the tranquillity of your garden.
Cozy rugs and cushions
Outdoor rugs and cushions are ideal for defining seating areas and adding a splash of colour and personality to your outdoor space, from bold geometric patterns to more subtle natural designs. They are also a great way to add extra comfort to your existing garden furniture. When selecting rugs and cushions, look for ones that are weather-resistant and easy to clean, and choose colours and patterns that complement your existing garden furniture or backyard space.
Garden umbrellas or pergolas
Garden umbrellas or pergolas are another must-have garden decor piece that will improve the looks of your garden while also providing much-needed shade in your backyard. These pieces are perfect for hosting outdoor parties or simply enjoying a peaceful afternoon in the sun. Garden umbrellas are available in a variety of shapes and sizes, so you can easily find one to match your personal preferences and outdoor furniture. Pergolas are also available in many different sizes and styles, but if you're looking for a customizable option, choose a retractable pergola that allows you to adjust the level of shade as needed. This way, you'll be able to enjoy the outdoors in comfort while adding sophistication to your garden decor.
Outdoor lamps or string lights
In order to make your outdoor space feel cozy and welcoming for evenings and nights, consider adding some outdoor lighting. Garden lamps are excellent for lighting up walkways and seating areas, and they can also add a little flair to your outdoor space. String lights, on the other hand, are great for creating a cozy yet dramatic atmosphere and mood in your backyard, making them perfect for hosting parties and outdoor dining. When buying garden lighting, you'll have to think about the level of brightness you'll need since you don't want it too bright or too dim. Consider looking for garden lamps or string lights that have adjustable brightness and color settings. 
How to Bring Life to Your Garden
Apart from adding furniture, there are a ton of other ways for you to spruce up your garden so that you can bring more life into it. Below are some creative ideas that you can do.
Make Your Garden A Productive Place
Even if you don't want to spend much time out there yourself, consider using the space productively. For example, you could start growing your own food, vegetables, or plants and flowers with the help of equipment such as a cold frame or a vegtrug planter. Who knows, maybe it could start a new hobby?
Making Your Garden Fun During Any Season
Are things looking too drab outside? There are ways to get around it, you don't have to just wait for the summer…
Lighting
While the long dark winter nights might mean your garden goes unused, to make things more inviting, why not start by adding some lighting to a garden that is particularly dark.
You could drape fairy lights around your fence or buy solar powered lights that stick in the ground. You'd be surprised at the atmosphere this creates.
A motion sensor style light may also help for short trips out in the garden, as long as the flicking on and off doesn't get too annoying for you or neighbours.
Warmth
Investing in a fire pit can instantly make a garden more welcoming. Fire pits come in many different designs, accounting for various budgets. Deluxe ones will have extra features, for example you may be able to use it as a table to rest food and drink on as well.
If you don't want an open flame in the garden, you can also get fire pits with safety shields, or buy a chiminea instead. Either way, they will both add warmth and light to your garden space. If you plan on having company over for an outdoor gathering, you'll find that guests will love sitting round the fire.
A patio heater is also worth looking into, these are great for keeping you and friends warm, whether that be in colder seasons, or late summer evenings when it starts to get chilly.
Shelter
Having a parasol in your garden can be great for any season. It can protect you from getting burned by harsh sunlight in summer, or soaked from short bursts of unexpected rain. Parasols can be moved easily, either coming as a separate item that stands up on its own or as part of a garden table that you can remove as you please.
You could also go bigger, purchasing a larger shelter such as a gazebo. This will provide cover to a wider space, either for more people to sit under, or for generally keeping the area dry.
Storage
If you don't see yourself spending much time in your own garden, you could use it for some extra storage at the very least. Storage boxes are quite popular, plus you might be able to get a decent sized shed for between £100 or £200 if shopping at the right time. Don't forget to keep whatever storage you use protected with a padlock.
Hobbies and Exercise
Perhaps your garden could become a place for certain hobbies. For example, you could turn your garden into a gym. Levels of garden gym vary from a mat and a few dumbbells in the middle of the grass, to a full blown cabin at the end of the garden (if you have the budget).
You could bring a pull up tower, weight bench, or even an exercise bike outside. Keeping it safe using shelter, but note that things like magnetic exercise bikes may need to be brought in, as the cold can mess up their systems.
Make Your Garden Your New Favourite Place
With a bit of time and money, you could make some big or small additions to your garden, breathing new life into and making the most out of your outside space. Try out some of the ideas above!
Conclusion
When equipping your garden or the adjacent territory of a cottage, as well as a country house, it is important to pay attention not only to paths and flowerbeds, but also to special furniture that is not afraid of temperature changes, sunlight, precipitation. With the help of such sets you can create a real lounge area for relaxing with friends and family.