Even in his early thirties, Young Thug already forged a name for himself in the music and entertainment industry. He is well-loved for his rap and hip hop music, specifically in trap style, that defies sexuality and gender stereotypes. Some of his songs are chart-topping. And he has more than a billion streams of his tracks on Spotify. He also won a Grammy award for his song "This is America."
His wealth grows along with his fame. As of September 2022, his net worth is estimated at $8 million. No wonder he was able to purchase prime properties in some of the country's elite neighborhoods.
Where does Young Thug live?
In this post, we'll talk about Young Thug's home in Atlanta where he and his family live. His massive property is located near Lenox Square, specifically along the gated Roxboro Road.
Lenox Square is a premier shopping destination in Atlanta, Georgia. It's a hub for fashionistas, considering the abundance of apparel stores. Whether you're into budget shopping or luxury items, there's always something in store for you at Lenox Square.
Meanwhile, Roxboro Road is a tranquil community in very close proximity to the best shops and restaurants in Lenox Square. Residents get to enjoy a lush green space with a hockey rink, a tennis court, a playground, and an off-leash dog park.
About Young Thug's House In Atlanta
Young Thug's mansion in Atlanta is reportedly his first property purchase. He bought the home in 2016 for $2.75 million. And the place didn't disappoint. It definitely met the needs of the luxurious and fun lifestyle of the rapper. After finalizing the sale, the award-winning musician took to Instagram and posted a picture of a beautiful indoor pool with the caption, "bought my first house."
Thug's abode sits on 11,000 square feet of land. It was built in 2000. And based on listings and reports, his place is dubbed "the entertainer's delight."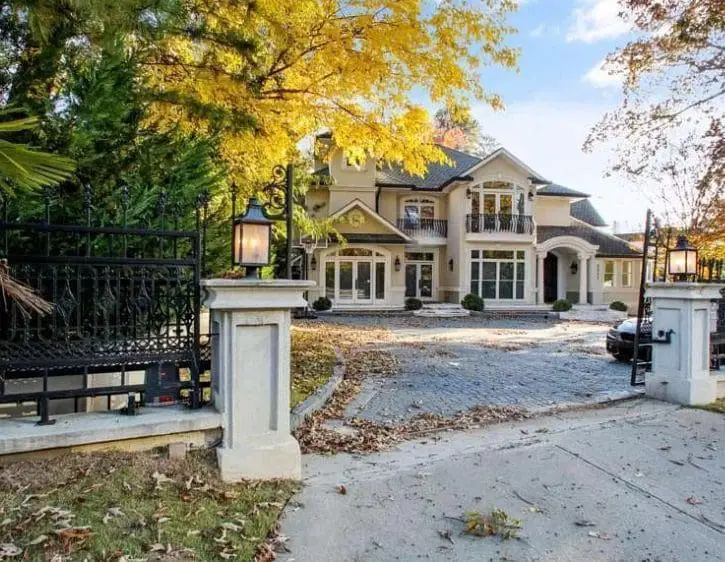 The Jaw-dropping Features of Young Thug's Property In Atlanta
Young Thug's home has seven bedrooms, eleven bathrooms, and an enormous solarium. Yes, it's truly a huge space that's complete with amenities. Specifically, the most notable features of his home are the following:
Theater room – Entertainment is a key part of the musician's life. Whether he's enjoying a good film or critiquing his own music video, he has a theater room to
Solarium – At Young Thug's home, one can certainly enjoy a healthy dose of sunshine inside the huge sunroom. Marble tiles could also be found inside it. This area is an attraction in itself as it houses the hot tub and the indoor pool. A chandelier hangs from the glass roof.
Indoor pool – The pool is flanked on all four sides with built-in concrete seating options, albeit with different shapes. On two opposite corners of the pool area, there's a quarter-turn stair that connects the area to the second story of the house. The lounge areas surrounding the pool have built-in planters.
Hot tub – This sits right next to the indoor pool.
Several decks – These decks are located at strategic parts of the house to give the residents an unparalleled view of the property's interior or exterior area. One deck is overlooking the indoor pool while the others offer a picturesque view of the garden.
Four-car garage – Of course, with Thug's huge family and busy schedule, he has room for four cars in his garage, be it for his cars or his friends or family's vehicles.
Master suite – Young Thug certainly needs some quiet time, especially after a show or tour. And he can definitely enjoy such a moment in his master suite, which comes with a private bath, vanities, and a walk-in closet.
Secret hidden room – Of course, Young Thug is dead serious about keeping this area private. Not a single picture could be found online, even from the listings, that shows even a tiny peek of this room.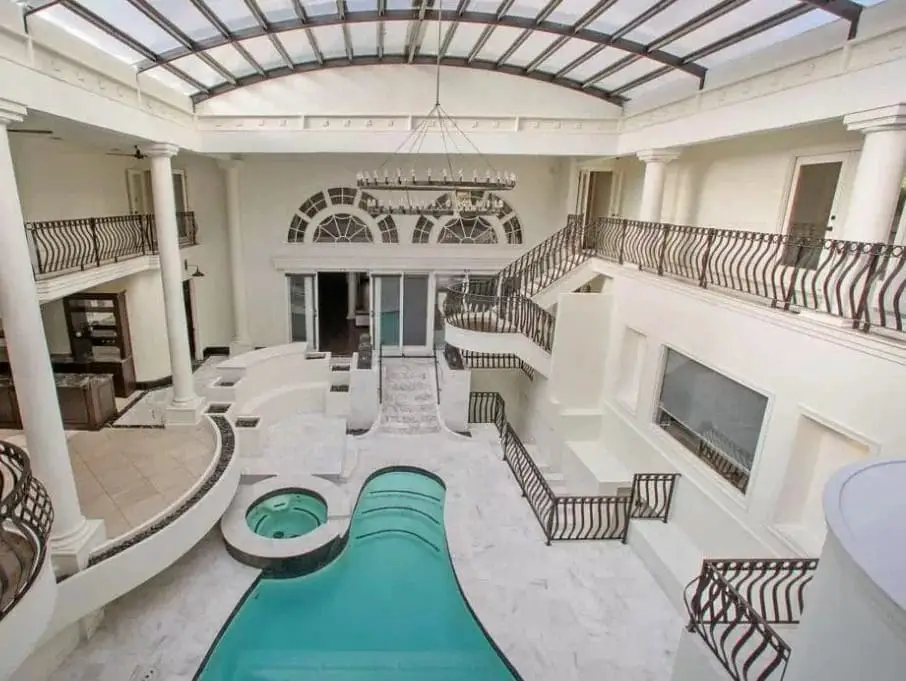 The home is fitted with marble tiles throughout. Plus, surveillance cameras could be found everywhere. The interior color scheme is a combination of earth colors with emphasis on white, beige, and some splash of green and brown. Accents and decorations are either black or blue.
And did you know that Young Thug has six kids? Yes, he has. Although his kids came from four different mothers, he's probably prepared to gather all six children under one roof, considering the huge space of his chosen Roxboro home.
Even if you're not a fan of Young Thug or his hip-hop music, you'll certainly find his home swoon-worthy. But the way he chose or designed his abode could also be reasons enough to listen to him and his music.