In the realm of sports, Mike Trout needs no introduction. As one of baseball's most renowned players, the charismatic outfielder has earned his place among the sport's elite. Alongside his athletic achievements, Trout's personal life often catches the attention of fans and media alike. One fascinating aspect of his life is his magnificent house located in the coastal city of Newport Beach, California. Mike Trout's house is an impressive reflection of his success, blending luxury and comfort in equal measure.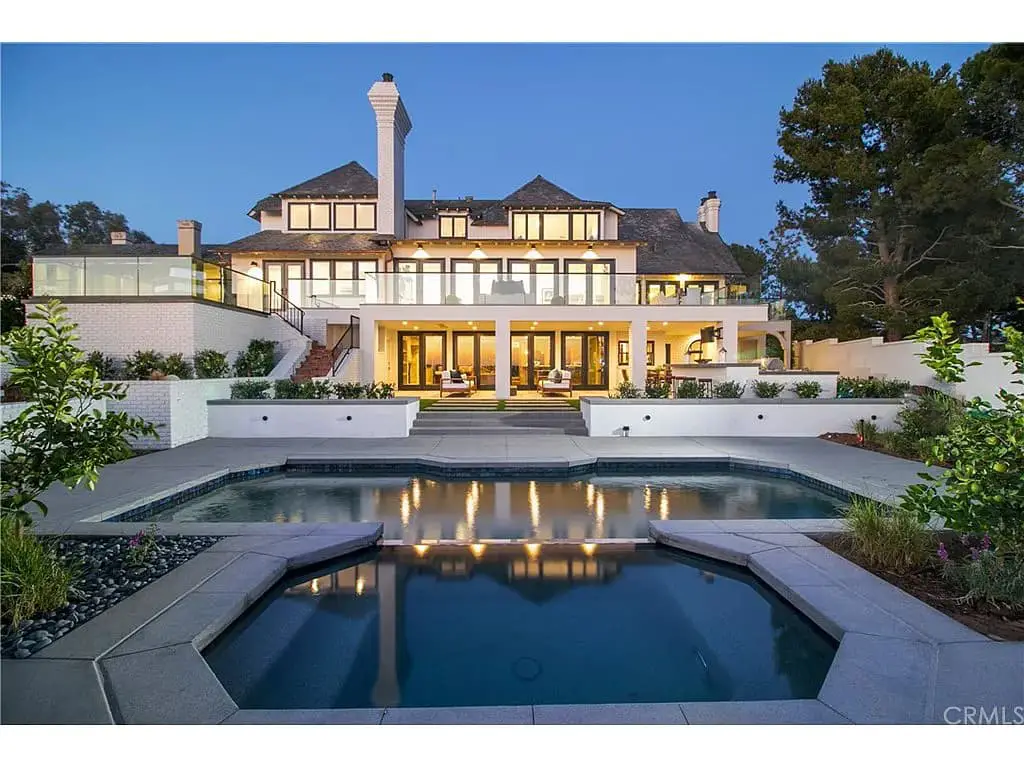 Mike Trout's house
Where Does Mike Trout Live Now?
Mike Trout lives at 3 Ridgeline Dr, Newport Beach, California. The extravagant property boasts 8,977 square feet, five bedrooms and eight-and-a-half bathrooms, and a 0.39-acre lot size that guarantees ample space for outdoor activities. While we respect the privacy of celebrities, we can share that the house was acquired by Trout in 2019, and the purchase price was nothing short of jaw-dropping $9.15 million.
A Peek into the Interior of Mike Trout's House
Upon stepping inside, visitors are greeted by a grand formal entryway leading to a magnificent staircase, though a convenient elevator also facilitates movement throughout the three-story floor plan.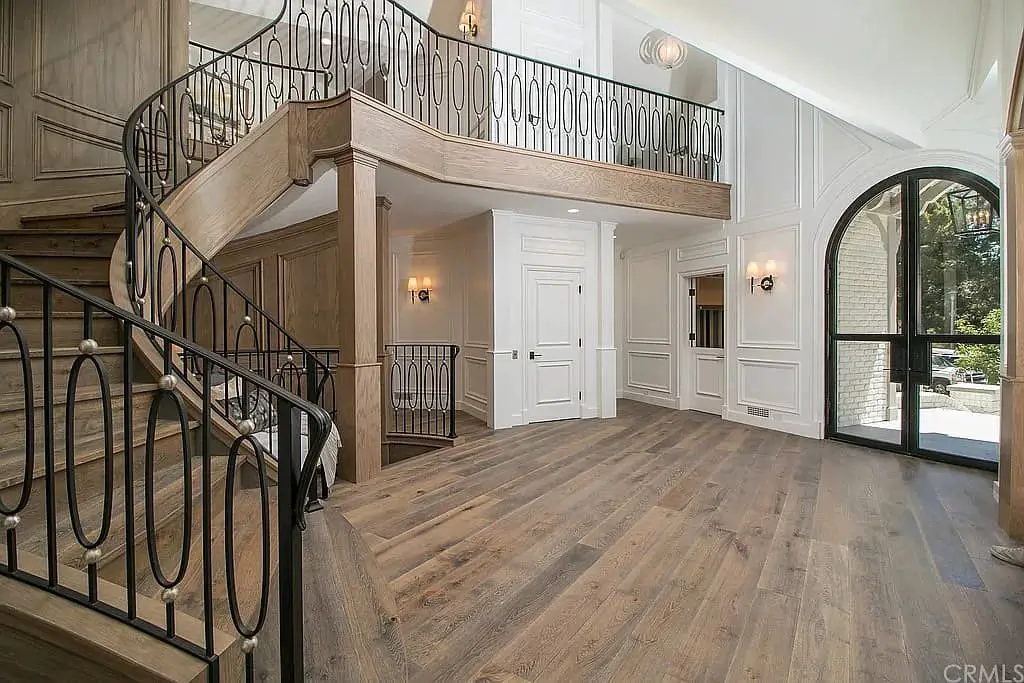 Mike Trout's hallway
The expansive living room, featuring an eye-catching wood beam ceiling and an imposing fireplace, exudes an aura of elegance and sophistication. Adding to the charm, four sets of doors provide breathtaking views of the Pacific Ocean from the wraparound deck. To complement the modern aesthetic, the interior design likely features crisp white walls, creating a clean and airy atmosphere.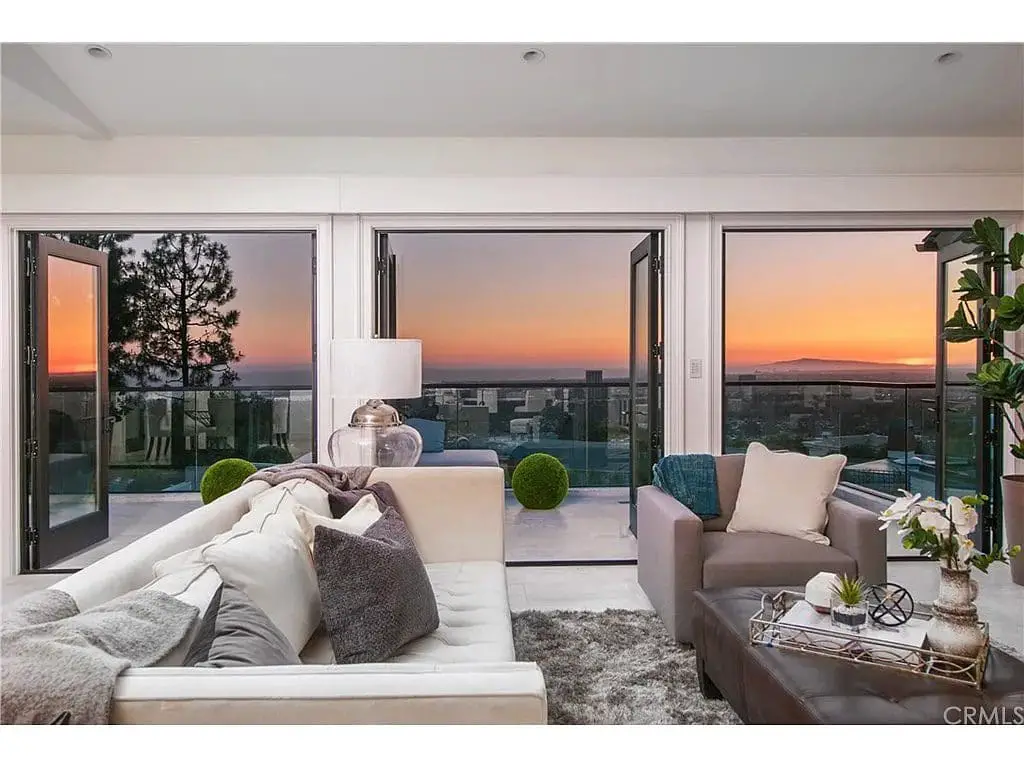 Mike Trout's living room
The comfortable seating arrangements are arranged to facilitate conversation and relaxation, inviting guests to unwind and enjoy the serenity of the space. Plush sofas and armchairs, adorned with soft throw pillows, ensure that everyone feels at ease while taking in the stunning surroundings.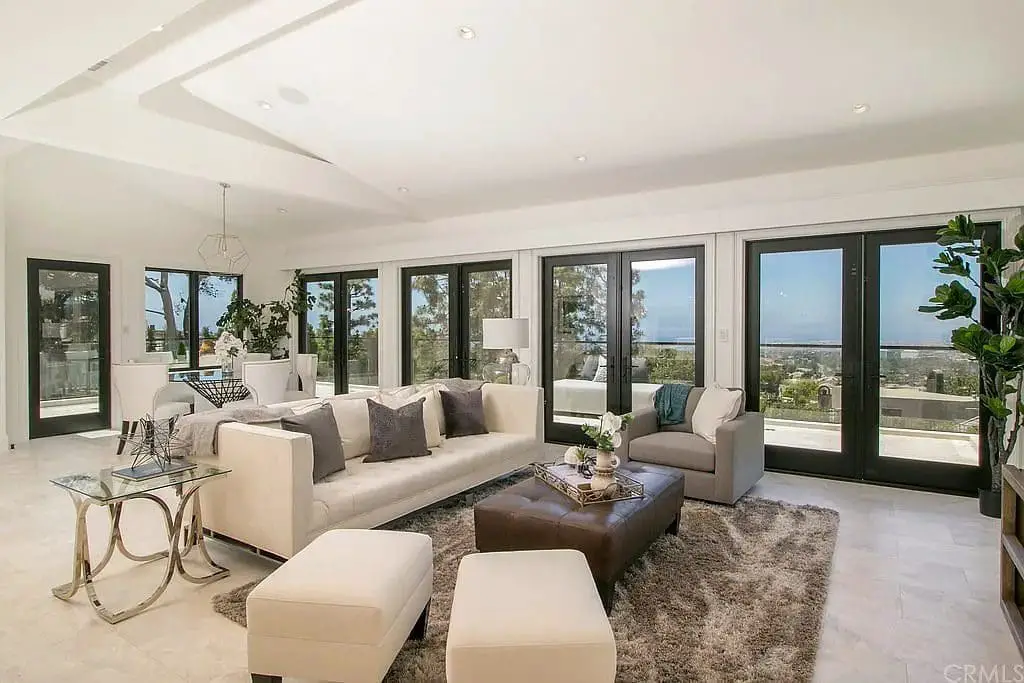 Mike Trout's living room area
Adjacent to the living room, the gourmet kitchen is a culinary haven designed to cater to Mike Trout and Jessica's love for cooking and entertaining. Boasting an open-concept layout, the kitchen seamlessly flows into a cozy family room, ensuring that the heart of the home remains the social epicenter for family gatherings and friendly get-togethers. High-end stainless-steel appliances, including a top-of-the-line stove, oven, and refrigerator, are likely integrated into sleek cabinetry, providing both functionality and aesthetic appeal.
Mike Trout's kitchen
Ample countertop space provides plenty of room for meal preparation, while a central island might serve as a casual dining area, making it the perfect spot for quick breakfasts or light snacks. The island's surface is adorned with elegant bar stools, encouraging informal gatherings and conversations while meals are being prepared. The kitchen's design is tastefully complemented by medium-brown hardwood floors, adding a touch of warmth to the overall ambiance. Crisp white cabinets and backsplash tiles complete the modern look, while pendant lights above the island add a touch of sophistication and illuminate the culinary space.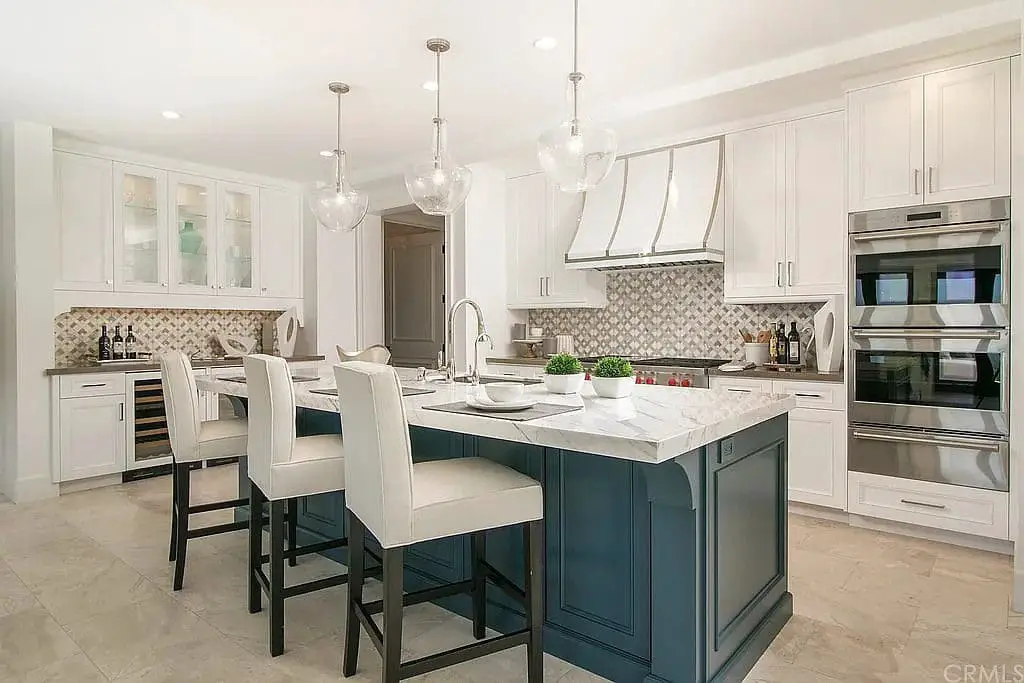 Mike Trout's kitchen
The master suite, conveniently situated on the main floor, offers a cozy fireplace and private outdoor spa access, providing the perfect spot for relaxation and tranquility. Upstairs, four additional en suite bedrooms, one of which could easily serve as a second master suite, await, along with a convenient office and laundry room.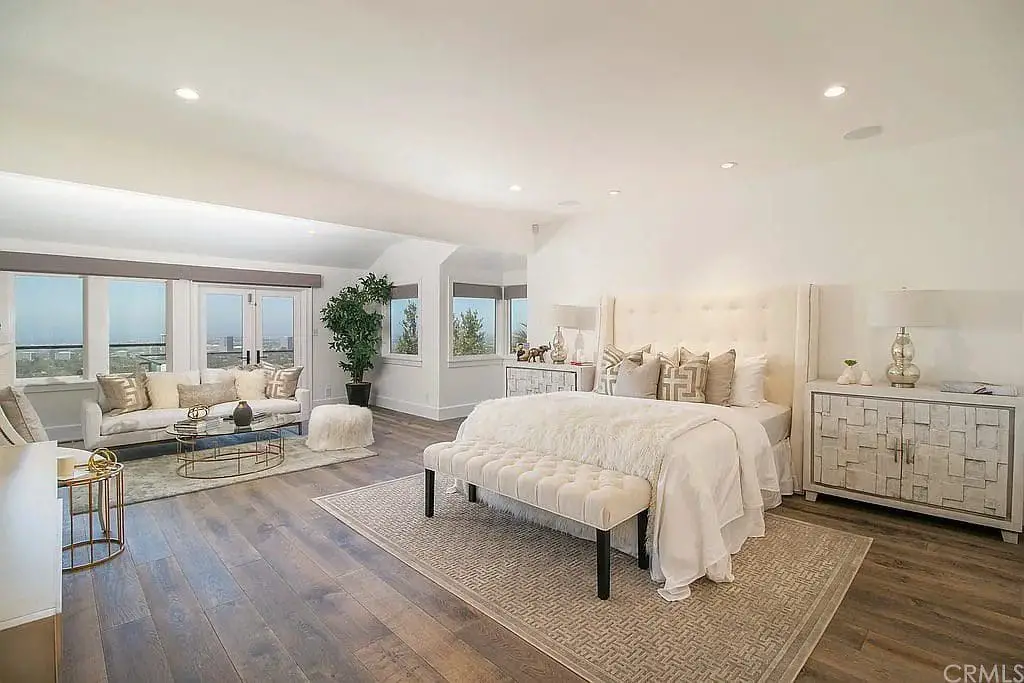 Mike Trout's bedroom
For added convenience, the home features a lower level with a full bar, wine cellar, two bathrooms, a sauna, a game room and an extra bedroom or den. An elevator effortlessly transports the Trouts between the three floors, ensuring maximum accessibility throughout the residence.
Mike Trout's game room
An Oasis in Mike Trout's Outdoor Area
Stepping outside from the living room or kitchen, Mike Trout's beach house offers a mesmerizing outdoor area that perfectly complements the coastal beauty of California. The private backyard oasis has been meticulously designed to provide the Trouts with a serene retreat where they can unwind, entertain guests, and bask in the natural splendor surrounding their home.
1.Swimming Pool: A focal point of the outdoor space is a refreshing swimming pool, perfect for taking a dip on sunny days or lounging by the water's edge. The pool features a sleek and modern design, complete with elegant tiling and perhaps a waterfall or decorative fountain, adding a touch of luxury to the space.
Mike Trout's pool
2. Grassy Lawn: Adjacent to the pool, a lush and manicured grassy lawn provides a sprawling area for various outdoor activities. It's an ideal space for kids to play, for the Trouts' pets to roam freely, or for hosting outdoor gatherings and events.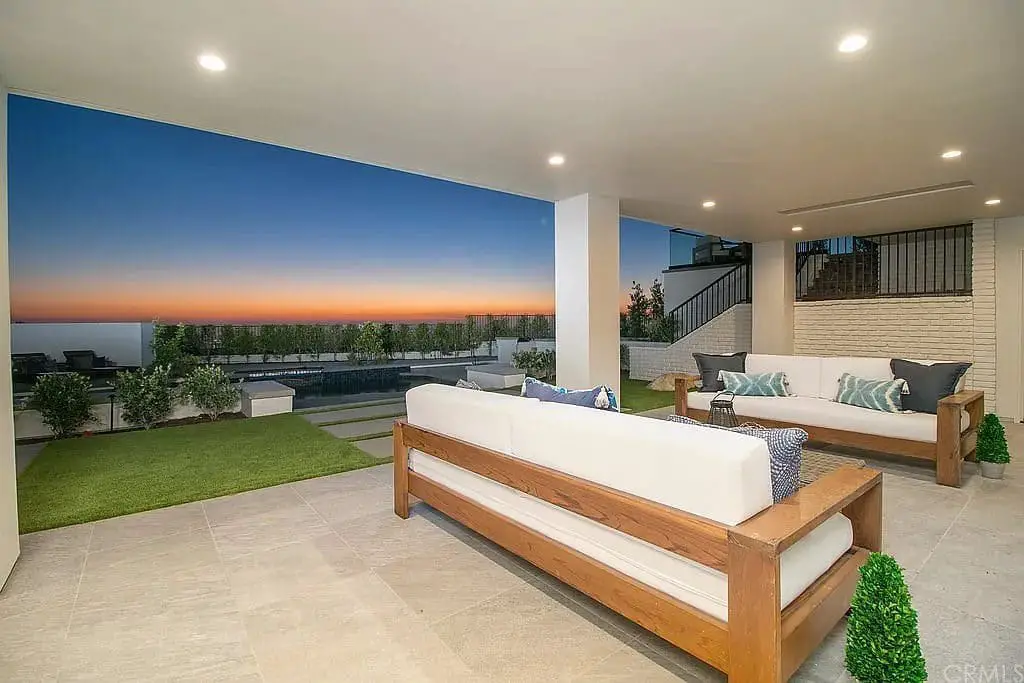 Mike Trout's outdoor area
3. Viewing Deck: Perched strategically on the property, a viewing deck offers sweeping panoramic vistas of the Pacific Ocean, Catalina Island, and the Palos Verdes Peninsula. This elevated platform serves as the perfect spot for taking in breathtaking sunsets or simply admiring the mesmerizing coastal views.
The view from Mike Trout's house
Mike Trout's Neighborhood
The property's location affords the Trouts spectacular vistas of the Pacific Ocean, Catalina Island, and the Palos Verdes Peninsula, allowing them to immerse themselves in the beauty of the California coastline. Moreover, this serene abode positions the couple just a short 30-minute drive away from Angel Stadium, enabling Mike Trout to effortlessly attend his games and devote himself to his baseball career. Some notable figures that can be seen around Mike Trout's house are Cayden Walsh, Susan Perry, Jean-Sebastien Giguere, and many others.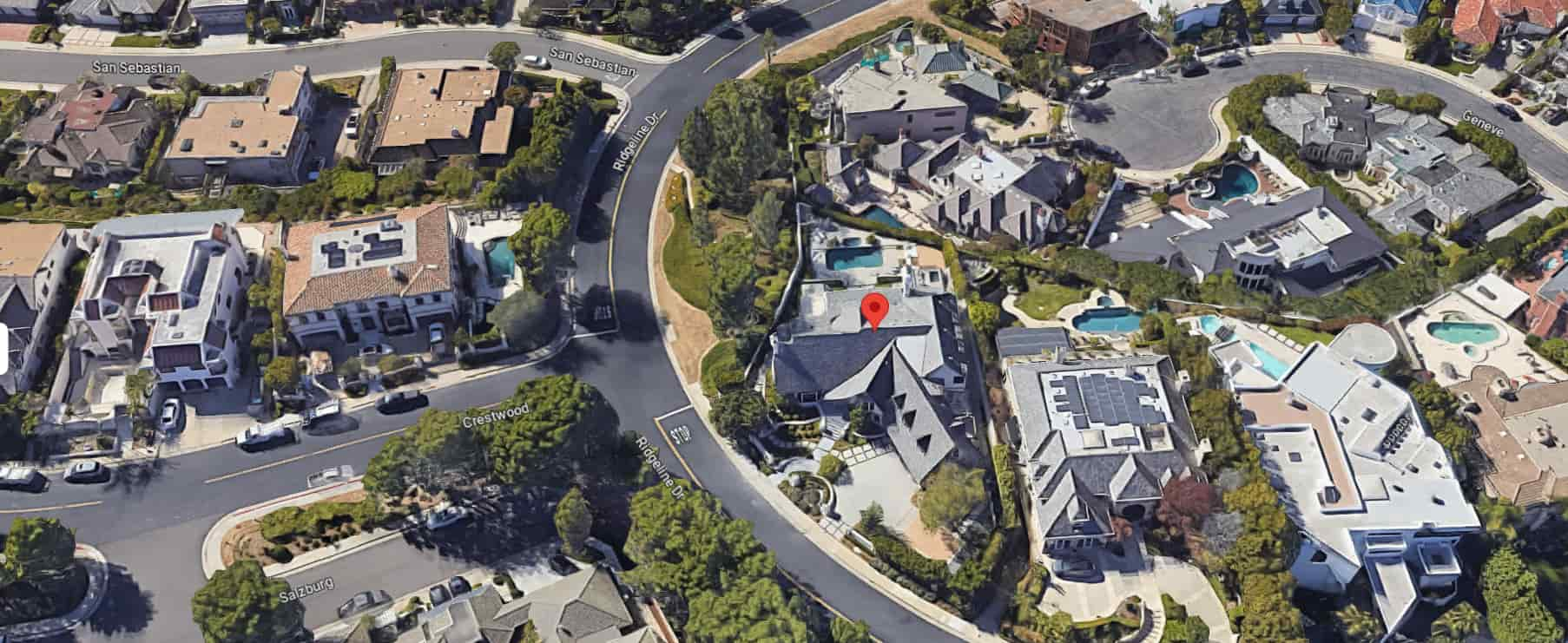 Mike Trout's neighborhood
Other Houses Owned by Mike Trout
While Mike Trout's Newport Beach mansion is undoubtedly the highlight of his real estate portfolio, we cannot confirm with certainty whether the baseball star owns other properties. As is common with celebrities, many prefer to keep such details private, and we respect their need for privacy. It's entirely possible that Trout owns additional houses or investments in various locations, but without verified information, we can only speculate.