Often, when we speak of architecture, we envision structures that frame our day-to-day lives. Yet, there are edifices that transcend this notion, becoming symbols of an era, representations of an ethos, and ambassadors of artistic expression. Such is the case with the Museum of Contemporary Art (MAC) in Niteroi, Rio de Janeiro, Brazil – a radiant landmark, a testament to the daring and creativity of modern architecture, and a beacon for contemporary art lovers worldwide.
A Vision Takes Form: The Genesis of MAC
The seed of this architectural marvel was planted in 1991 when construction began. Renowned Brazilian architect Oscar Niemeyer was commissioned to design the building. Niemeyer, a prominent figure in the development of modern architecture, created the structure as a harmonious blend of art, architecture, and landscape.
In November 1996, this seed bloomed into a full-fledged, awe-inspiring structure. The building cost approximately $2 million, a figure justified by its striking, novel design that has since become a landmark in the city and the world of architecture.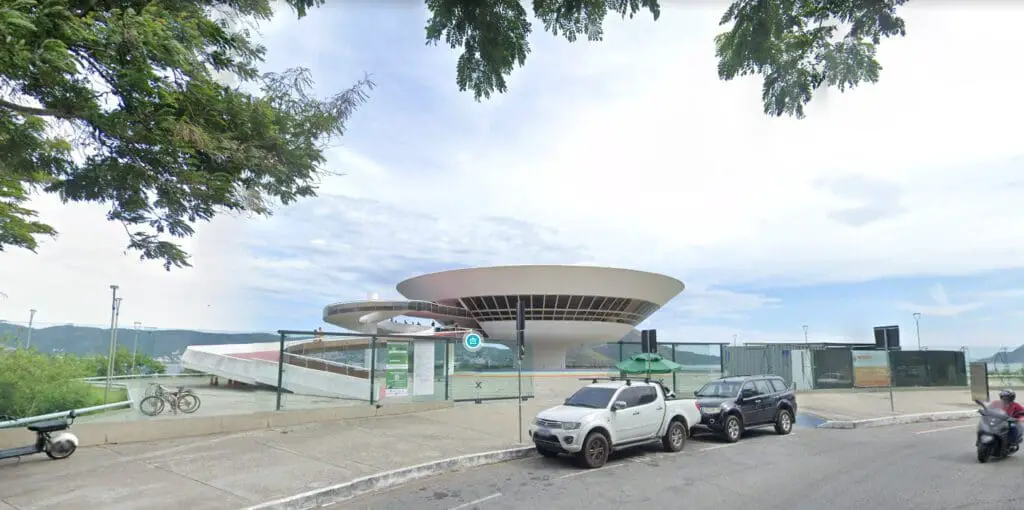 Defying the Norms: Architectural Style and Design
Niemeyer's architectural style in designing MAC was decidedly futuristic. The museum bears a distinctive flying saucer shape, a stark departure from the common structures of the city, yet organically merging with the spectacular natural beauty of Niteroi.
Standing at an impressive 16 meters high, the museum spreads across an area of 2,500 square meters. The edifice is both imposing and inviting, marking its presence in the city's skyline while drawing visitors towards its intriguing, circular form.
The Allure Within: The Interior of MAC
Inside, the Museum of Contemporary Art holds just as much fascination. Niemeyer's keen understanding of space and his creative prowess are on full display. The main exhibition hall, a circular room, offers an unpartitioned area that creates a flexible, continually adaptive space for showcasing diverse pieces of contemporary art.
A winding, spiral ramp, reminiscent of the Guggenheim Museum in New York, leads the visitors from the entrance at the bottom to the exhibition spaces above. This slowly inclining ascent offers a kind of preparatory period for visitors, a gradual immersion into the realm of art that awaits.
A panoramic viewing deck, encircling the exhibition floor, offers breathtaking views of the Guanabara Bay and the city of Rio. This delightful interplay of interior and exterior makes the museum not just a place to view art but an art piece in itself.
The MAC's Purpose and Accessibility
The primary function of MAC is to house, exhibit, and promote contemporary art, embracing diverse forms, mediums, and styles from Brazil and beyond. Yet, it is more than a repository of art. It is a space that invites contemplation, conversation, and inspiration, marking the intersection of diverse artistic trajectories.
Located at Mirante da Boa Viagem, s/n – Boa Viagem, Niterói – RJ, 24210-390, Brazil, MAC is easily accessible to art enthusiasts and curious visitors. The museum's general operating hours are from Tuesday to Sunday, from 10:00 AM to 6:00 PM. 
The Museum of Contemporary Art, Niteroi, is a symbol of creative courage, an embodiment of Niemeyer's architectural philosophy, and a platform for showcasing contemporary art. It is a place where art and architecture converse with the city and its natural surroundings, a dialogue that every visitor is invited to participate in and be enriched by.
Further Information On The Art Museum of Niteroi
Date Construction started: 1991
Date Opened: 1996
Architect: Oscar Niemeyer
Architectural style: Modernist Architecture
Size or floor area: 697.8 m2
Height: 16 meters
Function or purpose: to house the paintings and sculptures of one of Brazil's foremost modern art collectors
Address: Mirante da Boa Viagem, s/n – Boa Viagem, Niterói – RJ, 24210-390, Brazil
Opening hours: Tuesday to Sunday, from 10:00 AM to 6:00 PM