Inside the Magnificent Spaces of the National Theatre, Beijing, China
The National Centre for the Performing Arts (NCPA), officially known as the National Theatre in Beijing, China, stands as a masterstroke of architecture. Its ethereal spaces invite onlookers and art connoisseurs into an emblem that encapsulates harmony between form and function. This structure represents modern architectural innovation. Moreover, it acts like an oasis infusing culture within the bustling metropolis heart.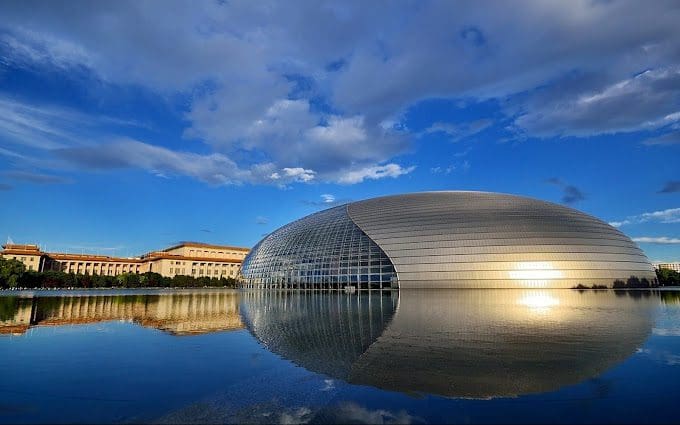 On December 1, 2001, the groundbreaking ceremony for constructing the National Theatre commenced. This ambitious project reached fruition on July 22, 2007; then, Paul Andreu – the esteemed French architect acclaimed for his extensive portfolio of innovative airport designs – opened this imposing structure's doors to a public eager with anticipation: an embodiment of vision and masterful execution in architecture. However, his prowess in imagination demonstrated an equally impressive level when applied to theatre design.
A Masterpiece of Architecture.
Andreu broke away from the conventional linear style in his architectural design, instead embracing a futuristic approach; this resulted in an architectural style: modern and avant-garde yet imbued with tranquility and smoothness. The ivory-hued ellipsoid structure floats like an 'island'—a bold, creative hint at its internal walls' contents—surrounded by an artificial lake.
The National Theatre's external shell stands at a towering height of about 46 meters; its breadth spans an impressive total floor of 219,400 square meters. Capable of accommodating various performance types and sizes: this monument to China's architectural prowess on the global stage was constructed with awe-inspiring ambition at a cost estimated at around 3.5 billion yuan. Indeed, it testifies to China's stature and emphasizes her growing cultural influence internationally.
The study delves into the complexities of interior exploration: it investigates physical spaces, emotional depths, and psychological landscapes. By employing a multidisciplinary approach that synthesizes architecture, psychology and even philosophy we aim to unravel the intricate layers within each spatial realm; our objective is to comprehend how these elements interplay and shape human experiences.
As visitors enter the National Theatre, they experience an atmosphere that envelops them with serenity and artistic vibrancy. Meticulously crafted interiors resonate perfectly to fulfill the building's function as a performing arts hub. The auditoriums—comprising a grand opera house, concert hall, and theatre—provide seating capacities for 2,416, 2,017, and 1,040, all boasting exceptional acoustic design.
Numerous skylights adorn the roof structure, fostering continuity with the outside world and simultaneously maintaining an aura, perfect for engrossing performances of sophisticated isolation.
The hallways undulate inside, crafting flowing paths to the various auditoriums. Warm oak paneling adorns the walls and creates an intimate, tranquil atmosphere, a stark contrast to its cold titanium shell. Keen attention has gone into designing each auditorium for aesthetics and functionality, emphasizing optimal sound quality and sight lines.
The Oasis of Culture.
Located at 2 West Chang'an Avenue, Xicheng District, Beijing in China: The National Theatre invites patrons to explore its mesmerizing spaces and enjoy a range of performances; working from Tuesday through Sunday— invite them with alluring opening hours that start as early as 9:00 am and conclude at 5:00 pm.Their official website – www.chncpa.org – provides the most accurate information, including show schedules and ticket booking options.
Not merely a center for performing arts, the National Theatre in Beijing, China, stands as a proof to its nation's evolving cultural and architectural identity. This experience engages mind-heart-soul trifecta with aesthetic brilliance and acoustic perfection that seduces our senses.
Further Information On The National Theatre In Beijing, China
Date Construction Started: December 1, 2001
Date Opened: July 22, 2007
Cost Of Building: 3.5 billion yuan
Architect: Paul Andreu
Architectural Style: Modern and avant-garde
Size Or Floor Area: 149,500 square meters
Height: 46 meters
Function Or Purpose: Entertainment
Address: 2 West Chang'an Avenue, Xicheng District, Beijing in China
Phone Number: +86 10 6655 0000
Website: www.chncpa.org
Opening Hours: 09:00AM-05:00PM