Mark Wahlberg's house in Las Vegas is more than just a place to call home; it's a testament to his Hollywood success and his penchant for luxury living. This article will take you on a journey through the opulent world of Mark Wahlberg's Las Vegas house, from its intriguing purchase story to the stunning interior, the sprawling outdoor area, and his upscale neighborhood.
Mark Wahlberg's house
Where Does Mark Wahlberg Live Now?
Mark Wahlberg lives at 11429 Smt Clb Dr, Las Vegas, Nevada. After 13 years of keeping one of the mega-mansions in Beverly Park, Mark Wahlberg finally sold the property for $55 million and moved into a stunning property in Las Vegas. Wahlberg's Las Vegas residence boasts a sprawling 3,266 square feet of living space. This contemporary marvel features 3 bedrooms and 3.5 bathrooms, making it the perfect space for both family and entertainment.
Mark Wahlberg's Las Vegas House Interior
Mark Wahlberg's wife has been kind enough to share glimpses of their new home on her Instagram account, offering a tantalizing peek into the family's life within these walls. However, beyond these insights, the details of the house remain well-guarded. So, let's have a look at the glimpses of their interior.
Mark Wahlberg's house embodies the modern home concept with its open floor plan. Throughout the space, light-colored wooden flooring creates a warm and cohesive ambiance. A sleek glass-railing staircase in the background enhances the home's spacious feel with its transparency.
Further into the interior, a striking kitchen awaits. Dark cabinets provide a striking contrast to the room's lighter elements, and a generously sized island takes center stage. Natural light floods the area, courtesy of a large window that also provides a tantalizing glimpse of the outside world.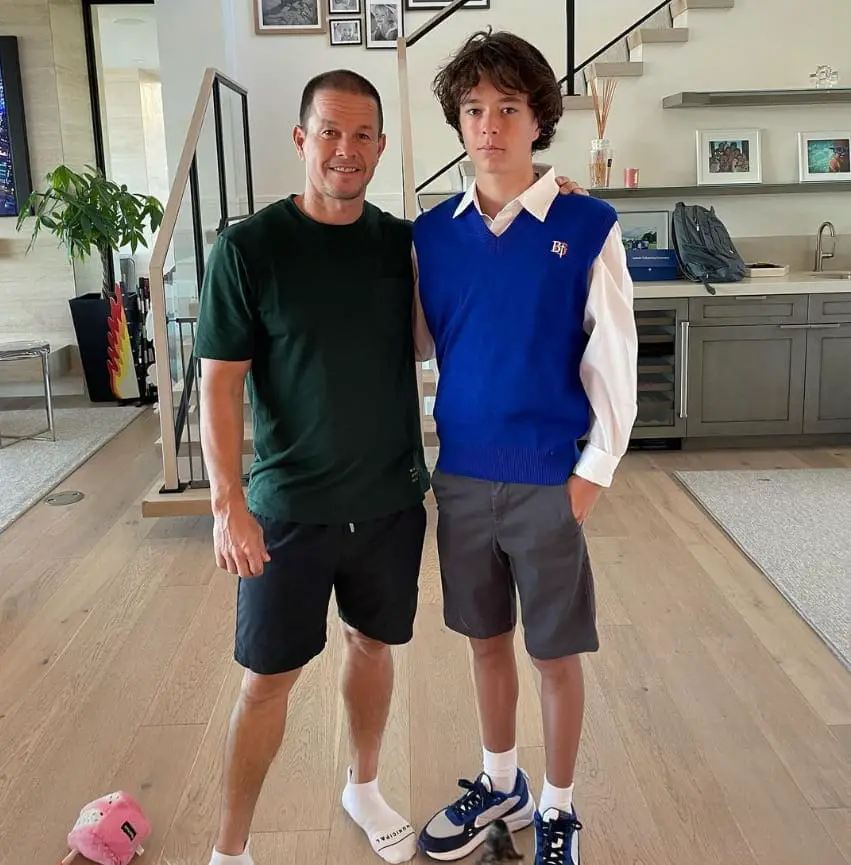 Mark Wahlberg's interior
The main living room seamlessly blends contemporary design with natural elements. A large window floods the room with sunlight, connecting it to the outdoors. A wooden accent wall adds warmth and texture, complementing the neutral color palette. Minimalistic and contemporary furniture, with a beige sofa as the focal point, creates a harmonious look, accentuated by a stylish black and white throw pillow. The walls, painted in a crisp white, serve as a blank canvas that accentuates the furniture and decor.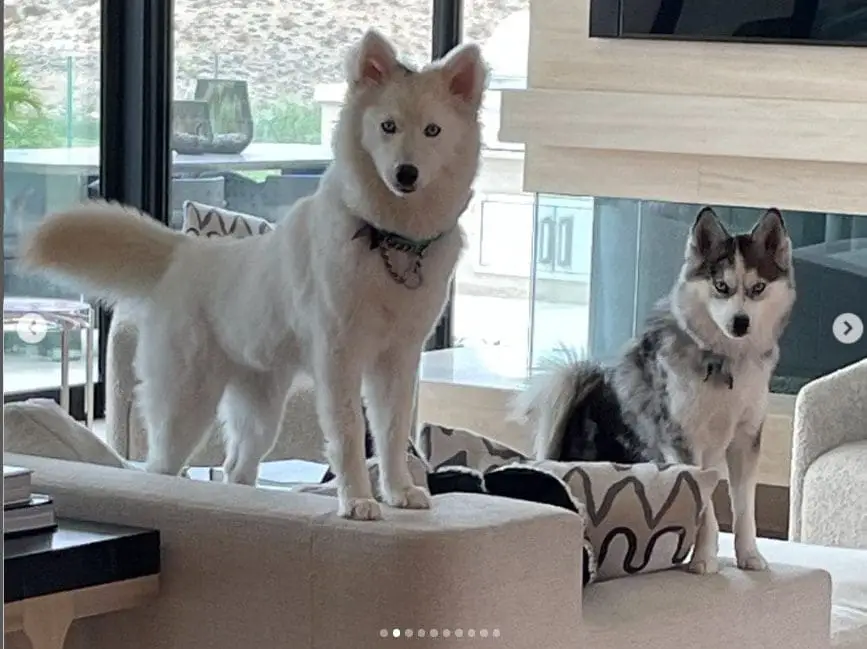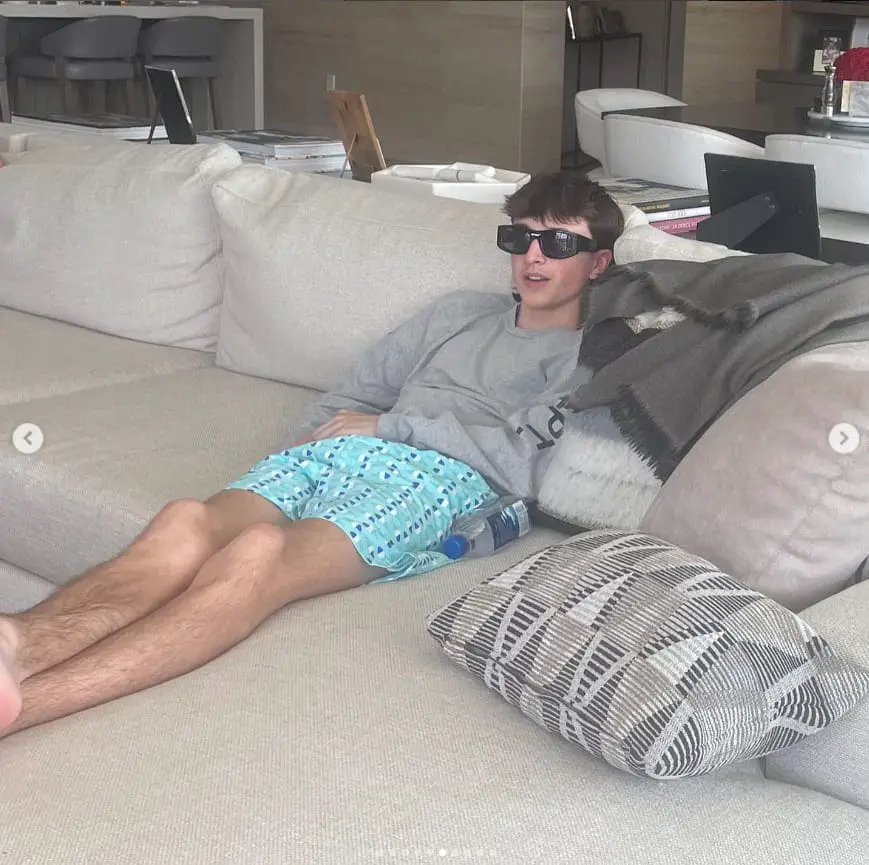 Mark Wahlberg's living room area
Thanks to the open floor plan, the main living room seamlessly extends into a dining area and another seating area. The extended seating area features a dominant gray sectional sofa with clean lines that epitomize modern style. A matching gray rug underfoot creates a cohesive look, while a built-in fireplace and wall-mounted TV emphasize the functional contemporary design. The furniture, including a coffee table and side table, adheres to the minimalist "less is more" ethos, completing this sleek and modern living space.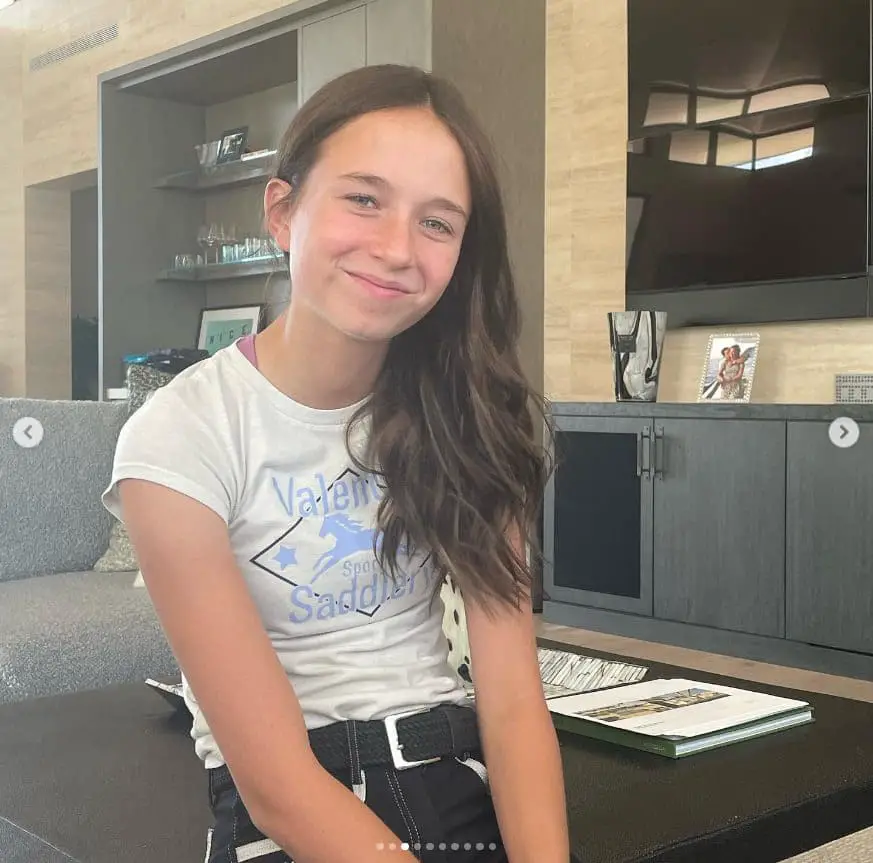 Mark Wahlberg's seating area
The dining area features a welcoming wooden floor that infuses a sense of nature and tranquility into the space. A built-in bookshelf, filled with books and decorative items, showcases the resident's intellectual interests and style. The dining table, graced by a vase of red roses and condiment holders, invites meaningful conversations and memory-making. Abundant natural light from the windows enhances the overall ambiance, making the space even more inviting.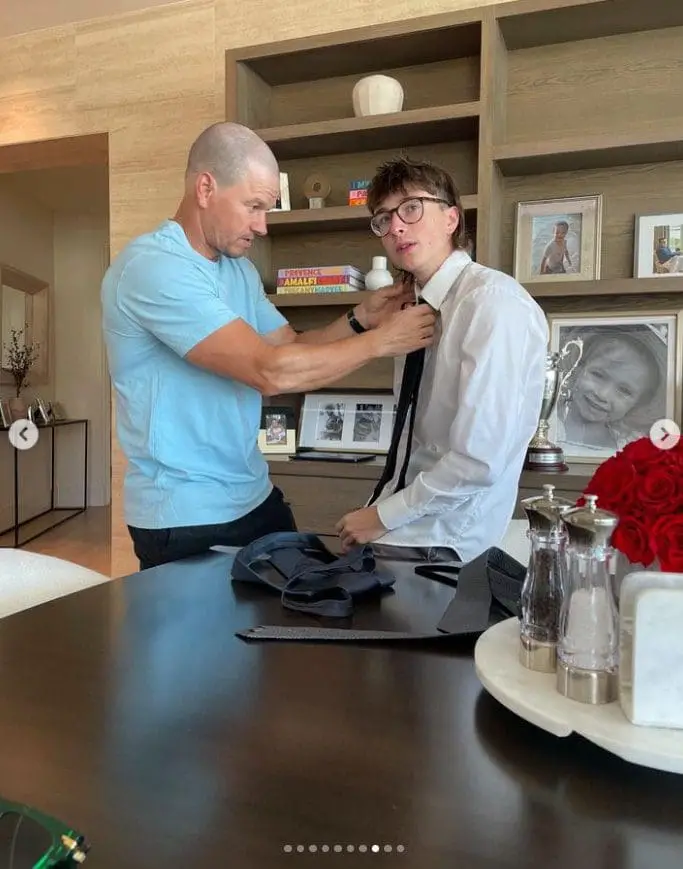 Mark Wahlberg's dining area
Mark Wahlberg's child's bedroom showcases contemporary architectural design. The room features a functional built-in bookshelf against a pristine white wall, adding sleek aesthetics to the space. A calming gray carpet complements the upholstered bed, creating a harmonious color scheme. The wall is adorned with ribbons and medals, offering a glimpse into the achievements and interests of Mark Wahlberg's kids.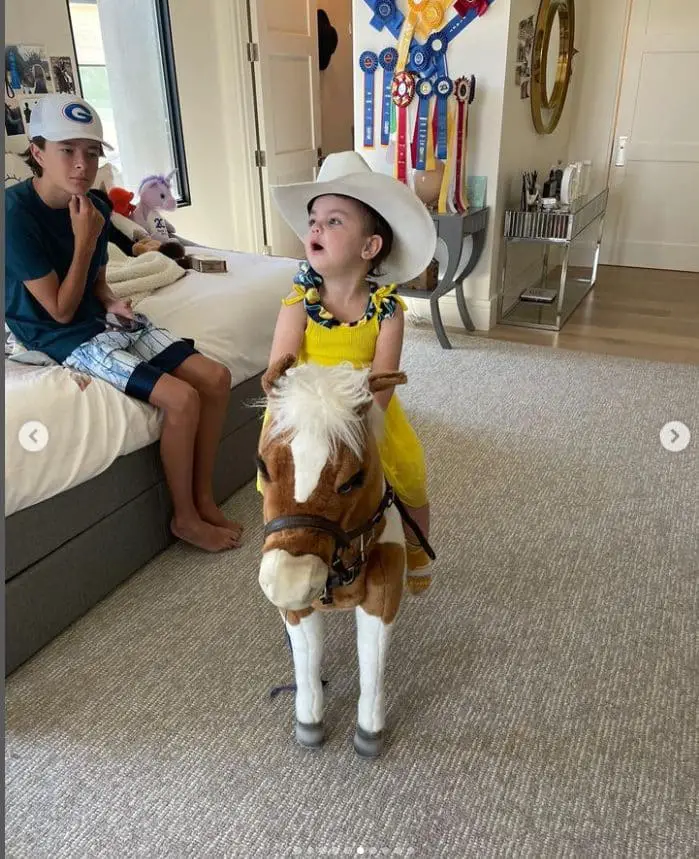 Mark Wahlberg's child's bedroom
Mark Wahlberg's Outdoor Area Has a Pool
Mark Wahlberg's house is characterized by a flat roof, clean lines, and a neutral color palette, all hallmarks of modern architecture. The exterior of the home is a harmonious blend of large glass windows and doors, allowing for ample natural light and a seamless connection with the outdoors. A stone chimney adds a touch of rustic charm to the otherwise sleek design.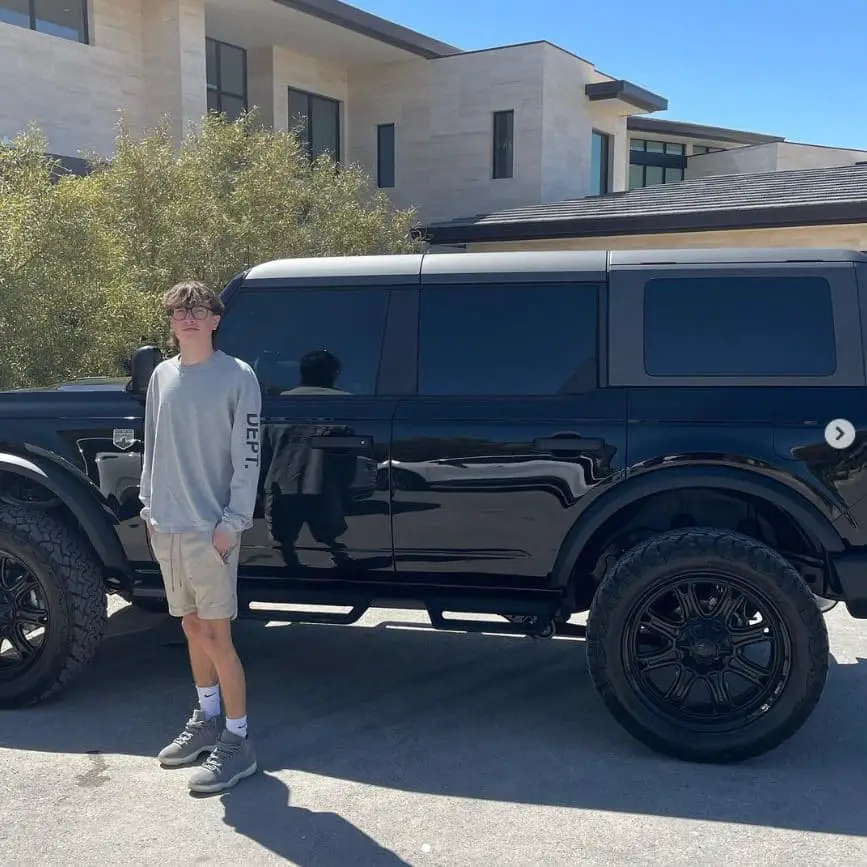 Mark Wahlberg's house exterior
The front yard features a rectangular pool, adding a luxurious element to the property. The landscaping is minimal yet tasteful, with a few potted plants adding a touch of greenery and a manicured lawn enhancing the overall aesthetic appeal.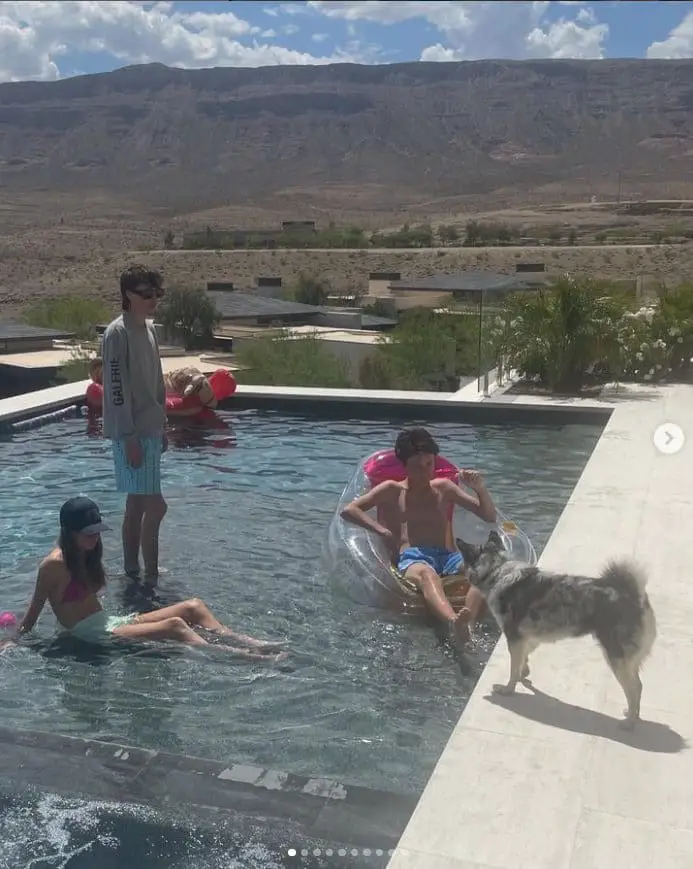 Mark Wahlberg's pool
Mark Wahlberg's Neighborhood
The Summit Club community is home to various other celebrities and high-profile individuals. This luxurious enclave offers a range of amenities, including a golf course designed by Tom Fazio, a spa, fine dining, and a state-of-the-art fitness center. With a tight-knit community and top-notch security, it's no wonder that Mark Wahlberg and other celebrities have chosen to make it their home.
Neighboring celebrities include sports stars, actors, and business magnates. The Summit Club Drive in Las Vegas has become a hub for the elite, and Mark Wahlberg's presence only adds to its allure.
Other Houses Owned by Mark Wahlberg
While the focus of this article is on Mark Wahlberg's Las Vegas house, it's worth mentioning that this Hollywood heavyweight owns several other properties. Wahlberg's impressive real estate portfolio includes a stunning mansion in Beverly Hills, a home in the prestigious Beverly Park neighborhood.
Mark Wahlberg's former house
Mark Wahlberg and his long-time wife, Rhea Durham, bought the 30,500-square-feet for $8.25 million in 2009 and sold it in 2023 for $55 million. The mansion boasts 20 bathrooms, 12 bedrooms, and a lot of other lavish amenities and living spaces on the 2-story floor plan.