In a quiet corner of the opulent North Beverly Park, an exclusive gated community nestled in the heart of Los Angeles, lies a mansion that has recently changed hands in a jaw-dropping deal. While the identity of the new owner remains shrouded in secrecy, what we do know is that this magnificent abode once belonged to none other than Hollywood superstar Mark Wahlberg. Sold for a cool $55 million, it's a home that has been making headlines for its grandeur and price tag, but there's much more to it than meets the eye.
Mark Wahlberg's house
Where Does Mark Wahlberg Live Now?
Mark Wahlberg now lives in the picturesque state of Nevada. While he spent years in California pursuing his acting career, he found a new haven in Nevada, where he aspires to create a state-of-the-art studio and contribute to what he calls "Hollywood 2.0." But today we are going to talk about his former luxurious mansion located at 71 Beverly Park Ln, Beverly Hills, California.
Mark Wahlberg's mansion, boasting a staggering 30,500 square feet of living space, is a true testament to the luxurious lifestyle enjoyed by the rich and famous. The property offers 12 bedrooms and 20 bathrooms, ensuring that every member of the Wahlberg family had their own space to unwind and relax. Originally listed for a jaw-dropping $87.5 million, the mansion eventually sold for a mere $55 million, making it one of the most significant real estate bargains in the upper echelons of Los Angeles. It's a prime example of the ebbs and flows of the luxury real estate market.
Beyond the Grand Façade
Mark Wahlberg's mansion offers an interior that exudes opulence and sophistication at every turn. As you enter through the grand two-story entry lobby, you're immediately struck by the sense of grandeur that permeates the home. The living and dining rooms are adorned with coffered ceilings and multiple fireplaces, creating an ambiance of warmth and elegance, perfect for entertaining guests in style.
Mark Wahlberg's foyer
Mark Wahlberg's living room
Mark Wahlberg's dining room
The main level of the mansion boasts an expansive kitchen and family room complex, complete with pantries, a separate prep kitchen, and quarters for staff. This well-appointed space caters to the demands of Hollywood's social scene, where hosting lavish gatherings is the norm.
Mark Wahlberg's kitchen
One of the standout features of this mansion is its awe-inspiring two-story wood-paneled library, a sanctuary for intellectual pursuits, with a second-level balcony adding to its charm. With a total of 12 bedrooms and an impressive 20 bathrooms, Wahlberg's family and guests are treated to a level of comfort and luxury that few can match.
Mark Wahlberg's library
The lower level of the mansion is where the real entertainment begins. It boasts a state-of-the-art home theater, ideal for private screenings of Wahlberg's blockbuster hits. A wine and cigar cellar, along with a smoking lounge, caters to the actor's refined tastes and provides a cozy retreat for relaxation.
Mark Wahlberg's theater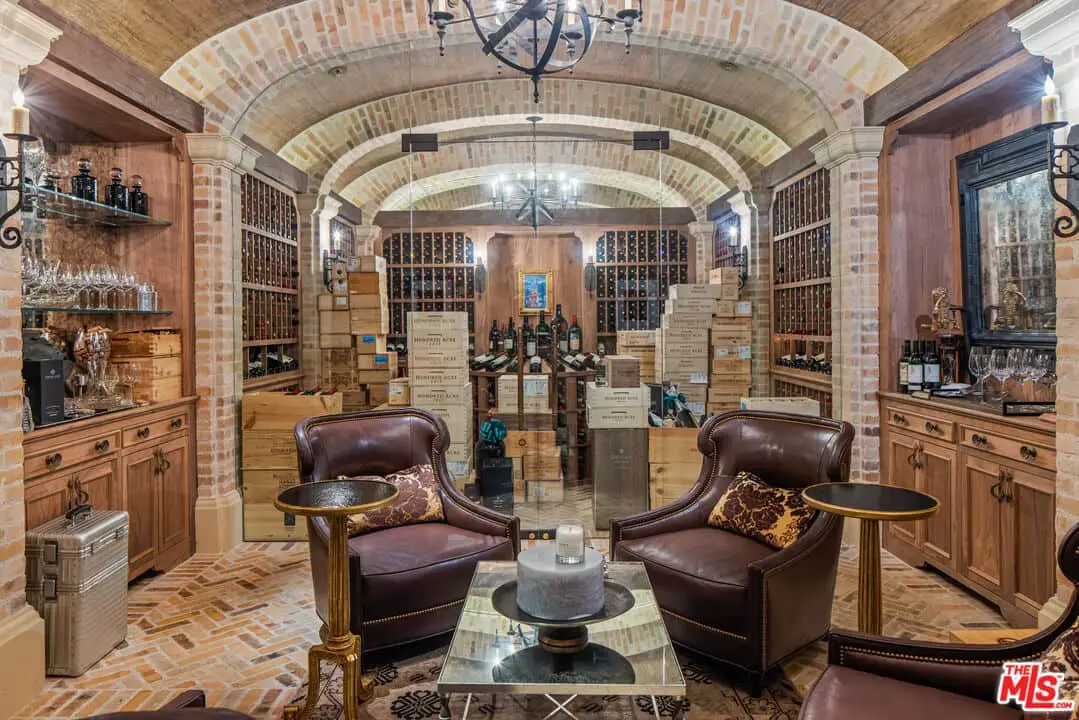 Mark Wahlberg's wine cellar
For fitness enthusiasts like Mark Wahlberg, the mansion includes a professional gym that is fully equipped with the latest exercise equipment, allowing him to maintain his legendary physique. And for golf aficionados, the property offers a five-hole golf course and a golf driving range, creating a paradise for golf practice and leisure.
Mark Wahlberg's gym
Mark Wahlberg's Outdoor Area
Mark Wahlberg's former mansion boasts an outdoor area that rivals the grandeur of its lavish interior. Situated on a sprawling 6.2-acre lot in the prestigious North Beverly Park, the estate offers an expansive and meticulously manicured landscape.
Mark Wahlberg's outdoor area
As you step outside, you'll find manicured gardens that exude serenity and tranquility, creating a lush oasis of greenery. The resort-like grotto pool is a centerpiece of outdoor entertainment, offering a refreshing escape from the California sun. The pool area is surrounded by lounging areas and provides a perfect spot for relaxation and recreation.
Mark Wahlberg's pool
For those with a passion for golf, Wahlberg's former abode comes complete with a five-hole golf course and a golf driving range. This outdoor amenity allows golf enthusiasts to practice their swing in the comfort of their own private paradise, complete with scenic views and beautifully maintained greens.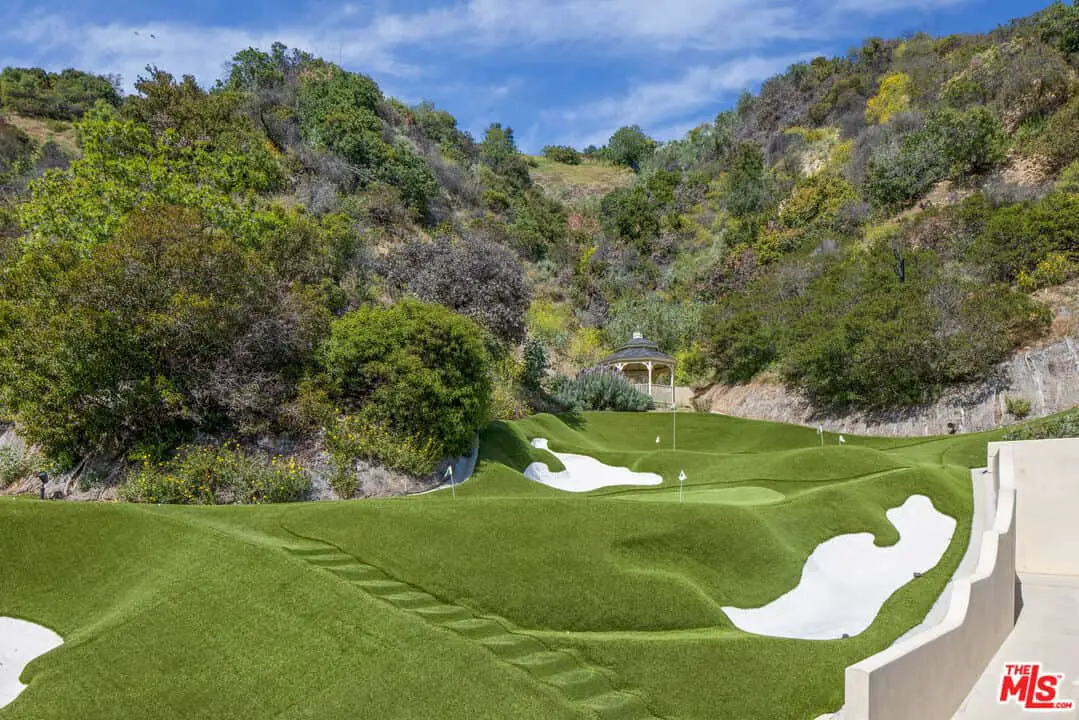 Mark Wahlberg's golf course
In addition to the golf facilities, the estate offers a sports court, catering to those with athletic inclinations. Whether it's a game of tennis, basketball, or other sports, the outdoor court provides ample opportunities for physical activity and fun.
Mark Wahlberg's court
Mark Wahlberg's Neighborhood
Mark Wahlberg's former residence was nestled within the exclusive and gated community of North Beverly Park, a neighborhood that epitomizes luxury and privacy. This prestigious enclave is renowned for its sprawling estates, manicured landscapes, and an air of seclusion that attracts A-list celebrities and business moguls alike. Wahlberg's neighbors in this upscale neighborhood included the likes of Sylvester Stallone, who sold his home to Adele for a whopping $58 million, and the founder of California Pizza Kitchen, who listed his property for $48.5 million.
Mark Wahlberg's neighborhood
Other Houses Owned by Mark Wahlberg
Mark Wahlberg's real estate portfolio showcases a penchant for luxury and an affinity for investing in prestigious properties. While he once called the opulent North Beverly Park neighborhood in Los Angeles home, the actor and producer decided to embark on a fresh chapter in Nevada. Wahlberg's current residence in Nevada, a state-of-the-art retreat, reflects his desire for a quieter and more family-focused lifestyle. With aspirations to build a state-of-the-art studio in Nevada and contribute to what he terms "Hollywood 2.0," it's clear that Wahlberg's real estate choices extend beyond the confines of traditional homeownership.