RuPaul, the iconic drag queen and television personality, has not only left an indelible mark on the world of entertainment but has also made quite an impression in the real estate market. With a net worth that reflects his towering success in the entertainment industry, RuPaul's house in Beverly Hills is a true testament to his larger-than-life persona. In this article, we'll take a closer look at the fabulous residence of this beloved celebrity, delving into its luxurious details and the surrounding neighborhood that's home to other notable personalities.
RuPaul's house
Where Does RuPaul Live Now?
RuPaul's primary residence in Beverly Hills is located at 1116 Laurel Way, Beverly Hills, California. His Beverly Hills mansion is an impressive 10,309-square-foot property with all the trappings of opulence you'd expect from someone of his stature. Originally built in 1980, the house underwent a complete overhaul to align with RuPaul's vibrant and eclectic taste. The house boasts six bedrooms and seven bathrooms, providing ample space for RuPaul and his loved ones to unwind and entertain guests. The lot size is substantial, offering an expansive outdoor area that complements the grandeur of the interior.
RuPaul's real estate purchase was a significant milestone in his life. While his net worth, estimated at around $60 million, allowed him to indulge in this extravagant purchase, it was a symbol of his enduring success in the entertainment industry. His illustrious career as a drag queen, singer, and television host has made him a beloved figure in the LGBTQ+ community and beyond. RuPaul is not just a household name; he's an inspiration to countless individuals who have found the courage to express their true selves.
RuPaul's House Interior
Within the walls of RuPaul's stunning Beverly Hills mansion lies an interior that defies convention and radiates with personality. The journey through this extravagant abode unveils a symphony of contrasting colors, textures, and themes that seamlessly blend into a harmonious whole. The disco room, adorned with a mesmerizing array of 26 disco balls and portraits of legendary disco artists, beckons guests to dance and celebrate. The walls are painted white, and the floor is covered with black and white tiles. In the center of the room stands an ornate fireplace surrounded by two armchairs upholstered in grey fabric, each one adorned with a red pillow for added comfort.
RuPaul's disco room
In the kitchen, bold black-and-white contrasts meet vibrant orange accents, creating an atmosphere that is both daring and inviting. In the center of the room is an island with a marble countertop and sink, surrounded by three chairs upholstered in floral patterned fabric. On one side of the island there is a tall cabinet with drawers for storage, while on another side there are two cupboards filled with dishes and other items.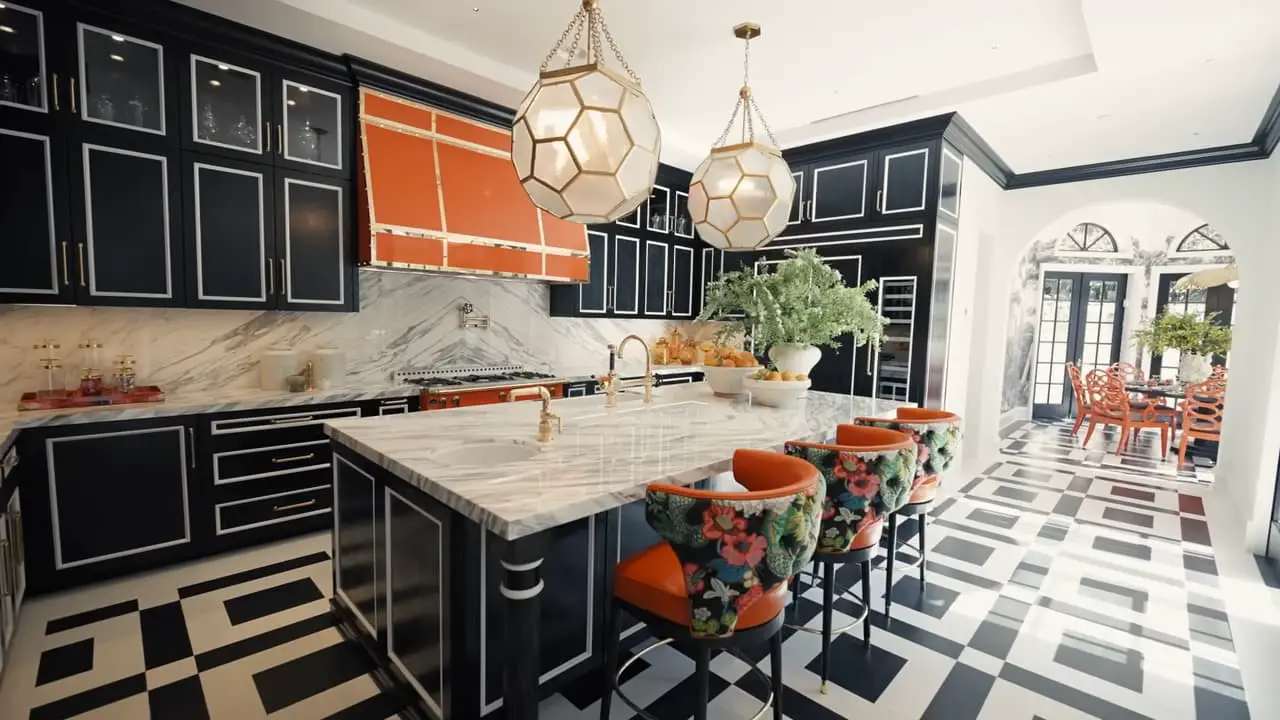 RuPaul's kitchen
The breakfast nook, bathed in the glow of a golden pendant light, invites contemplation and leisure. It is a cozy and inviting place with eight chairs surrounding a large wooden table. The table is covered in plates, utensils, and other dinnerware, suggesting that the space is being prepared for a dinner party. A vase of yellow flowers sits atop the table, adding to its warm atmosphere. On one side of the room there is an open window which allows natural light to flood into the area. In addition to this, there is also a light bulb hanging from the ceiling providing additional illumination.
RuPaul's breakfast nook
The dining area pays homage to Hollywood glamour with its striking stripes and bold design choices. The walls are painted white and have a black and white striped pattern on the ceiling, adding to the sophisticated atmosphere of the space. In the center of the room is a large wooden table surrounded by four chairs upholstered in zebra print fabric. On top of this table sits a bowl filled with oranges, as well as other decorative items such as vases and gold objects. A chandelier hangs above it all, featuring a white ribbon detail for added texture and interest.
RuPaul's dining area
RuPaul's office is a cozy and inviting space with warm, earthy tones. The room is filled with furniture including a wooden table, two chairs upholstered in orange fabric, and a hexagon-shaped stool. A large window allows natural light to fill the room while providing views of the outdoors. In the center of the ceiling is an overhead light fixture that provides additional illumination for this comfortable living area. The hardwood flooring adds texture and depth to this inviting interior design scheme.
RuPaul's office
RuPaul's Outdoor Area
Beyond the captivating interiors that define RuPaul's Beverly Hills mansion, the property unveils a world of lavish amenities and outdoor spaces that elevate it to the status of a true retreat. A classic-looking bar beckons, offering a timeless setting for sophisticated gatherings and intimate moments alike. Adjacent to the bar, a luxurious pool area entices with its black-and-white striped chaises that exude elegance and comfort. This is a space where relaxation reaches its zenith, where the sun-drenched afternoons merge seamlessly into tranquil evenings under the star-studded Californian sky.
RuPaul's outdoor area
As you step further into the backyard, you're greeted by an outdoor dining room that transcends the ordinary. With its meticulous design and attention to detail, it rivals the charm and allure of any high-end resort. It's a space that invites al fresco dining experiences, where every meal becomes an occasion, and every conversation is seasoned with the sweet scent of the surrounding blooms.
RuPaul's outdoor area
But the true gem of this property lies in its backyard, a lavish oasis that unfolds like a secret paradise. This meticulously landscaped haven is designed to accommodate grand gatherings, where friends and family can come together to celebrate life's most cherished moments. Whether it's a soirée under the moonlight, a poolside cocktail party, or a tranquil afternoon of solitude, the backyard is a canvas for creating lasting memories.
RuPaul's pool
RuPaul's Neighborhood
Beverly Hills is renowned for its luxurious lifestyle and celebrity residents, and RuPaul's choice to call this city home is no surprise. The neighborhood surrounding his mansion is a who's who of Hollywood's elite, with other A-listers residing in close proximity. While we can't reveal the exact neighbors, it's safe to say that RuPaul is in good company. The city of Beverly Hills itself is a beacon of elegance, with upscale shopping, fine dining, and cultural attractions just a stone's throw away. From Rodeo Drive to the Beverly Hills Hotel, RuPaul has access to the very best that this glamorous city has to offer.
RuPaul's neighborhood
Other Houses Owned by RuPaul
In addition to his glamorous Beverly Hills mansion, RuPaul has made strategic real estate moves in other prime locations. RuPaul dropped $1.095 million on a 1,490-square-foot unit in 1998, and in 2010 he sold it for $2.4 million. Another property was his mid-century modern abode in Los Angeles, which he purchased in 2011 for $2.5 million and has then listed for $5 million. Located in the celebrity-stuffed enclave above Sunset Strip, this 2,362-square-foot gem boasts three bedrooms and 2.5 baths, making the most of every square inch of space.