Las Vegas, the Entertainment Capital of the World, is renowned for its glitzy casinos, world-class entertainment, and vibrant nightlife. But it's not just the casinos and shows that make this city so captivating; it's also the architecture. Las Vegas boasts a skyline that's as dazzling as the lights on the Strip. In this blog post, we're going to take a closer look at the top 5 strangest but coolest buildings in Las Vegas that are pushing the boundaries of architectural innovation.
1. VEER Towers: The Leaning Towers of Vegas
Standing proudly at the heart of the Las Vegas Strip, the VEER Towers are an architectural marvel. Designed by the visionary architect Helmut Jahn, these twin residential towers appear to defy gravity as they lean at a 5-degree angle in opposite directions. The result? A mesmerizing optical illusion that gives the impression of movement in what is, in reality, a stationary structure. Living in one of these condos is like owning a piece of modern art.
What Makes VEER Towers Unique?
1.  Leaning Towers: The most striking feature of VEER Towers is their lean. They lean at a 5-degree angle, which may not sound like much, but it's enough to make them stand out in the crowded Vegas skyline.
2.   Offset Design: The towers are not symmetrical; they offset each other by 4.6 degrees. This offset design adds to the visual intrigue and sets them apart from other buildings.
3.  Glass Facade: VEER Towers are predominantly made of glass, offering residents breathtaking views of the Las Vegas Strip and enhancing the towers' visual appeal.
4.  Location: VEER Towers are conveniently located within the CityCenter complex, making them easily accessible to the best of Las Vegas.
5.   Interior Design: The interiors of VEER Towers are just as impressive as their exteriors. The residential units feature contemporary designs and high-end finishes, offering a luxurious living experience.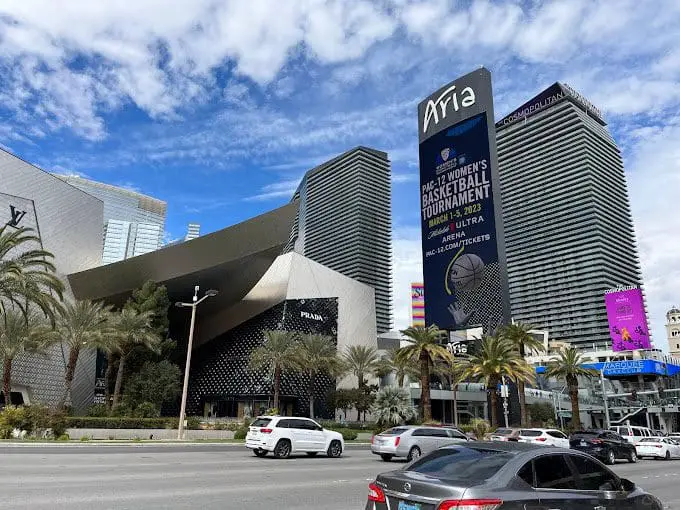 2. Trump International Hotel Las Vegas: Gold and Glamour
The Trump International Hotel Las Vegas is impossible to miss with its striking golden glass tower. Love him or not, Donald Trump has left his mark on the Las Vegas skyline. This opulent building exudes luxury from every angle. Whether you're a guest or a resident, this iconic structure offers a taste of the high life, making it a prime choice for those who want a slice of Vegas extravagance. You can purchase at Trump Tower Las Vegas condos and live full time or rent it . It's one of the best neighborhood in Las Vegas.
What Makes Trump International Hotel Unique?
1. Golden Exterior: The golden glass exterior of the hotel catches the sunlight in a way that gives the building a radiant, luxurious look.
2. Spacious Suites: The hotel offers spacious suites with stunning views of the Las Vegas Strip, ensuring guests a comfortable and memorable stay.
3. Trump Brand: The Trump International Hotel is known for its high-quality service and the brand's signature attention to detail.
4. Pool Deck: The hotel features a magnificent pool deck with private cabanas, providing a perfect spot for relaxation and enjoying the Vegas sun.
5. Dining Options: The hotel boasts several fine dining options, including DJT, which offers a menu inspired by the President's favourite dishes.
3. MSG Sphere: The Future of Entertainment
Las Vegas is always at the forefront of innovation, and the MSG Sphere is proof of that. This futuristic building, still under construction at the time of writing, is set to redefine entertainment in the city. Resembling something straight out of a science fiction movie, the MSG Sphere features a spherical design and a massive LED exterior. It's poised to become a hub for concerts and immersive experiences, making it a must-visit destination for both locals and tourists alike.
4. The Lou Ruvo Center for Brain Health: Gehry's Masterpiece
Architect Frank Gehry is known for his avant-garde designs, and the Lou Ruvo Center for Brain Health is no exception. This striking building, designed to resemble a series of irregularly stacked boxes, is an architectural gem in downtown Las Vegas. While it's not a residential building, it serves as a vital research center for brain diseases and is a testament to the city's commitment to both science and art.
Architectural Marvel: Designed by the renowned architect Frank Gehry, the Lou Ruvo Center for Brain Health is a true architectural marvel. Its unconventional, twisted structure defies traditional norms and stands out in the heart of Las Vegas.
Brain Health Advocacy: This building is more than just a striking piece of architecture; it's a symbol of hope and support for individuals and families affected by neurological disorders. It houses research, clinical, and support facilities for brain-related diseases.
Gehry's Signature Style: Frank Gehry is known for his deconstructive style, characterized by irregular shapes and the use of unconventional materials. The Lou Ruvo Center is a prime example of his signature approach.
5. The Linq High Roller: A Wheel of Wonder
The Linq High Roller is not your typical building; it's an observation wheel that towers over the Strip at a staggering 550 feet. As the tallest observation wheel globally, it offers enclosed cabins with awe-inspiring panoramic views of Las Vegas. While not a place to call home, a ride on the High Roller is a must for those who want to witness the city's grandeur from a different perspective.
Owning a Piece of Las Vegas
If these unique and unconventional buildings have captured your imagination, you might be wondering how to make a piece of Las Vegas your own. One exciting way to do that is by investing in a high-rise condo. Las Vegas offers a variety of high-rise condominiums, each with its distinct style and amenities. Whether you want to live in the heart of the action on the Strip or prefer a quieter retreat off the beaten path, there's a condo for every taste and budget.
In conclusion, Las Vegas is a city that thrives on extravagance and innovation, and its architecture is a reflection of that spirit. From leaning towers to golden skyscrapers and futuristic spheres, these buildings are pushing the boundaries of design and redefining the Vegas skyline. And if you're captivated by the charm of Sin City's architecture, owning a high-rise condo is your ticket to becoming a part of its extraordinary story. Las Vegas isn't just a destination; it's an experience, and these buildings are an essential part of that experience.