Porsha Williams and Simon Guobadia are famed for appearing on The Real Housewives of Atlanta. Their controversial whirlwind romance raised many eyebrows, earning them fans and critics alike. Despite a controversial start, Porsha and Williams will walk down the aisle soon. They often showcase bits and pieces of their budding relationship on their spinoff; RHOA: Porsha's Family Matters.
Simon is the Founder and CEO of a Petroleum company and owns a range of businesses, including restaurants and nightclubs. His estimated net worth is $40 million. On the other hand, Porsha is an American TV personality, author, and actress with a loyal fanbase from her days in RHOA worth $400,000.  
In this post, we'll talk about Porsha and Simon's house in Sandy Springs, Georgia.
Where Do Simon Guobadia and Porsha Williams Live?
Porsha and Simon moved into their gorgeous $7 million mansion in January 2022. This reasonably new house built in 2018 sits on two acres. It spans approximately 50,284 square feet and boasts a striking transitional Mediterranean style. Inside, you'll find five bedrooms, five and a half baths, and a home gym.
Fascinating Features of Porsha Williams and Simon Guobadias Property
Simon and Porsha aren't shy about flaunting their drop-dead mansion. Every inch oozes a casual, understated elegance befitting their lavish lifestyles; and contains a sprawling garden and an outdoor pool.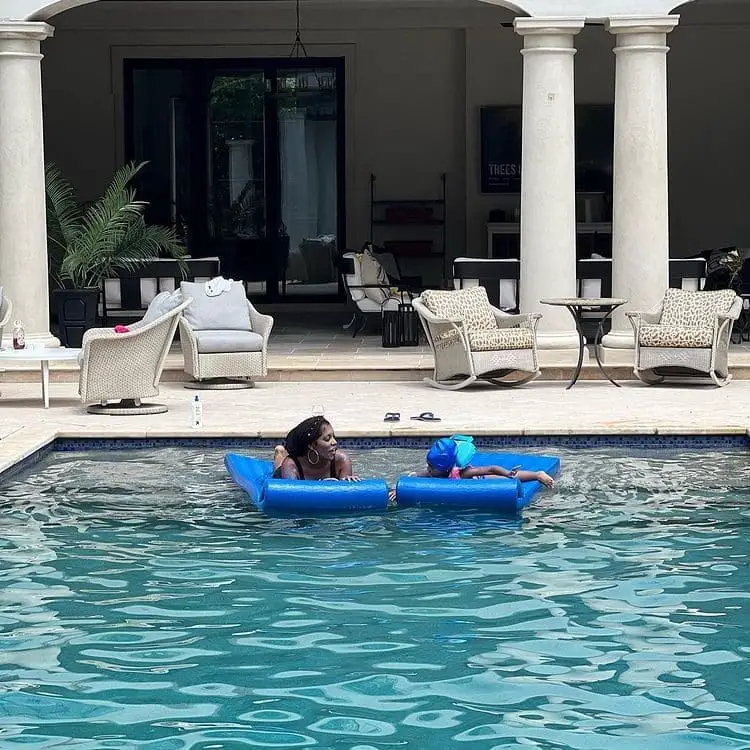 Porsha Williams and Simon Guobadia House Exterior
The mansion is reminiscent of a sun-soaked beachside resort when viewed from the outside. White-painted brick walls, arched windows, and muted red roof exudes timeless appeal that will remain in style for years to come. A white paved walkway in the middle of the lush front yard leads to a grand glass door.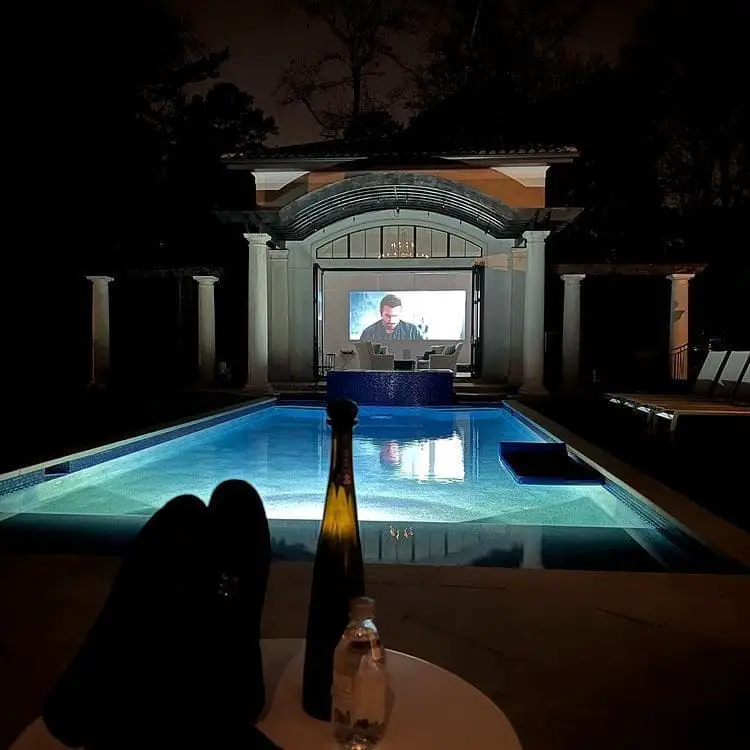 You'll find the swimming pool in the backyard, along with an outdoor lounging area and a backyard room fitted with a massive screen for watching football or movies during warmer months.
Porsha Williams and Simon Guobadia House Interior
A chic, sophisticated interior welcomes you as soon as you step in. The living room contains two oversize curved white coaches and round brown coffee tables. Beneath it lies a plush carpet in matching white. Rays of sunlight seeping through the large windows introduce a light, airy vibe, while royal blue curtains infuse color into the predominantly white interior.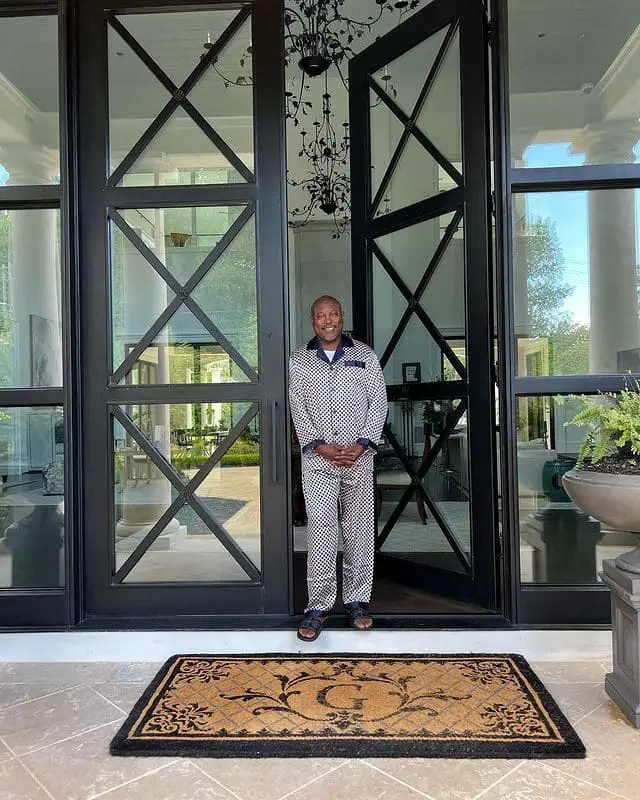 Porsha maintained the white color scheme for her kitchen, too. Wooden cupboards fill two walls, while a window occupies the third wall. In the middle, blue upholstered chairs surround a rectangular island. A trimmed doorway then connects the kitchen to the dining. Contrary to the kitchen, the dining room walls spot a modern charcoal black paint. Creamy white plush chairs flank a black marble table, with golden-hued chandeliers hanging overhead.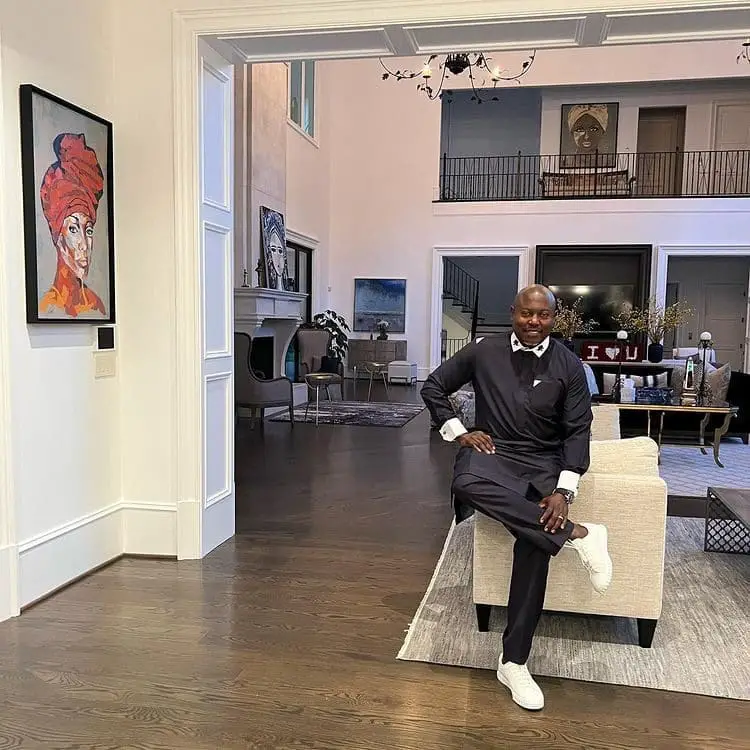 And since both Simon and Porsha are entrepreneurs, a home office is fitting. Unlike most home offices, though, theirs is massive with plenty of unused space. Neutral grey walls allow the golden accents scattered throughout the room to shine. These include the chairs, couch, carpet, and thick curtains. An eye-catching art piece props against one wall, while geometric patterned blinds drape adjacent windows. One noteworthy architectural detail is the towering ceiling which instantly adds drama and makes the office appear more luxurious and spacious than it is.
Porsha and Simon's master bedroom exudes a contemporary style owing to white walls, cream ceilings, and grey flooring. All furnishings, specifically the curtains, carpets, beddings, and coaches, come in an off-white hue as well. This absence of color starkly contrasts the rest of the house.  
The Neighborhood near Porsha and Williams Home in Sandy Springs, Georgia
Porsha and Simon's residence is situated in Sandy Springs, one of the prime neighborhoods within Georgia.
Sandy springs offer an urban-suburban feel ideal for those craving the fast yet homely vibe that both urban and suburban living provides. Residents get to enjoy vibrant art hubs, outstanding restaurants, excellent amenities, community parks, coffee shops, and numerous retail shops for shopping – perfect for the fashion-forward TV personality.
Before purchasing this home, Simon owned an expansive mansion with his ex-wife. It sold for 4.5$ million back in September 2021. Porsha opted to leave her Duluth mansion to her mother instead of putting it on the market, though.   
She previously lived in a French Country style mansion located in the Chastain Park Neighborhood which is coincidentally within Buckhead. She ditched the 4,500 square feet a year after purchasing her present-day abode. As you can see, her current pad is definitely an upgrade space-wise.
---
Check out other houses owned by The Real Housewives of Atlanta cast members;