We were first introduced to Shereé Whitfield during the first The Real Housewives of Atlanta back in 2008. Although she once took a hiatus from the show, she is among the remaining few original cast members still on RHOA.
Besides her stint in Reality TV, Shereé is an entrepreneur, actress, and media personality with numerous businesses. As of 2022, her estimated net worth is $800,000. In this article, we will look at Shereé Whitfield's mansion in Sandy Springs, Georgia.
Where Does Shereé Whitfield Live?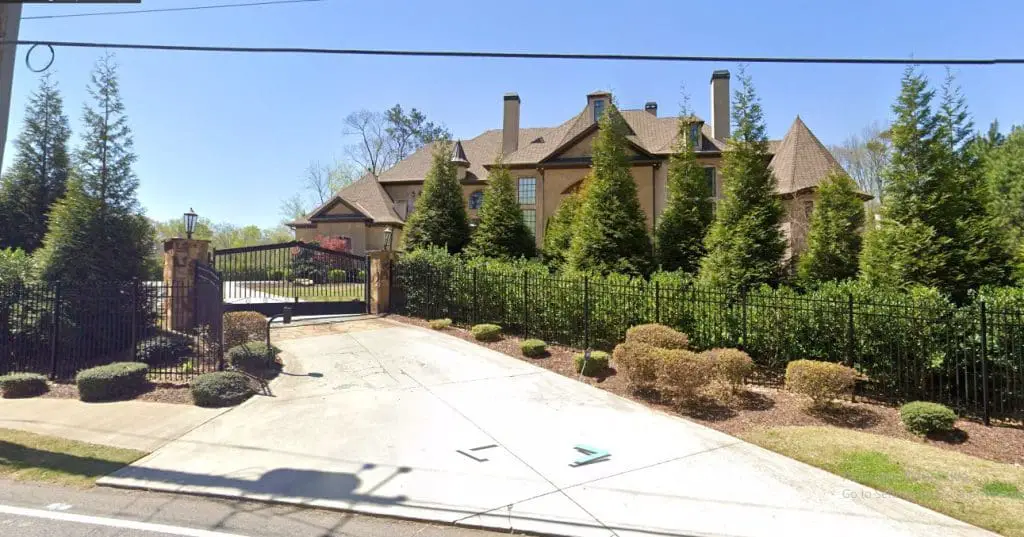 Shereé purchased the 1-acre lot in Sandy Springs, Georgia, back in 2011 and began building it a year later. And albeit construction took seven years, it was certainly worth the wait. The immaculate pad features a contemporary chic style with stunning florals; its tasteful decoration exudes sophisticated glamour.   
Shereé Whitfield's House Address
Chateau Shereé, as she likes to call it, spans a sprawling 10,000 feet and is nestled in the exclusive Sandy Springs estate. Her house address is 5210 Lake Forrest Dr, Atlanta, GA 30342.
Fascinating Features of Shereé Whitfield House in Sandy Springs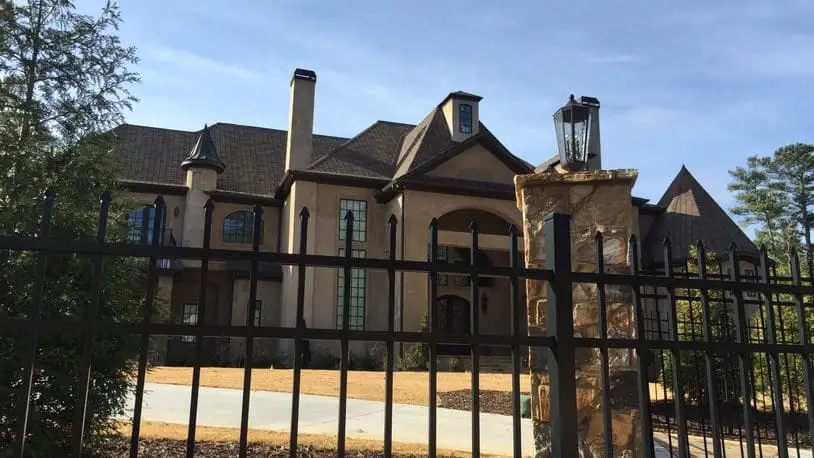 The breathtaking mansion boasts a chic yet sophisticated vibe befitting the fashion icon; and has a spa, movie theatre, home gym, and even a nightclub. Talk about details! Shereé lives with her three children and dog, Gotti.
Chateau Shereé House Interior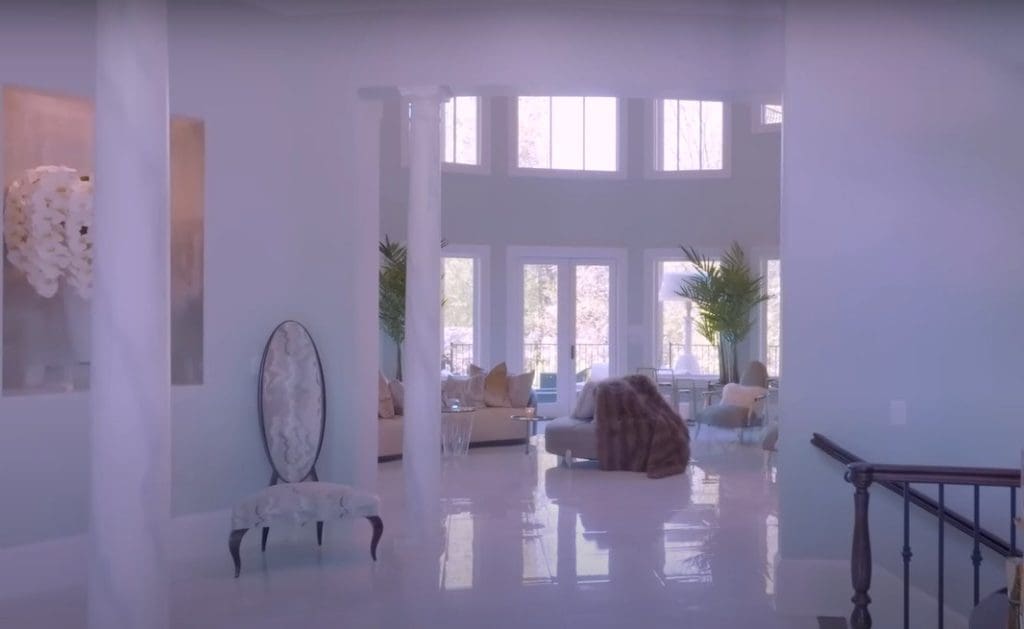 An expansive entertainment area featuring soaring ceilings and floor-to-ceiling windows greets you the second you step in. A sweeping staircase guides your gaze to the sparkling chandelier overhead. Curved coaches, an upholstered coffee table, marble porcelain floors, mother of pearl domed ceiling, and an all-white interior set a glamorous tone. A couple of houseplants splash color into the neutral space.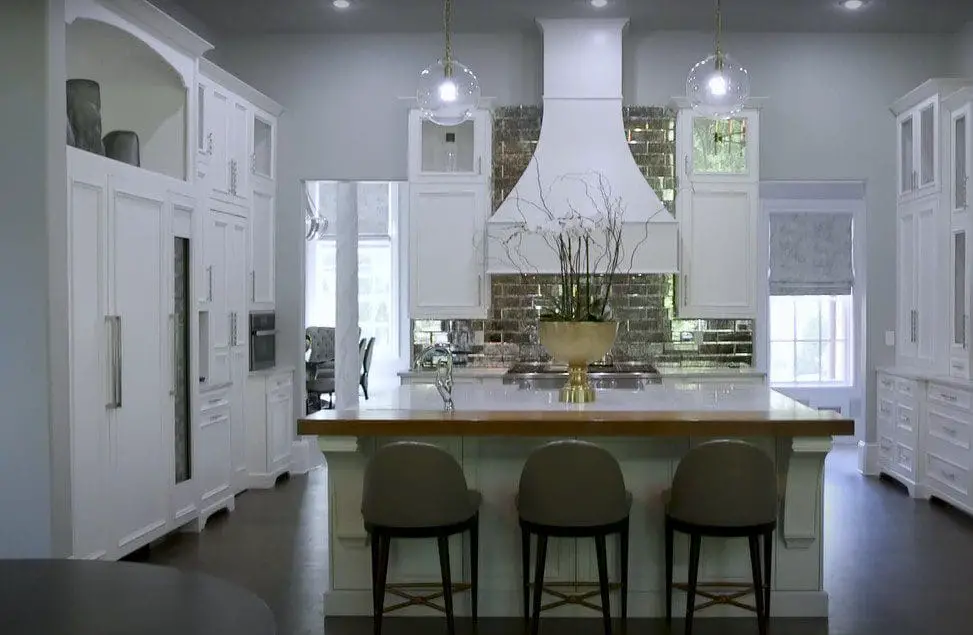 The monochromatic color scheme is replicated in the kitchen. Wooden cupboards and marble countertops spot pristine white, while cream covers the walls. Silver appliances and glass chandeliers dot the space. Hardwood floors and a gold-polished backsplash inject some warmth.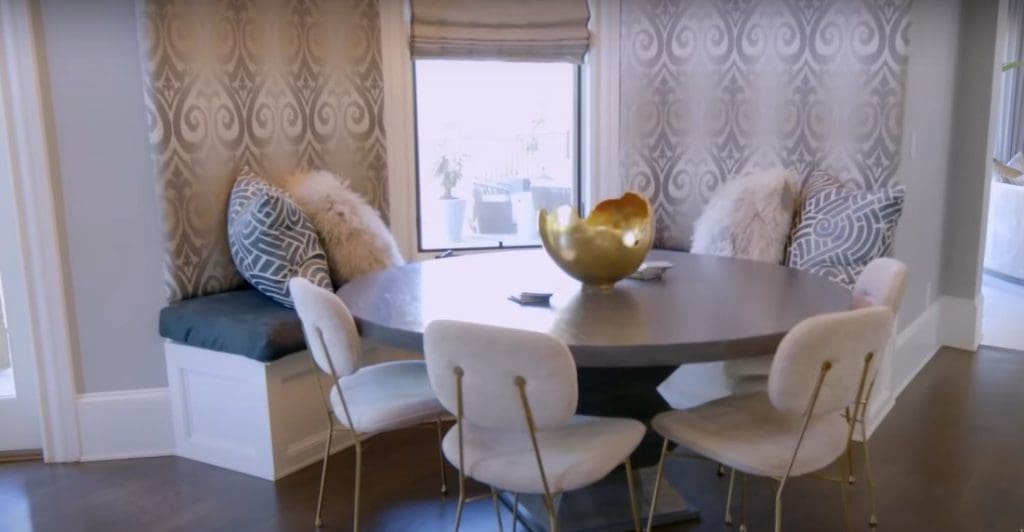 A breakfast room where Shereé lounges or entertains guests borders the kitchen. Snugly chairs, a faux textured wall, mood lighting, and gold accents curate a comfortable, relaxing atmosphere. A round breakfast table tucked at the corner serves as the eating area. It features four minimalist dining chairs and two upholstered nooks.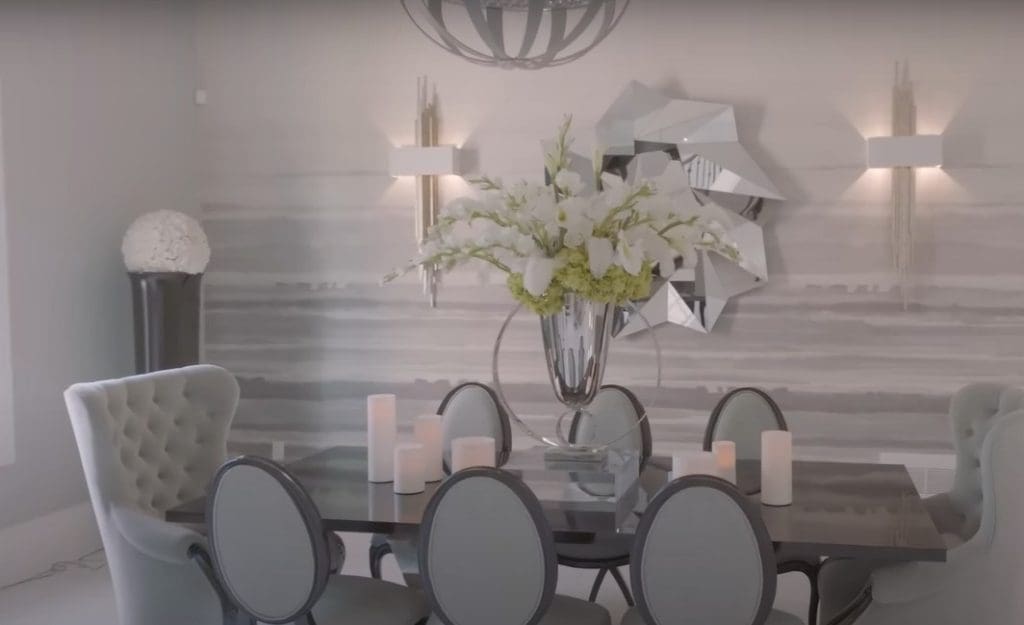 The formal dining room exudes a different vibe from the casual breakfast room. The sleek textured wall and grey color theme radiate maturity and muted sophistication. The Swarovski chandelier further reinforces this feel. Shereé only uses this dining room on holidays and special occasions by the way.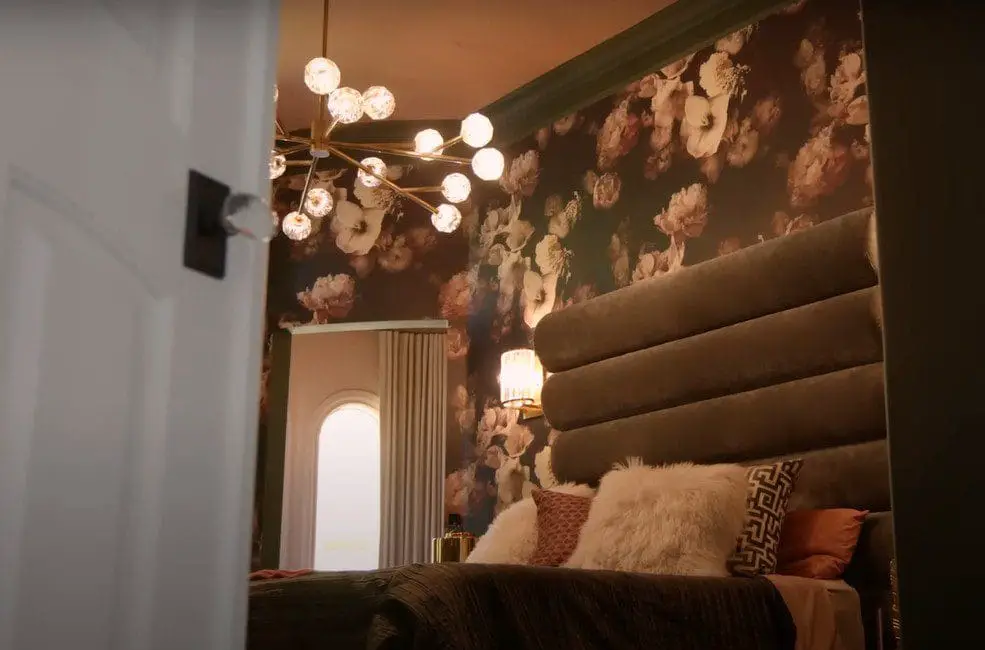 When it comes to the master bedroom, Shereé steers away from the neutral color scheme. Rich green walls, floral feature wall, and warm brown ceiling and floors create a homey, soothing aura perfect for unwinding after a long day. A luxurious channel tufted headboard and stylish gold-framed chandelier scream opulence. A glass door opens into a separate Zen area where she usually meditates.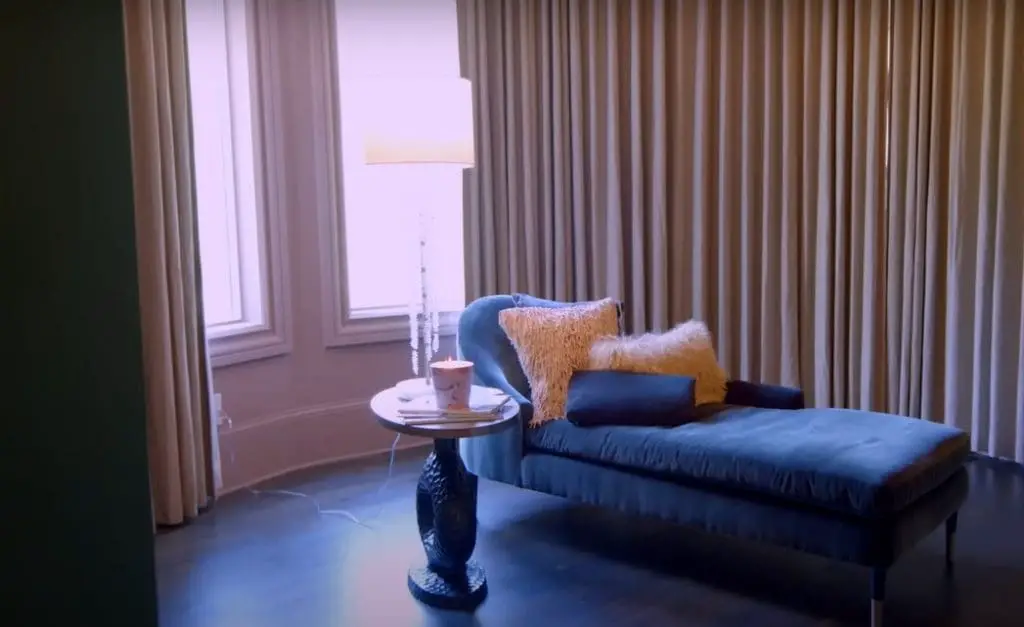 A chaise lounge accentuated with fur throw pillows stands in the middle, with arched windows letting in sunlight. Floor-to-ceiling curtains afford privacy while acting as a gorgeous focal point.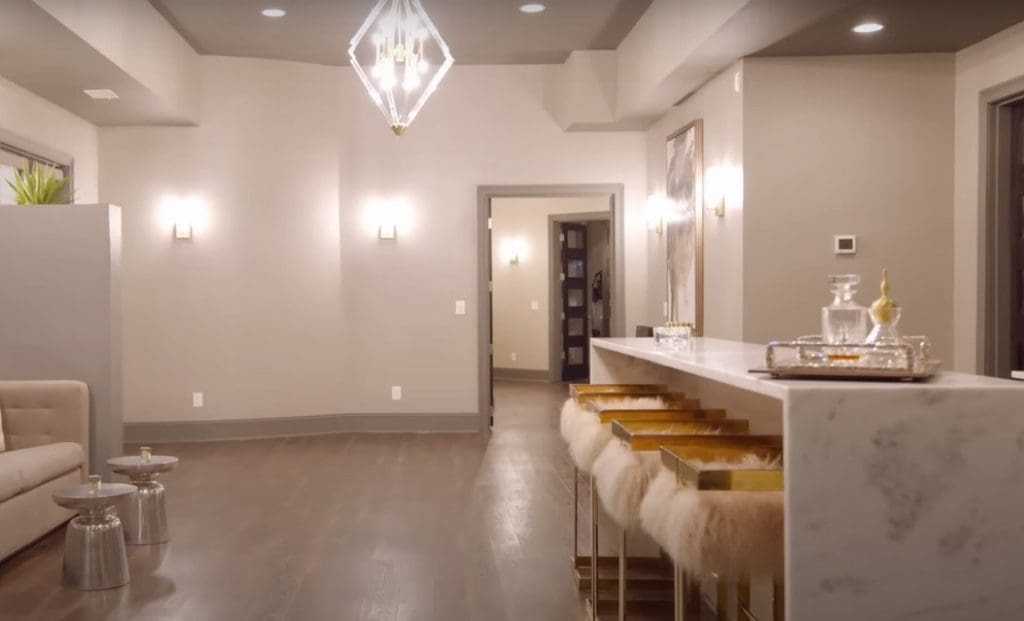 Other rooms include the fancy master bath, basement lounge area, bar, spa, gym, salon, wine cellar, and movie theatre. This 3.2$ million literally has everything. Shereé mentioned that it was custom-built from the ground up to her exact specifications. She handpicked everything.
Chateau Shereé House Exterior
A curved paved driveway leads to the magnificent two-story mansion. Smooth stucco exterior finish in nature-inspired tones, steep roofs, symmetrical proportions, and clean lines curate the inviting modern country style.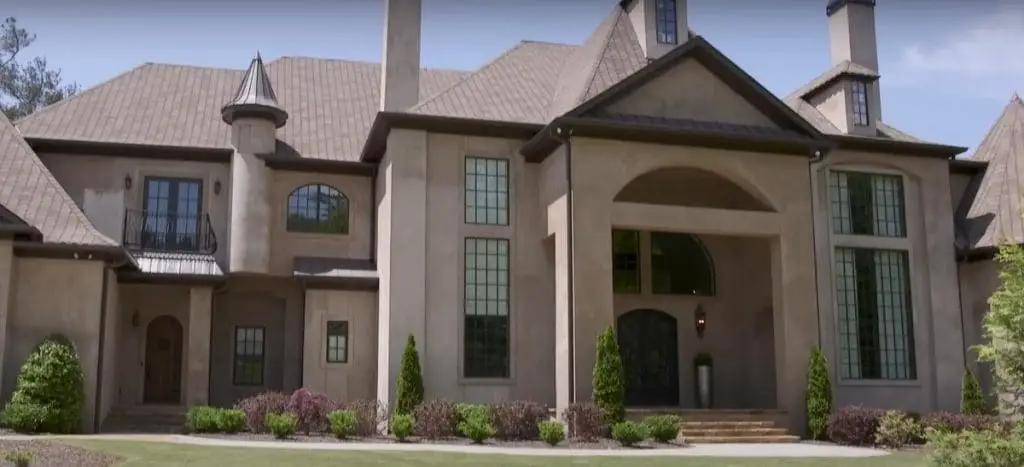 The Neighborhood near Shereé Whitfield's Home in Sandy Springs, Georgia
Shereé Whitfield's home is situated in one of the best places to live in Georgia.
Sandy Springs neighborhood is a mere 20-minute drive from Downtown Atlanta. Desirable neighborhoods namely Buckhead, Roswell, Dunwoody, and Brookhaven surround this affluent locale.
Residents enjoy upscale restaurants, serene parks, coffee shops, amazing public schools, shopping areas, and safety. Nature-filled streets coupled with proximity to the bustling city cultivate an urban suburban feel. Young professionals and families like Shereé's make up a huge chunk of residents.
Other Houses Shereé Whitfield Owns
No public record of Shereé owning another property exists. However, she formerly lived in a 2.3$ million Mediterranean-inspired with her husband (now ex) before selling it for approximately 2.8$ million. The home spanned 8,900 square feet with 6 beds, 10 baths; and had a separate staff quarter.  
---
Check out other houses owned by The Real Housewives of Atlanta cast members