Juice WRLD, the late American rapper, and singer known for his chart-topping hits and unique style, made headlines with his extravagant purchases during his short but impactful career.
Juice WRLD's house (Source: Redfin)
With a net worth of around $4 million, Juice WRLD indulged in the finer things in life, including his impressive residence. In this article, we explore Juice WRLD's stunning mansion, its notable features, and a glimpse into the celebrity's lavish lifestyle.
Where Does Juice WRLD Live Now?
Juice WRLD lives at 4757 White Oak Ave, Encino. His main residence was nestled in the serene neighborhood of Encino. This lavish house encompasses an impressive living space spread across 7,310 square feet.
Juice WRLD's house (Source: Redfin)
He sold the property for an estimated $4 million. With 6 en-suite bedrooms and 7 bathrooms, this luxurious dwelling offers the perfect blend of comfort and extravagance.
Inside Juice WRLD's $4 Million House
Step into Juice WRLD's opulent house, and you'll be greeted by a contemporary interior design that seamlessly blends luxury and modernity.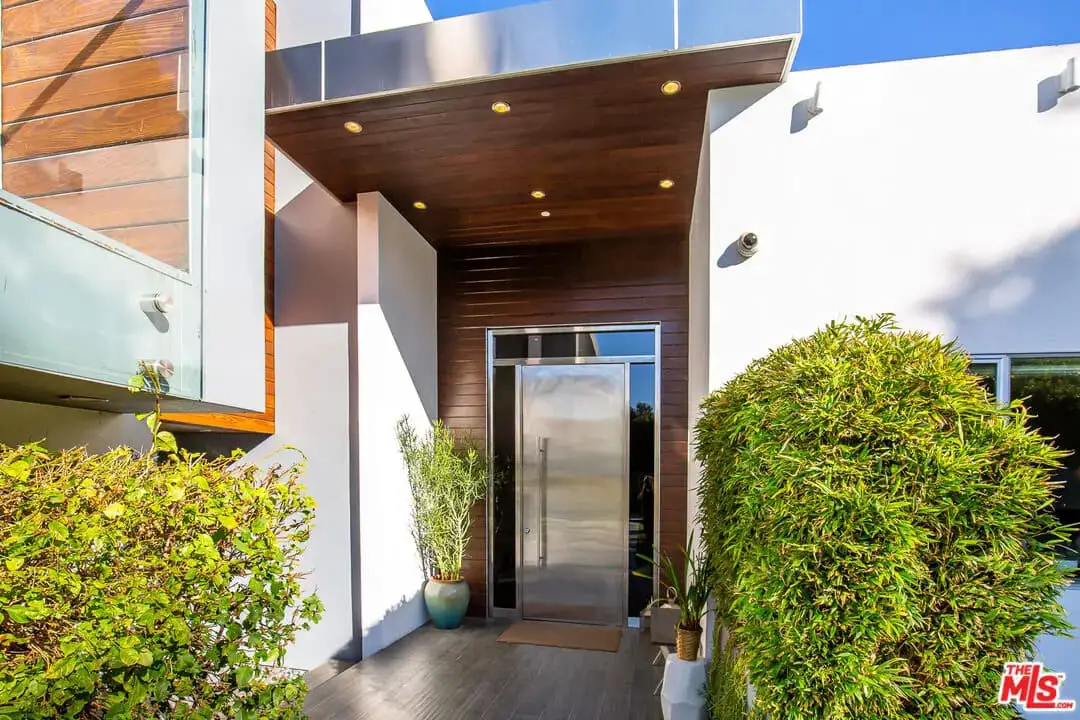 Juice WRLD's entry (Source: Redfin)
Upon entering the stainless-steel door, you'll be greeted by an expansive open floor plan boasting 10-14ft ceilings. The massive living room, adjacent state-of-the-art soundproof theatre room, and gourmet kitchen with a breakfast area were highlights of the interior.
Juice WRLD's living room (Source: Redfin)
The kitchen showcased Caesarstone countertops, a waterfall island, built-in Miele stainless steel appliances, and contemporary cabinetry.
Juice WRLD's kitchen (Source: Redfin)
The house boasts spacious living areas adorned with elegant furniture, art pieces that reflect the artist's eclectic taste, and cutting-edge technology. The kitchen, a hub of culinary delights, is equipped with state-of-the-art appliances and boasts sleek countertops and custom cabinetry.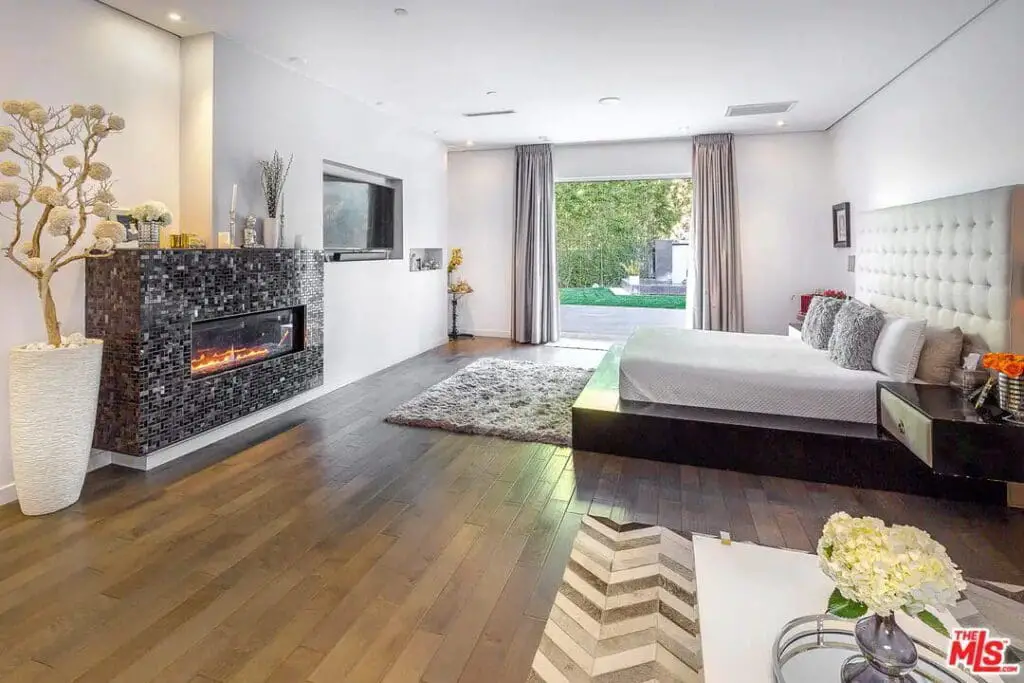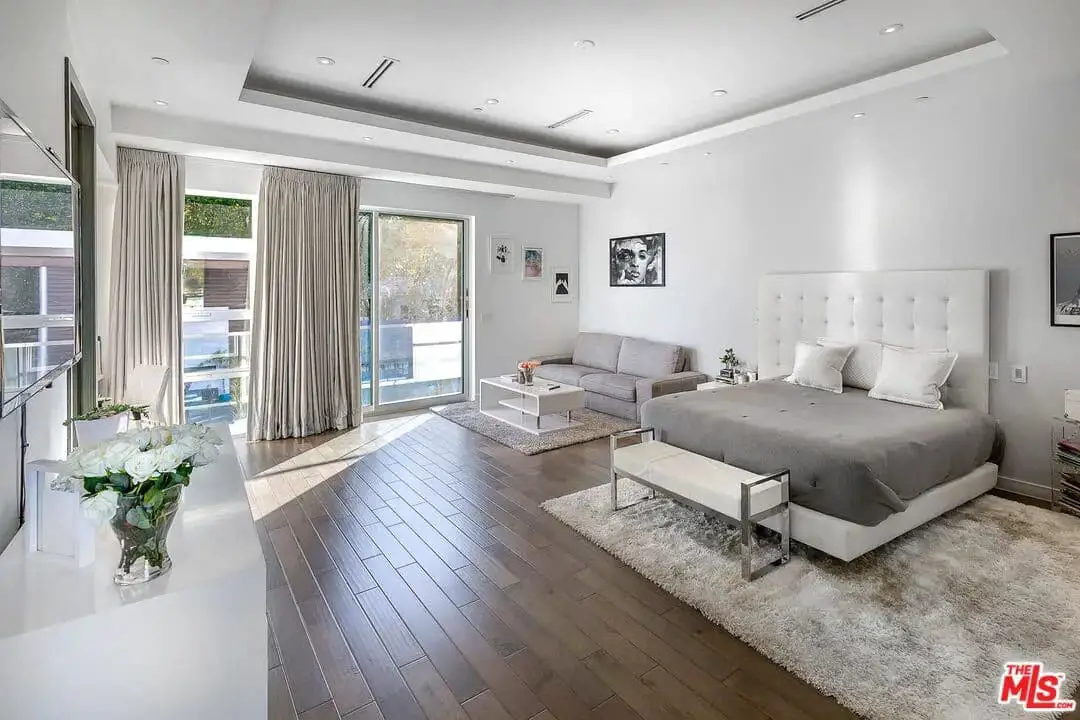 Juice WRLD's bedroom (Source: Redfin)
With a focus on both style and functionality, the kitchen provides an ideal space for Juice WRLD or his personal chef to whip up gourmet meals. Moving deeper into the mansion, you'll find various amenities for entertainment and relaxation.
Juice WRLD's recording studio (Source: Redfin)
A fully equipped gym allows Juice WRLD to maintain his physical fitness. The decor throughout the house exudes sophistication, with a careful selection of materials, color palettes, and lighting that create an ambiance of luxury and comfort.
Juice WRLD's gym (Source: Redfin)
Juice WRLD's Outdoor Area Has a Massive Pool
Outside, Juice WRLD's mansion boasts a putting green, a guest house/gym with a full bath, and a custom resort-style pool and spa complete with a fiber optic waterfall and underwater speakers.
Juice WRLD's pool (Source: Redfin)
Additionally, a serene Zen Garden and a koi pond with a filtration system added to the property's charm. A large three-car garage with a full artist's recording studio completed the impressive features of this magnificent Encino residence.
Juice WRLD's outdoor area (Source: Redfin)
Juice WRLD's Neighborhood – Encino, California
Encino is renowned for its prestigious neighborhoods and is a coveted address for celebrities. The area boasts an impressive roster of notable residents, including musicians, actors, and industry moguls.
Juice WRLD's yard (Source: Redfin)
Juice WRLD's mansion was situated near fellow artists and celebrities, fostering a vibrant community of creative individuals. The neighborhood's exclusivity and amenities create an ideal environment for those seeking privacy and luxury.
Other Houses Owned by Juice WRLD
While Juice WRLD's main residence in Encino held a special place in his heart, the artist also possessed other properties that showcased his success.
Juice WRLD's main house (Source: Redfin)
Although the details of these additional houses are not extensively documented, it is known that Juice WRLD had a penchant for investing in luxurious real estate. These properties, scattered across different locations, served as his retreats and investments, reflecting his entrepreneurial spirit and discerning taste.