Eddie Murphy's house in Beverly Hills is a true testament to the success and opulence that the renowned actor and comedian has achieved over the years. This exquisite property, located in the heart of one of the most coveted neighborhoods in Beverly Hills, stands as a symbol of Murphy's extraordinary career and affluence. Let's take a closer look at this stunning residence and delve into the fascinating details that make it a true celebrity haven.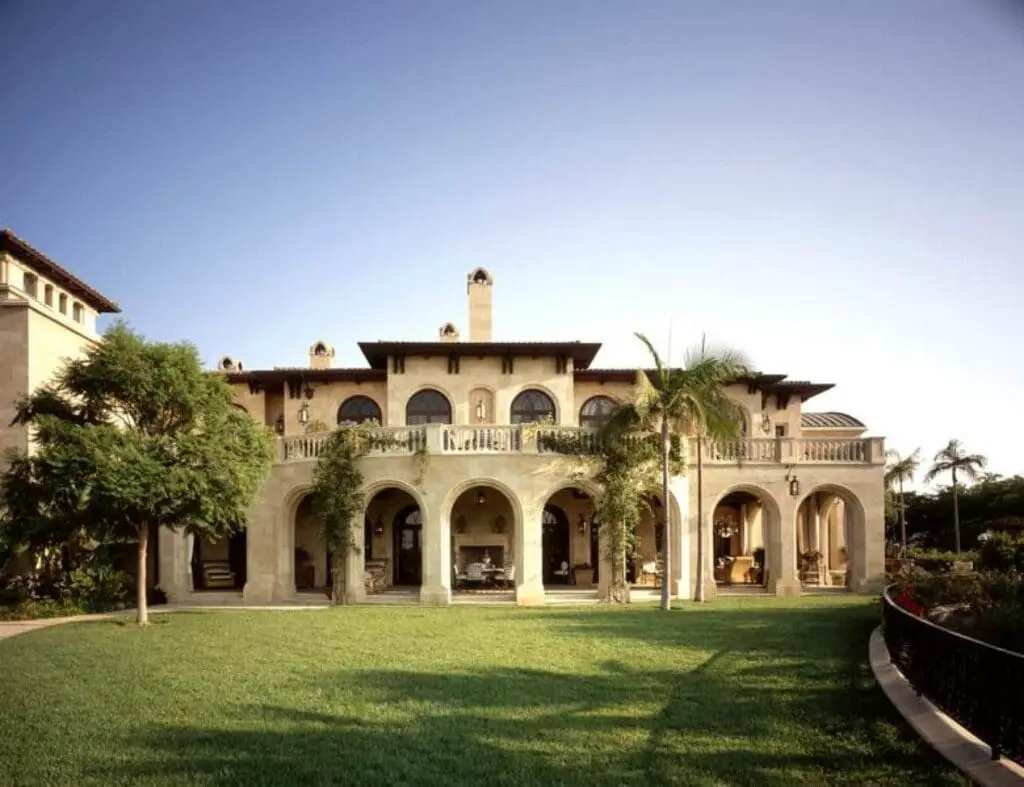 Eddie Murphy's house
Where Does Eddie Murphy Live Now?
Eddie Murphy lives at 19 Beverly Park Cir, Beverly Hills, California. The $20 million North Beverly Park home, custom-built in 2003, is an architectural masterpiece that showcases Murphy's impeccable taste and love for nature. Set upon a sprawling 3.7-acre lot, the mansion boasts an impressive 10 bedrooms and a staggering 17 bathrooms, covering an expansive 18,598 square feet of living space.
Eddie Murphy's Amazing House Interior
Upon arrival, guests are welcomed by the mansion's timeless charm and promise of relaxation. The Mediterranean-style living room features a high ceiling with rustic wooden beams and a large arched window, filling the space with natural light. Light stucco walls and a spacious area rug complement the inviting furniture layout, encouraging social interaction and relaxation. Potted plants, vases, and wall sconces add natural vibrancy and ambient lighting.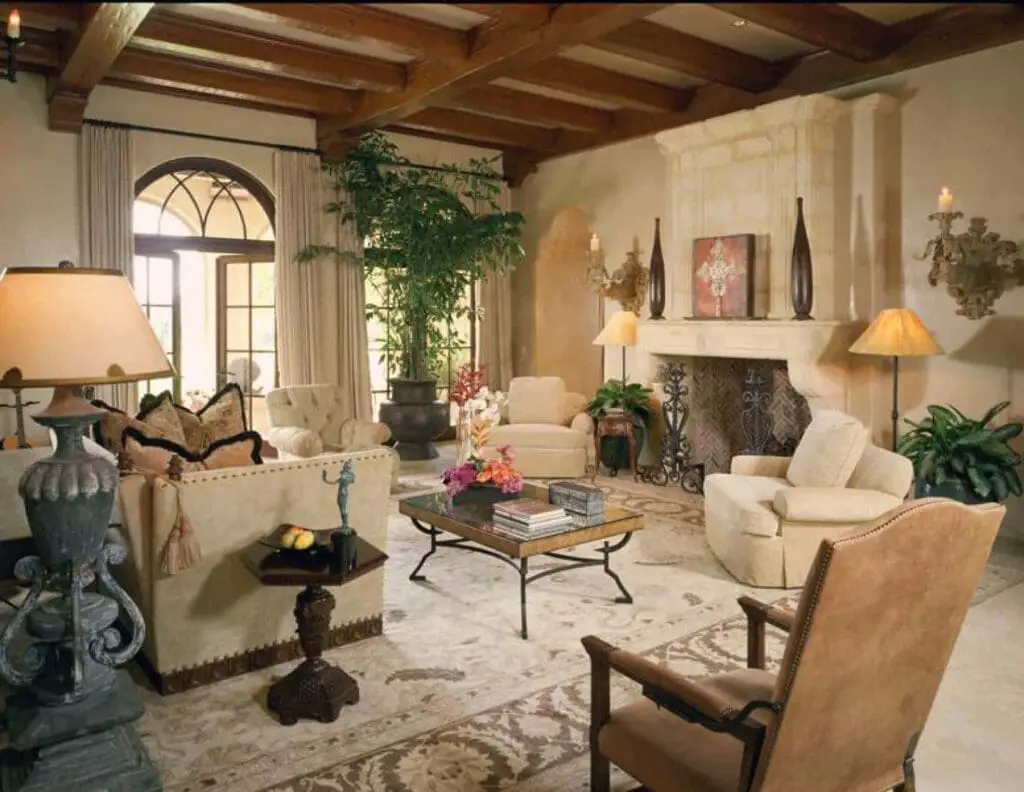 Eddie Murphy's living room
The luxurious dining room boasts a high arched ceiling that adds grandeur and spaciousness. A prominent fireplace creates a warm and inviting atmosphere. Stone walls add rustic charm, contrasting elegantly with a large chandelier. The dining table is elegantly set, while cream-colored chairs offer comfort and cohesion. An artwork adorns the wall, enhancing the room's appeal. This inviting space is ideal for intimate gatherings, a testament to Mediterranean architecture's timeless charm.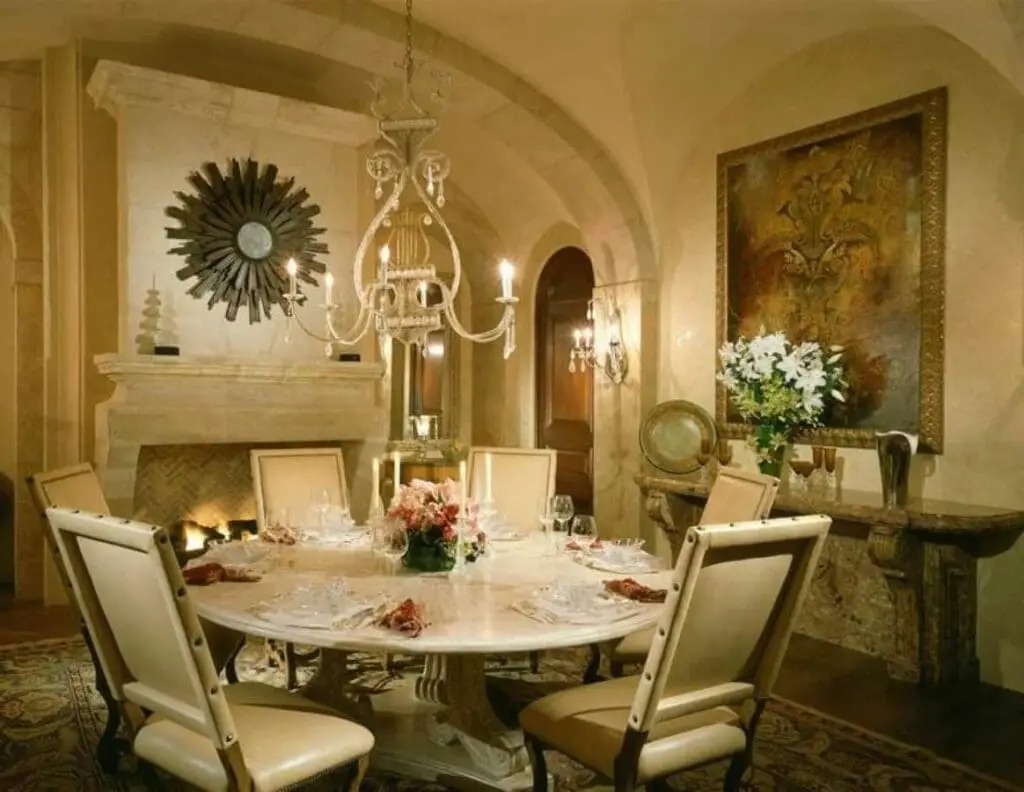 Eddie Murphy's dining area
The bedroom exudes classical charm with a high ceiling and arched windows, creating a grand and open feel. A chandelier enhances the room's classical aesthetic. Plush sofa and armchairs around a coffee table invite relaxation and conversation. The blue and white color scheme adds serenity and elegance. Abundant natural light from the arched windows creates a welcoming, luxurious atmosphere, highlighting architectural details and decor.
Eddie Murphy's bedroom
Among the 17 bathrooms in this remarkable residence, one shines with a floral organic tiled floor, a dome-vaulted ceiling, and a captivating waterfall chandelier. The domed ceiling, elegant chandelier, and warm beige walls create an opulent and soothing ambiance. A mosaic tile floor adds aesthetic appeal, while an arched window and wooden door infuse architectural interest and natural light. The focal point is a marble-surrounded bathtub for relaxation, accompanied by a stylish vanity with a mirror for grooming. A chair in the corner adds a homely touch.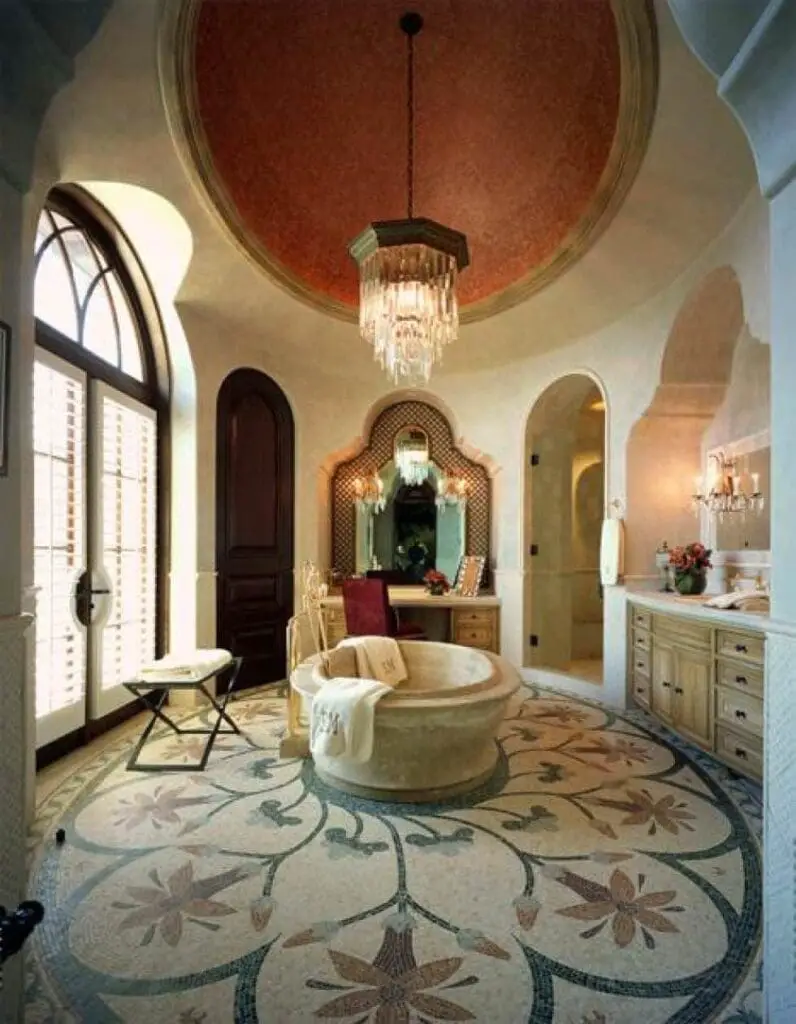 Eddie Murphy's bathroom
For those who appreciate leisure and entertainment, Murphy's mansion has it all. A full-size indoor bowling alley and a screening room promise endless hours of fun and relaxation. The room features stunning radiating wooden ceilings adorned with exposed wooden beams, a testament to the intricate craftsmanship and coordination that went into the mansion's construction.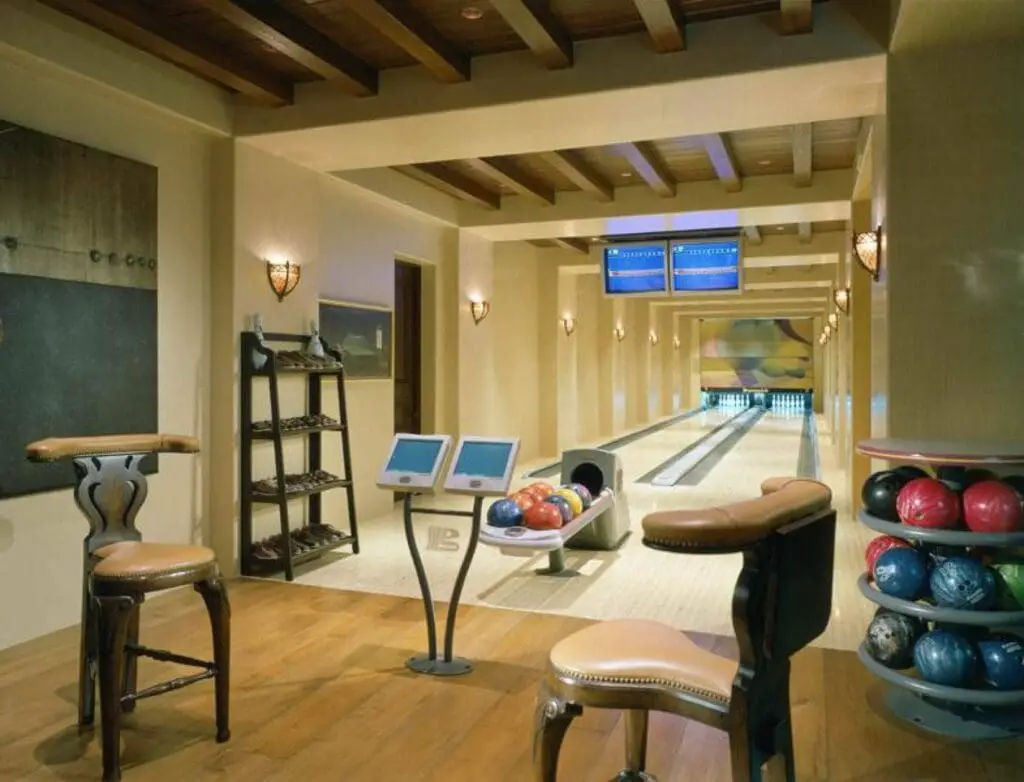 Eddie Murphy's bowling alley
Eddie Murphy's movie theater
Eddie Murphy's House Exterior and Outdoor Area
Eddie Murphy's Mediterranean-style house showcases a stunning blend of stucco and stone in earthy hues. The red tile roof and wrought iron balcony railing add vibrant contrast and sophistication. Surrounded by lush landscaping and swaying palm trees, the villa exudes a tropical allure. A serene water feature enhances the tranquil oasis, and the wooden deck with a pergola extends the living space for alfresco enjoyment.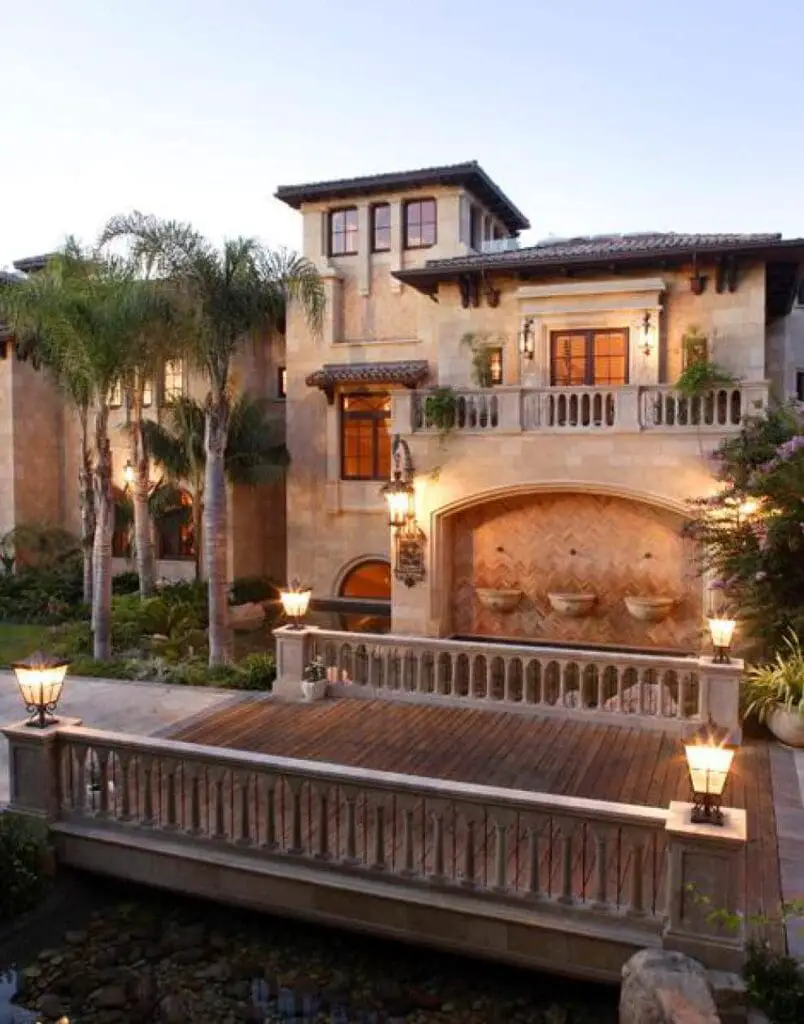 Eddie Murphy's exterior
The stone outdoor patio seamlessly blends with the environment, featuring a covered seating area with a tiled roof in regional architectural style. A fireplace adds warmth for evening gatherings, while a bell tower nearby enhances the aesthetic. Wicker furniture with beige cushions offers comfort and complements the natural elements.
Eddie Murphy's outdoor area
The outdoor living space impresses with high ceilings, arches, and a rustic stone-and-tile design, adding grandeur and Mediterranean charm. Thoughtfully furnished with a sofa, armchair, and coffee table, it's perfect for relaxation and conversation. Decorative touches like a vase and chandelier add sophistication and personal style. Notably, a curtain feature provides privacy, allowing the space to transform for seclusion when needed.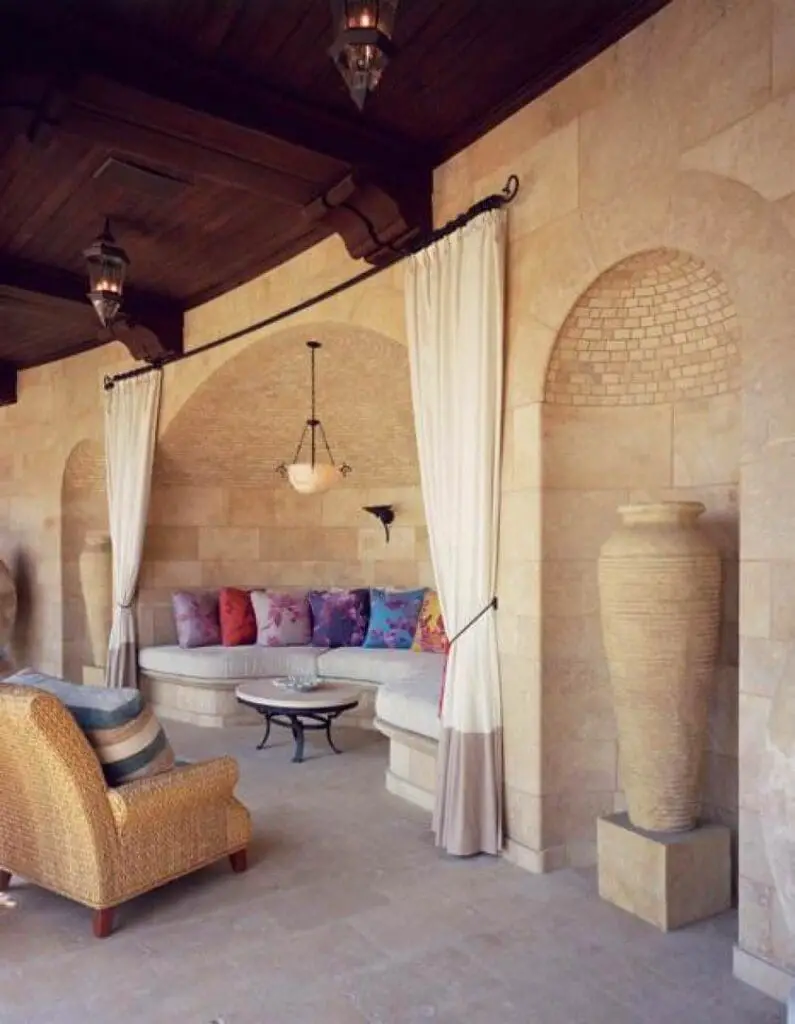 Eddie Murphy's outside living space
The property also boasts a massive pool surrounded by lush greenery, providing a serene and private oasis for relaxation and entertainment.
Eddie Murphy's pool
Eddie Murphy's Neighborhood
Eddie Murphy's choice of residence places him in the exclusive neighborhood of Beverly Hills, where he shares the elite community with notable neighbors like Rod Stewart and Brooklyn Beckham. This star-studded neighborhood offers both privacy and proximity to the heart of the entertainment industry, making it an ideal choice for the actor to live in style and comfort.
Other Houses Owned by Eddie Murphy
While our focus has been on Eddie Murphy's Beverly Hills residence, it's worth noting that the celebrity owns other properties as well. In the early 2000s, Eddie Murphy and then-wife Nicole Murphy made a significant real estate investment in a sprawling Northern California mansion.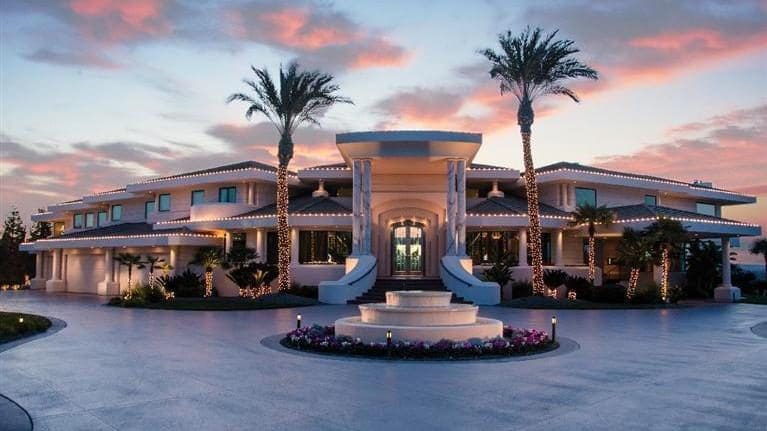 Eddie Murphy's Granite Bay house
This impressive compound boasts a total square footage of 17,851 square feet, comprising a 12,600 square foot main residence and a 5,200 square foot guest house. The property is a true estate, offering a grand total of 9 bedrooms and 14 bathrooms, providing ample space and luxury for the Murphy family.