Born Edward Regan Murphy in Brooklyn, New York, Eddie Murphy is an American comedian, skillful impersonator, singer, and actor.
He rose to prominence following his stint as a comedy performer in Saturday Night Live. He also starred in several blockbuster movies, such as A Thousand Words (2012), Dream Girls (2006), Tower Heist (2011), Trading Places (1983), and The Nutty Professor (1996). He also showed his remarkable talent in the Coming to America series where he played 4 roles in each film. He's also the iconic voice behind the ascetic-tongued "Donkey" in the Shrek franchise, one of his highest-grossing films.
His showbiz career spans almost 5 decades, and his popularity doesn't show any signs of waning any time soon. Ever wondered how and where he spent the wealth he saved over the years? Of course, when he's not splurging himself and his family on some luxurious family getaway, he spends his millions investing in prime real estate properties, such as his mansion in Beverly Hills where he lives like a king.
Murphy's Mansion in Beverly Hills
Like other celebrities, Murphy found a home in the village of the rich and famous – Beverly Hills. His home is an 18,598-square-foot mansion that sits on 3.7 acres of land located in North Beverly Park. He bought the estate in 2001 at $10 million. After a series of renovations and customization, reports show that the property now costs $20 million or more.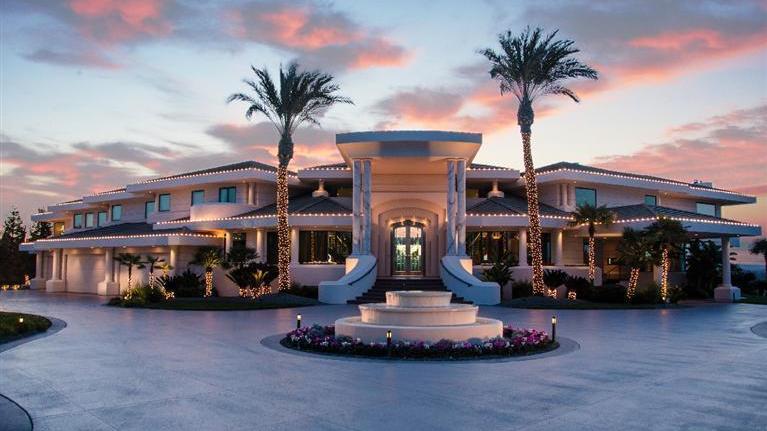 Features
Murphy's mansion is nothing short of kingly. It has 17 bathrooms, 10 bedrooms, and an extensive library. He also enjoys the comfort of having 2 spacious living rooms and 2 dining areas.
As an entertainer himself, Murphy doesn't miss to splurge on his home's leisure sections. He has a huge cinema and a 2-lane bowling alley. Outside, he has a huge swimming pool with lounge chairs surrounding it. There's also a hot tub on one of the pool's sides. There's also a sunken mason barbecue pit. These features allow Eddie to enjoy a lot of quality time with his family, specifically his 10 kids.
The property also boasts of a four-car garage, an underground vault, a tennis court with a trellis, and a basketball court.
Design
You can feel the royal vibe of Murphy's abode even as you enter the home. The entryway is designed with arched doorways with intricate designs. And as it opens, it reveals a space that already looks like a palace when you barely even stepped inside. It has various balconies and a European-style rooftop lounge with a garden. The 4 tall palm trees and other greenery for additional aesthetics can be found at the back of the property.
The ceiling features exposed wooden beams–-a motif of the whole home. Plus, the vintage chandelier, fireplace, and tapestry wall hanging added to the elegance of the living areas. The decadent cream and royal red color combination are also remarkably elitist.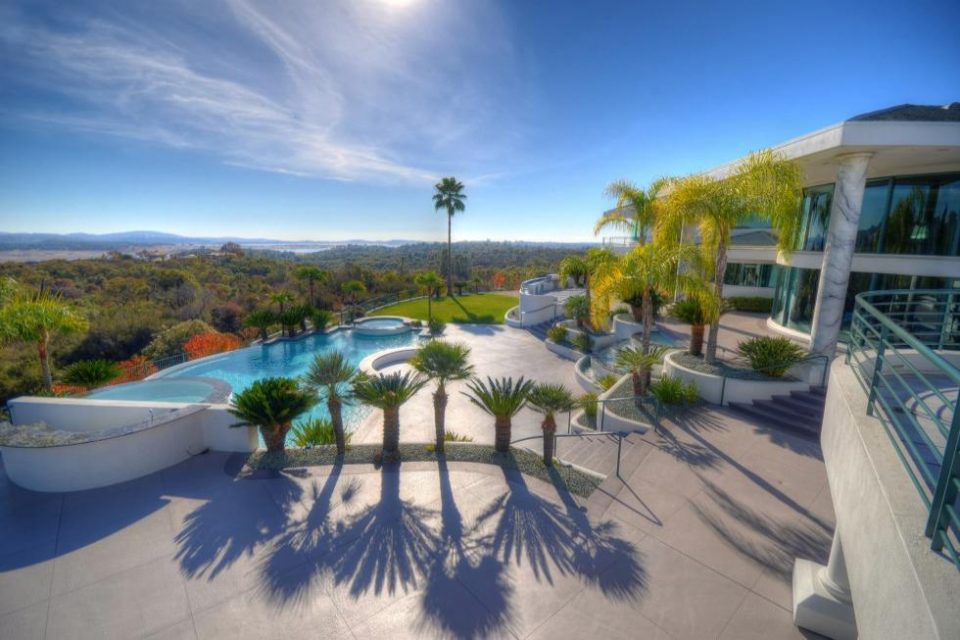 Adjacent to the sitting room is a bar with comfy seating. The 1st dining room exudes a rustic aura with its long wooden table, while the 2nd dining room exudes a regal vibe with its circular table, chandelier, and off-white chairs.
The mansion's extensive library is built with a mezzanine and floor-to-ceiling windows to let in natural views and light.
The 10 bedrooms of the mansion's upper floors could be accessed via a spiral staircase. Each room has its own vibe. The master suite has a 4-poster bed and a seating area. The other bedrooms are decorated based on the preference of his kids. One exudes a princess-like elegance, while the others show off a country-home appeal.
About Eddie Murphy
Before he became a comic legend, Murphy started from humble beginnings. Reports show that he even experienced being in public housing and foster care. Now, his net worth is $200 million, and he's enjoying the lavish life of a king. He shares his luxurious mansion with Paige Butcher, his fiancée. He's also a father of ten, which probably explains why he created a home so big.
Aside from Murphy's Beverly Hills mansion, Eddie also made the following home purchases and sales in the past:
Moroccan House – He bought a 20,000-square-foot Moroccan house from Cher when he was 27 years old. He purchased the property for $5.9 million in 1988 and sold it for $4 million in 1995.
Clove Hill Farm – This equestrian estate has a swimming pool with a pool house, a seven-acre pond, a movie theater with an arcade, a tennis court, and a log cabin guest house. He sold the property in 2011 at $3.8 million.
Home in Granite Bay – A 10-bed, seven-bathroom palace he bought in 1998 with then-wife Nicole Mitchell. The 12,600-square feet estate sits on 5.2 acres of land located near Folsom Lake. It was sold in 2007 for $6.1 million.
Yes, he may have other luxury homes to go to. But Murphy calls his Beverly Hills mansion his main base. This is where he was able to fully enjoy a luxurious life brought about by a career that's focused on uplifting the spirit and making people laugh. Indeed, the fun and wealth that he gave to the world finally found a way of coming back to him.