Ah, the allure of Patrick Dempsey's house! That Malibu gem has been the talk of the town, and for good reason. Patrick Dempsey, best known for his role as Dr. Derek Shepherd on Grey's Anatomy, has not only captivated audiences with his acting prowess but has also made waves in the real estate scene with his lavish home in Malibu. Let's delve into the details of Patrick Dempsey's house, exploring its purchase story, location, and the luxurious features that make it a celebrity haven.
Patrick Dempsey's house
Where Does Patrick Dempsey Live Now?
Patrick Dempsey lives at 23122 Mariposa De Oro St, Malibu, California. After departing from his previous architectural splendor for $15 million in 2015, Patrick and his spouse, Jillian Dempsey, settled into another house in Malibu. This coastal gem boasts a spacious layout spanning an impressive 4,415 square feet. The Grey's Anatomy heartthrob invested a cool $6.4 million in 2016 for this celebrity retreat, securing a residence with four bedrooms and four bathrooms.
Patrick Dempsey's Contemporary House Interior
Step into Patrick Dempsey's home, where a bright entrance foyer welcomes you with its white walls and high ceiling, creating an airy ambiance. The classic wooden handrail and white balusters of the staircase on the left exude elegance, while the right side leads to a hallway adorned with a stylish console table, mirror, and framed artwork, adding a personal touch to the minimalist decor. Light-colored hardwood flooring adds warmth, and decorative elements like a chandelier and potted plants enhance the overall aesthetic appeal of the entryway.
Patrick Dempsey's entrance foyer
Moving forward, the interior beautifully captures a modern living room. Neutral tones and wooden flooring create a cozy setting for relaxation and socializing. The focal point is a comforting fireplace, complemented by personal touches like framed pictures and artwork on the walls. Greenery adds a refreshing contrast, completing the harmonious balance of style and comfort in this inviting space.
Patrick Dempsey's living room
Discover Patrick Dempsey's stylish and functional kitchen with a spacious white marble island as the centerpiece. White cabinets, a stainless-steel range hood, and modern geometric lighting fixtures contribute to the contemporary aesthetic. Light gray walls and geometric-patterned wallpaper provide a neutral backdrop and visual interest. A pop of color from flowers and fruit on the island enhances the overall design.
Patrick Dempsey's kitchen
Patrick Dempsey's home also boasts a stunning modern home office that's a perfect blend of natural wood and contemporary design. The exquisite desk features a white top and gold legs, creating a visually balanced focal point. The coordinating chair, with its white frame, gold legs, and black cushion, adds both functionality and style to the space. A wooden shelving unit nearby showcases plants and books, bringing a refreshing touch of nature and personal flair to this elegantly minimalistic workspace.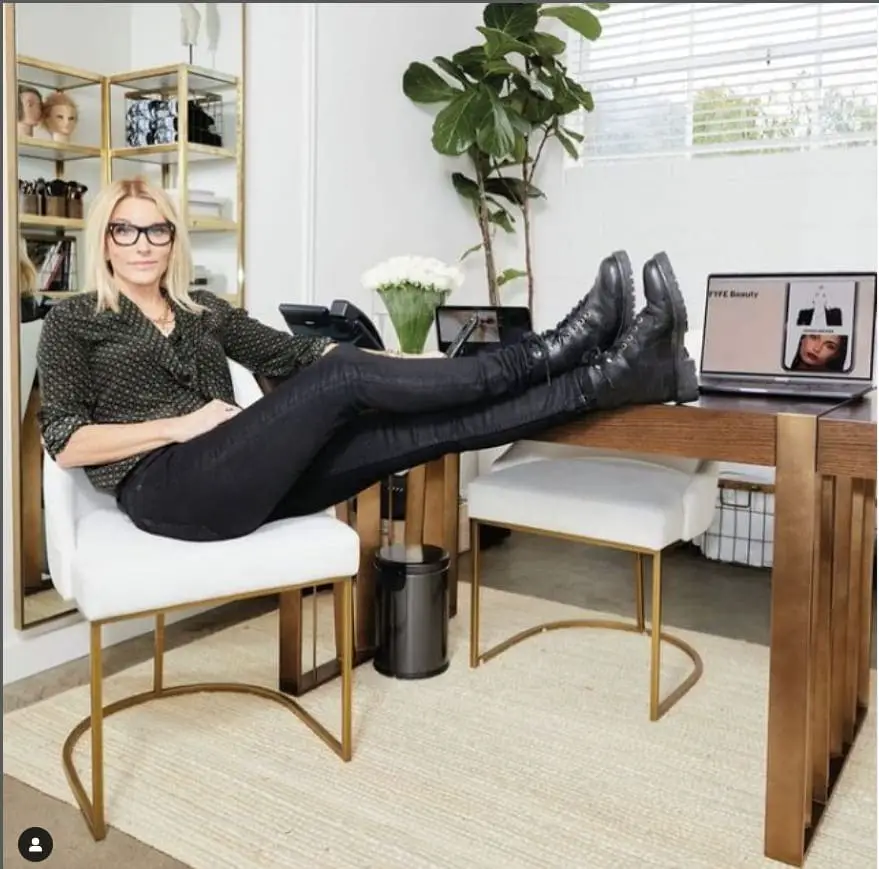 Patrick Dempsey's home office
Moving on to the second floor, you will find the bedrooms and bathrooms designed for comfort. The main bedroom's neutral palette creates a serene atmosphere with white walls and beige flooring. A large bed with a tufted headboard and white linens invites relaxation, complemented by functional elements like a nightstand with a lamp and a bench for extra seating. Natural light fills the space through a window, enhancing the room's airy feel and simplicity.
Patrick Dempsey's main bedroom
Step into a minimalist-designed bathroom flooded with natural light from a large window on the right. The symphony of white and gray tones creates a serene atmosphere. The double sink vanity, adorned with a large mirror, blends functionality with aesthetics. An elegant glass-enclosed shower and a relaxing freestanding bathtub complete the space. The touch of greenery visible through the window provides a refreshing contrast to the monochromatic palette.
Patrick Dempsey's bathroom
Patrick Dempsey's House Outdoor Area
Patrick Dempsey's house boasts a large tennis court and a swimming pool, offering both recreation and relaxation. Enclosed by a lush envelope of trees and shrubbery, it provides a sense of privacy and tranquility. The house itself is a charming example of Mediterranean architecture, with a white stucco exterior and a red tile roof that adds a pop of color. The property appears to be well-maintained and landscaped, reflecting meticulous attention to detail.
Aerial view of Patrick Dempsey's house
This outdoor oasis provides the perfect setting for entertaining guests or simply basking in the Californian sun. The expansive lawn features a welcoming seating area centered around a fire pit, inviting you to enjoy cozy evenings under the stars. Whether hosting gatherings or simply unwinding, this space offers a delightful escape for relaxation and socializing.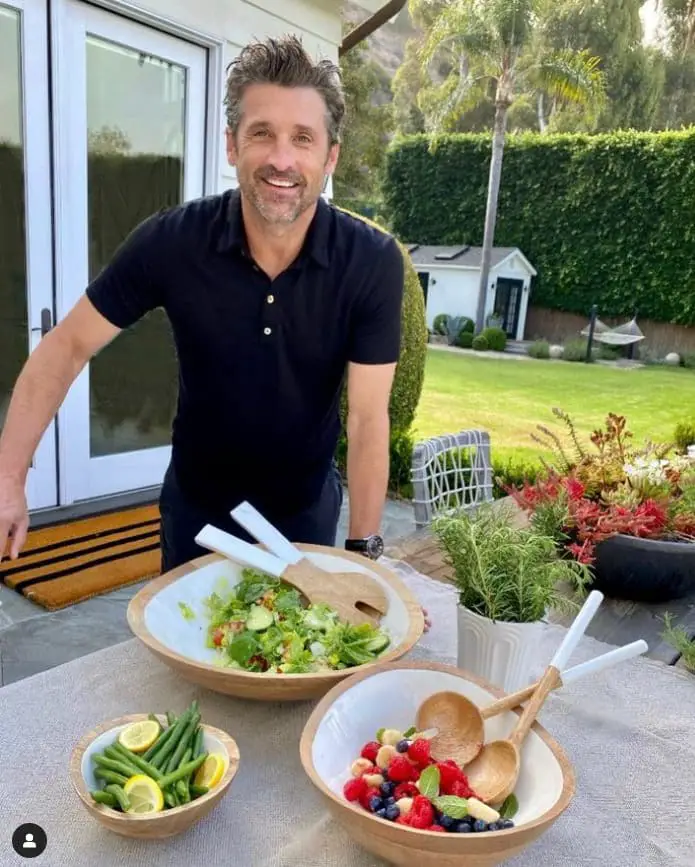 Patrick Dempsey's outdoor lounge area
The backyard is a private oasis, featuring a uniquely shaped pool surrounded by palm trees. A patio, complete with furniture and a grill, hints at leisurely afternoons spent basking in the sun or entertaining guests.
Patrick Dempsey's pool
Patrick Dempsey's Neighborhood
Malibu is renowned for attracting A-list residents, and Patrick Dempsey's house is no exception. The neighborhood offers more than just famous faces; it's a community where luxury meets tranquility. Living near Dempsey means potentially bumping into notable names like Brett White, B. Wayne Hughes Jr., Harrison Barnes, and more. The exclusive enclave surrounding Dempsey's property provides residents with a unique blend of privacy and the excitement of being in the company of Hollywood's elite.
Patrick Dempsey's neighborhood
Other Houses Owned by Patrick Dempsey
Beyond his Malibu residence, Patrick Dempsey's real estate ventures include a noteworthy property listed in 2015 for a staggering $14.5 million also in Malibu. This 5,500 square feet home on 3.3 acres not only boasts luxurious amenities, such as a pool and outdoor kitchen but also features enclosures for the Dempseys' collection of farm animals—goats, rabbits, chickens, and pigs, adding a unique charm to the estate. Originally purchased for $7 million in 2009, according to public records, this property showcases Dempsey's keen eye for real estate investments.
Patrick Dempsey's former Malibu house