Polo G, the chart-topping rap sensation, has taken the music world by storm with his captivating lyrics and mesmerizing beats. But today, we're here to dive into a different aspect of his life, a facet that adds to his superstar persona – his stunning residence in the heart of Chatsworth, California. Join us as we unveil the captivating story of Polo G's house, its grandeur, and the lifestyle that accompanies it.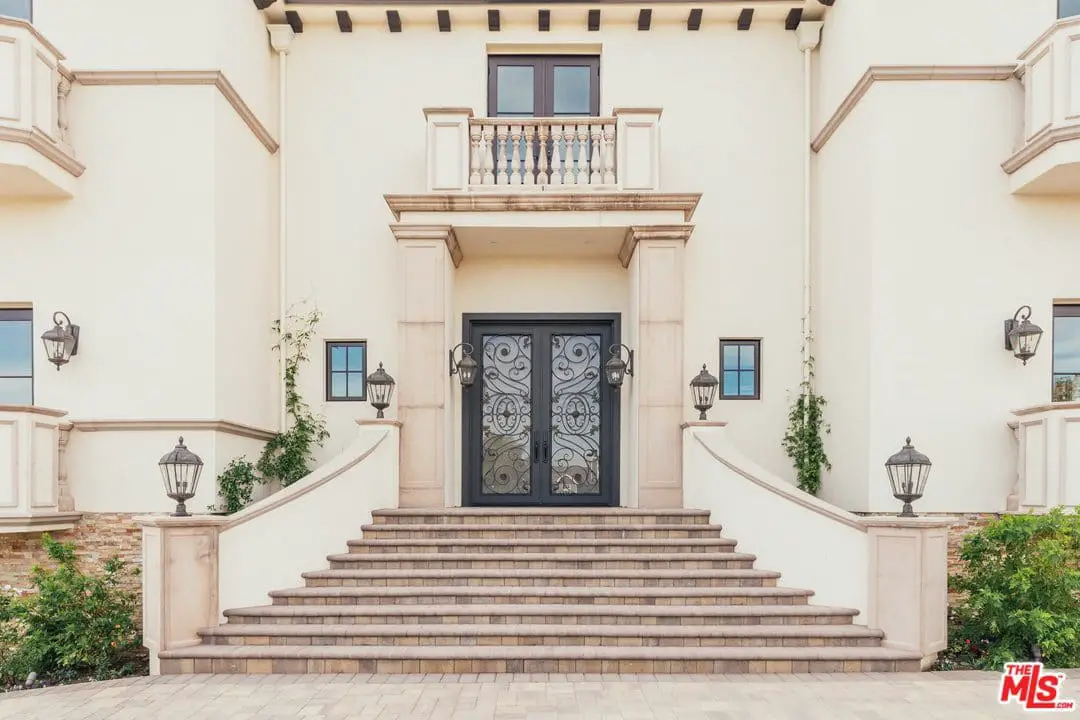 Polo G's entrance
Where Does Polo G Live Now?
Polo G lives at 11817 Macoda Ln, Chatsworth. Boasting a sprawling 10,825 square feet, this mansion, purchased for $4.885 million, stands as a testament to his remarkable accomplishments in the music industry. The house features six spacious bedrooms and eight opulent bathrooms, providing Polo G and his family with ample room for comfort and privacy. The lot size is equally impressive, providing plenty of space for outdoor activities and relaxation.
Polo G's Contemporary House Interior
As you step across the threshold through a double-door entry, you are met with a captivating grand foyer, where a sweeping staircase and porcelain floors forge an air of sophistication. The stairs have a handrail and are made of hardwood, laminate flooring, and molding. On either side of the staircase is an area for seating, with one side featuring a white couch decorated with brown pillows and on the other side there is a metal table on top of a rug.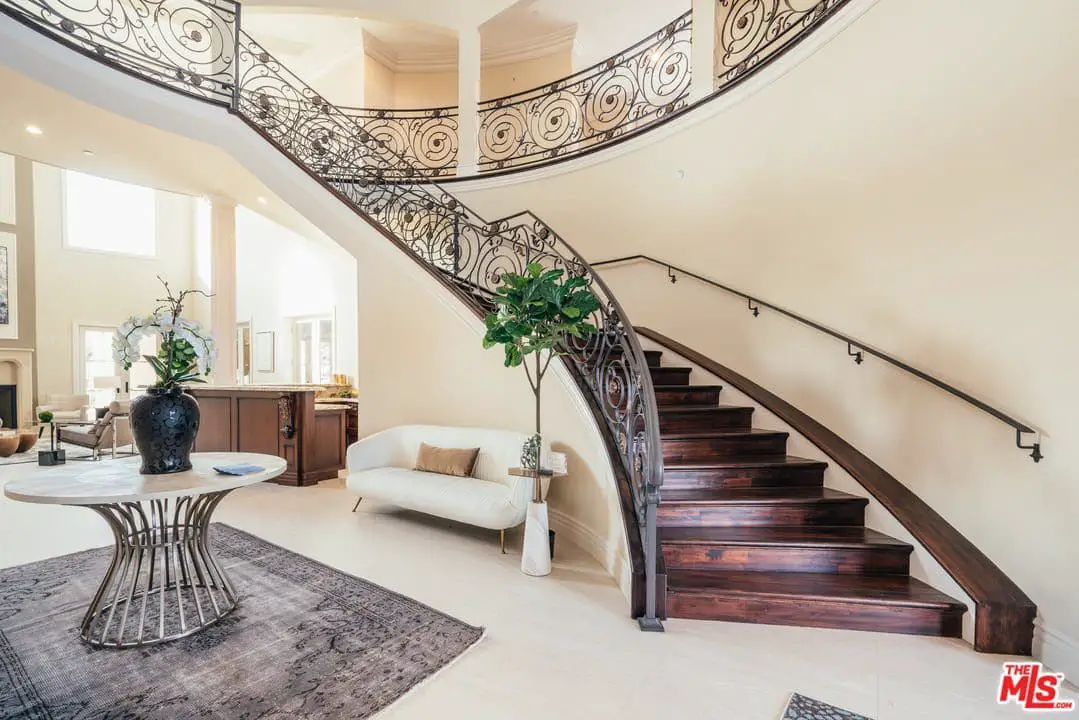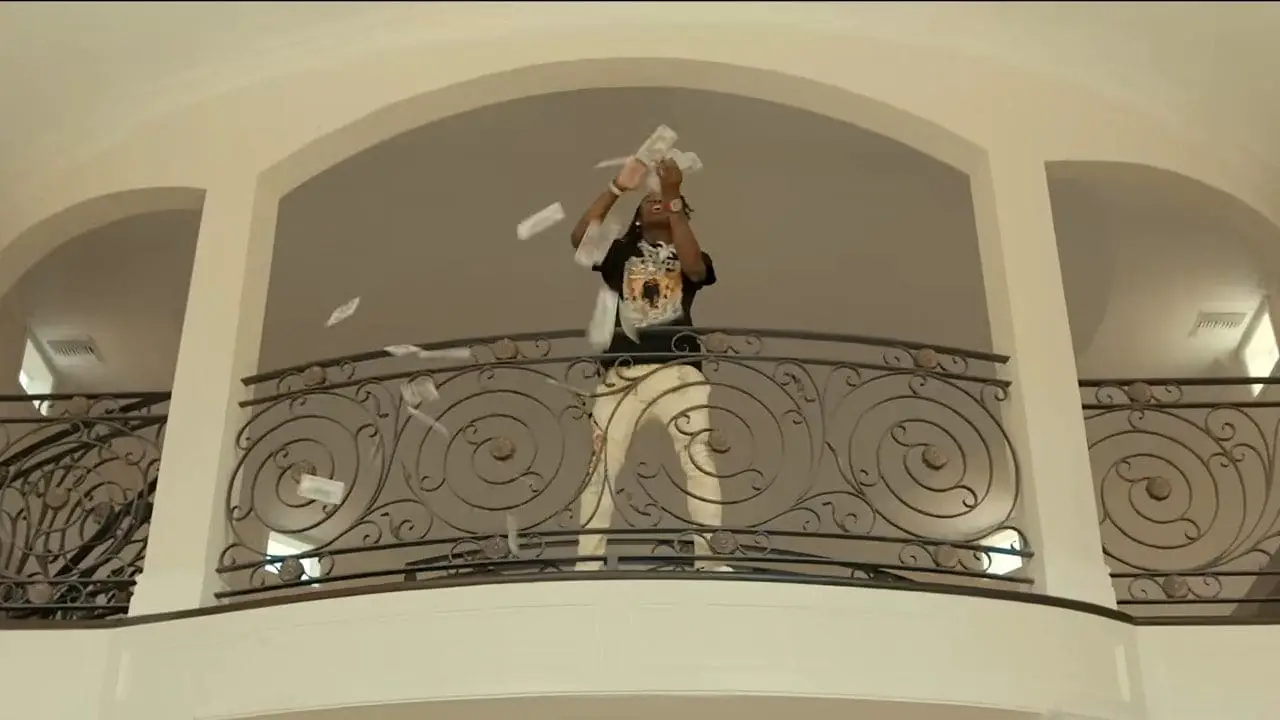 Polo G's foyer
Stepping further, you are greeted by a cozy living room with white walls and laminate flooring. The room is decorated with a large, comfortable couch in the center of the space, two chairs on either side of it, and a coffee table between them. On one wall there is an elegant fireplace with a white mantle above it. A window near the back of the room lets in natural light that brightens up this inviting space. To complete this look, there is also a vase filled with flowers placed on top of one of the tables as well as other small decorative items around the room such as lamps and bookshelves.
Polo G's living room
Adjacent to the living room is a large, modern kitchen with white walls and flooring. The room is filled with various furniture pieces, including three chairs on either side of a long island countertop made of marble. In addition to this, there are also several cabinets and cupboards throughout the space for storage purposes. The chairs have gold legs that contrast nicely against the white walls and flooring, creating an elegant look overall. This kitchen has all the necessary appliances such as stovetops and refrigerators making it perfect for cooking meals or entertaining guests in style!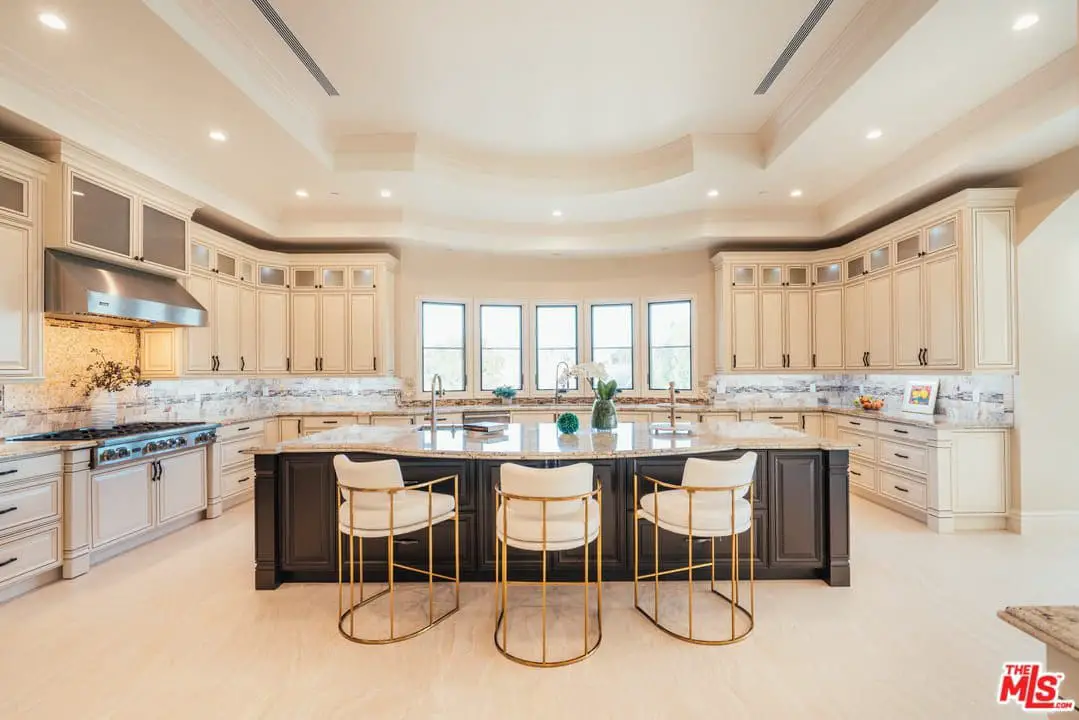 Polo G's kitchen
In the dining room there are four chairs upholstered in a neutral fabric, one on either side of an oval dining table. On top of the table is a vase filled with bright red flowers that adds a pop of color to the space. There are also several windows along one wall that let natural light into the room and provide views outside of trees and other greenery.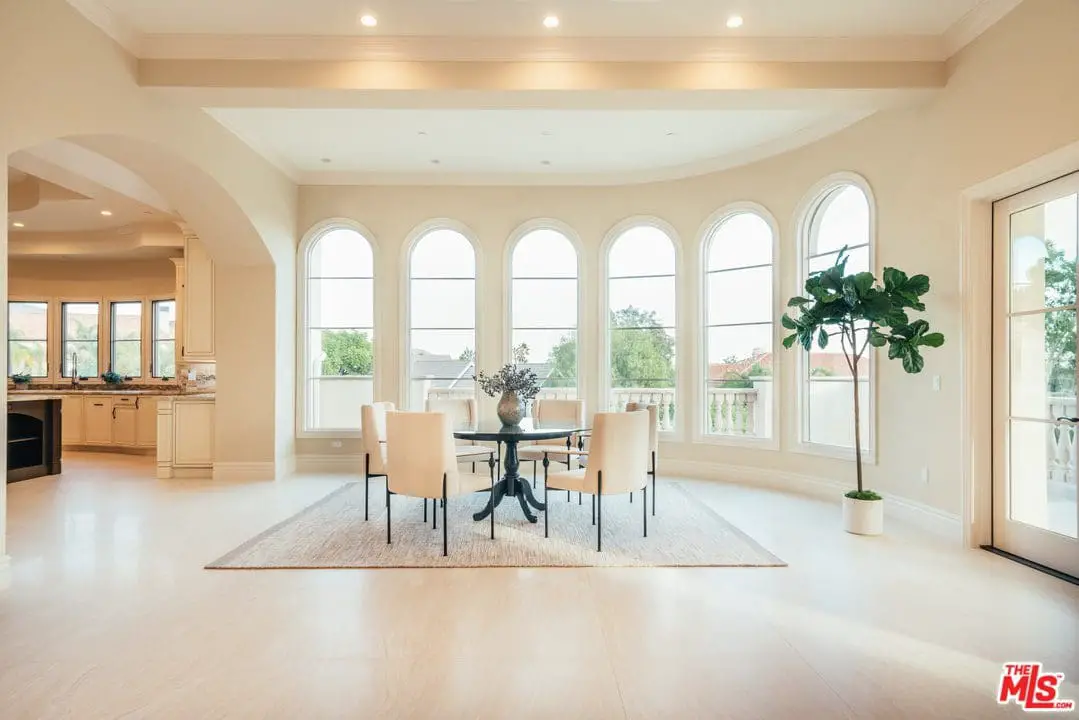 Polo G's dining room
The house is replete with amenities that elevate it to the status of a celebrity haven. There is a game room filled with furniture, including three chairs in the foreground, yellow and grey chairs on the right side of the frame, and a black table in front of them. On top of this pool table lies an array of dominoes that have been arranged in neat rows. In the center of the room is a pool table. To the far-right corner there is a double door with glass panels that leads out into another area.
Polo G's game room
Polo G's Outdoor Area
Upon approach, a circular driveway sets the stage for a grand entrance to the residence. The façade is graced with the elegance of six front-facing balconies, setting an undeniably dramatic ambiance that extends to the interior.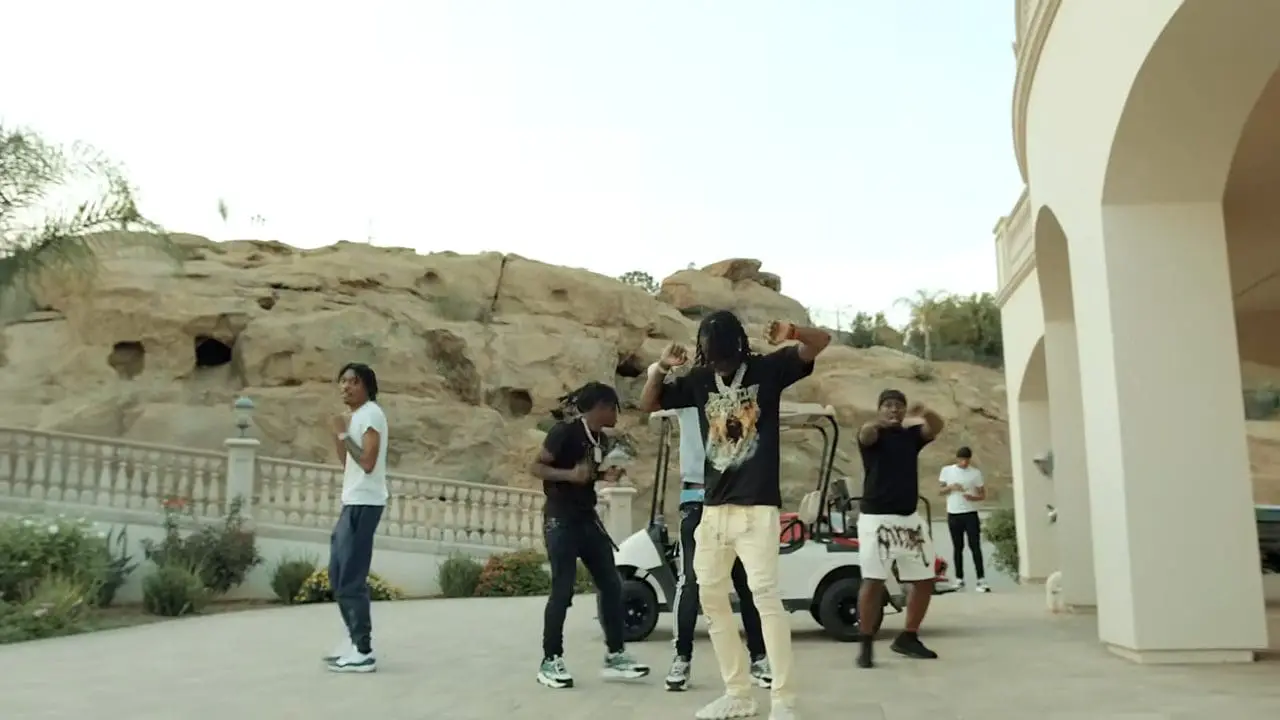 Outside of Polo G's house
The outdoor sitting area is filled with furniture, including a large couch upholstered in white fabric, two armchairs, and a coffee table. On the left side of the room there is an area rug that adds warmth to the space. There are several plants scattered throughout the room, including one potted plant on top of a small table.
Polo G's outdoor sitting area
The pool area, in particular, is the perfect place for Polo G and his family to unwind, recharge, and host memorable gatherings for friends and fellow artists. Encircled by verdant foliage and thoughtfully landscaped gardens, this oasis provides not only a sense of seclusion but also an unparalleled serenity that serves as a tranquil refuge from the ceaseless demands of the spotlight.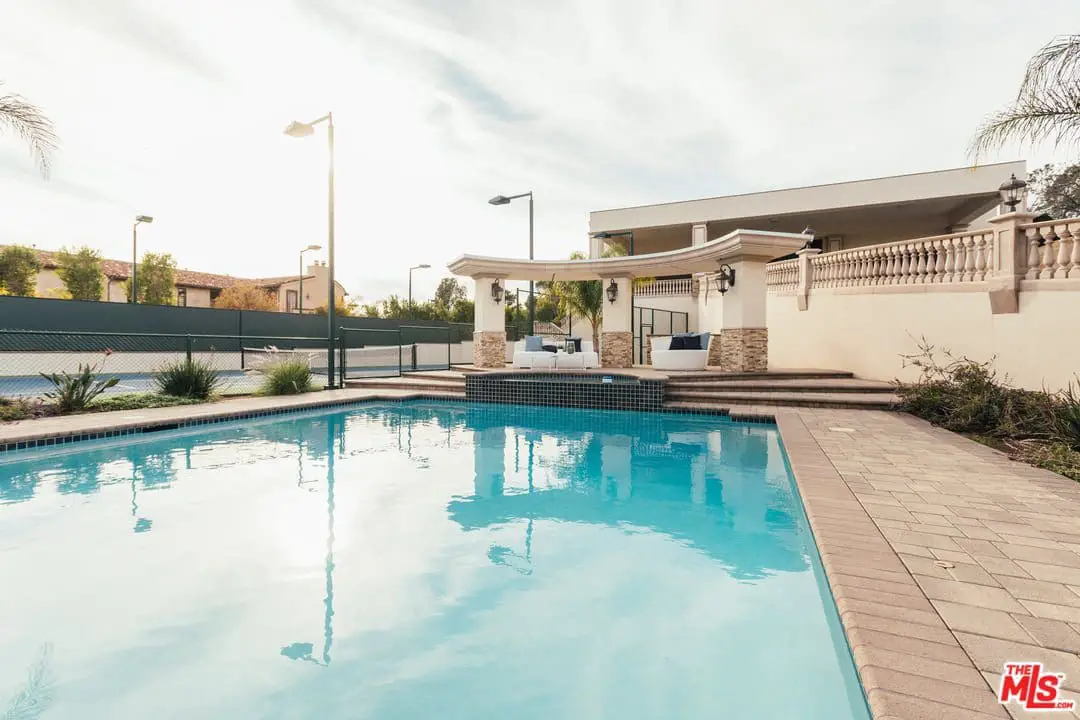 Polo G's pool
Adjacent to this aquatic oasis lies a meticulously maintained lighted tennis court, a testament to the estate's unwavering commitment to active living and the embodiment of Polo G's multifaceted lifestyle. This pristine court, illuminated to perfection, beckons both novice and seasoned players alike to engage in spirited matches beneath the California moonlight.
Polo G's tennis court
One remarkable aspect of Polo G's dwelling, echoing the preferences of his celebrity neighbors, is the car gallery. This haven for automobile enthusiasts houses enough parking space for a collection of up to 18 vehicles, even accommodating larger conveyances such as buses, RVs, or boats.
Polo G's Neighbors
Chatsworth is not only known for its stunning landscapes but also for its celebrity residents. Polo G's choice of neighborhood places him among the ranks of Hollywood's elite. Paul George, Ethan Hawke, Young J, and many more celebrities can call this place their home. This neighborhood exudes exclusivity and offers a respite from the demands of fame.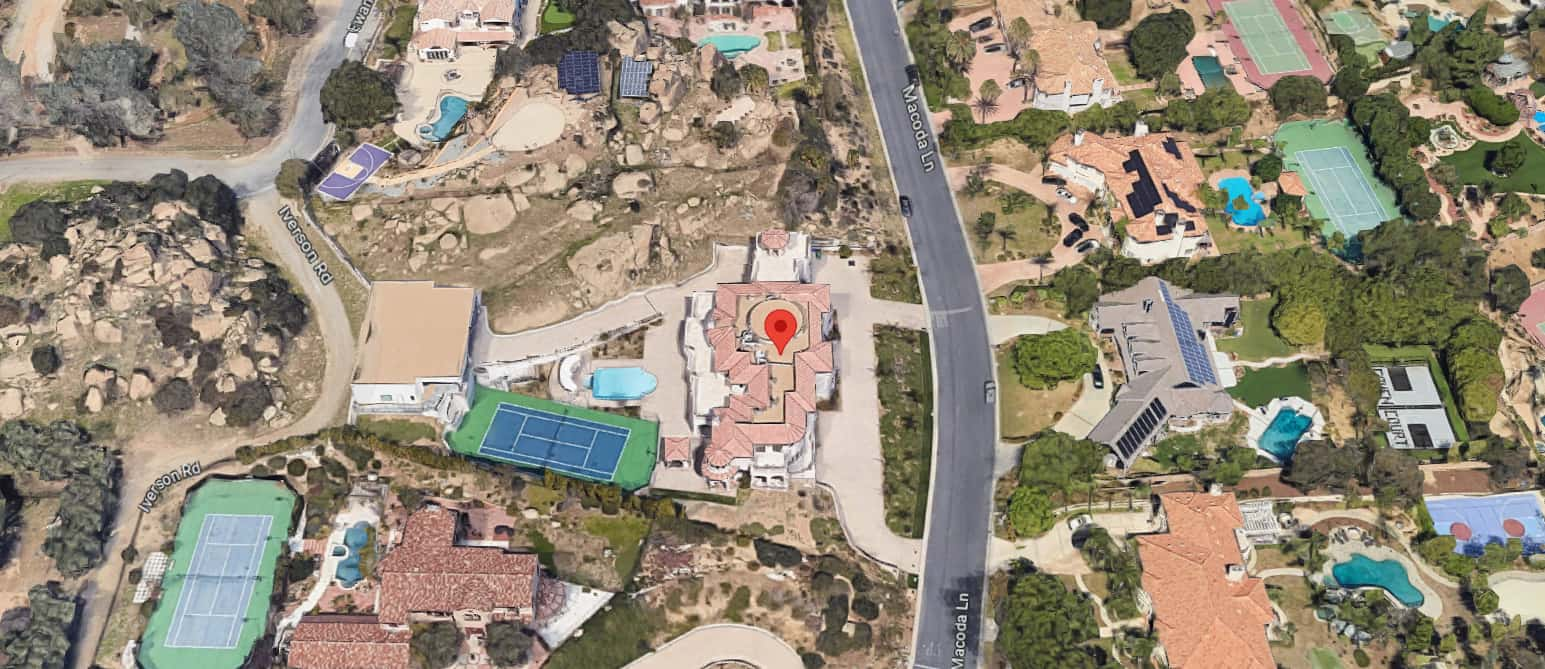 Polo G's neighborhood
Other Houses Owned by Polo G
While our focus has primarily been on Polo G's main residence, it's worth noting that the rap sensation is no stranger to luxury real estate. Polo G acquired a residence in Atlanta marking another chapter in his ongoing commitment to family. This meaningful gesture is going to his mom and the heartwarming news was shared by Mac on her Instagram page, where she expressed her decision to relocate to Atlanta.
Polo G's mom's house