Quavo, the renowned rap artist and one-third of the hip-hop sensation Migos, has made quite the buzz in recent years, not just for his chart-topping hits but also for his lavish lifestyle. One aspect of this opulence is Quavo's house in Alpharetta, Georgia. In this article, we'll delve into the story behind the purchase, the property details, and get a sneak peek into the life of this talented artist who has a net worth that could make your head spin.
The entryway to Quavo's house
Quavo's House Purchase Story
Quavo, whose real name is Quavious Keyate Marshall, acquired his Alpharetta residence in January 2020. This sprawling mansion covers an impressive square footage of 12,000 square feet and boasts six bedrooms and seven bathrooms, making it a true testament to luxury living.
Quavo's house
The purchase price was a staggering $1.2 million, reflective of the rapper's immense success in the music industry and today it is resulting in an estimated value of $2 million. The lot size is equally grand, offering 0.95 acres of lush, beautifully landscaped grounds.
Where Does Quavo Live Now?
Quavo lives at 1051 Abingdon Ln, Alpharetta. Nestled in the heart of Alpharetta, Quavo's house is located within the exclusive Usher neighborhood. The serenity of this area provides the perfect escape from the hustle and bustle of Atlanta, all while being just a short drive away from the city's entertainment and dining scene.
Quavo's House Interior
Stepping into Quavo's mansion is like entering a world of opulence and style. The open-plan living spaces are flooded with natural light, offering panoramic views of the lush outdoors. In the center of the room is a large, comfortable couch upholstered in light gray fabric. On either side of the couch are two white chairs with red pillows for added comfort. A coffee table sits between them, topped with magazines and a phone. Atop this furniture is also a stuffed teddy bear that adds to the homey atmosphere of this inviting space.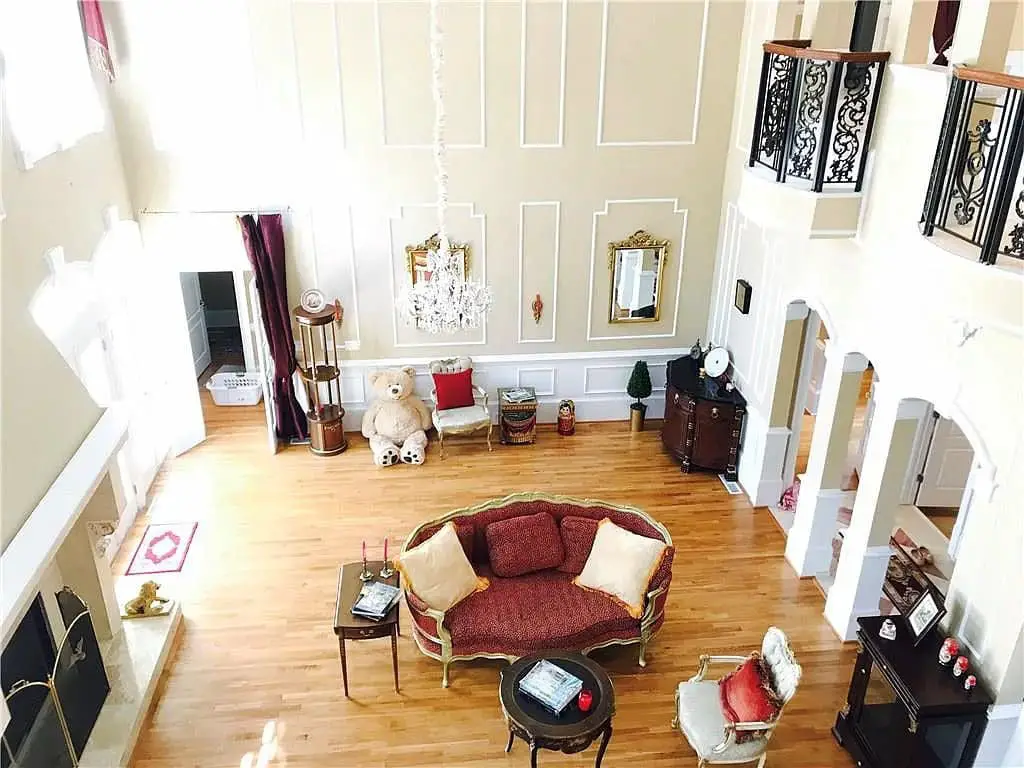 Quavo's living room
One of the most extraordinary features of this residence is its three kitchens. Yes, you read that correctly – three! Each kitchen is a masterpiece, with top-of-the-line appliances, custom cabinetry, and exquisite finishes. The kitchen is with black cabinets and countertops. The walls are nude, and the floor is tiled in a light color. On the countertop there are papers scattered around, as well as some other items such as a metal chandelier with leaves and grapes hanging from it. There is also an oven to the right of the cabinet, which has two handles on its doors. Above all these features hangs another chandelier filled with pots and pans suspended from it by strings or wires. This kitchen appears to be quite cluttered but still looks modern due to its sleek black cabinetry and appliances.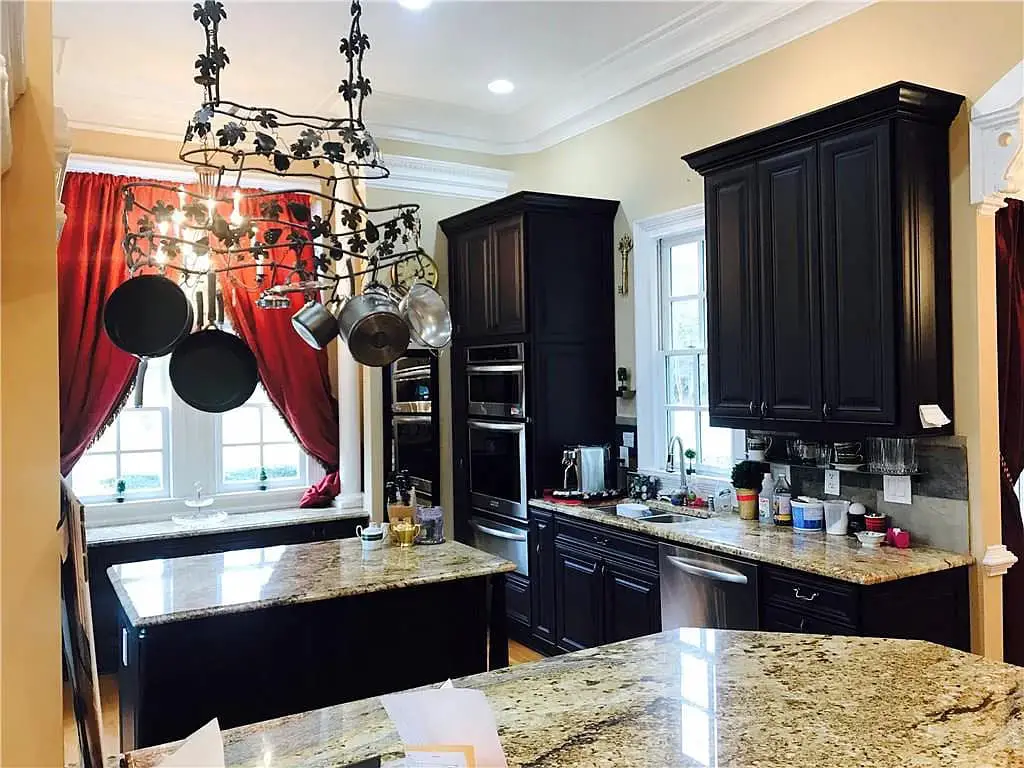 Quavo's kitchen
Right next to the kitchen is a modern dining room with white walls and furniture. The main focus of the photo is a large wooden dining table, which has been decorated with plates, flowers, and other items. On either side of the table are chairs upholstered in brown fabric. In front of each chair is a plate set on top of an ornate placemat. A tall vase filled with bright yellow flowers stands in the center of the table as a centerpiece.
Quavo's dining room
The master suite, a haven of tranquility, boasts its own private wing, complete with a lavish en-suite bathroom and a sprawling walk-in closet. It is a luxurious bedroom with a red and white color scheme. The walls are painted in a bright yellow color, while the bedding is mostly white. A large window on one side of the room has been covered with bright red curtains. In front of this window sits an elegant studio couch upholstered in black fabric. On either side of the bed are two nightstands, each topped with a lampshade and small mirror. Atop the bed lies several pillows and blankets in shades of white and cream, as well as a duvet cover featuring intricate patterns in various colors. To complete the look, there is also an ornate chandelier hanging from above to provide additional light for this cozy space.
Quavo's bedroom
The bathroom is filled with various fixtures, including a large sink in the corner of the room, a bathtub near the center of the space, and a toilet off to one side. A metal door can be seen on one wall, complete with an ornate handle. Above it hangs a light fixture that casts its glow across the entire area. On another wall is mounted a tall white pillar which has been fitted with blue tubing running along its length. In front of this stands an elegant mirror framed by two wooden cabinets for storage purposes. Finally, there are several tiles laid out on the floor leading up to carpeted stairs at one end of the room.
Quavo's bathroom
For those who love the idea of convenience, the property offers not one, not two, but four laundry rooms, ensuring that laundry day is a breeze. The property also houses a state-of-the-art music studio, where the artist who once called this place home surely crafted their greatest works. It's a space that echoes with creativity, inviting any artist to tap into their muse and produce masterpieces of their own.
Quavo's House Outdoor Area
The outdoor area of Quavo's residence is nothing short of spectacular. Enclosed within the European courtyard, it offers an idyllic escape from the world's hustle and bustle. Lush greenery and carefully manicured landscaping provide a sense of seclusion and tranquility, making it the perfect place for meditation or quiet contemplation.
Quavo's outdoor area
At the heart of the courtyard lies a jewel-like oasis—a small, yet inviting, jetted pool flanked by a charming, artful fountain. The pool's crystal-clear waters beckon on hot summer days, offering a refreshing retreat for residents and guests alike. The soothing sounds of the fountain create a calming atmosphere, transforming the courtyard into a veritable sanctuary where one can unwind and find respite from the world's demands.
Quavo's Neighborhood
Quavo's choice of residence places him in the company of other celebrities who also call Alpharetta home. Usher's house, David Ames' house, Garisson Hearst's house and many other NFL and NBA stars can be found in this exclusive neighborhood Usher. The community offers a sense of exclusivity and security that's highly sought after by individuals in the limelight.
Quavo's neighborhood
Other Houses Owned by Quavo
While Quavo's Alpharetta mansion takes the spotlight, he's known to own other impressive properties as well. These include a stunning house in Alpharetta that he purchased in 2017 for $1.8 million, a house that he bought for his mother in 2017 for Christmas and the third home in Lawrenceville, Georgia that he purchased for $140,000.
The house that Quavo bought for his mom