Exploring the Unconventional Brilliance of Kunsthaus Graz In Austria
The Kunsthaus Graz, known as the "Friendly Alien," is an exceptional architectural wonder at Graz, Austria's heart. Designed by renowned architects Peter Cook and Colin Fournier, this distinctive structure stands as a symbol of innovative architectural concepts, pioneering the style of biomorphic architecture.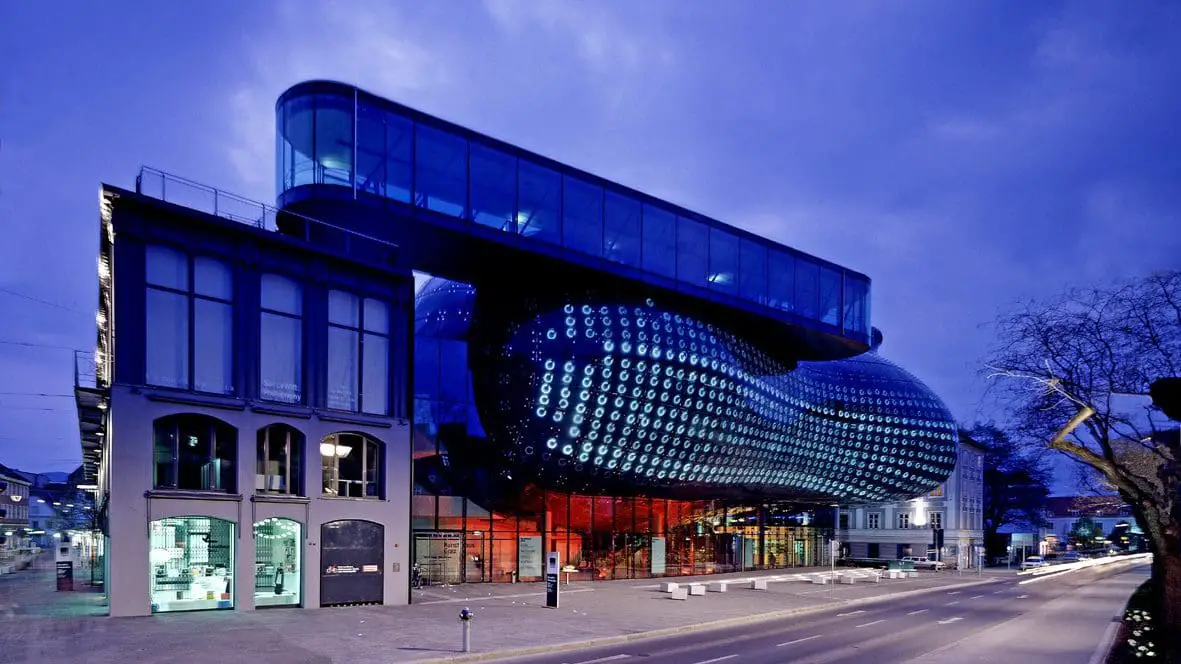 The Kunsthaus Graz project started on April 15, 2000, and after a construction period spanning over three years, it was opened on September 27, 2003. This international center for contemporary art represents an investment of approximately 30 million Euros, serving as a proof to human creativity and the transformative power of groundbreaking architectural design.
Compared to traditional rectangular structures, the Kunsthaus Graz defies geometric norms with its unique design. It soars to a height of approximately 27 meters and covers a total floor area of around 11,000 square meters. Its exterior resembles an organic shape, akin to an otherworldly entity that has gracefully taken residence within the urban landscape. Constructed from a combination of high-tech polymers and traditional acrylic, the exterior is a complex interplay of curvilinear shapes, creating a surreal visual spectacle.
The most captivating external feature is the BIX Façade. Comprising 930 integrated fluorescent lamps, it transforms the Kunsthaus into a massive urban screen that can display artworks, messages, or patterns, bridging the art within the public sphere.
Upon entering the Kunsthaus Graz, visitors are immediately immersed in an interior space that defies conventional design principles. It offers fluid, interconnected spaces that organically follow the building's structure, making it feel like a living, breathing organism. The building houses two substantial exhibition halls, each meticulously preserving the unique shape and character of the building's exterior. The absence of load-bearing columns within the interior provides expansive, unobstructed spaces ideal for showcasing a diverse range of contemporary artworks.
The Kunsthaus Graz is more than just a physical structure; it is a dynamic platform for the expression and exploration of contemporary art. Its walls house a broad spectrum of exhibitions, encompassing various art forms, from modern installations and media art to photography, design, and architecture. The museum also boasts an extensive art mediation program, promoting dialogue and engagement between artists, curators, and visitors.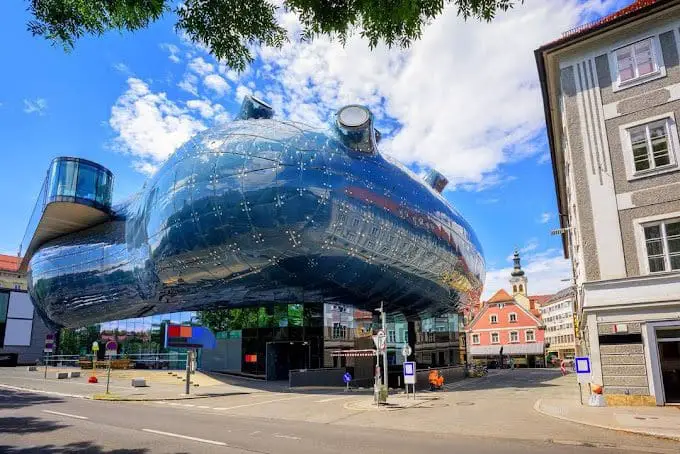 The Kunsthaus Graz, located at Lendkai 1, 8020 Graz, Austria, offers easy accessibility for all art enthusiasts and curious visitors. You can readily obtain up-to-date information, including opening hours and contact details, by visiting their official website below.
The Kunsthaus Graz celebrated its 20th anniversary with a special event, and it was a remarkable ceremony. Notable guests, including Kunsthaus architect Colin Fournier and former Kunsthaus director Peter Pakesch, gathered at the "Friendly Alien" to mark this occasion. The current Kunsthaus director, Andreja Hribernik, expressed her excitement at the large turnout and emphasized Kunsthaus's commitment to art that raises questions about society and the 21st century. The anniversary exhibition, "Re-Imagine the Future," aims to use its unique spaces to think about exciting ideas and provide a glimpse into the future.
The celebration featured various activities, including a choir performance led by Franz Jochum from the Graz University of Art, where the audience was encouraged to join in. The two main exhibitions, "Sol LeWitt's Wall" and "The Other," bring together the past and future, inspiring everyone to imagine what the coming years could hold.
These exhibitions aim to explore utopian ideas and peer into the future. The anniversary weekend also includes a packed program of events with free admission, which can be found at www.museum-joanneum.at/kunsthaus-graz. The celebration received well-wishes from Mayor Elke Kahr, State Governor Christopher Drexler, and City Councilor for Culture Günter Riegler, who recognized the Kunsthaus Graz's significant role in the city's cultural landscape over the past two decades.
Kunsthaus Graz is an architectural masterpiece that transcends the traditional boundaries between form and function. It stands as a testament to a bold vision executed with unparalleled precision and skill, resulting in a cultural icon that has left an indelible mark on the city of Graz and the world of architecture.
Further Information On The Kunsthaus Graz In Austria
Date Construction started – April 15, 2000
Date Opened – September 27, 2003
Cost of building – 30 million Euros
Architect – Peter Cook and Colin Fournier
Architectural style – Contextual urban style
Size or floor area – 11,000m2
Height – 27 meters
Function or purpose – Museum
Address – Lendkai 1, 8020 Graz, Austria
Phone number – +43 316 80179200
Website – https://www.museum-joanneum.at/kunsthaus-graz
Opening hours – Tue-Sun, 10am – 6pm