Nebraska, traditionally known for its sprawling plains and agricultural prowess, is increasingly becoming a hotspot for luxury real estate. As the Cornhusker State witnesses an upscale transformation, properties boasting modern elegance and vintage charm are making their way into the spotlight. "Top 10 Most Expensive Houses in Nebraska 2023: Luxury Living At Its Finest" delves into these architectural marvels, offering readers an exclusive glimpse into the epitome of opulence and grandeur. From majestic countryside estates to ultramodern urban mansions, Nebraska's premium housing market is unveiling surprises that many didn't see coming. Join us on this luxurious journey, as we unveil the ten priciest homes that are redefining elegance and luxury in the heart of America.
10. 12149 N 177th Cir, Bennington – $2,900,00
Welcome to the epitome of luxurious abodes at Bennington Lake, where artistry meets architecture. 12149 N 177th Cir, nestled in the picturesque city of Bennington, stands tall as a testament to refined taste and modern design. Spanning a generous 5,852 sq ft, this single-story marvel, built in 2018, seamlessly merges elegance with functionality.
Imagine stepping into a world where every corner tells a story. The heart of this magnificent residence, a sprawling great room, exudes grandeur. The gourmet kitchen doesn't just boast custom cabinetry but also presents an indoor grill room—a nod to the culinary aficionado in you. Three opulent bedrooms, each accompanied by its private ensuite, promise serenity. The master? A realm of its own with a two-story closet.
Yet, it's not just the indoors that captivate. Perched on 0.82 acres, the exterior is a visual symphony. From the luxurious pool dancing with fountains to the gentle embrace of fireplaces and the soothing rhythm of the lake, it's a setting befitting a dream. Add to that five spacious garage slots, and what you have is more than just a house—it's a masterpiece crafted with love and precision, priced at a worthy $2,900,000. A testament to the times when art and living space converge!
9. 20220 Sheffield Cir, Bennington – $2,950,000
Set against the backdrop of the charming Bennington, the gem that is 20220 Sheffield Cir unfurls itself over a sprawling 3.03 acres of well-curated land. With an expansive living space of 8,515 sq ft, constructed meticulously in 2015, this Single Family-style haven tells tales of luxury and sophisticated design.
Picture this: warm sunlight streaming over a sublime in-ground pool, with a pool house stretching across 567 sq ft. Nearby, the swoosh of a basketball swishing through the net echoes, while some may be engrossed in a horseshoe game or practicing their golf on the putting green.
Inside, elegance meets comfort. Four commodious bedrooms invite serenity, each accompanied by an exclusive bath. The primary suite is a symphony of indulgence—imagine heated floors underfoot, a walk-in shower equipped with dual heads, and a soaking tub perfect for evening unwinds. His and hers closets crown this space with an added touch of luxury. An inviting gourmet kitchen awaits culinary experiments, while an expansive 1100 sq ft gym awaits those in pursuit of vitality. The lower level? It celebrates the finer things in life—a glass wine cellar, a spacious bar, and a family room built for memories.
Not forgetting the car aficionados, an 8-car garage, complete with its own bar, ensures your prized possessions have a home. 20220 Sheffield Cir is not just a house—it's a testament to exceptional living, priced at $2,950,000.
8. 2207 S 189th Cir, Omaha – $2,950,000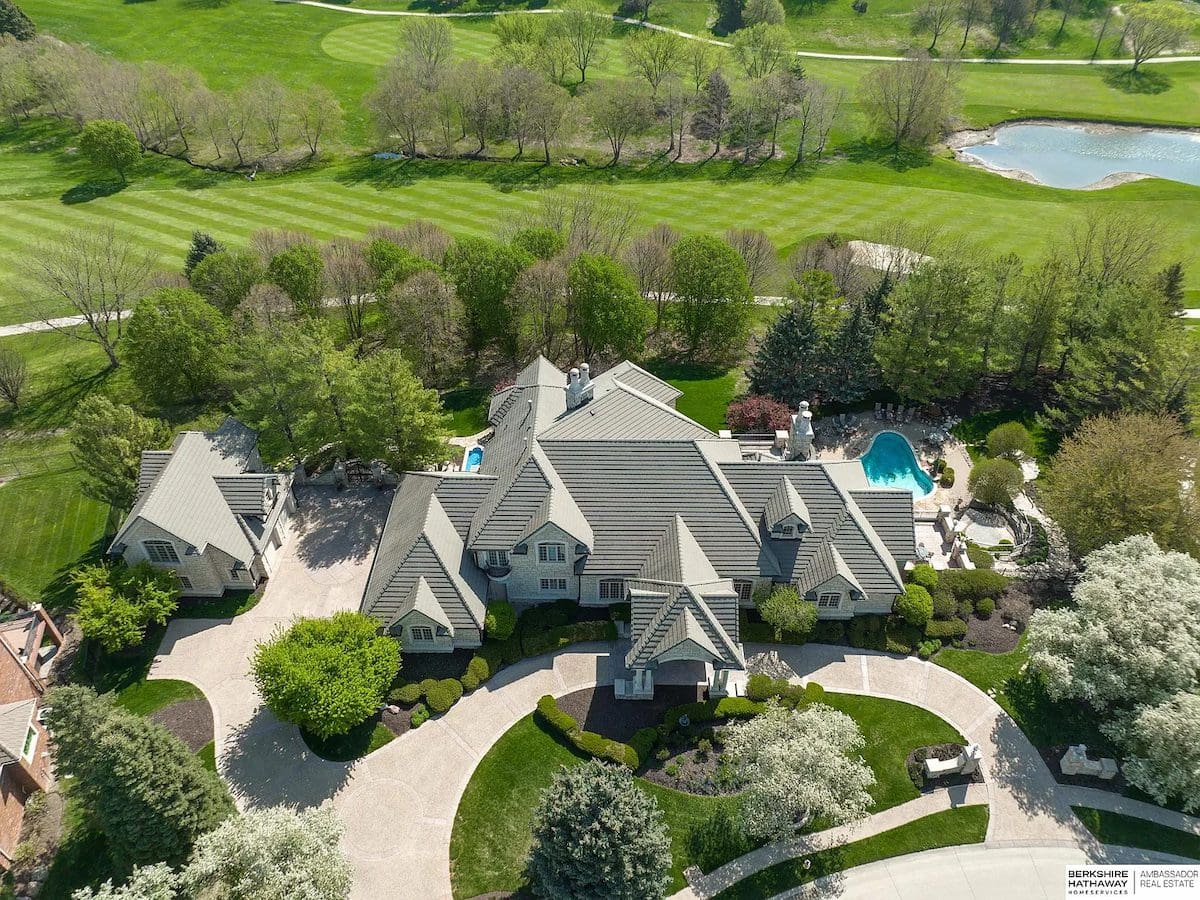 Nestled on the illustrious Shadow Ridge 16th fairway in Omaha, is a remarkable embodiment of elegance: a stunning all-stone custom home that stands as a testament to architectural grace and luxurious living. Spread across a sprawling 12,919 sq ft, this grand abode, crafted in the year 2000, invites you into a world that encapsulates the very essence of sophistication.
As you step into 2207 S 189th Cir, a grand foyer and a magnificent custom staircase beckon, leading you through spaces marked by meticulous attention to detail. From the main floor office that exudes gravitas, to a dining room that seamlessly melds with an expansive living area, every corner narrates tales of opulence. The heart of the house, the chef's kitchen, replete with an abundance of cabinets and counter space, is perfectly complemented by a sunroom and hearth room—sanctuaries of serenity.
Each of its 6 bedrooms is a masterpiece, with the primary bedroom offering a sanctuary complete with an en suite bath, private veranda, dual closets, and an exclusive laundry space. With 10 pristine bathrooms, 6 garage spaces, and features like an in-built elevator, every amenity imaginable is at your fingertips.
The highlight, perhaps, is the vast W/O basement—a haven for entertainment enthusiasts, coupled with an awe-inspiring in-ground pool and patio area. An additional guest house gracefully sits on its expansive 1.14-acre plot, enhancing the grandeur of this Single Family architectural marvel.
In its grandeur and magnificence, this residence truly captures the spirit of unparalleled living.
7. 567 County Road C, Ashland – $2,990,000
The house with the biggest floor space is 567 County Road C.
Tucked away at 567 County Road C in the picturesque city of Ashland lies a distinguished gem, echoing the elegant fusion of Raised Ranch and Traditional architectural styles. Sprawling over a lavish 125-acre lot, this 1974-built sanctuary reveals an impressive livable space of 13,556 sq ft. With a modest count of 2 bedrooms complemented by a striking number of 7 bathrooms, it intricately balances intimacy with luxury.
One might ask about the reason for such generous space. Well, this house isn't just a place of residence, it's a statement! Park your fleet of cars in its spacious 5-garage bay, or delve into its rich narrative etched in every brick and beam. Each story of this single-story marvel whispers tales of refined choices and unmatched taste.
Beyond its main domicile, the property sings praises of an equine dream with a grand 7-stable horse edifice, accompanied by a vast indoor riding space that waits to reverberate with the rhythm of horse hooves. An office structure seamlessly integrates work and comfort, from its spacious kitchen to the equipped conference room.
Yet, amidst the grandeur, what truly captures the heart is the serene private lake, a pristine mirror reflecting the skies and inviting moments of reflection and relaxation. All of this for an asking price of $2,990,000? Indeed, some paradises on Earth are still within reach!
6. 810 Big Sandy Blvd, Ashland – $2,995,000
Nestled on the serene shores of a glistening lake, the residence at 810 Big Sandy Blvd in Ashland is a testament to modern design meeting nature's splendor. Recognized with the esteemed Dwell Design accolade, this 2007-built marvel sprawls over a generous 6,051 sq ft of liveable space, harmoniously blending with the vast 1.97 acres of land it occupies.
Upon entry, one is immediately captivated by the vastness of soaring ceilings and the play of sunlight dancing through the Sage floor-to-ceiling windows. These architectural wonders reveal an unobstructed, panoramic canvas of the lake's tranquil beauty.
The heart of this single-story residence undoubtedly beats in its gourmet kitchen. With bespoke cabinetry and state-of-the-art appliances, it's a paradise for those who find solace in culinary adventures. Every meal here turns into a picturesque experience, with the mesmerizing hues of the lake painting a different backdrop each time.
Six spacious bedrooms and seven meticulously designed bathrooms promise comfort and luxury in equal measure. And with a sprawling terrace, replete with an outdoor bar and fire pit, and an expansive five-car garage, this property embodies opulence.
Yet, beyond its undeniable grandeur, 810 Big Sandy Blvd encapsulates the essence of a haven. Whether it's launching a boat from a private dock or simply reveling in the lakeside ambiance, this home is more than an architectural masterpiece—it's an experience.
5. 1601 S 218th St, Elkhorn – $3,200,000
Dive into the epitome of modern luxury at this architectural gem nestled in The Prairies. Constructed in 2019, this one-of-a-kind 1.5-story home sprawls across a lavish 7,988 sq ft, illustrating what happens when contemporary design meets unparalleled comfort. Four bedrooms, five meticulously designed bathrooms, and a space for every dream and desire.
Upon entering, the open-concept main floor beckons, bathed in a cascade of natural light, revealing sleek design accents and top-tier finishes. For the culinary enthusiast, a gourmet kitchen awaits, equipped with high-end appliances and crowned by a generous island – not just a kitchen, but a stage for countless memorable moments.
Imagine the Great Room, where conversations spark effortlessly against the backdrop of a snug fireplace. The primary suite is a sanctuary in itself, boasting twin walk-in closets, a spa-inspired ensuite bathroom, and an adjoined laundry room, because why not? Venture upstairs and discover a loft ready for relaxation, a media room, another laundry, and bedrooms designed with utmost thought.
But that's not all. A spacious 4-car garage, a meticulously finished basement with an exercise alcove, all set on a sprawling 0.57-acre lot. Although this isn't an invitation to buy, it's certainly an ode to modern living. Celebrate the perfect blend of style and substance at 1601 S 218th St, Elkhorn!
4. 13662 Cuming St, Omaha – $3,499,000
Nestled in the coveted Linden Estates, 13662 Cuming St, Omaha is a marvel of modern architecture and luxury. Built in 2023, this breathtaking 1.5 story home exemplifies class and sophistication with its elegant design, sitting on a generous 0.57-acre lot. Picture this: more than 9,205 sq ft of pure living space adorned with oversized windows that give you an intimate embrace of nature, courtesy of the stunning tree-covered backdrop and serene walking path.
Step inside, and your eyes are instantly drawn to the great room with its captivating fireplace, a testament to elegance and warmth. The kitchen is a chef's paradise, boasting a double island setup complemented by top-of-the-line Miele appliances. The sheer spaciousness of the room, combined with a hearth room, is perfect for culinary adventures.
Entertainment? This home has got you covered. Apart from the primary kitchen, there's a separate catering kitchen, plus an additional full kitchen in the lower level. Speaking of which, the lower level is an entertainer's dream with a full kitchen, two bedrooms with private baths, a bar, billiards room, and a media room.
With 4 bedrooms, 6 bathrooms, and 4 garage spaces, every inch of this house oozes luxury. The bonus? A huge 36 x 18 covered deck with a fireplace and a built-in grill. Architecturally, it stands as a testament to the pinnacle of Single Family style. This isn't just a house; it's an experience waiting to be lived.
3. 12504 N 177th Cir, Bennington – $3,500,000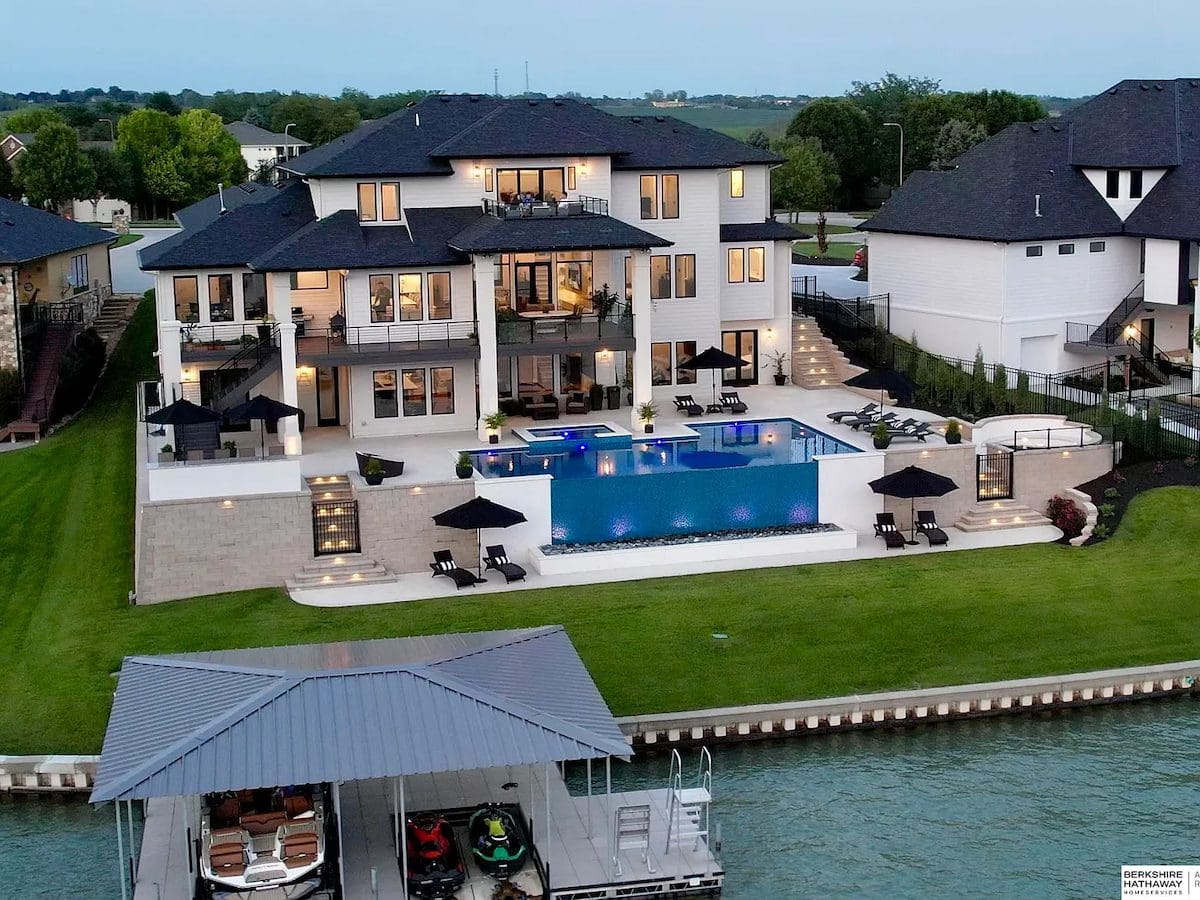 Step into a realm of sophistication and grandeur, where 6,900 sq ft of meticulously crafted space unveils an enchanting story of comfort and elegance. Nestled on a generous 0.6-acre lot, this single-family marvel, constructed in 2023, stands tall as a testament to impeccable architecture and design.
As you enter this gem, you're immediately greeted by panoramic lake views that promise serene mornings and tranquil evenings. Every inch of its design, from its opulent 6 bedrooms, each with its own en suite, to the spacious spa-inspired primary bath equipped with heated floors, resonates with luxury.
At its heart lies an exquisite kitchen that is every chef's fantasy. Imagine whipping up a gourmet meal on an 11 ft Italian stone island, flanked by top-tier appliances, and then dining under the soft glow of a chandelier in the formal dining room. And for those seeking a retreat within a retreat, the living room, drenched in natural light from grand windows, serves as the perfect sanctuary.
The sheer extravagance doesn't end here. This magnificent abode also includes a lavish bar, a temperature-regulated wine chamber, an indoor pool, and a six-car heated garage equipped with a 220-volt outlet—reflecting a blend of innovation with luxury.
In all its glory, 12504 N 177th Cir is not just a home; it's an experience, a lifestyle, a dream materialized. Dive into an existence where every day feels like a five-star vacation!
2. 6300 Dodge St, Omaha – $3,500,00
Nestled in the heart of Omaha at 6300 Dodge St, stands a testament to the elegance of a bygone era – the historic Fairacres Georgian Mansion. Built in 1907, this colonial-styled marvel, spanning a vast 10,039 sq ft of livable space, boasts of character and class that are rarely seen today.
Step inside, and you're greeted with massive rooms adorned with breathtaking fixtures. The vast library, dominated by a marble fireplace, seems to whisper stories from the past. The wood-paneled dining room, graced by a black marble fireplace, stands ready for grand dinners. The splendid center staircase, the living room with its intricate fireplace and built-ins, and the cheerful breakfast room all sing praises of timeless beauty.
And just when you thought you've seen it all, the mansion surprises with its magnificent chapel, a bright solarium, and even a modern-day convenience – an elevator!
The property houses 9 bedrooms and 8 bathrooms, with additional space available in the impressive 1,652 sq ft Carriage House. Complete with 1.5 baths and a vast rooftop deck, the Carriage House is an entity in itself.
The estate, covering 3.72 acres, isn't just about the mansion. With a four-car garage, and ensconced in two stories of architectural brilliance, the Fairacres Georgian Mansion isn't just a house; it's a piece of history, all for $3,500,000. A marvel of its time, its grandeur remains unparalleled in both stature and locale.
1. 10701 Old Cheney Rd, Lincoln – $3,890,000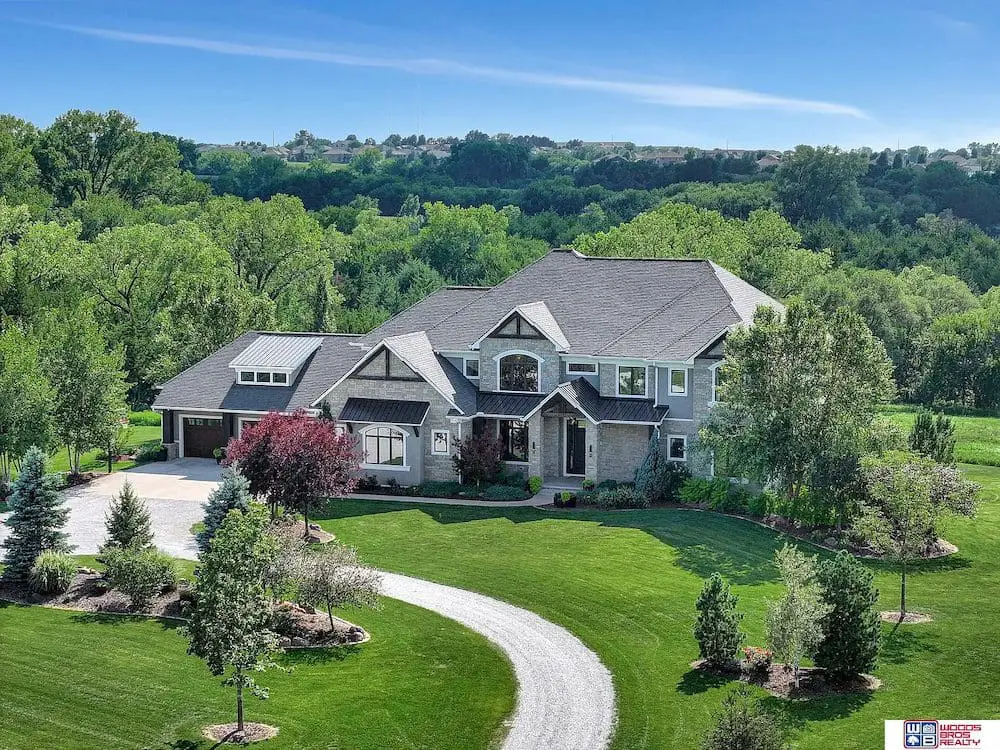 The most expensive house in Nebraska is 10701 Old Cheney Rd, which is listed for sale at $3,890,000.
Nestled within the heart of Lincoln, 10701 Old Cheney Rd is a testament to magnificence and intricate design. Spanning an expansive 24.44 acres, this estate is a harmonious blend of sweeping prairie grasses, lush trees, and impeccable landscaping. Built in 2015, this Traditional architectural gem offers an astonishing 9,900 sq ft of luxury. With 6 opulent bedrooms and 6 spacious bathrooms, the design is both timeless and innovative.
Step inside to be greeted by a two-story foyer, guarded by magnificent stone columns. Delight in gourmet meals prepared in a chef's dream kitchen and savor them in the formal dining area. Imagine evenings in the living room, warmed by the glow from a floor-to-ceiling stone fireplace or watching cinematic marvels in a theater room designed with tiered seating. The hidden gem? A loft with a secret room that could be the backdrop of many memorable moments!
Adding to the marvel is the modern barn, complete with a finished loft, a full bath, and a laundry room. With 4 garage spaces, there's ample room for every luxury vehicle. Enjoy 2 stories of pure delight, whether you're nestling by one of the 5 fireplaces or unwinding under the vast Nebraskan sky on the covered patio.
Dive into a realm of comfort and sophistication – all in one incredible estate!