In the heart of America, Missouri boasts a tapestry of landscapes: from the bustling cities of St. Louis and Kansas City to the rolling hills of the Ozarks. But it's not just the geography that showcases diversity; it's the architecture too. 2023 brings into the spotlight lavish estates and opulent residences that prove luxury knows no bounds in the "Show Me State." This year, we've curated a list that might just leave you awestruck. In this article, we'll venture into these architectural marvels, exploring their intricate designs, storied histories, and the unmatched lifestyles they offer. Whether you're an architectural enthusiast, a luxury real estate aficionado, or someone who appreciates the finer things in life, this tour of Missouri's crème de la crème homes promises to be a journey of sheer indulgence.
10. 968 Red Bluff Road, Blue Eye – $5,450,000
Experience unparalleled grandeur at 968 Red Bluff Road in Blue Eye! This luxurious residence, set on a sprawling 12-acre lot, offers an intimate connection with nature and lake living at its zenith. Originally built in 2004, the property spans an impressive 9,056 sq ft of livable space, with every inch screaming opulence.
Imagine stepping into a world where every room, all four majestic bedrooms and five opulent bathrooms, boasts stunning vistas of Table Rock Lake. The magic doesn't end there. Culinary enthusiasts will adore the state-of-the-art gourmet kitchen, complete with a unique dual wood/gas burning fireplace oven, powerful enough to rotisserie up to 60 lbs. But the luxury isn't limited to the interior. A sprawling outdoor stainless steel kitchen and a hot tub platform are just waiting for those memorable evening soirées under the stars.
The residence seamlessly marries functionality with style, boasting three garage spaces and two grandiose stories. Its architectural style is both timeless and avant-garde, capturing the essence of sophistication.
And for the aficionados of classic music legends, this property holds a captivating footnote in history. Johnny and June Cash once called this very estate their home during their theatre stint in Branson. Dive into a world where past meets present, and luxury is redefined at every corner, all for a valued price of $5,450,000.
9. 640 640m L Acres County Ln #5854-164, Carthage – $6,000,000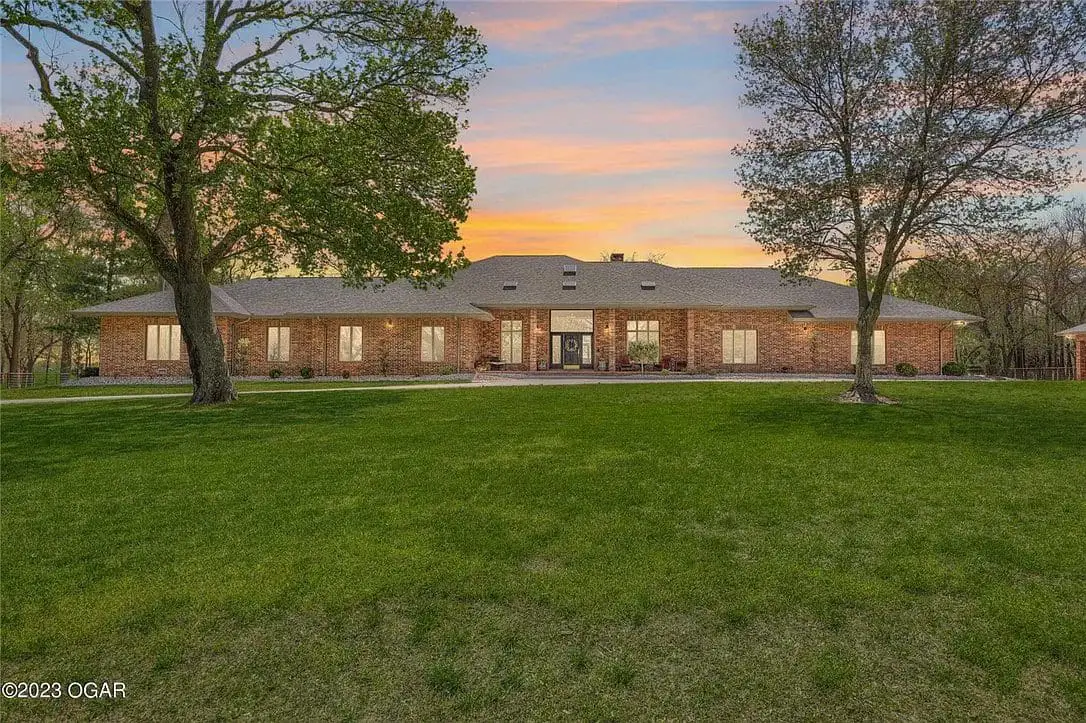 Welcome to 640 640m L Acres County Ln #5854-164 in Carthage, a gem that radiates classic charm. This residence, constructed in 1988, stands as a testament to the perfect fusion of Ranch and Traditional architectural styles. Spanning a generous 5,150 sq ft of livable space, this home echoes the timeless elegance of farmhouse designs.
Imagine yourself stepping into a dwelling where rustic charm interlaces seamlessly with contemporary luxuries. With 5 spacious bedrooms and 5 well-appointed bathrooms, there's a corner for every member of the family to claim as their own.
A true haven for livestock enthusiasts, the 640-acre expanse offers an abundance of opportunities for ranching pursuits. Well-maintained cattle pens and expansive barns ensure that nurturing animals is a delightful endeavor, not a chore. This vast terrain isn't just about work, though. The property unfurls into stretches of lush pasture land, painting a serene canvas for livestock to meander.
But there's more to this ranch than meets the eye. Carve out a moment of relaxation by the gleaming pool or use the sprawling spaces for memorable gatherings. With seven garage spaces, storage is never an issue, and the single-story layout ensures easy navigation.
Sitting at a value of $6,000,000, this property isn't just a house; it's an experience, an emotion, a statement. Dive into a life surrounded by nature, elegance, and tranquility.
8. 1732 State Hwy. Uu, Blue Eye – $6,100,000
Nestled in the picturesque city of Blue Eye, this iconic Table Rock Lake Front residence is the epitome of timeless elegance and unparalleled comfort. At 1732 State Hwy. Uu, this house, built in 1988, sprawls majestically across 6.71 acres of pristine land and offers a grand livable space of 9,600 square feet. At a price of $6,100,000, this residence promises unparalleled luxury with its vast 9 bedrooms and 9 bathrooms.
The architecture, draped in the "Other" style, speaks volumes of its rich legacy. Its resplendent two-story structure boasts a natural brick and limestone exterior, while the interior is a symphony of exquisite craftsmanship. Flagstone flooring, a magnificent floor-to-ceiling fireplace, and a sumptuously appointed kitchen with natural cabinets are just the beginning. The house's thoughtful design includes an elevator, private master suite with its own fireplace and balcony, an exercise room, a safe room, and both indoor and outdoor heated pools. And for those who treasure their vehicles? A total of 8 garage spaces, split between attached and detached garages, with the latter even featuring a cozy apartment unit above.
Whether it's for a tranquil retreat or a grand gathering, this property promises serenity and luxury at every corner. The accompanying private 2-slip boat dock, approved for further expansion by the Corp of Engineers, is a cherry on top, offering seamless access to the serene waters of Table Rock Lake.
7. 6800 S Lakota Ridge Ln, Columbia – $8,500,000
Nestled in the heart of southern Columbia lies an exquisite marvel: an 11,000 square foot estate, an epitome of architectural brilliance, effortlessly marrying Ranch and Traditional styles. Located at 6800 S Lakota Ridge Ln, this masterpiece stands tall on a sprawling 30.55 acres, a testament to unparalleled luxury since its inception in 2000.
Every corner of this house narrates a tale of opulence. Imagine stepping onto 120 tons of imported Israeli stone that adorns its vast expanse, or gazing up at grand ceilings soaring up to 28 feet. The warmth from the heated floors envelopes you as the soft glow from alabaster light fixtures illuminates the surroundings. Your steps might guide you to the astounding 30-foot waterfall by the floating stairwell, or perhaps to one of its two full kitchens.
Within its walls, you'll find 4 generously-sized bedrooms and 7 luxurious bathrooms, each designed to perfection. And the magnificence doesn't end inside. The estate is a car enthusiast's dream with a capacity for 10 garage spaces, and for those festive evenings, a detached car/party barn complete with its own kitchen and bath! Athletic souls will relish the irrigated soccer field while others find tranquility by the vast swimming pool.
Priced at $8,500,000, with an impressive livable space of 10,839 sq ft, this architectural gem is more than just a house—it's a statement. An experience waiting to be felt. A legacy waiting to be lived.
6. 1029 Muirfield Dr, Sunrise Beach – $8,850,000
Behold, 1029 Muirfield Dr, an epitome of architectural elegance nestled in the heart of Sunrise Beach. Built in 2012 by the renowned Thomas Construction, every inch of this 6,750 sq ft home tells a tale of meticulous design, harmonizing with nature to amplify the serenity of lake views.
The house graces a sprawling 2.5-acre lot, enveloping the beholder in both grandeur and comfort. Stepping inside, you're welcomed by an expansive living room, accented with walls of windows that bring the breathtaking outdoors inside. The custom kitchen, complemented by a butler's pantry and wet bar, hints at countless heartwarming dinners and vibrant gatherings.
The master suite is nothing short of a luxury retreat – from a 2-sided fireplace to the inviting office space. Its en suite is a modern marvel with every conceivable amenity, from dual sinks to a wraparound shower.
But that's just the beginning. An elevator whisks you to the lower level, where four en-suite guest bedrooms await alongside a family room, full kitchen, and more. You'll also discover a workout space for fitness enthusiasts and an entertainment-ready game room and bar.
On the outside, 492ft of lakefront beckons with a saltwater pool, cabana bar, and hot tub. And let's not forget the garage, spacious enough to house three vehicles.
Crafted over two stories, this Sunrise Beach gem, priced at $8,850,000, seamlessly blends the charm of yesteryears with today's modern luxuries. Every sunrise here is a promise of a day spent in unparalleled splendor.
5. 1228 W 56th St, Kansas City – $10,000,000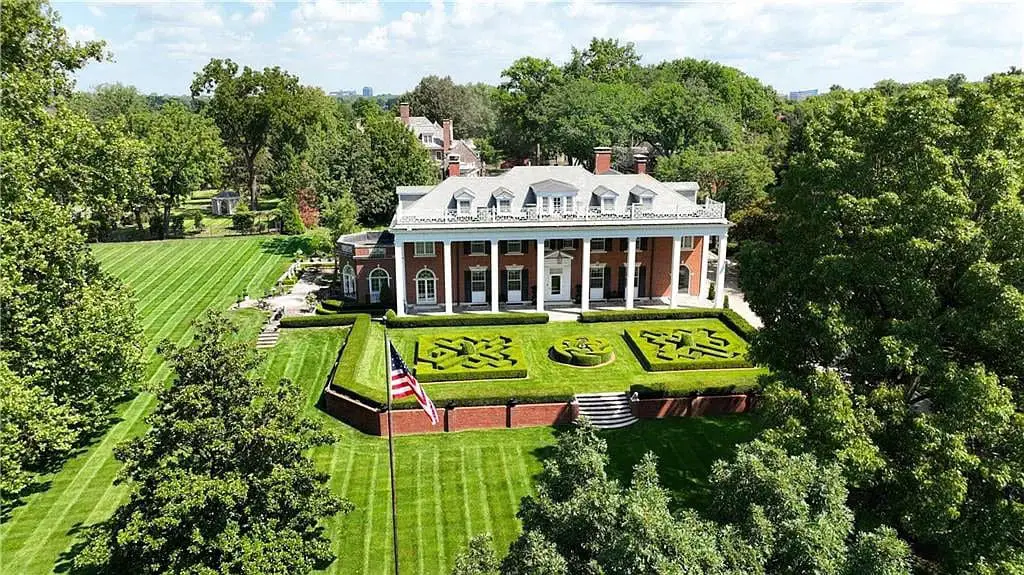 Nestled within Kansas City's iconic Sunset Hill lies a majestic gem, the Historic Hunter Gary House. Spread across a sprawling 3.4-acre estate, this 1922 marvel offers a generous 11,070 square feet of pure elegance and classic allure. Inspired by the ageless charm of George Washington's Mount Vernon, the house was immaculately designed by esteemed KC Architect, John Van Brunt Sr.
A fusion of neoclassical grace and traditional architectural prowess, the estate boasts an unmistakable red brick exterior complemented by limestone trim. Its slate roof and enchanting two-story front porch beckon you to explore the vast lawns, complete with captivating formal gardens, fountains, and a tennis court.
Step inside to be greeted by ornate plaster moldings, authentic Missouri walnut trims, and breathtaking carved accents. Comprising 8 plush bedrooms and 9 luxurious bathrooms, the home is a medley of old-world charm and modern refinements. Each corner speaks volumes of its storied past. From the expansive formal living room to the custom updated kitchen with its walnut cabinetry, the home is a dream for any history enthusiast.
Nestled at 1228 W 56th St in the heart of Kansas City, this 2-story beauty also features a total of 6 garage spaces, ensuring ample room for prized collections. If you've ever dreamt of living in a piece of history while enjoying modern comforts, the Hunter Gary House is where dreams meet reality. But remember, some treasures, like this one, are best admired from a distance.
4. 14400 Prospect Ave, Kansas City – $12,300,000
Stepping into Rosewood Farm in Kansas City is akin to entering a dream! Built in 1933 and nestled within 306 acres of impeccable landscape, this property is a testament to timeless elegance and luxury. The house boasts a sprawling 6,395 sq ft of livable space, characterized by its SingleFamily architectural style. Priced at $12,300,000, this jewel is worth every penny.
Its beauty isn't just superficial; it's deeply rooted in its historical construction. The stone home offers 4 splendid bedrooms and a staggering 7 bathrooms! Every corner reveals a touch of class and sophistication – from the 4 roaring fireplaces to the mesmerizing atrium in the sunroom. And for those who fancy a cozy breakfast, the nook with vast windows offers a serene view of the 17-acre lake, the heart of Rosewood Farm.
The two-story residence is accentuated with modernity – two oversized garages accommodating 7 vehicles, complete with in-floor heating systems. Art connoisseurs will adore the dedicated arts & crafts room, while car enthusiasts have ample space to park their treasures.
Although it's hard to pick the star feature of this house, the custom kitchen surely is a contender. Picture the finest crown moldings, high-end appliances, and exquisite finishings that elevate every meal into a culinary experience.
14400 Prospect Ave is not just an address; it's a legacy, a dream carved in stone and wood, standing tall and proud in the heart of Kansas City.
3. 472 N Winnebago Dr, Lake Winnebago – $12,600,000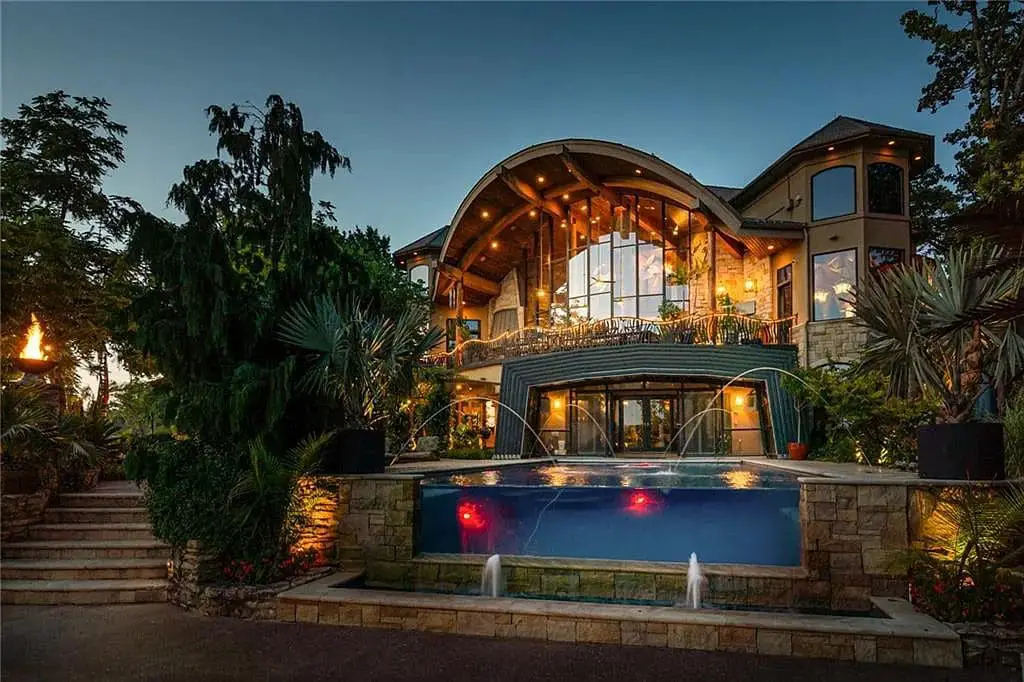 Imagine waking up every day in a stunning waterfront residence that boasts the epitome of architectural artistry combined with modern-day conveniences! Nestled at 472 N Winnebago Dr, Lake Winnebago, this 2009-built wonder sprawls over an expansive 16,814 sq ft of livable space on a 0.38-acre lot.
Priced at a well-deserving $12,600,000, this house is not just a dwelling, but an experience. The enchanting canvas begins with custom front doors, revealing a 1,000-bottle wine room and a show-stopping glass dome-topped spiral staircase spanning three stories. Breathtaking 26-foot barrel wood ceilings echo the heartbeats of the artisans who've poured love into every corner. Marvel at the 900-gallon living reef aquarium or the exquisite Labradorite kitchen countertops and be spellbound by the artistry of the unique dining room ceiling.
This 5-bedroom, 9-bathroom sanctuary is beautifully fused with both contemporary and traditional designs, offering amenities like a 4-car garage, two stories of unparalleled luxury, and the integration of smart home technology. And when winter sets in? Fear not! With heated European limestone floors on the main and lower levels, and a driveway that keeps ice at bay, every detail is meticulously thought of.
On top of that, the Lake Winnebago community, surrounded by a 400-acre well-stocked lake, is the cherry on the cake. So, why merely dream of luxury when you can experience it daily in this midwestern gem?
2. 248 Elk O Zar Road, Lanagan – $12,765,000
Nestled in the heart of the Ozarks of Southwest Missouri, 248 Elk O Zar Road in Lanagan is more than just an address—it's a sprawling haven spanning 1,850 acres of pristine land! A breathtaking vista where Elk River and Indian Creek converge, this property promises serenity and adventure in equal measure.
Imagine: 6,287 sq ft of livable space housed within a majestic, turn of the century structure built in 1906. Every inch of this SingleFamily architectural marvel sings a tale of history and heritage. You'd be greeted by five spacious bedrooms and five well-appointed bathrooms, ensuring comfort and luxury at every turn. The home's original trim and fireplaces retain the authentic charm of yesteryears, while a generous game room with a pellet stove stands ready for entertainment galore. Plus, with two dedicated garage spaces, you can tuck away your vehicles comfortably.
Beyond the walls of the house, the terrain unfurls into rolling hills, hay meadows, and dense woodlands. Two intriguing caves beckon exploration, and with three miles of Elk River Frontage, the panorama is nothing short of dreamy. If you're an equestrian enthusiast, imagine your horses trotting freely amidst ponds, corrals, and barns. And for the keen-eyed observer, walnut and pine trees pepper the landscape, a testament to the rich biodiversity of the region.
All of this could be experienced from a historical home that's witnessed the world change for over a century. At $12,765,000, 248 Elk O Zar Road isn't just an address, it's a legacy waiting for its next chapter.
1. 7 Hillside Ct, Wentzville – $13,900,000
The most expensive house in Missouri is located at 7 Hillside Ct, Wentzville and costs $13,900,000.
Dive into a world where architecture meets artistry. Spanning over 20,550 sq. ft. of pure opulence, this home is an emblem of "Luxury Meant to be Lived In." Built in 2001, every corner of this stunning edifice speaks of grandeur – from its English-Traditional architectural style to its intricacies that cater to multigenerational families. With 7 bedrooms and an impressive 13 bathrooms, it's a space meant for shared moments and memories.
Nestled on a generous 20-acre lot (with an option of up to 130 acres), you're not merely purchasing a home; you're securing an estate. Envisage horse stables at sunrise, spirited games on the sports field, echoes of laughter from the playground, and the nostalgic charm of a Ferris wheel against the twilight. Not to mention a resort-quality pool complete with racing slides, a swim-up bar, and a breathtaking grotto!
Indoors, the warmth is palpable. Eight masonry fireplaces set the mood, while radius moldings elevate its charm. Whether you're reflecting in the private chapel, engrossed in a tome in the two-story library, or enjoying an evening film in the theatre, this house has an alcove for every whim.
And the surprises don't end there. With a lower level that boasts bowling lanes, a bar, and a dance floor – it's like having a world of entertainment right at your doorstep.
With a price tag of $13,900,000, 7 Hillside Ct is not just a home; it's a testament to life's finest. Three stories of sheer delight, four spacious garage spaces, and a promise of endless joy – all in the heart of Wentzville.