In a move that sent shockwaves through the celebrity real estate scene, Faze Rug, the popular content creator and YouTube sensation, announced his acquisition of a stunning new property that redefines opulence.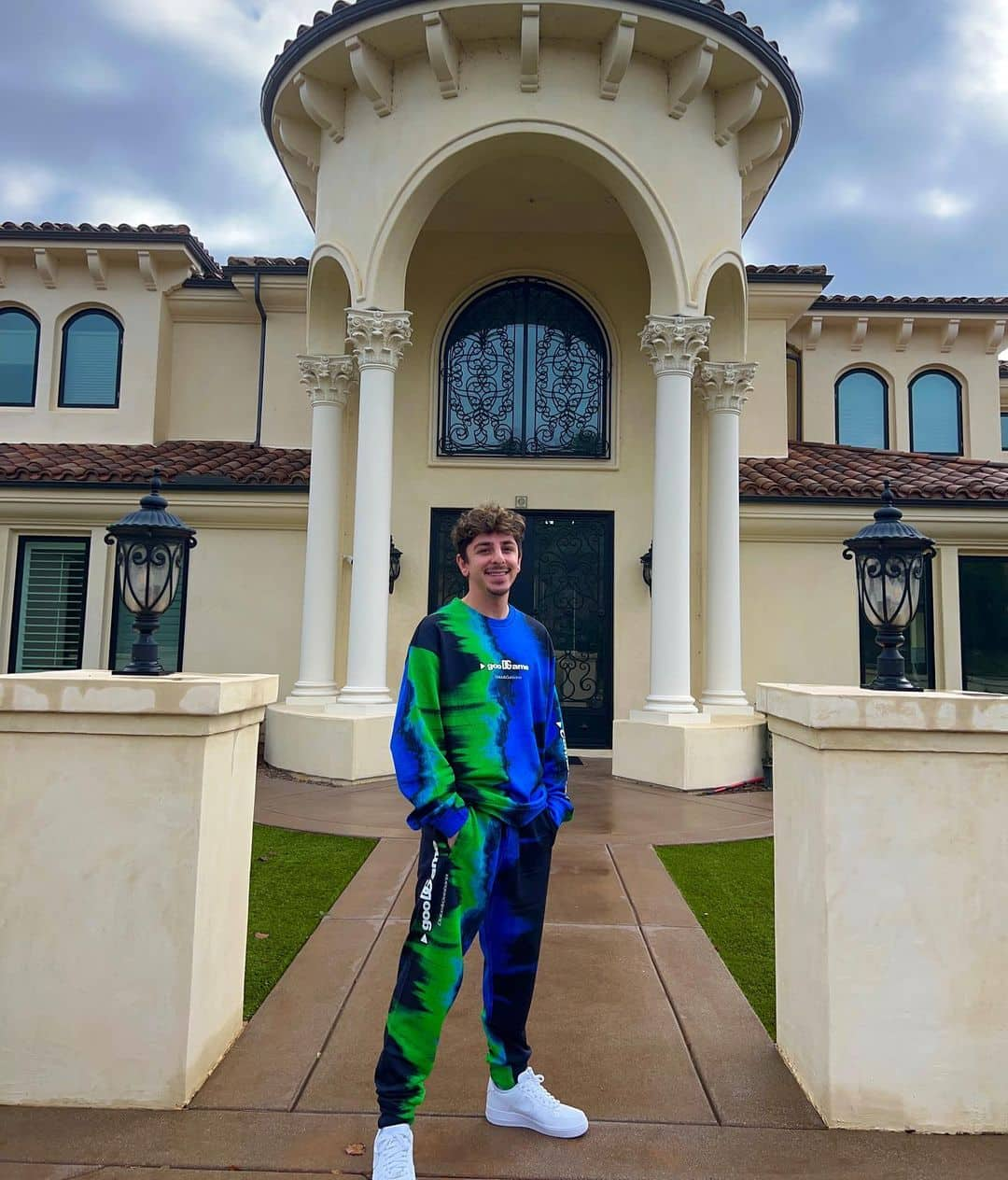 Faze Rug's house
The extravagant house, situated in Poway, California, stands as a testament to Faze Rug's soaring success in the digital world. With its sprawling dimensions, lavish interiors, and envy-inducing amenities, this house is more than just a living space—it's an embodiment of a dream turned into reality.
Where Does Faze Rug Live Now?
Faze Rug lives at 14445 Cheyenne Trl, Poway, California. Faze Rug, also known as Brian Awadis, seized the opportunity in 2022, splurging $4.4 million to claim ownership of a sprawling mansion spanning 6,714 square feet.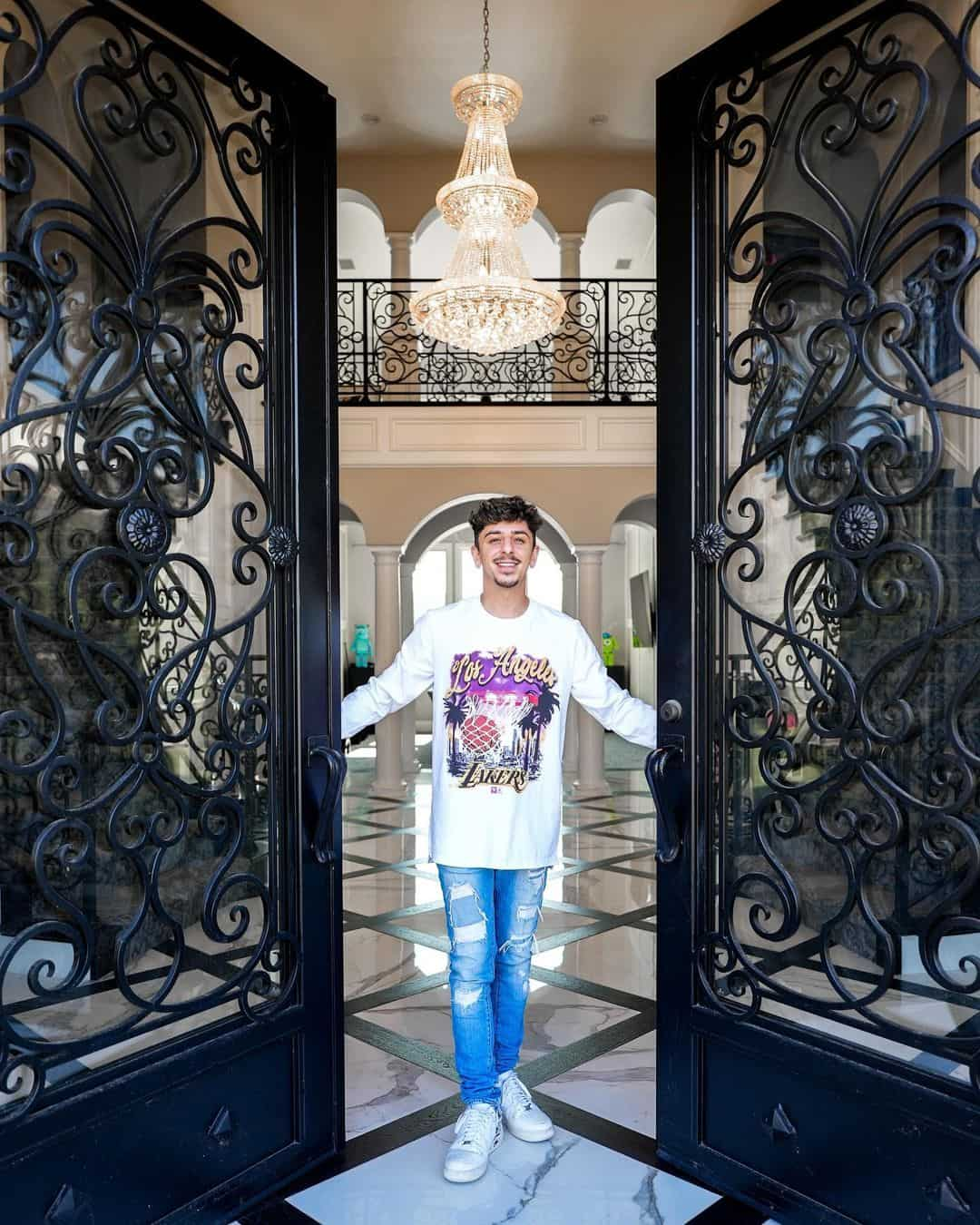 The entrance to Faze Rug's house
Nestled near San Diego in the same city as his parents' home, this grand abode boasts 7 bedrooms and 7 bathrooms, a testament to his taste for the extravagant. The perks of this upscale living extend beyond the walls, encompassing a 4-car garage, an inviting fire pit, an expansive outdoor BBQ enclave, and even a basketball court.
A Glimpse Inside Faze Rug's House
Stepping into Faze Rug's house is like entering a realm of sophistication and comfort that few are privileged to experience. When you step into the entryway, you are greeted by a grand, luxurious indoor staircase with an ornate chandelier hanging from the ceiling. The walls are painted in a light grey color and feature intricate molding along the edges. At the base of the stairs is a large blue cross on a white tiled floor, adding to its elegant atmosphere. On either side of the staircase is seating – one chair upholstered in black fabric and another bench with cushions for comfort. Above it all hangs an impressive chandelier that casts soft light throughout this space.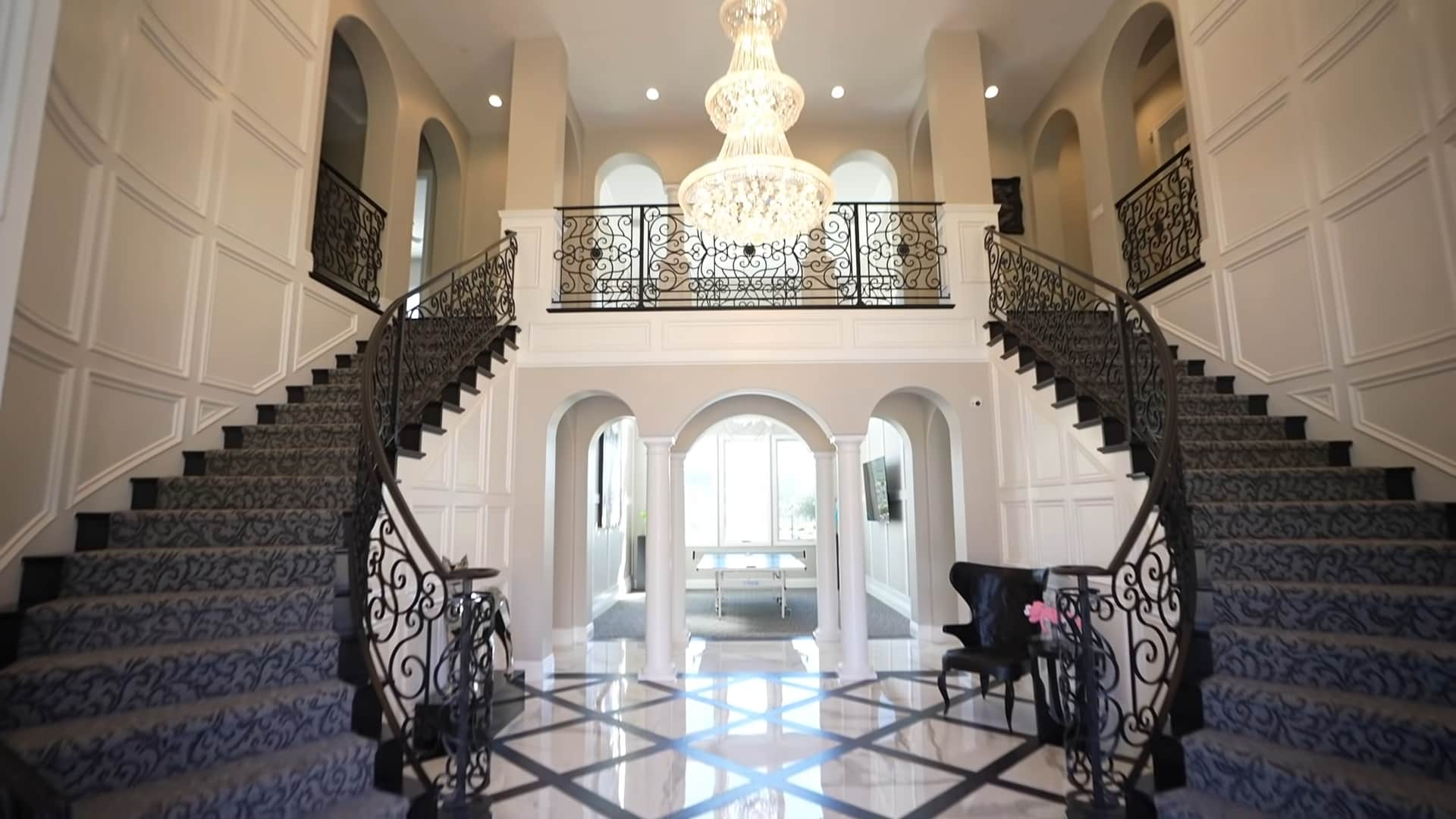 Faze Rug's entryway
Moving further, there is the kitchen with white walls and cabinets, a marble countertop, and stainless-steel appliances. The room is illuminated by an elegant chandelier hanging from the ceiling. In the center of the room is a large table surrounded by four chairs. On top of the table sits a bowl filled with food. To one side of the room is a microwave oven, while on the other side stands a refrigerator. Nearby are two comfortable armchairs upholstered in white fabric that provide additional seating for guests or family members who may be visiting or dining in this space. The flooring consists of light-colored tiles that contrast nicely against all of these elements to create an inviting atmosphere for cooking and entertaining alike.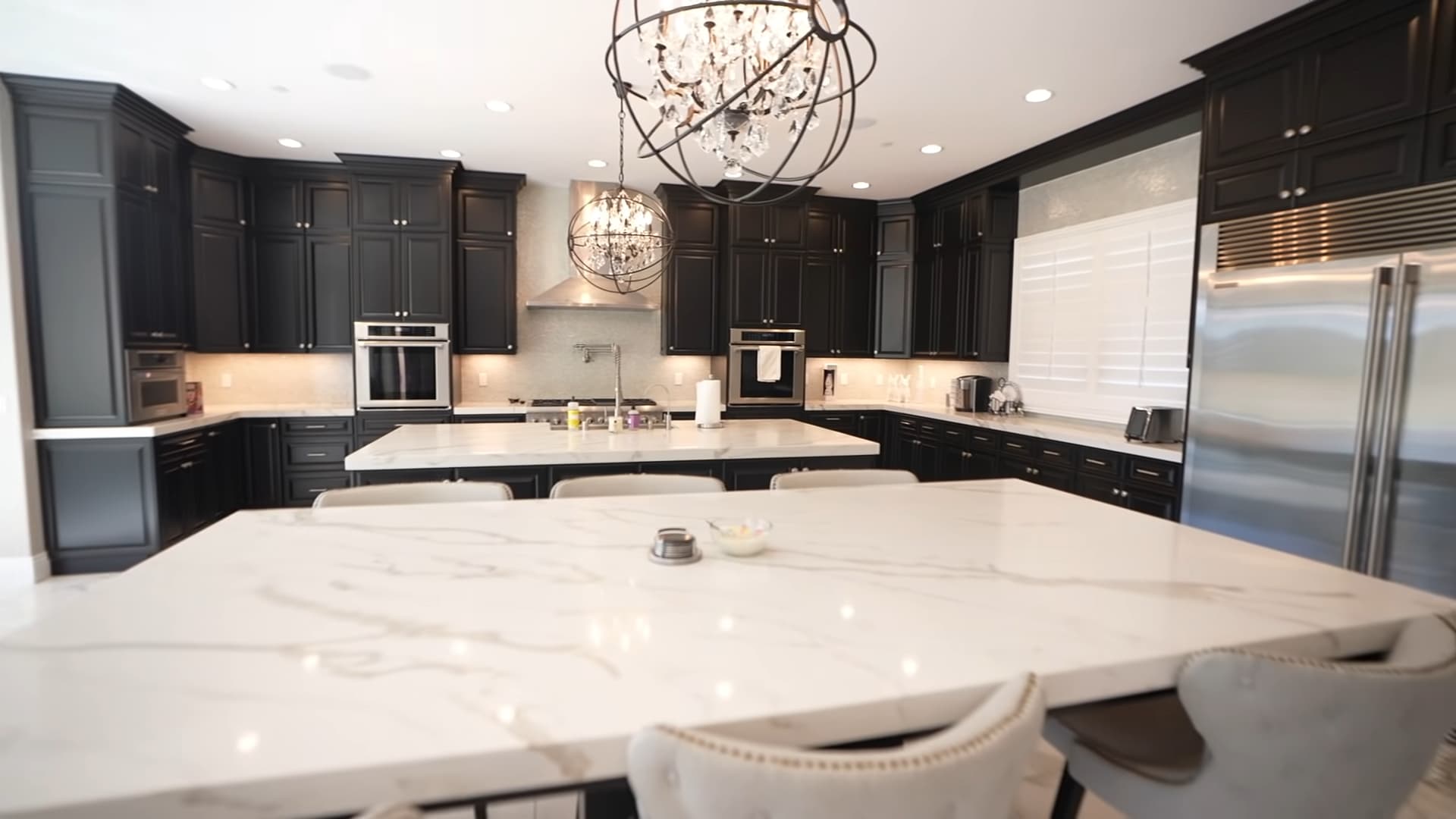 Faze Rug's kitchen
Adjacent to the kitchen is the living room with modern decor. The walls are painted white, and the floor is covered in a light grey carpet. In the center of the room is an off-white couch with several colorful pillows scattered across it. A coffee table sits in front of it, holding a vase filled with flowers and other decorative items. To the left is a large window that lets in plenty of natural light, while to the right there's an archway leading into another area of the house. Above hangs an elegant chandelier from the ceiling, adding to this inviting atmosphere.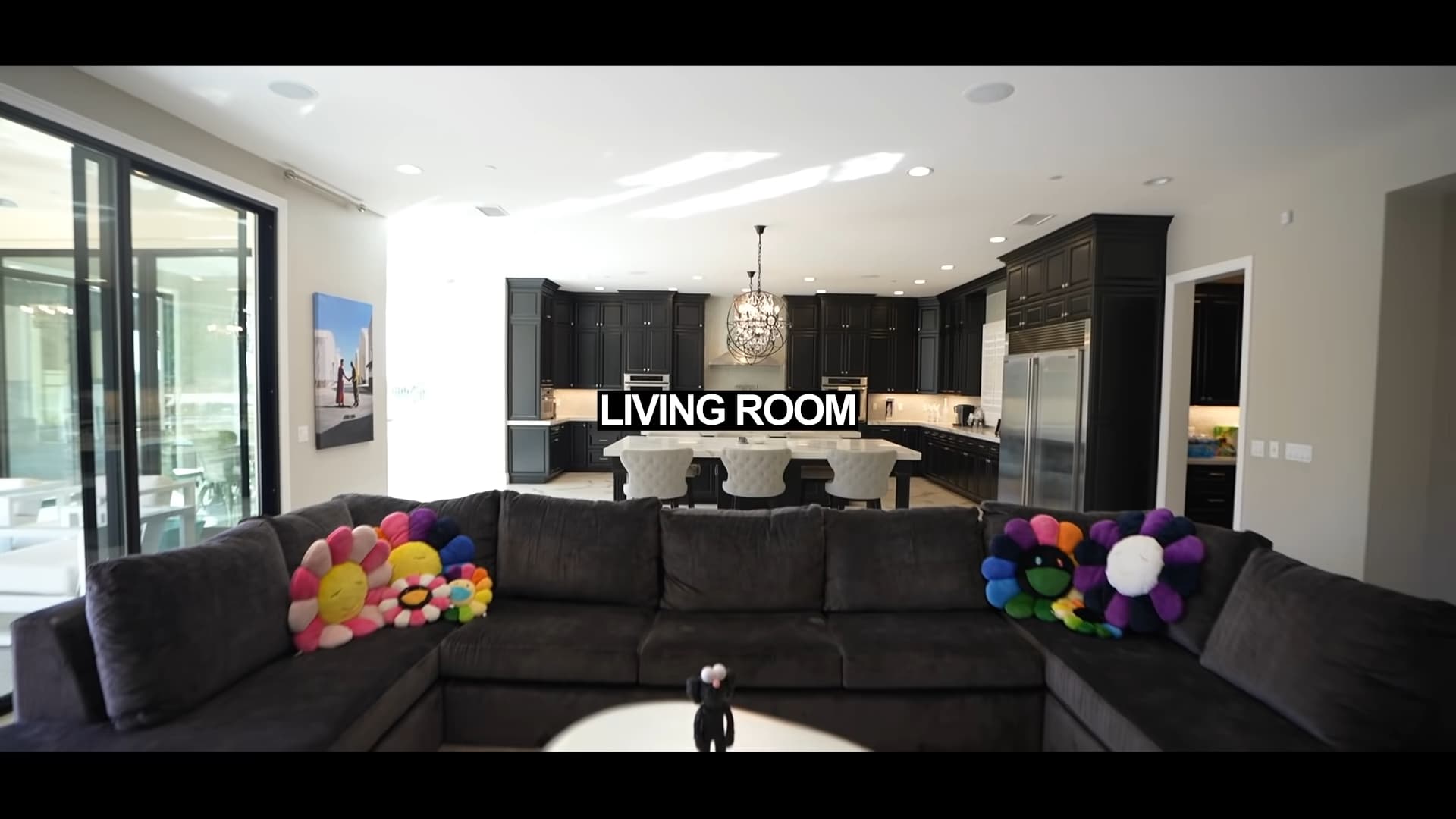 Faze Rug's living room
However, what truly sets this house apart is the captivating gallery-like atmosphere found throughout the halls. Adorned with carefully curated artworks and decorations, these corridors offer a journey through Faze Rug's artistic sensibilities. One can't help but notice iconic pieces like the portrait of Drake and a tribute to Kobe Bryant, speaking volumes about his eclectic influences and admiration for cultural icons.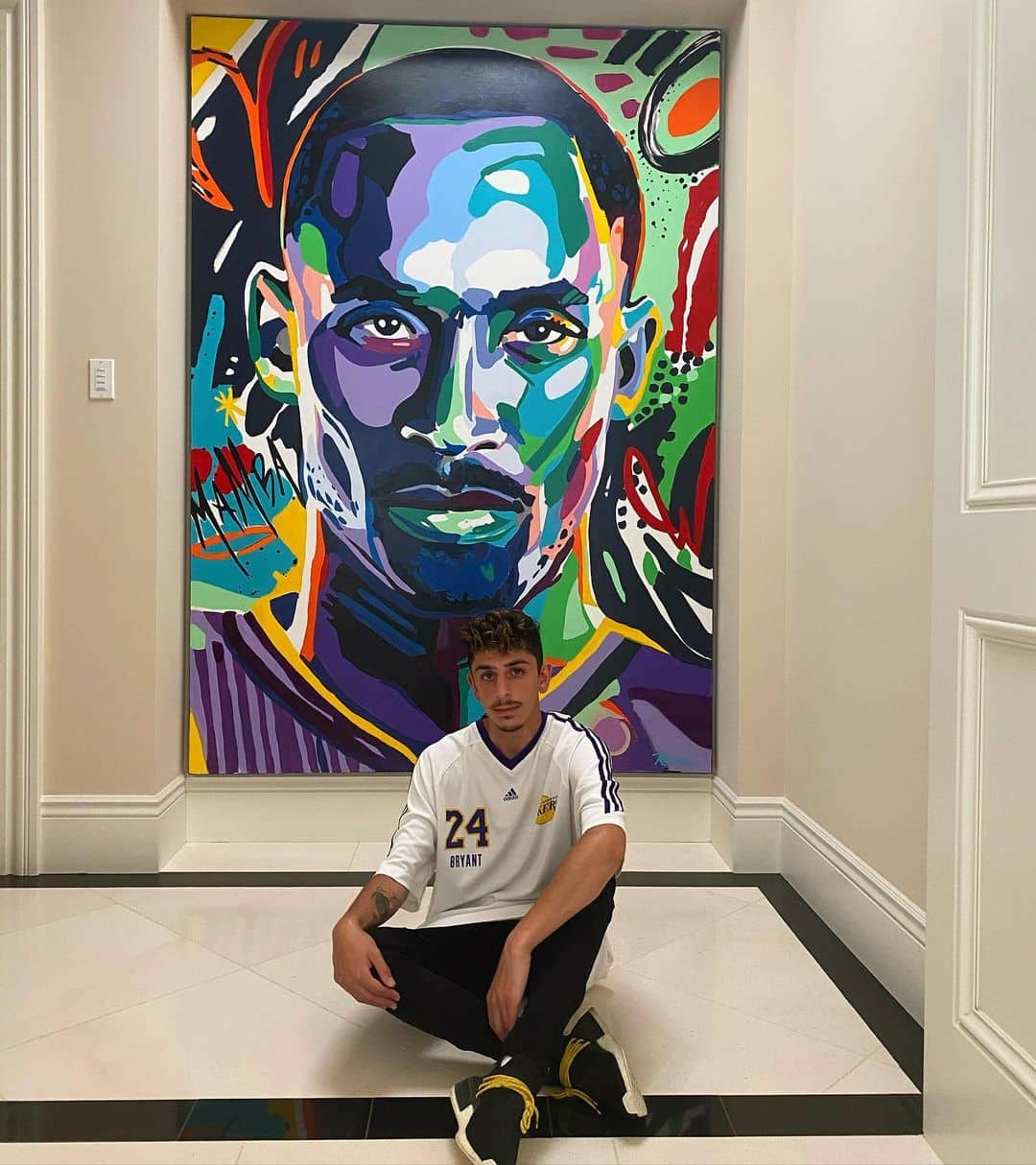 Faze Rug's decorated hall
Faze Rug's Outdoor Oasis with A Massive Pool
Venturing outdoors, the true allure of Faze Rug's house unfolds with a sprawling garden and an awe-inspiring pool area. There can be found a golf course with lush green grass and flags in the background. The foreground is filled with a putting green, complete with flag poles and other obstacles.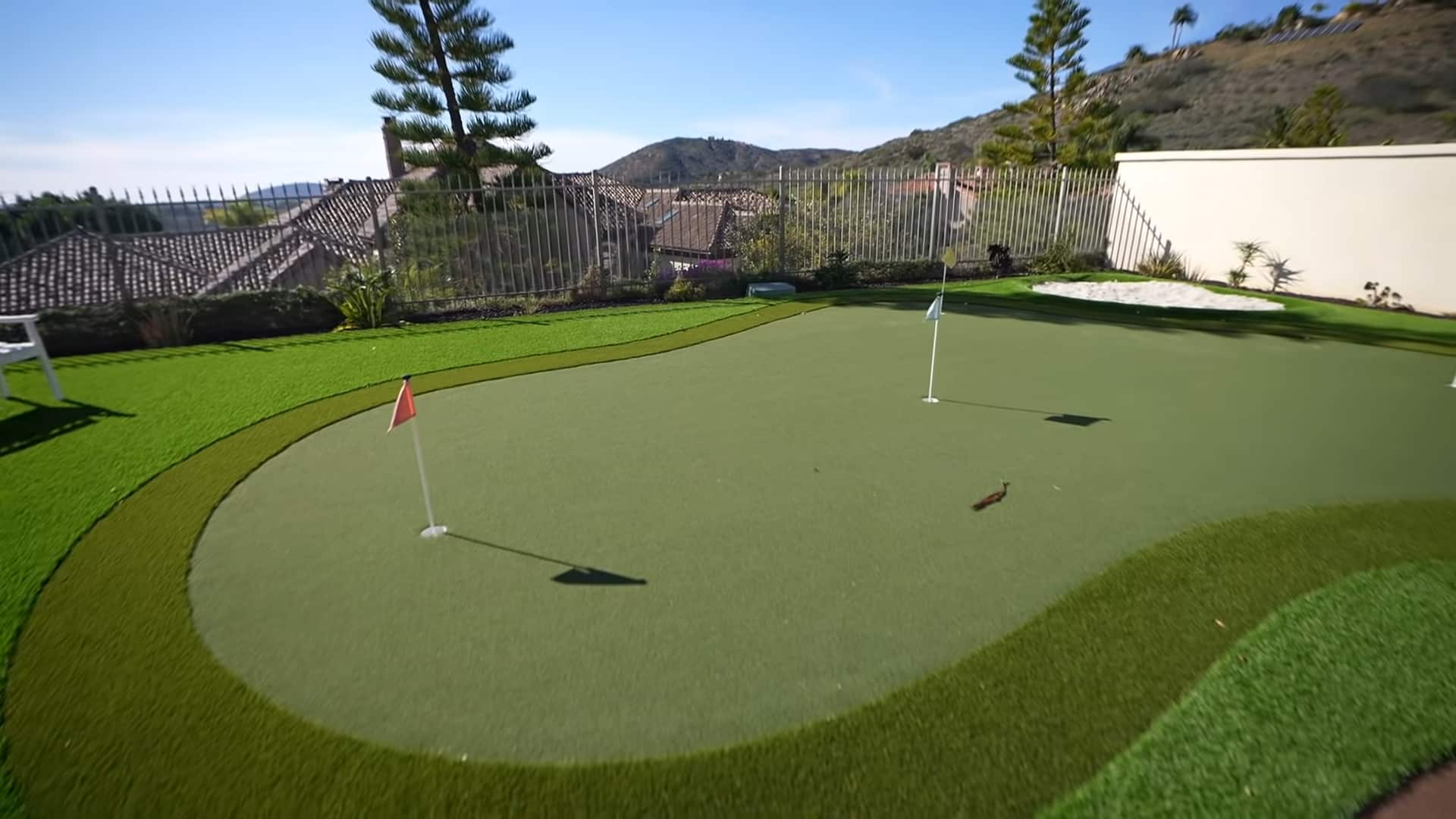 Faze Rug's golf course
Moving further is the barbeque area. The walls are painted in a light grey color, with white accents throughout the space. In the center, there is an island countertop with cabinetry underneath, as well as a sink and stove top. On one side of the island is a studio couch upholstered in white fabric, while on the other side there is a coffee table surrounded by two armchairs. Above this area hangs an ornate ceiling fan with a white cover to match its surroundings. To one side of the area there is also an open doorway leading out onto the patio area that has been furnished with outdoor furniture including chairs and tables, as well as a television set mounted on one wall.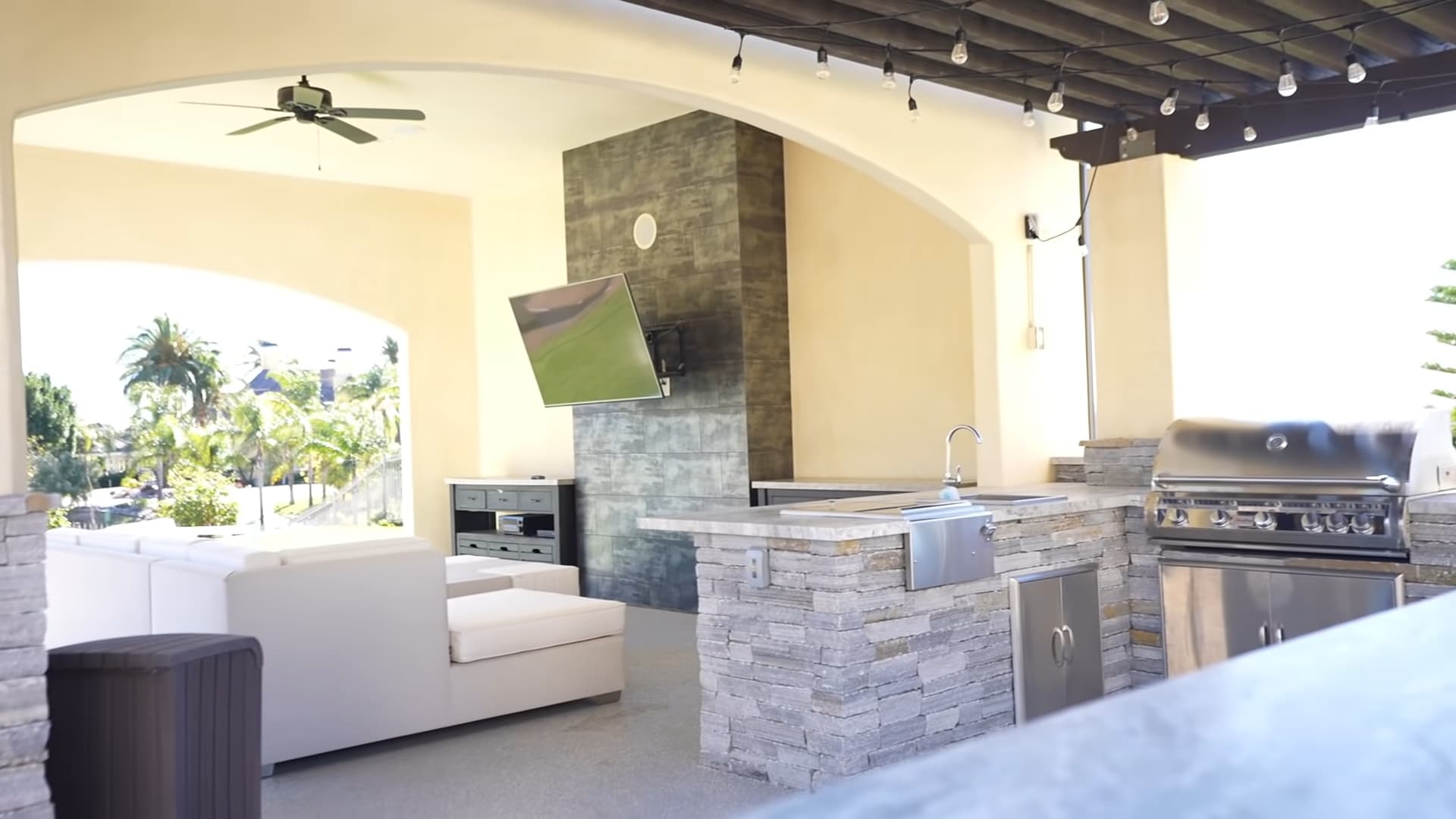 Faze Rug's barbeque area
The outdoor space, complete with a generous pool, patio, and outdoor lounge, is an embodiment of leisure and relaxation. Whether basking in the sun or hosting glamorous soirées, this outdoor oasis seamlessly extends the living space to the open air.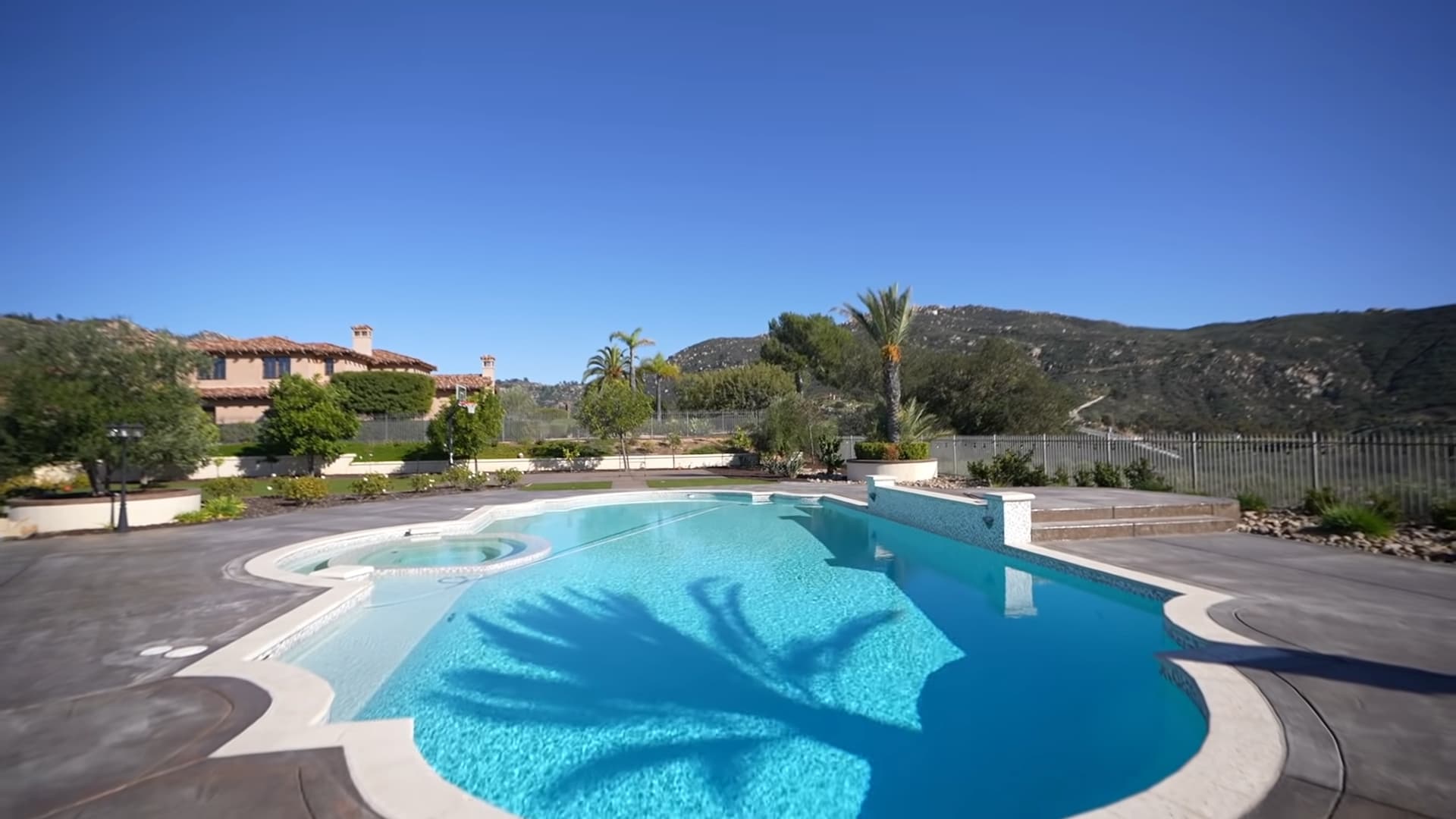 Faze Rug's pool
Faze Rug's Neighborhood
Faze Rug's choice of residence isn't just about the grandeur of his mansion; it's also about joining a community that resonates with his aspirations. While it's rumored that other celebrities might call this neighborhood home, their identities remain a well-guarded secret. With only a handful of houses in close proximity, the environment exudes a sense of tranquility and understated elegance, providing Faze Rug with the perfect haven to escape the hustle and bustle of the world.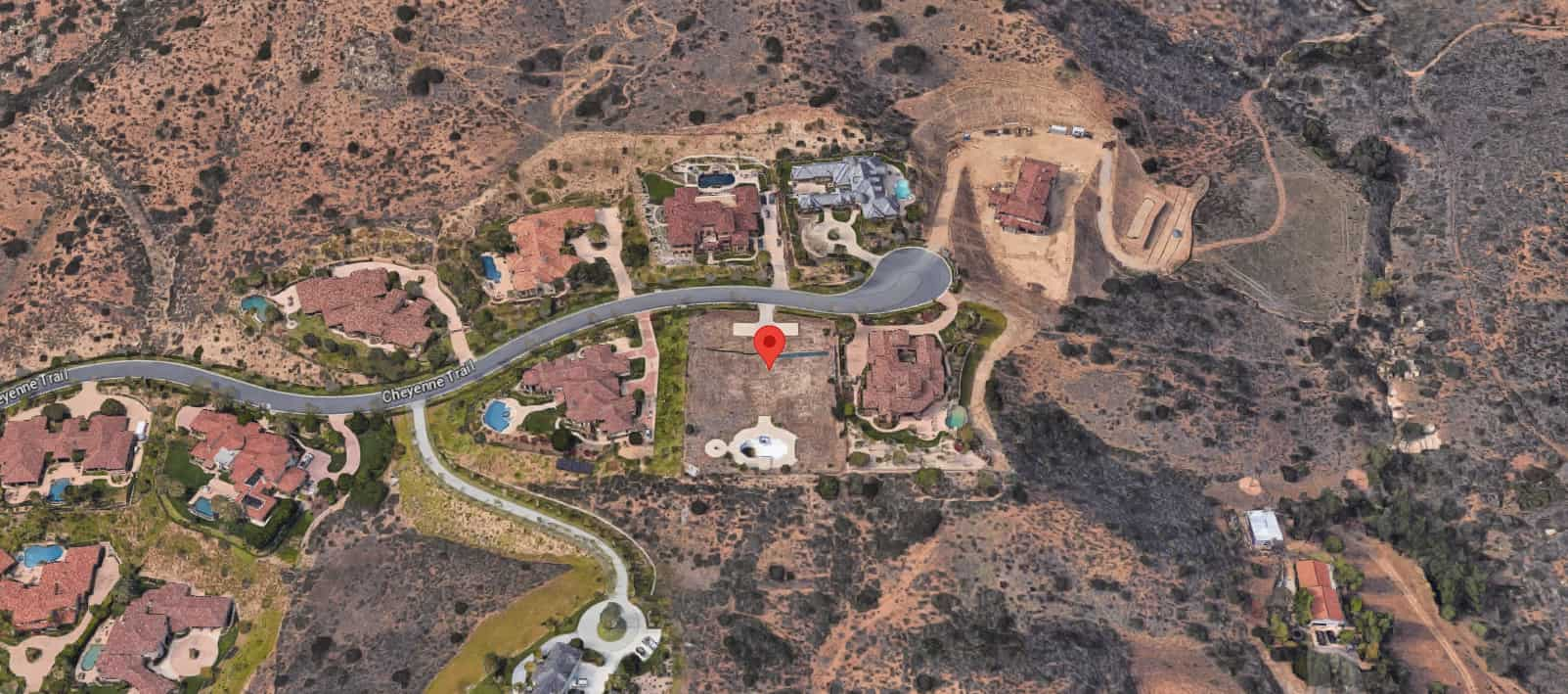 Faze Rug's neighborhood
Other Houses Owned by Faze Rug
While Faze Rug's newly acquired mansion takes center stage, it's worth noting that he's not a stranger to the real estate game. Reports suggest that he owned other properties that cater to his diverse tastes, like a house in Rancho Santa Fe that he sold in April 2021 for $4.5 million. The house has a custom faze basketball court, a movie theater, a nice pool, and a 4-car garage.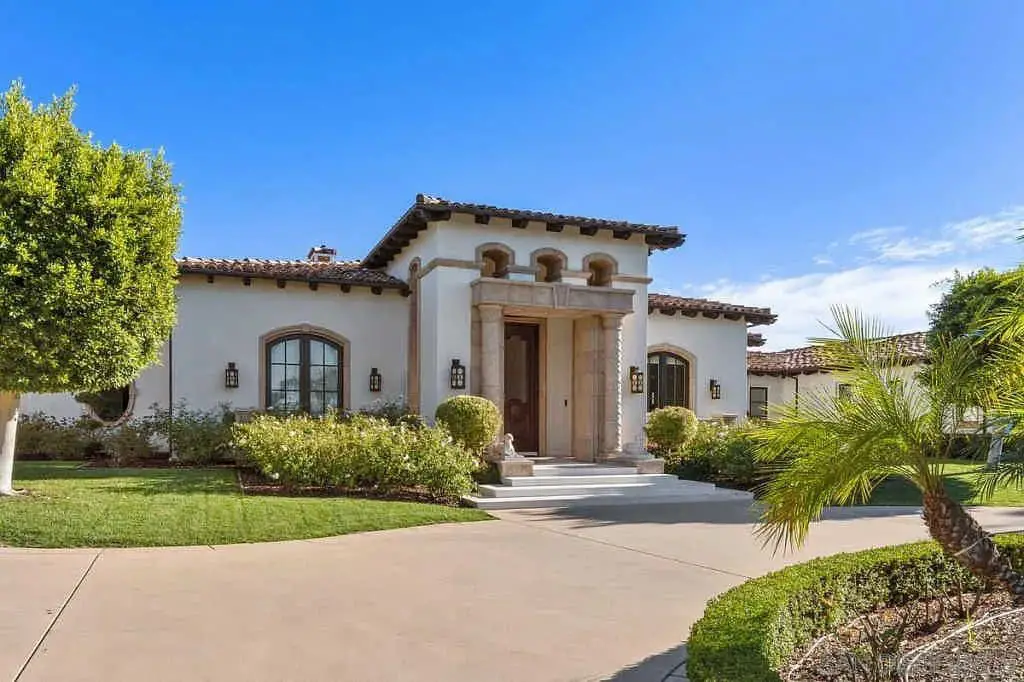 Faze Rug's former house