In the dazzling world of celebrities, one abode that has been turning heads and sparking conversations is none other than Blueface's house in Los Angeles. This young rapper has made waves not only with his music but also with his impressive lifestyle choices. From a meteoric rise in the music industry to a string of chart-topping hits, Blueface's net worth has soared, allowing him to indulge in a home that reflects his success and personality.
Blueface's house
Where Does Blueface Live Now?
Blueface lives at 22740 Dale Ct, Chatsworth, California. Comprising a thoughtfully designed layout with a blue and white camo print, this residence encompasses three bedrooms and an equal number of bathrooms, all thoughtfully distributed over a substantial expanse of 3,544 square feet.
Blueface's house
The origins of this modern ranch-style house trace back to its construction in 1979, a fact that adds a layer of historical charm to its contemporary aesthetics. Acquiring this gem in January 2020 for $1,220,000, Blueface embarked on a journey of revitalization, elevating it from its previous incarnation of a mere 1.5 bathrooms to a grand testament of sophistication.
Blueface's Contemporary House Interior
Step within, and the open floor plan welcomes you, allowing a seamless transition between various living spaces. The open floor is a large, white-walled room with an ornate gold statue of a man in the center. The walls are adorned with various pieces of art and there is a large window on one side. On the floor is a black tray holding a robot, which appears to be made from metal and plastic parts. There are also several moldings along the edges of the walls, ceiling and a basketball hoop as well as light fixtures throughout the room that add to its overall aesthetic appeal.
Blueface's open floor plan
An updated kitchen, complete with all the modern amenities, stands as a testament to the convergence of style and functionality. The room is filled with various appliances and furniture, including a gas stove and oven on the left side of the frame, as well as cupboards and countertops along the walls. A microwave oven sits atop one of the counters, while drawers are visible beneath it. On the right side of the image is an open refrigerator with shelves full of food items inside.
Blueface's kitchen
Also, attached to the kitchen is the dining room with white walls, a tiled floor, and various pieces of furniture. In the center of the room is a glass table surrounded by four clear plastic chairs with metal legs. The lighting in this room is bright and natural-looking, giving off an inviting atmosphere for anyone who enters it.
Blueface's dining room
The residence's three bedrooms and bathrooms are seamlessly integrated, ensuring comfort and privacy for its occupants. The bedroom is furnished with a bed frame, mattress, and bedding in the center of the room. On either side of the bed are two nightstands topped with lamps for extra lighting. A television sits on one of them, while a picture frame hangs on the wall above it.
Blueface's bedroom
The bathrooms themselves are modern marvels, marrying functionality with aesthetics in a seamless union. There is a modern bathroom with black and white tiled walls. In the center of the room is a large white bathtub, complete with a silver faucet and shower head. To the right of it is an oval-shaped sink with two metal taps, while to its left is a toilet bowl with its lid open. On either side of the tub are windows that look out onto trees outside.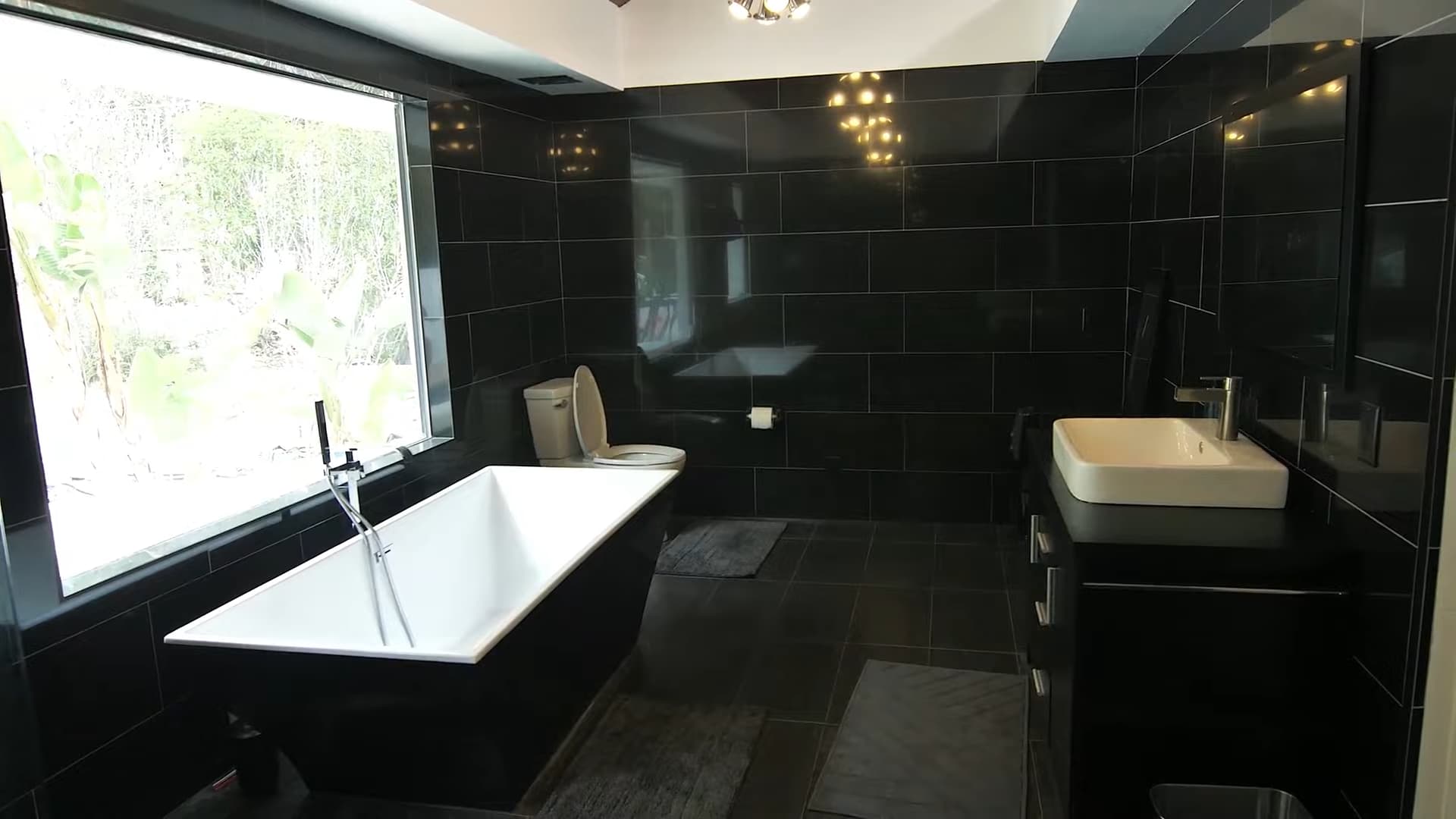 Blueface's bathroom
Above them hangs several lights on a black surface, adding to the bright atmosphere in this space. The flooring consists of small tiles in shades of grey and beige, which contrast nicely against the darker walls. This bathroom has all one needs for comfort and relaxation – from hot showers to long soaks in warm water!
Blueface's House Outdoor Area Has a Massive Pool
Venturing outdoors, the private pool area beckons, an oasis of relaxation and leisure. The connection between the indoor and outdoor spaces is a testament to Blueface's desire to create an environment that blurs the lines between the two, allowing residents to bask in the Californian sun while still being enveloped in the comforts of home.
Blueface's outdoor area
A focal point of this residence is undoubtedly the private pool, ensconced within a meticulously curated outdoor space. An adjoining spa area serves as a personal oasis, inviting relaxation and leisure in equal measure. Beyond this aquatic haven, a spacious concrete porch unfolds, offering a space for outdoor gatherings, contemplative moments, and a seamless connection to the outdoors.
Blueface's pool
Blueface's Neighborhood
Blueface's house is not only a magnificent abode but also a part of an exclusive Chatsworth, home to the Devonshire family, neighborhood that plays host to several other A-list celebrities, like Kevin Federline, Tisha Campbell, Brian McKnight, etc. This neighborhood is a melting pot of success stories, with each resident contributing their own unique chapter to the story of Los Angeles.
Blueface's neighborhood
Other Houses Owned by Blueface
While Blueface's main residence takes the spotlight, the rapper's success has paved the way for additional properties that underline his achievements. At the age of 22, he made an astute investment by acquiring a house in the picturesque city of Santa Clarita, California. This secondary property not only showcases his flair for real estate but also highlights his foresight and financial acumen.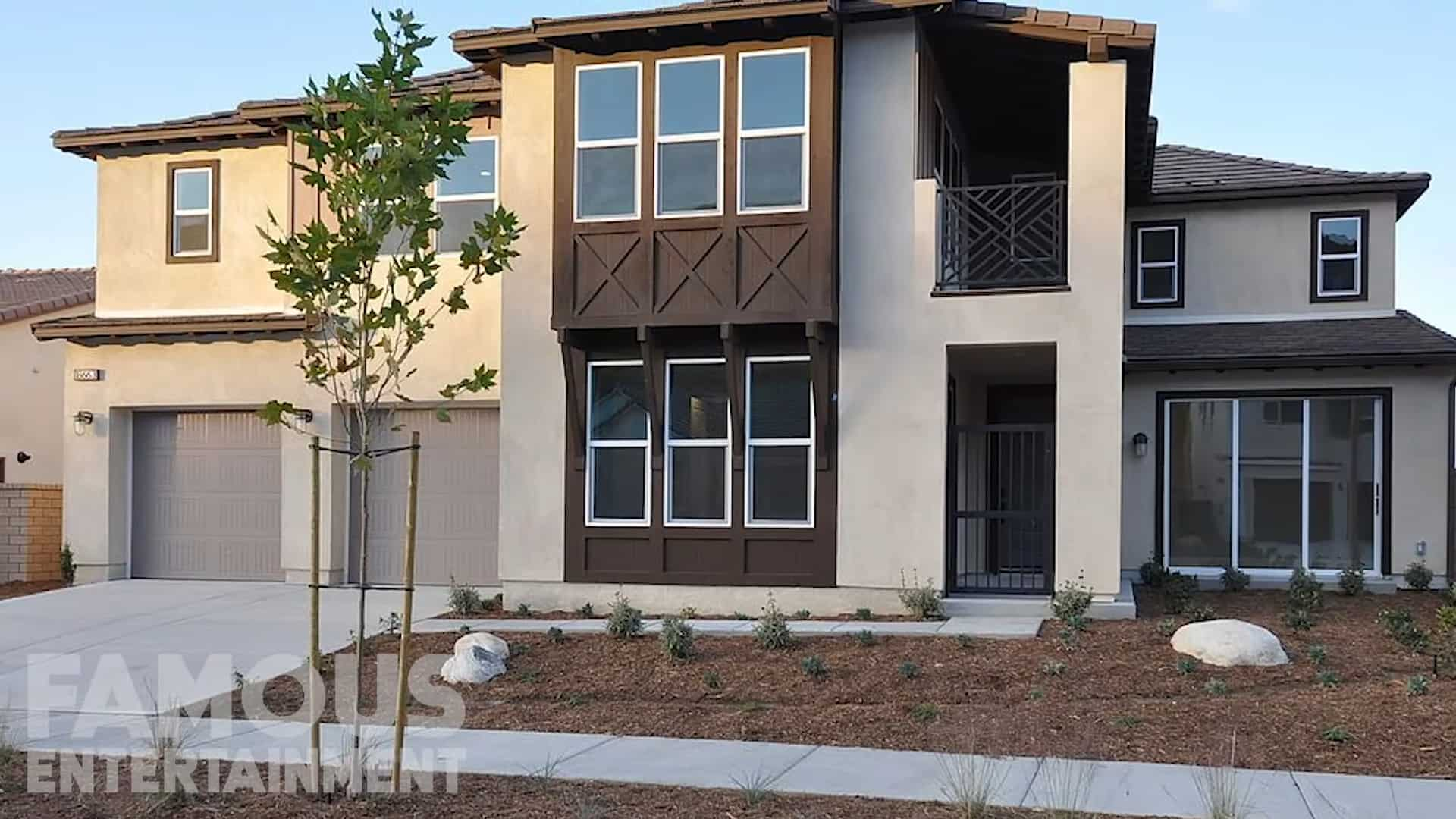 Blueface's other house