Brendan Schaub is an American former professional mixed martial artist, comedian, podcast host, and actor. He has a net worth of $6 million.
Brendan Schaub's house (Source: LuxuryRehab)
His successful career has allowed him to live in a beautiful home located in the West Hollywood area of Los Angeles. The house boasts of five bedrooms and three bathrooms over 3,000 square feet of space, making it an ideal choice for a young family.
Where Does Brendan Schaub Live Now?
While Brendan Schaub's new house is located in the city of Los Angeles, California, the exact address has not been made public. Despite the lack of an exact address, it's clear that Brendan Schaub has chosen a luxurious and impressive property for his new house.
Brendan Schaub's home (Source: LuxuryRehab)
The house's location in Los Angeles puts it in the heart of the entertainment industry, making it the perfect place for Brendan Schaub to call home as he continues to build his career and pursue his passions.
The Art of Designing Brendan Schaub's West Hollywood Home
The house is a modern-style mansion that features five bedrooms and three bathrooms. The house underwent renovations in 2017, and Brendan added his personal touch by changing the facade. He painted the windows a darker color, giving the home a more modern feel.
Brendan Schaub's living room (Source: Realtor)
The interior of the house has high vaulted ceilings, top-notch finishes, and beautiful flooring, making it a stunning place to live. The charm and warmth of the house make it the perfect home for a family.
The home's living spaces include a two-story living room, formal dining room, office, and indoor-outdoor family room. The center-island kitchen is a perfect place for meal preparation, offering white cabinetry, Caesarstone countertops, and a tile backsplash.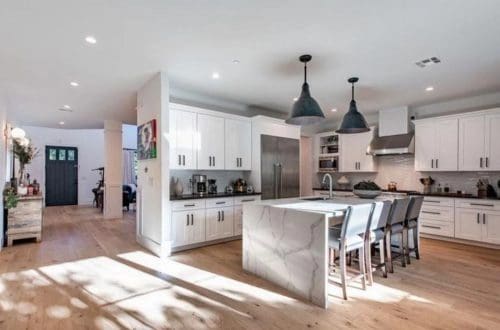 Brendan Schaub's kitchen (Source: Realtor)
The master suite is a stunning room with slightly vaulted ceilings that provide an airy and relaxing atmosphere. The suite also features a bathroom with a freestanding tub, perfect for soaking after a long day.
Brendan Schaub's Backyard Retreat
In total, the house has five bedrooms and 3.5 bathrooms, providing ample space for a large family or guests. Outside, the front yard boasts several palm trees, while the backyard has a patio that connects to a lawn bordered by privacy hedges.
One of Brendan Schaub's bedrooms (Source: LuxuryRehab)
Exploring the Neighborhood of Brendan Schaub's West Hollywood Home
West Hollywood is a great place for up and coming celebrities. Its proximity to downtown LA and fun destinations like Venice Beach and Culver City make it an ideal location for young families. The area offers room to grow and is perfect for those who want to pursue their dreams in the entertainment industry.
Brendan Schaub's house (Source: Pinterest)
Beyond West Hollywood: A Look at Brendan Schaub's Other Properties
While Brendan Schaub's West Hollywood home is a beautiful and luxurious property, it is not reported if he owns any other properties. Brendan's net worth of $3 million suggests that he could potentially own other properties, but without any confirmation, we can only focus on his stunning West Hollywood residence.