Corinna Kopf, the popular YouTuber and social media sensation, has been making headlines not only for her content but also for her stunning Los Angeles residence. In this article, we'll take you on a virtual tour of Corinna Kopf's house, revealing intriguing details about the property, its opulent interiors, and the luxurious lifestyle of the young influencer. From the purchase story to the neighborhood's charm, we've got it all covered.
Inside Corinna Kopf's house
Corinna Kopf's House Purchase Story
On a fateful day in February 2020, Corinna Kopf, the digital sensation renowned for her captivating YouTube content, opened the virtual doors of her abode to her devoted legion of followers. This sneak peek into her world was a momentous occasion, as it unveiled the place she called home, nestled in the heart of the sprawling city of Los Angeles.
Corinna Kopf's rise to fame is nothing short of remarkable. With a net worth in the millions, she has cemented her status as a top-tier content creator. Her engaging YouTube videos, captivating vlogs, and vibrant personality have garnered her a massive following. Apart from her online presence, Corinna is known for her love of fashion, gaming, and her recent venture into music. Now, let's delve into the fascinating interiors of her Los Angeles haven.
Details of Corinna Kopf's House
One of the most striking features of her home was the balcony, affording a panoramic view of the San Fernando Valley, affectionately known as "The Valley" among locals. This prime location indicated her central perch within the city, allowing her to soak in the sights and sounds of LA. Additionally, her backyard boasted fruit trees, providing a delightful touch of nature amidst the urban jungle.
Corinna Kopf's balcony
In the kitchen, Kopf revealed an interesting detail about her living situation—the landlord was an interior designer. This revelation clarified the home's modern and tasteful aesthetic, which seamlessly blended elegance with functionality. Her impeccable taste was on display as she guided viewers through an enchanting journey within the confines of her home.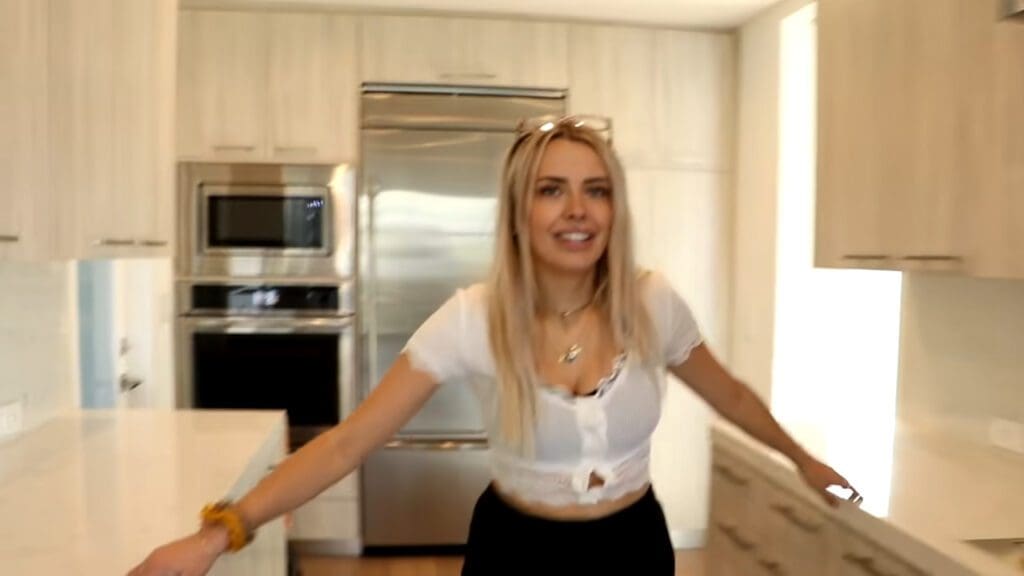 Corinna Kopf's kitchen
The tour continued with a visit to the upstairs guest bedroom and bathroom, each exuding a unique charm of their own. But the pièce de résistance was undoubtedly her master bedroom, which overlooked a serene treeline. Kopf affectionately referred to it as her "tree house," and its tranquil ambiance was evident in every frame.
Her bedroom, a personal sanctuary, boasted hardwood flooring, immaculate white walls, and a luxurious master bed as its centerpiece. A black wooden nightstand added a dash of contrast, while a pristine white rug and a sophisticated grey armchair completed the ensemble.
Corinna Kopf's bedroom
The bathroom exuded a spa-like ambiance, featuring a generously sized bathtub as its focal point and walls adorned with hardwood tiles. This intimate space undoubtedly served as a tranquil retreat within her abode.
Corinna Kopf's bathroom
Space was certainly not an issue in this splendid abode. Kopf showcased a dedicated streaming room for gaming enthusiasts—a testament to the vast expanse of her living quarters. It was abundantly clear that this was a place designed for both leisure and work, a perfect sanctuary for a multifaceted digital influencer.
Corinna Kopf's streaming room
A glimpse into the living room revealed an inviting space characterized by laminate flooring, pristine white walls, and tastefully selected grey-brown furniture. A sleek black coffee table stood at its center, while a sumptuous white fur rug added a touch of luxury. The room was bathed in natural light streaming through expansive floor-to-ceiling windows, creating a warm and welcoming atmosphere.
Corinna Kopf's living room