The home's design speaks a lot about social and cultural trends. It also shows the owner's unique touch and personality. In this post, we'll look into the details, history, and beauty of Georgian homes.
History of Georgian Home Design
The term "Georgian" is derived from George, the common name of the monarchs who governed England from 1714 to 1830. During this time, English master architects Christopher Wren, Inigo Jones, and James Gibbs were fascinated by the symmetry and beauty of Renaissance architecture and wanted to create a British version of it. Their style was later known as the Georgian style.
Georgian homes are well-loved for their wonderful symmetry, windows with multiple panes, decorative quoins, and other Renaissance-inspired features. This style also became so popular that it later appeared in America. Many old Georgian homes also appeared in several period films Copying Beethoven (2006), Chopin: Desire for Love (2002), and Beloved Sisters (2014). Even today, many homeowners prefer to follow the pattern books of the Georgian style, albeit adding in some modern features.
Distinctive Georgian Style House Features
If you've considered building your dream home based on the design elements of the Georgian style, here are the distinctive exterior, interior, and garden elements you should consider. Design your home with these in mind to bring out the authentic beauty of a Georgian home.
Georgian homes are known for their luxurious and rich interiors. You'll never see a Georgian house without a sweeping staircase and large foyer. Yes, a grand entrance is a distinctive feature of this home style. It usually features delicate architectural accents such as gold-framed vintage mirrors and chandeliers. There's usually an abundance of rooms, walls with patterned wallpaper, indoor shutters, patterned marble floors, indoor shutters, and more than one fireplace.
When it comes to the color scheme, most Georgian house architecture could be paired with any palette. But if you want to develop an interior space that looks spacious and airy, opt for deeper dusky shades. Place the mirrors near the doors and windows so that they can reflect more natural light. Then, wrap up the design with floral and dainty accents.
If the Georgian home interior speaks of luxury and elegance, its exterior boasts of symmetry, simplicity, and elegance. The front door is usually right in the middle. If the right side of the front door has 4 windows, the other side also has 4 windows. And if the house is a square, then that grid pattern is probably followed around the house. Regardless of how many chimneys a house has, all of them probably have a similar symmetrical design. It's also common for Georgian abodes to have decorative quoins.
Columns are also common features as these make the house appear more stately. Plus, these elements add a little more grandeur, especially at the home's entrance. The doors typically boast ornate stonework. Then, from the outside, you can see the beautiful paneled window design of the rooms just above or near the front door.
A  Georgian garden and outdoor area could make a perfect hangout place for the family. As you've probably noticed in period films featuring Georgian homes, this area of the property is an attraction in itself. Here are some tips to consider to creating your own Georgian garden:
Opt for an informal garden layout – Consider having curved or serpentine pathways and simple flower bed ideas. Innovative, natural landscapes, such as curves and contours, are the best options.
Have some water features –  A garden pond, pool, fountain, serpentine lakes with a clump of trees or an island in the middle are all perfect choices to add a layer of atmosphere to the outdoor area.
Plant seasonal shrubs – Keep your garden flourishing even during the winter with the right choice of plants. Have some American flowering shrubs and conifers for fall or spring colors. Plant Evergreen shrubs such as dwarf camellia, Euonymus, and daphne pink for the winter.
Plant ornamentals alongside productive plants.
Have some modest eye-catcher features – A bird table and a small seating area to frame the landscape and draw the eye to a specific focal point are great ones to have. Avoid fences, walls, and other features that block the view of the landscape. Keep your architectural garden pieces minimal.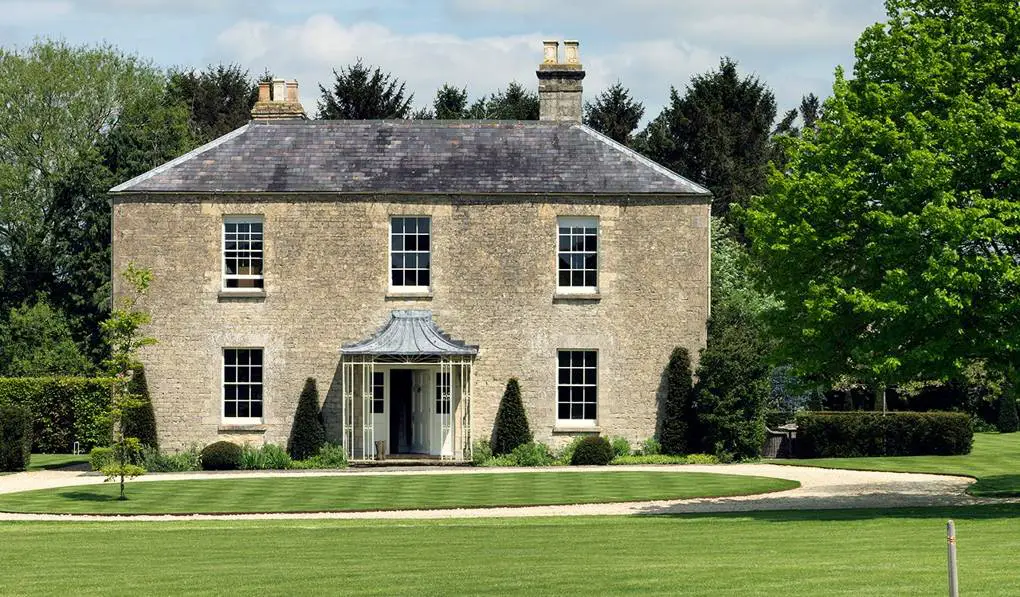 Georgian home design might be an old style. But it's certainly possible to make your dream modern Georgian house a reality. Just make sure to consider these distinctive features in mind when designing your home. It's worth it! Ultimately, you'll have a home that's breathtaking inside and out.