Eli Manning, a former professional football player and two-time Super Bowl champion, has made a name for himself both on and off the field.
Eli Manning's house in Oxford (Source: Realtor)
Known for his successful career with the New York Giants, Manning has become a prominent figure in the sports world. In recent years, Eli Manning purchased a stunning house in Oxford, Mississippi, where he has decided to settle down and enjoy his retirement.
Where Does Eli Manning Live Now?
Eli Manning lives at 426 Turnberry Ct, Oxford. This magnificent property, built in 2009, is a true southern masterpiece, offering a haven for those seeking the good life in a tranquil setting. With five bedrooms and five-and-a-half bathrooms spread over an expansive 7,000 square feet, this home offers ample space for comfortable living.
Eli Manning's House Interior
Step inside this extraordinary estate, and you'll be greeted by a world of refined luxury. The interior design showcases a seamless blend of classic Southern charm and modern sophistication.
The inside of Eli Manning's house (Source: Realtor)
High ceilings create an airy and spacious atmosphere, while the carefully selected materials and finishes exude timeless elegance.
Eli Manning's house (Source: Realtor)
The main living spaces offer a harmonious flow, with an abundance of natural light streaming through large windows, creating a warm and inviting ambiance.
Eli Manning's living room (Source: Realtor)
Multiple fireplaces add a cozy touch, providing the perfect setting for intimate gatherings or quiet evenings spent curled up with a book.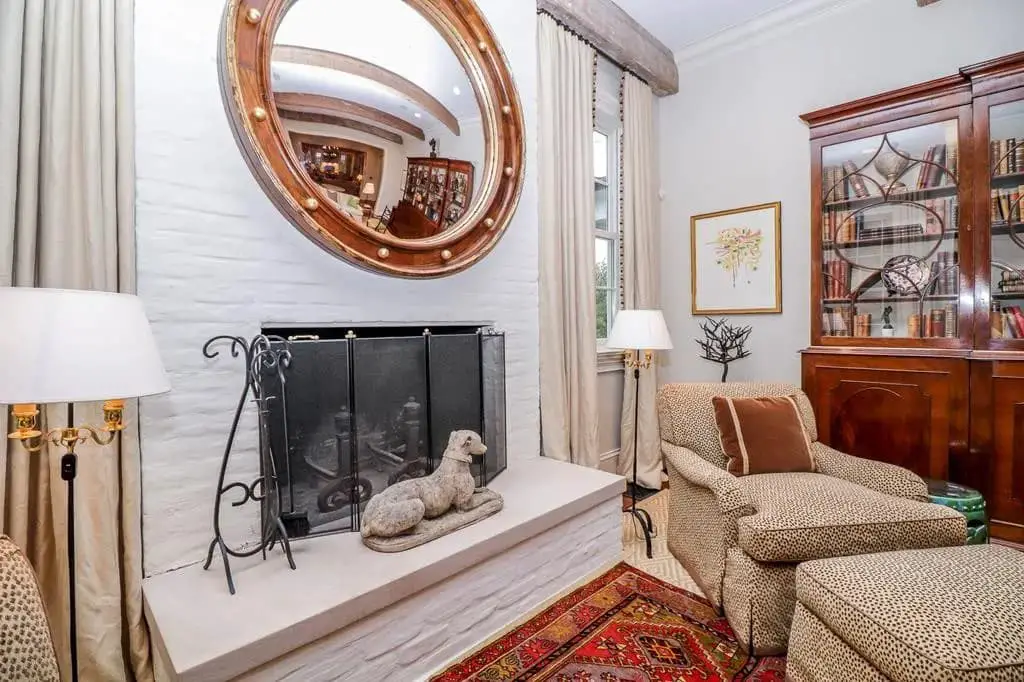 Eli Manning's fireplace (Source: Realtor)
The kitchen is a culinary enthusiast's dream, featuring top-of-the-line appliances, ample counter space, and custom cabinetry. It is a space where culinary creations can come to life, with every detail thoughtfully considered.
Eli Manning's kitchen (Source: Realtor)
Whether you're hosting a lavish dinner party or simply preparing a meal for your loved ones, this well-appointed kitchen is sure to inspire your inner chef.
Eli Manning's kitchen (Source: Realtor)
The bedrooms in this estate are elegant and tranquil, offering a serene retreat from the outside world. Each room is meticulously designed, featuring luxurious fabrics, plush carpets, and tasteful furnishings.
Eli Manning's bedroom (Source: Realtor)
The en-suite bathrooms are havens of relaxation, boasting high-end fixtures, beautiful tilework, and spa-like amenities.
Eli Manning's bathroom (Source: Redfin)
Every aspect of the interior design has been carefully curated to create a harmonious and inviting atmosphere throughout.
Eli Manning's interior design (Source: Realtor)
One of the standout features of this estate is the spacious wine cellar. The cellar adds an element of luxury and refinement to the property, catering to those with a discerning palate and a love for fine wines.
Eli Manning's wine cellar (Source: Realtor)
Step Into Eli Manning's Outdoor Area
The allure of this property extends beyond its interior. Step outside onto the wraparound front porch, and you'll be greeted by a picturesque view of the surrounding landscape.
Eli Manning's outdoor area (Source: Realtor)
This inviting space is the perfect spot to enjoy a morning cup of coffee or gather with friends for an afternoon conversation. The back of the property offers a screened-in patio, where you can bask in the gentle breeze and take in the views of the stunning pool.
The back of Eli Manning's house (Source: Realtor)
Whether you're seeking a refreshing swim on a warm summer day or simply want to relax poolside with a cool drink in hand, this outdoor oasis provides the perfect setting for leisure and entertainment.
Eli Manning's pool (Source: Realtor)
Surrounded by lush greenery and manicured landscaping, the expansive grounds create a sense of privacy and tranquility.
Eli Manning's outdoor area (Source: Realtor)
The 1.7-acre lot provides ample space for outdoor activities, offering endless possibilities for recreation and enjoyment.
Eli Manning's outdoor area (Source: Realtor)
The guesthouse and pool house are additional highlights of this exceptional property.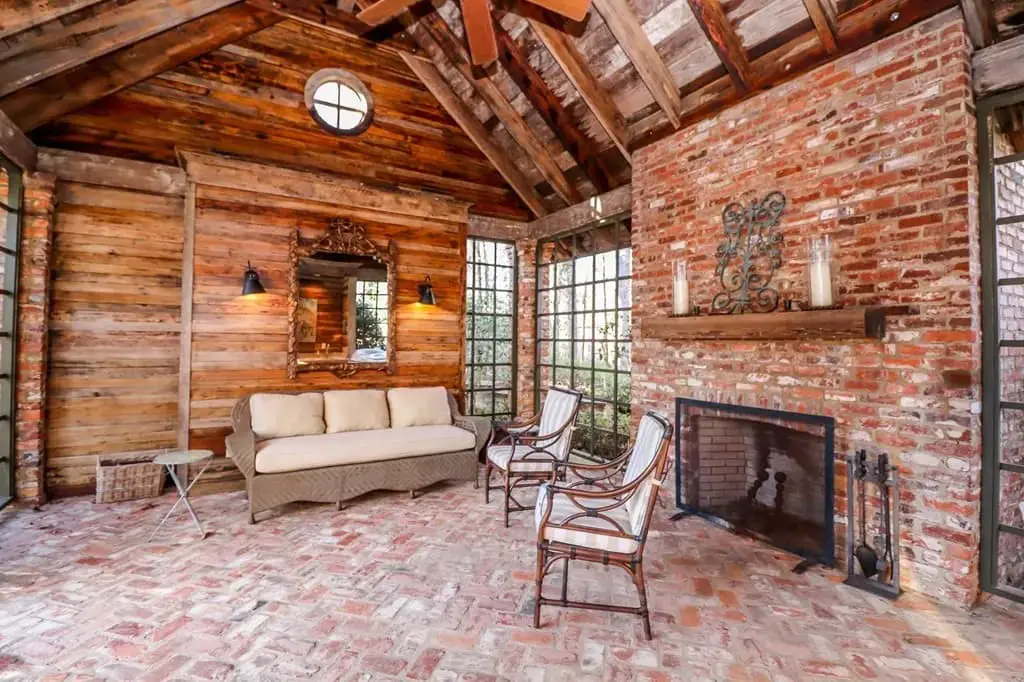 Eli Manning's guesthouse (Source: Realtor)
The guesthouse offers a private and comfortable retreat for visitors, while the pool house provides convenience with its half bath, allowing for seamless outdoor entertaining without the need to enter the main residence.
The Neighborhood Surrounding Eli Manning
The neighborhood surrounding Eli Manning's residence in Oxford is known for its exclusivity and tranquility. Many other prominent figures, including celebrities and affluent individuals, have chosen this area as their home.
Eli Manning's house (Source: Realtor)
While specific names may not be readily available, it is not uncommon for high-profile individuals to gravitate toward this sought-after neighborhood, appreciating the privacy and luxurious amenities it offers.
Other Houses Owned by Eli Manning
In addition to his primary residence in Oxford, Eli Manning, is known to own several other properties across different locations. Here are a few notable properties owned by Manning:
New Orleans: Manning's hometown holds a special place in his heart, and it's no surprise that he owns a house in New Orleans. This property allows him to stay connected to his roots and enjoy the vibrant culture and unique charm of the city.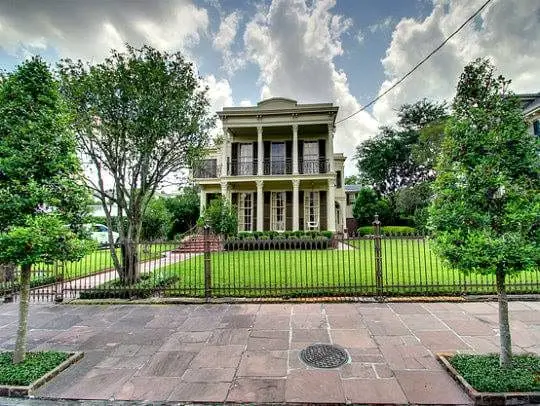 Eli Manning's house in New Orleans (Source: Facebook)
Summit, New Jersey: Manning's ties to the Garden State extend beyond his time playing for the New York Giants. Summit, a picturesque suburban town, is home to one of Manning's residences. This two-story residence has 6 bedrooms and 9 bathrooms.
Eli Manning's house in Summit (Source: nj)
The Hamptons, New York: Known for its luxurious beachfront properties and upscale lifestyle, the Hamptons have attracted numerous celebrities, including Eli Manning. It is said that Manning owns a house in this exclusive enclave, allowing him to experience the epitome of coastal living.
Eli Manning's house in The Hamptons (Source: mansionglobal)
Hoboken, New Jersey: Situated on the scenic Hudson River waterfront, Hoboken offers a vibrant urban lifestyle with stunning views of the Manhattan skyline. Manning is rumored to have a property in this lively city, which provides easy access to the bustling New York City scene.
Eli Manning's house in Hoboken (Source: jerseydigs)