Joe Rogan, the esteemed American comedian, podcast host, and mixed martial arts color commentator, purchased a stunningly opulent house in Austin, Texas. The property spans an impressive 10,000 square feet and is reported to have cost him around $14.4 million.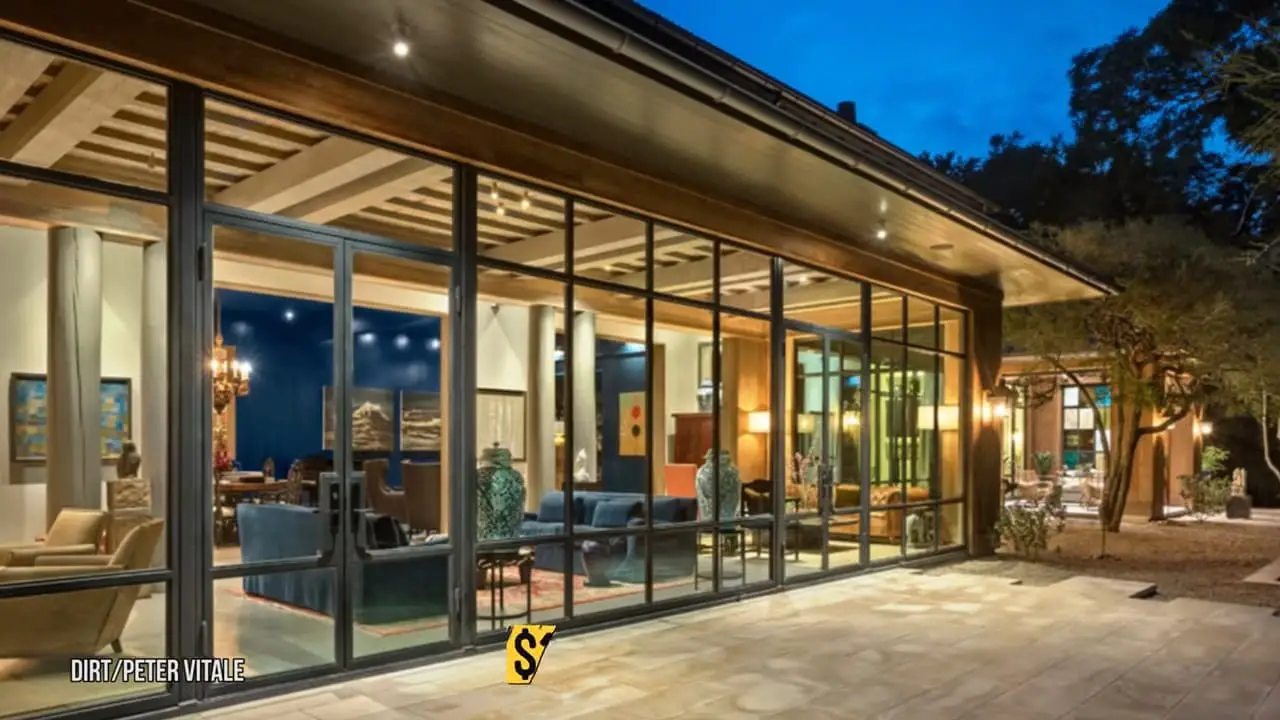 Joe Rogan's Austin House (Source: YouTube)
The luxurious mansion features an array of amenities, including a state-of-the-art gym and a capacious outdoor pool. With an estimated net worth of approximately $150 million, Joe Rogan has made a name for himself with his wildly successful podcast, "The Joe Rogan Experience," which has been captivating audiences since 2009.
Where Does Joe Rogan Live Now?
Joe Rogan lives at 2918 Oestrick Ln, Austin, TX. Joe's house is located in the exclusive neighborhood of Austin, Texas. The property sits on a four-acre lot, with a long driveway leading up to the main entrance, which is tucked away behind a cloak of trees.
This provides ample privacy from any prying eyes. The house itself has a total living space of 10,890 square feet, which is spread out over two levels. The house boasts eight bedrooms, ten bathrooms, two living rooms with scenic views of nature, and a dining room that can easily fit eight people.
Joe Rogan's Interior Design: A Look Inside the Comedian's Stylish Austin House
The house was transformed into an Asian-inspired modern mansion by Benjamin Wood, who also owned the home. The walls and ceiling are coated in a deep, designer blue, and the entry, which was once beige plaster walls, has been covered with shiplap.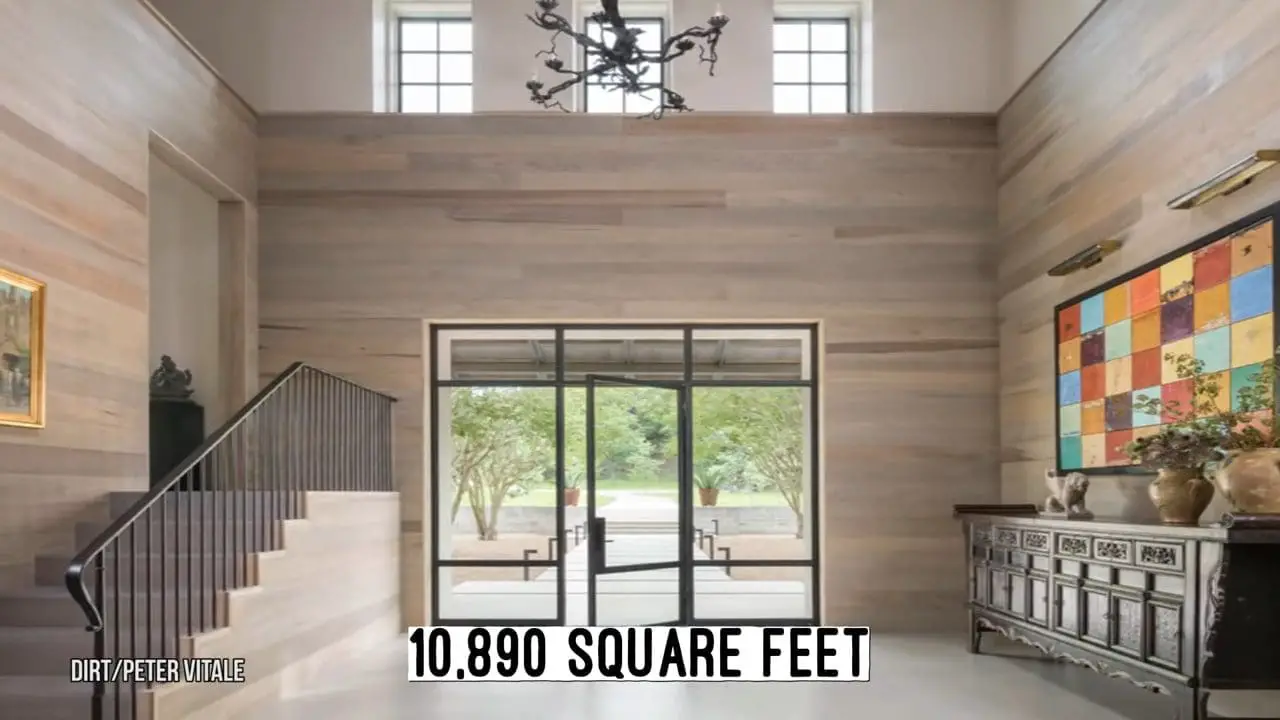 Joe Rogan's hallway (Source: YouTube)
The interior has been redesigned for an open floorplan, with the dining table, living rooms, and library all sharing one space. The bar, made of sturdy-looking wood, has been installed into the floor on an elevated platform, and the kitchen is a wonderful place to prepare elk meat.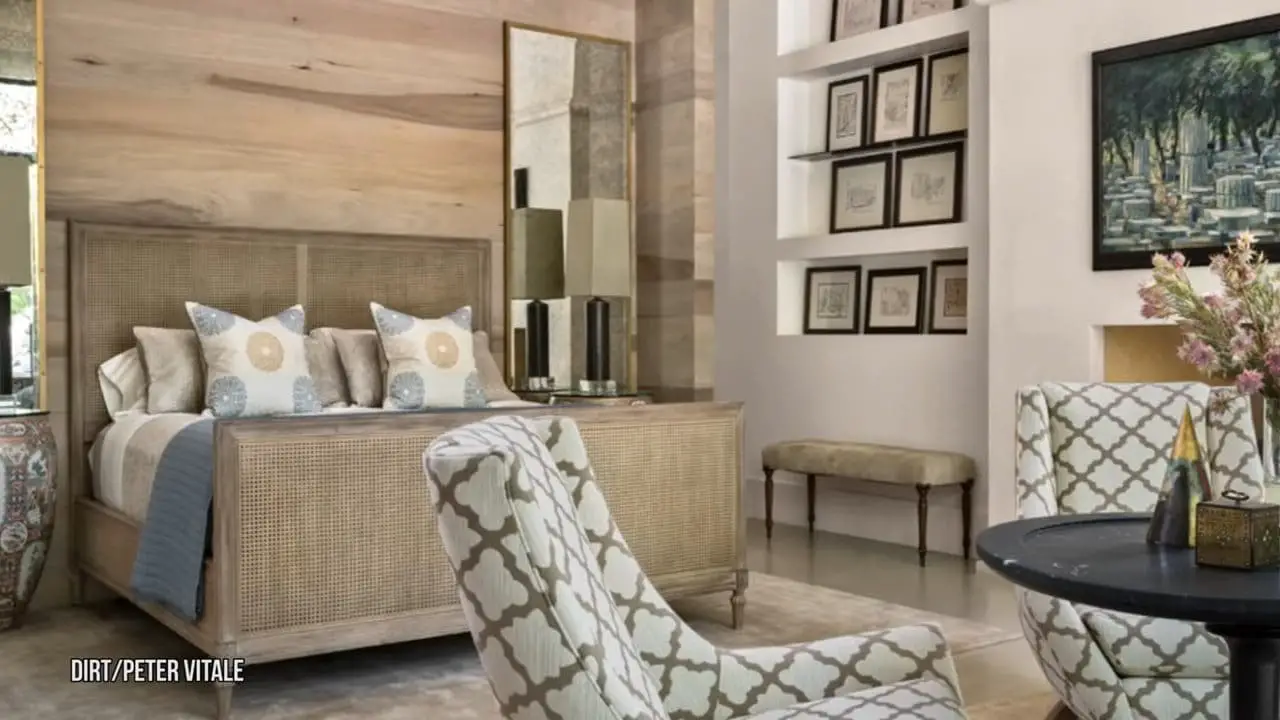 Joe Rogan's bedroom (Source: YouTube)
It features two kitchen islands with pull-up seating, rustic farmhouse-style light fixtures, and recessed lighting. The dining room is decorated with a large farmhouse-style table that has two wide rectangles for legs and a set of eye-catching dining chairs.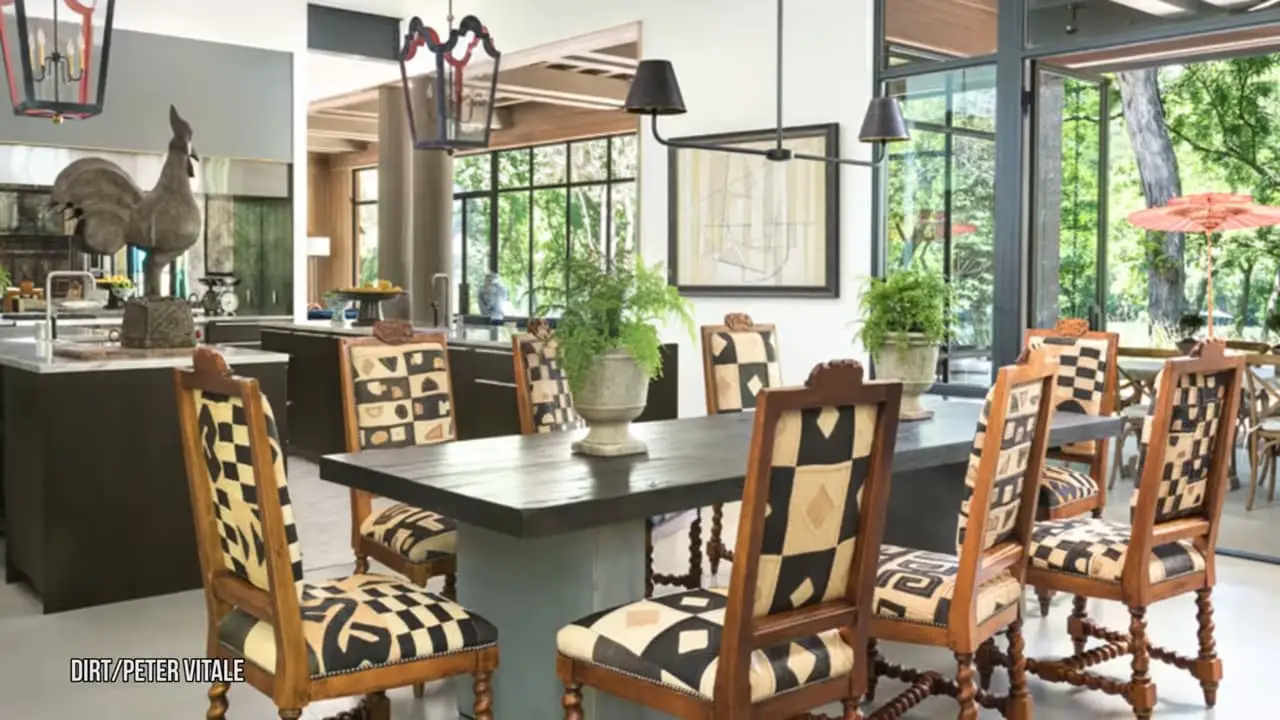 Joe Rogan's dining room (Source: YouTube)
The entire living room area in the rear of the house doubles as a sunroom with plenty of places to sit and talk. Rogan has relocated his podcast room to this house, which was custom-built in April 2020. The official JRE Studios podcast room's location is unknown, and Rogan's gym has many features, including kettle bells shaped like monkey heads.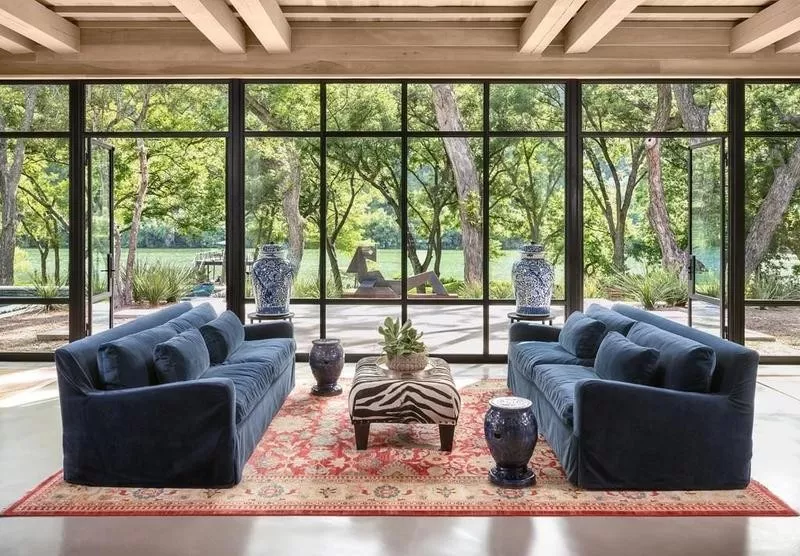 Joe Rogan's living room (Source: YouTube)
Exploring Joe Rogan's Stunning Outdoor Amenities: From Party Dock to Lake Views
The back of the home has been remodeled with floor-to-ceiling walls of glass in mid-century modern style, affording beautiful views of the lake. Outside, there is plenty of space for Joe Rogan's dog Marshall to enjoy.
There is even a large water trough for the pup to cool off in as he explores the grounds. The property also features a party dock, which is perfect for entertaining guests or simply enjoying a day out on the lake.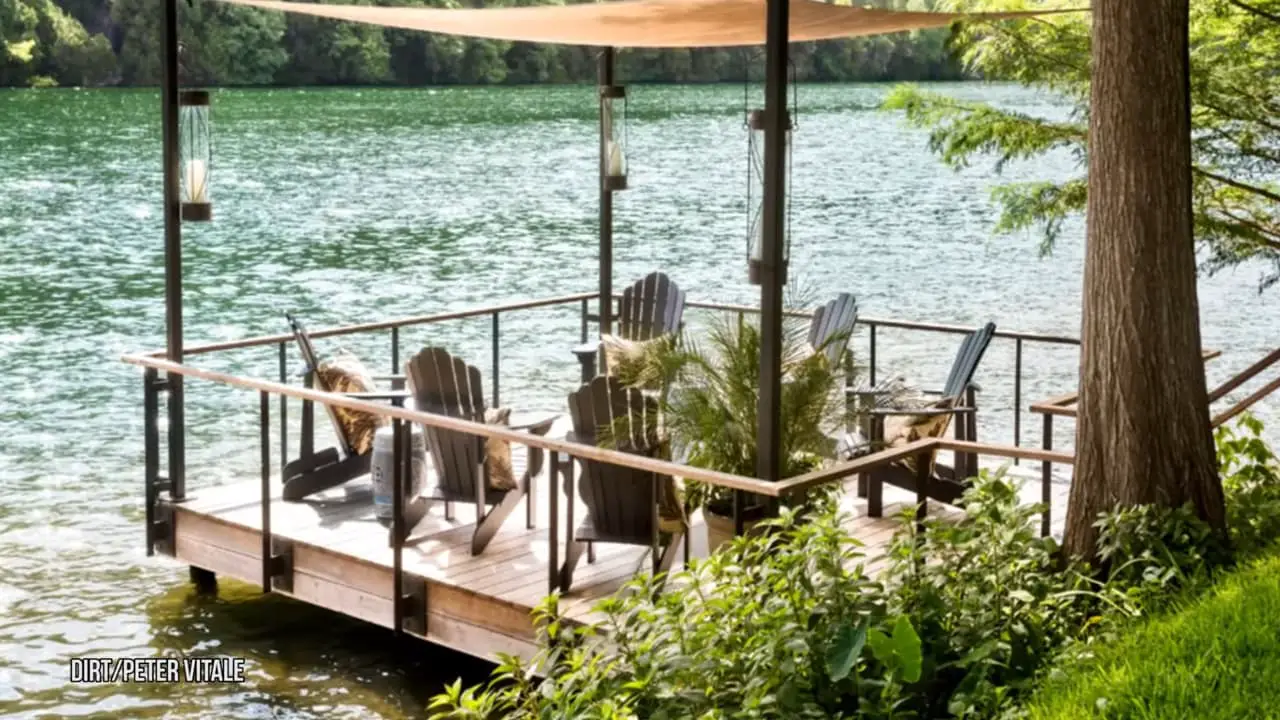 Joe Rogan's party dock (Source: YouTube)
In addition to the party dock, the property also features two boat slips, which are great for relaxing or doing a bit of fishing. The dock and boat slips are made of high-quality materials and are designed to last for years to come.
Joe Rogan's entryway (Source: YouTube)
The property also boasts a large above-ground saltwater swimming pool, which is perfect for staying cool during the hot Texas summers. The pool area is surrounded by a spacious deck, which is ideal for sunbathing or lounging in the shade. The house has two attached garages and a carriage house that is big enough for an RV or a boat.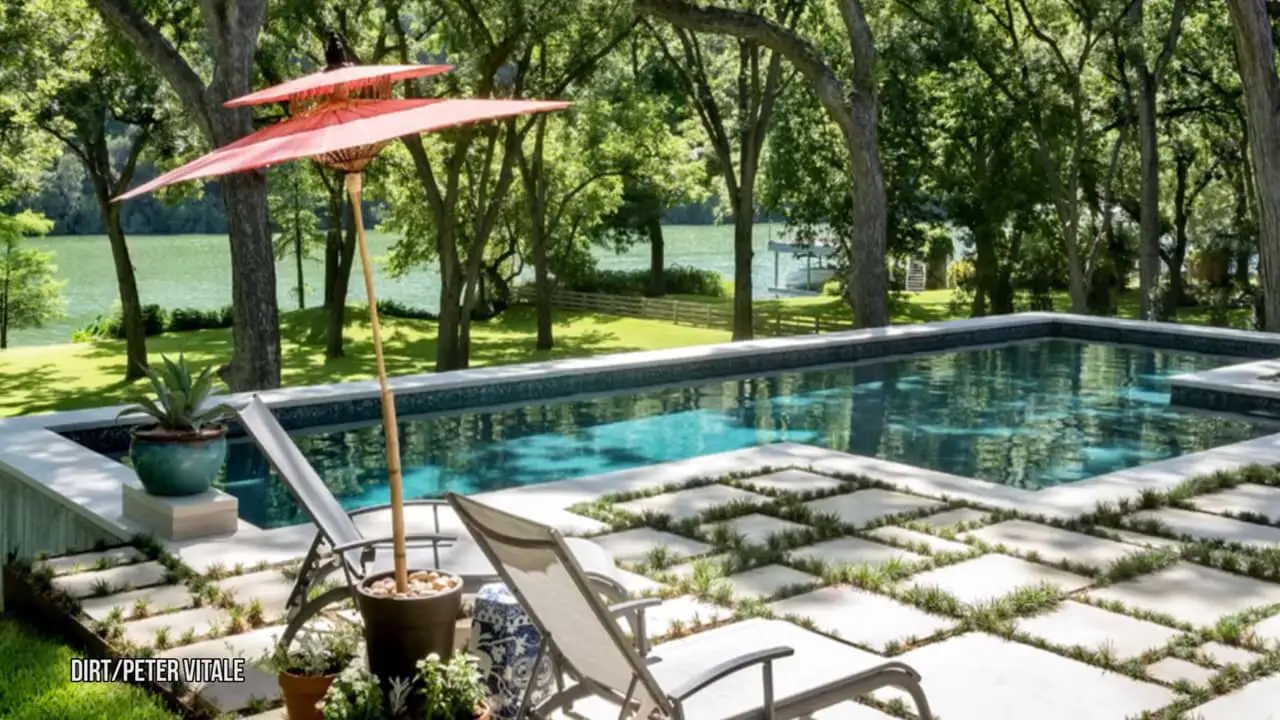 Joe Rogan's pool (Source: YouTube)
Joe Rogan's Neighborhood
Joe Rogan's house is located in a neighborhood that is home to several other celebrities, including Matthew McConaughey and Sandra Bullock. The neighborhood is known for its luxurious homes and beautiful scenery.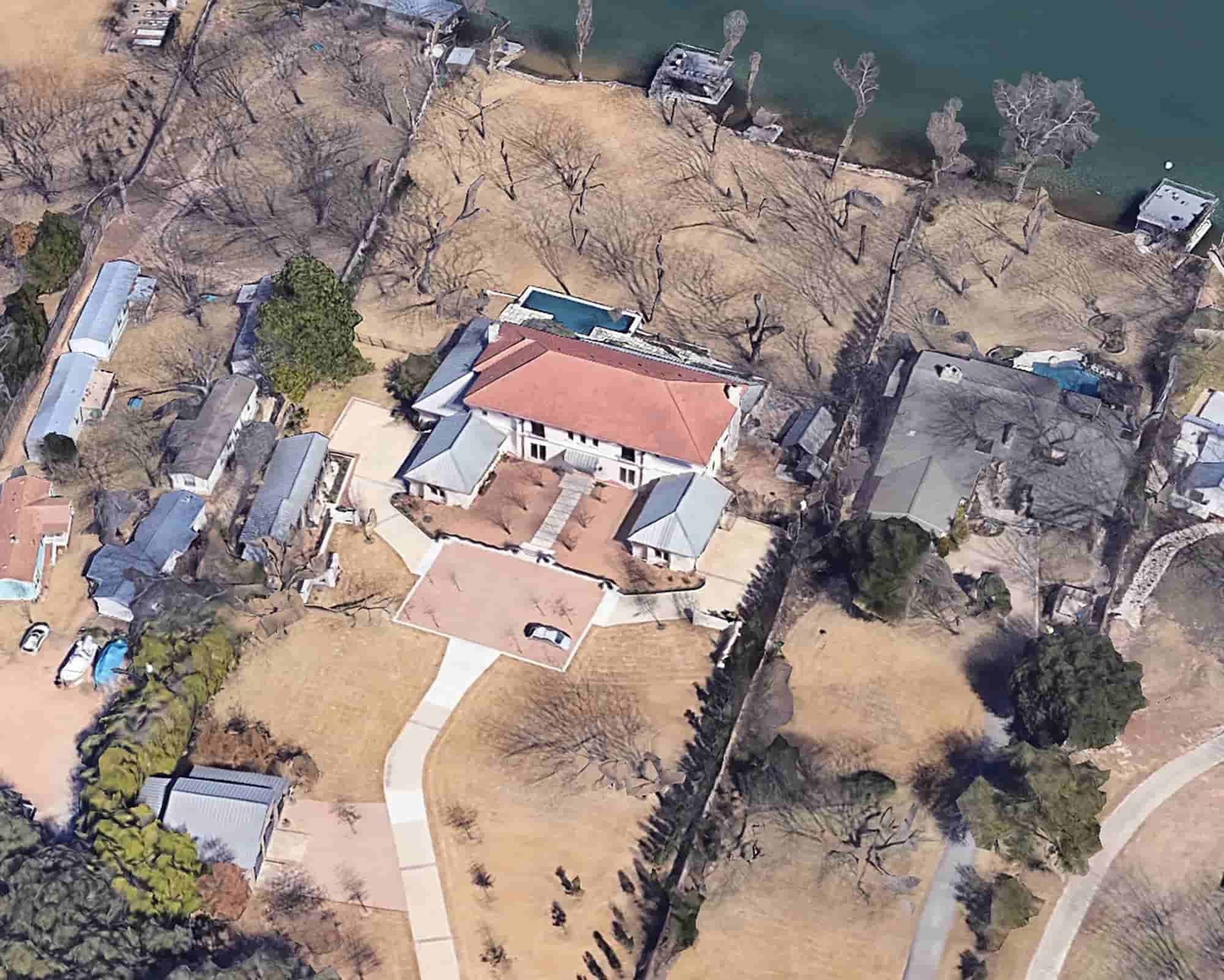 Joe Rogan's home (Source: Google Maps)
In addition, the area offers several outdoor activities, including hiking, biking, and fishing. Joe Rogan reportedly spent a staggering 14.4 million on this mansion in September 2020, making it one of the largest real estate purchases in the area of all time.
The neighborhood is already known for its high-priced homes, with a median house listing of 1.2 million. Joe Rogan's new home is among the most expensive in the area, with reports suggesting that he plans to further renovate the estate to his and his family's liking.
Joe Rogan's Multiple Properties in Bell Canyon
Prior to moving to Austin, Rogan lived in Bell Canyon, where he owned two properties. The first house was originally built in 1978 and has five bedrooms, five bathrooms, a large swimming pool, a spa, a games room, a gym, a media room, an office, and a meditation atrium. The house was put on the market in October 2020 for $3.2 million.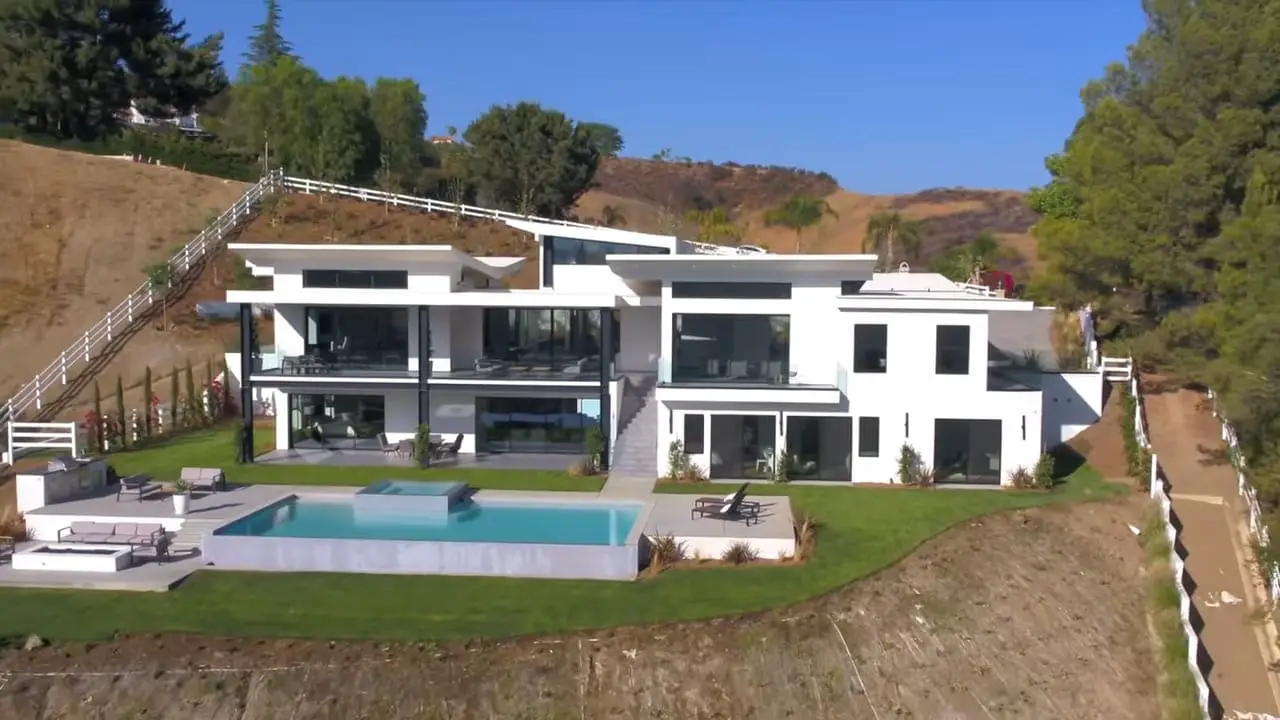 Joe Rogan's Bell Canyon house (Source: YouTube)
The second house was purchased by Rogan and his wife, Jessica Ditzel, for $4.95 million, which is significantly higher than the typical selling price of homes in the area.