Nestled in the heart of Land O'Lakes, Florida, John Cena's house stands as a testament to luxury and extravagance, providing a fascinating glimpse into the life of the wrestling icon beyond the ring. John Cena, the wrestling icon turned Hollywood star, has not only conquered the ring but also the real estate game with his stunning house in Land O'Lakes. Let's dive into the details of this impressive property and get a sneak peek into the lifestyle of the man who has been entertaining us for years.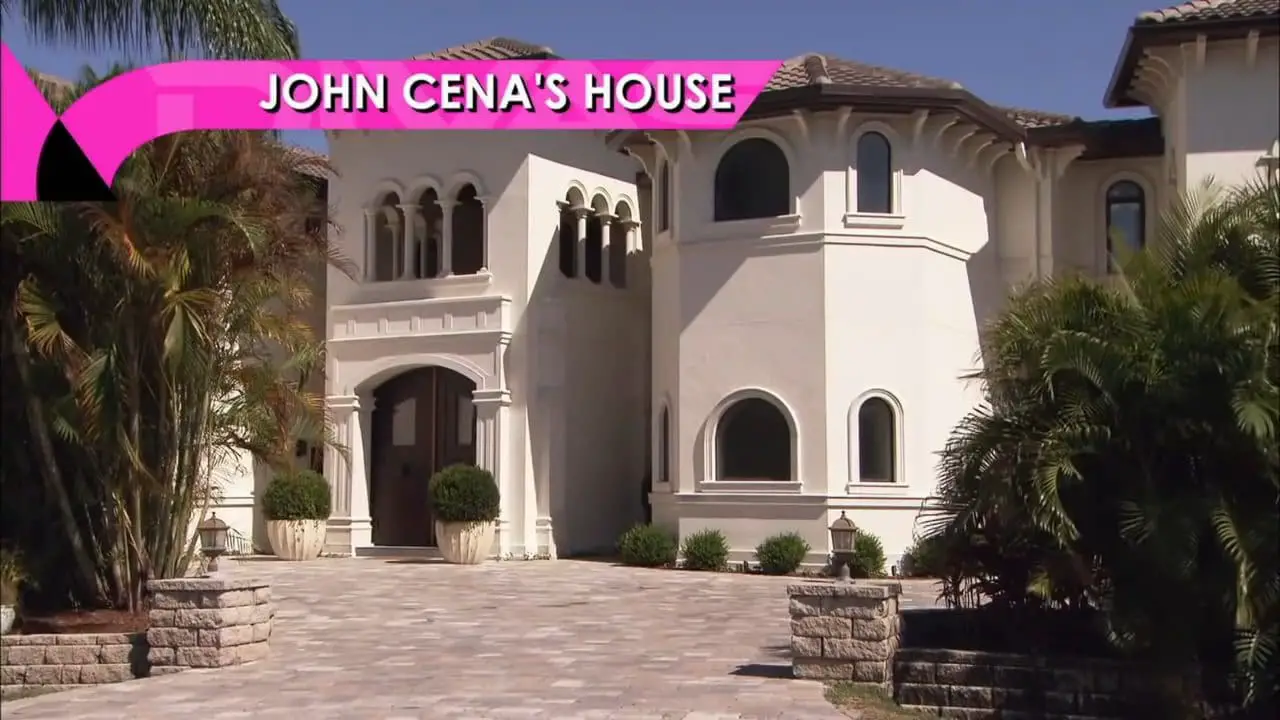 John Cena's house
Where Does John Cena Live Now?
John Cena lives at 2326 Camp Indianhead Rd, Land O' Lakes, Florida. Purchased in 2004 for a mere $525,000, this 3,704 square feet house built on 10,692 square feet of land has undergone a transformation that defies its humble beginnings, skyrocketing in value after Cena's meticulous renovations. The mansion, shrouded in secrecy, boasts five bedrooms and four bathrooms, a testament to the Champ's penchant for a life of luxury away from the wrestling ring.
John Cena's Contemporary House Interior
Beyond the front door lies a world of indulgence. The expansive two-story of John Cena's house welcomes you with a stunning chandelier, casting a warm glow on pristine white walls and a black-and-white marble floor, exuding elegance. Abundant natural light complements the inviting atmosphere.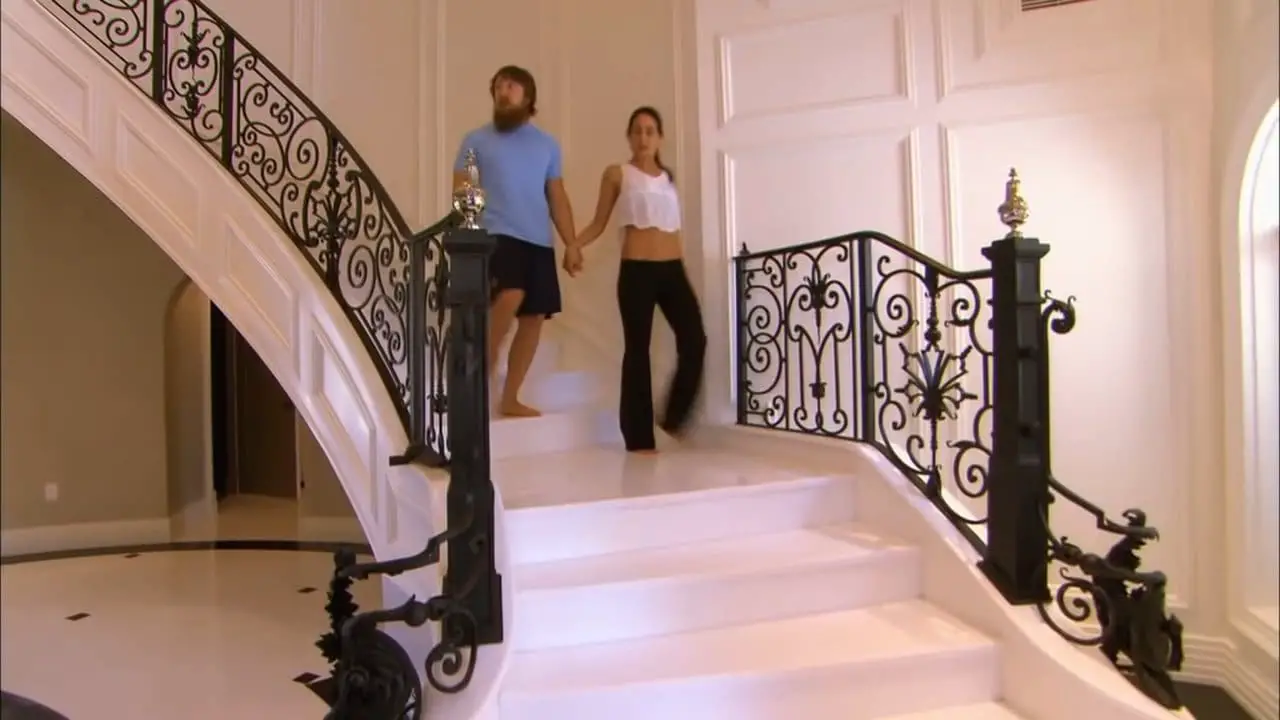 John Cena's foyer
The spacious living room boasts a high ceiling, lending an air of spaciousness and grandeur. A fireplace adds warmth and homeliness, while practical yet aesthetically pleasing furniture creates a cozy atmosphere. The neutral color scheme, light gray walls, and dark hardwood floor offer a calming backdrop, complemented by pops of color through artwork and accessories for vibrancy. Meticulously designed, the room features a large area rug, a central coffee table, and a vase, showcasing meticulous attention to detail.
John Cena's living room
The kitchen in John Cena's house features a large island at its center, topped with a white marble countertop that houses a sink and a vase of flowers, adding a touch of nature to the space. The kitchen cabinetry, painted in a pristine white, complements the gray backsplash, creating a harmonious color palette. A large range hood is a prominent feature, indicative of the functionality of the space. Two chandeliers hang above the island, casting a warm, inviting light throughout the room.
John Cena's kitchen
The dining room, with a table adorned with a white tablecloth and a centerpiece of red roses, adds a touch of color and sophistication. The traditional architectural style features a white ceiling with crown molding and a grand chandelier. Soothing light green walls provide the perfect backdrop for art pieces, while striking black and white geometric-patterned chairs add a contemporary touch. A patterned rug ties the room together, enhancing warmth and texture.
John Cena's dining area
One of the most captivating features is the Cigar Room, a haven for Cena and his gentleman guests. Bold black and red hues create a dramatic atmosphere with red velvet panels on the walls for a rich backdrop. A large red velvet couch anchors the room, complemented by a zebra print throw pillow for a touch of whimsy. A plush white fur rug adds warmth, and a black marble fireplace enhances luxury. A modern touch comes from a round glass coffee table, contrasting with traditional elements in this inviting space.
John Cena's cigar room
Let's discover John Cena's indoor pool, a dynamic landscape near his bedroom. The focal point is a large rock formation, adding natural ruggedness to the polished setting. A cascading waterfall brings movement and vitality, making the pool more than static. Three fountains contribute to a soothing auditory experience, creating a tranquil ambiance. Nestled among tropical plants, the pool becomes a lush oasis, enhancing the sense of privacy and relaxation.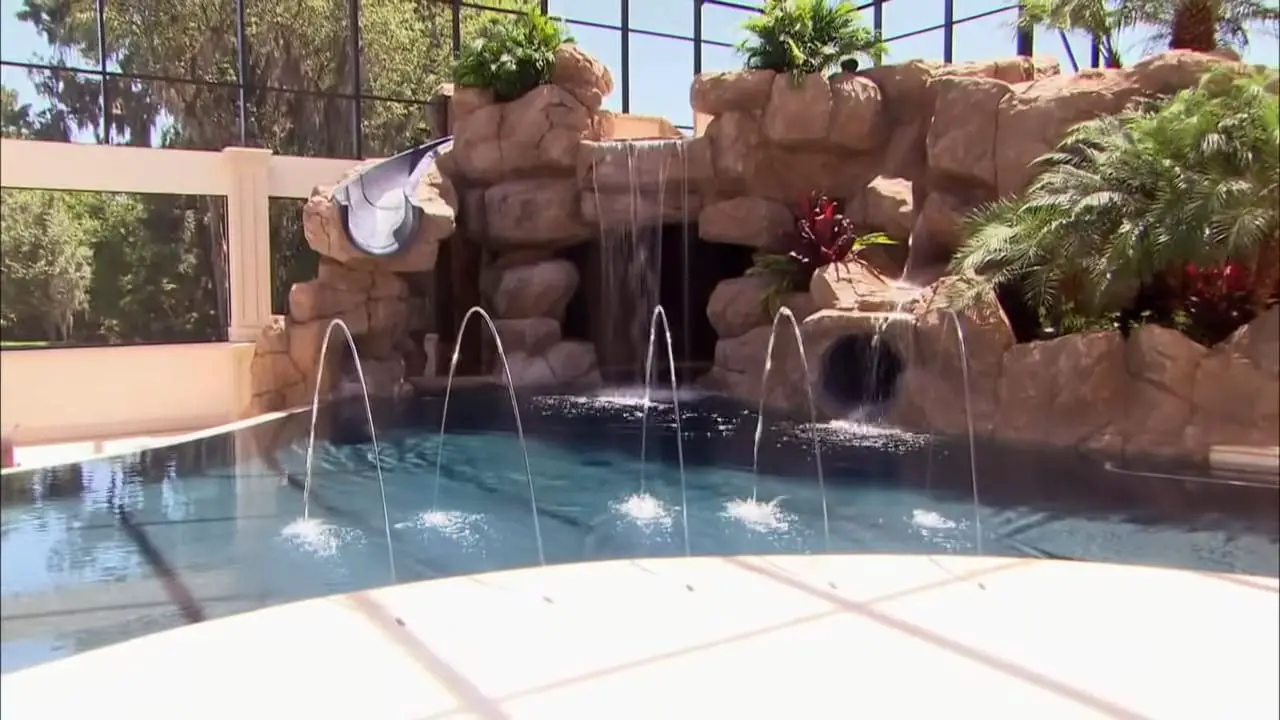 John Cena's indoor pool
John Cena's House Outdoor Area
Nestled in a nature reserve gated community in Tampa Bay, John Cena's residence harmoniously blends opulence with natural splendor. The meticulously curated garden offers tranquil green spaces for moments of serenity, strategically enveloped by the lush embrace of the nature reserve. Shaded retreats provide a respite from the Florida sun, while a substantial garage showcases Cena's luxury vehicle collection.
John Cena's outdoor area
The property includes a guest house, creating a carefully curated outdoor haven that seamlessly fuses natural inspiration with extravagant amenities. Cena's residence stands as a harmonious extension of the wrestling legend's larger-than-life persona in this exclusive nature reserve community.
John Cena's Neighborhood
Exploring the neighborhood around John Cena's house unveils not just a collection of luxurious residences but a celebrity enclave where the elite of Land O'Lakes reside. The camaraderie among Cena and his neighbors, including Anthony Becht and James Elmer Mitchell, creates a unique atmosphere of shared success and accomplishment. In this exclusive community, privacy is cherished, but the subtle connections among these high-profile residents add to the appeal of living in such a prestigious locale.
Other Houses Owned by John Cena
When it comes to other properties owned by John Cena, details remain elusive. The wrestling legend, known for guarding his privacy, has kept information about additional residences under wraps. As we focus on the main residence in Land O'Lakes, Cena's other properties remain a mystery, adding an air of intrigue to his real estate portfolio.