Kane Brown is an American country music singer and songwriter who has taken the music industry by storm. He has won numerous awards, including the Academy of Country Music Award for New Male Vocalist of the Year in 2018. His unique blend of country, pop, and R&B has earned him a large fan base. His songs have topped the Billboard Hot Country Songs chart multiple times and he has sold millions of albums worldwide. He is one of the most successful contemporary country music artists and his popularity continues to grow with each passing day.
As of 2022, his net worth is estimated at $8 million, which is why he was able to shell out a fortune for his home in Whites Creek, TN. In this post, we'll look at Brown's huge, wooded property and beautiful house.
Where does Kane Brown live?
Kane Brown is currently living in a luxurious 4,515 square feet home that sits on 30 acres of land. The property has 4 bedrooms, 3 bathrooms, and other amenities fit for his lifestyle. The property was bought in 2016 for $1.6 million. And it is located in the suburbs of Nashville, Tennessee, where Kane Brown grew up.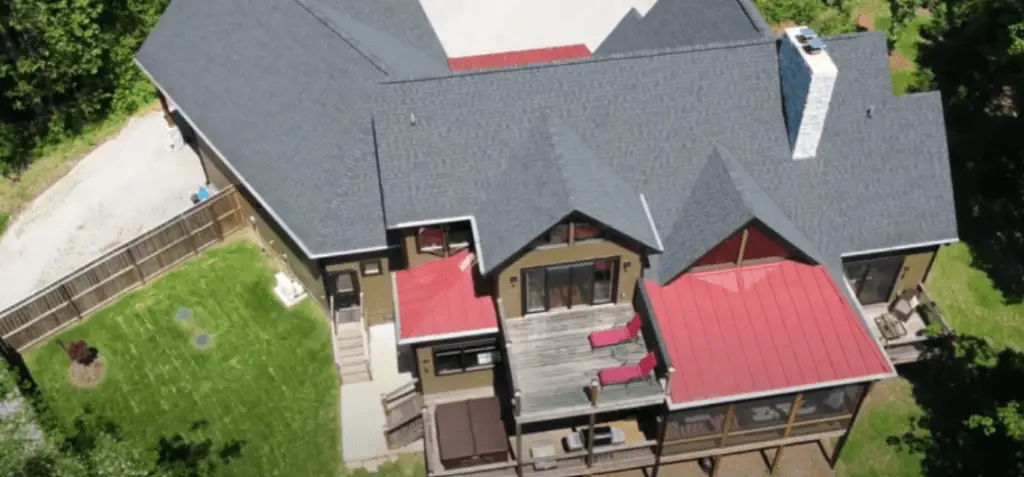 Kane Brown's House at Old Hickory Blvd, Whites Creek, TN 37189
Kane Brown's home is located at Old Hickory Blvd, Whites Creek, TN, one of Tennessee's affluent suburbs. The home is surrounded by acres of verdant forests and rolling hills, making it perfect for hiking, running, camping, and other outdoor activities.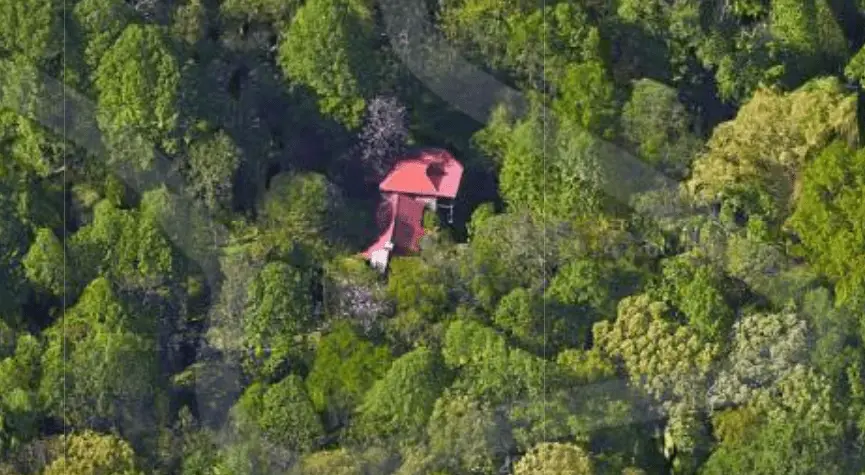 Top Features of Kane Brown's House Interior and Exterior
In this Kane Brown house tour, we'll look at Brown's interior and exterior home stylebook.
Much like the musician's genre, his home exudes an unmistakable country vibe. The home is constructed of a mix of wooden, concrete, and stone materials. Although there's a certain level of glam and luxury, Kane also tried to be minimal and elegant in his choice of decor and furnishings. He also opted to use Earth colors for both the outdoor and interior color schemes.
House Interior
Kane Brown's home interior is a beautiful blend of modern and rustic elements. Wooden beams are a feature in most areas of the home, adding an element of character and texture to the space. The home also comes with central AC and furnace heating, ensuring that the family stays comfortable throughout the year. For those cozy winter nights, there is also a wood-burning fireplace that adds warmth and ambiance to any room.
The study area is furnished with high-back chairs, a side table with drawers, and a study table. Like the other areas of the home, the flooring is made of hardwood.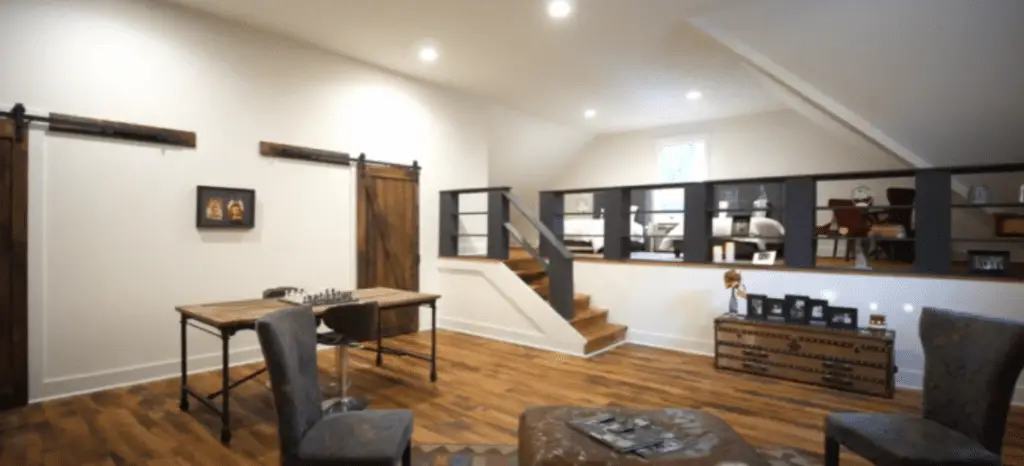 The kitchen features a t-shaped island with a sink, storage, and seating. Framed pictures and artworks flank both walls near the door.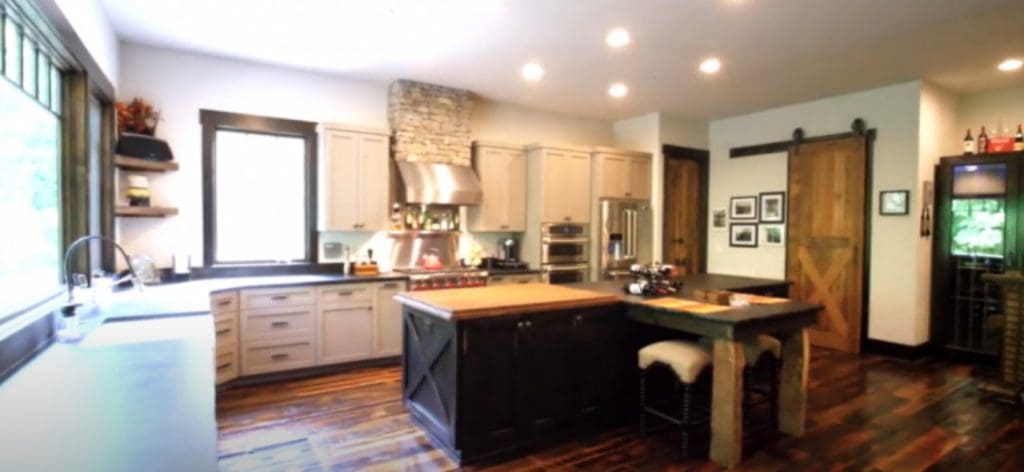 The family room is equipped with huge comfy seating (e.g., wingback chairs, stools, couches), which is arranged in front of the fireplace. Above the fireplace is a huge TV. The area is fitted with retractable glass doors and windows for those who'd like to enjoy the great outdoor scene.
The formal living area is connected to the dining area because of the open floor plan. This part of the house features exposed beams. Another set of framed pictures and articles is displayed near the stairs going to the 2nd floor.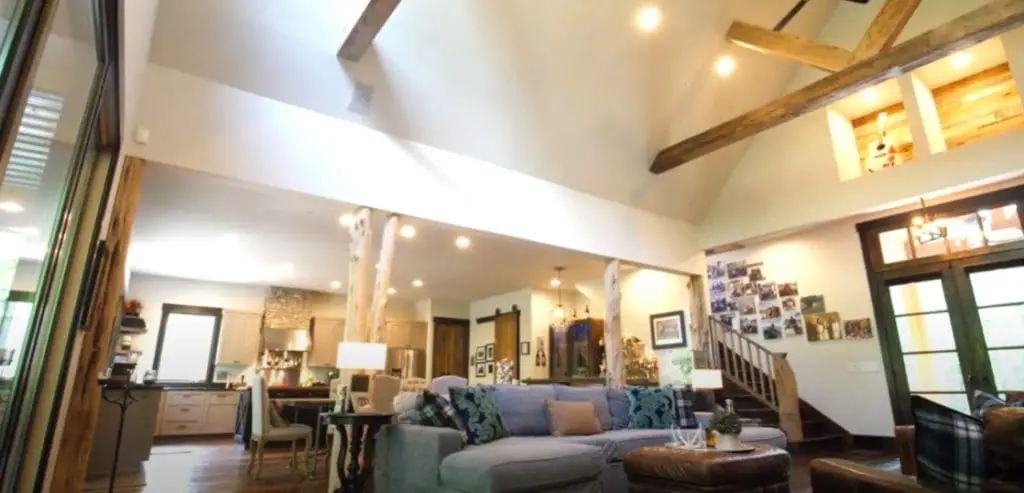 The dining area features a set of flowers on top of a rectangular, 6-seater dining table.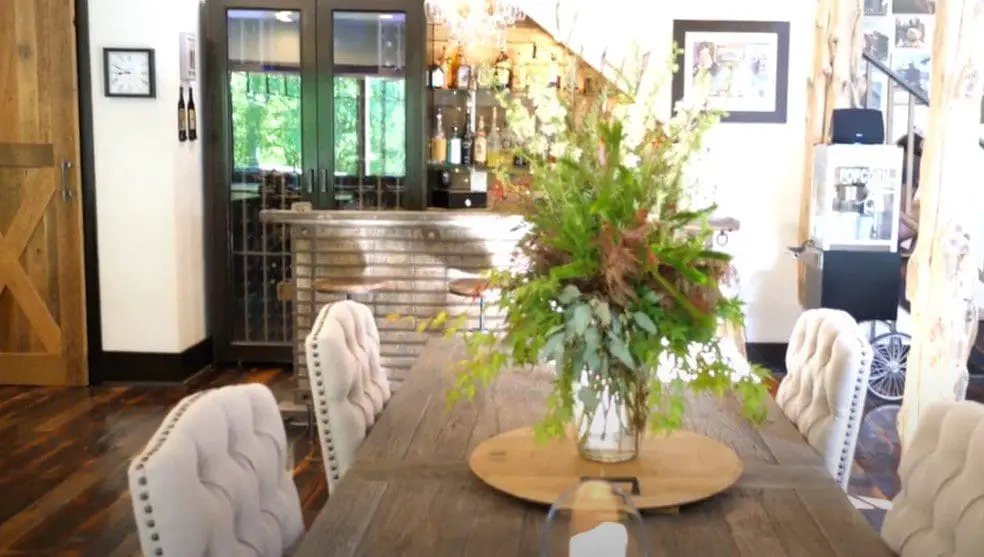 The main bath features a double sink and a glass-encased tub.
The main bedroom is decorated and furnished with linens and bed covers of shades of brown and other earth colors. The floor-to-ceiling retractable glass walls lead to the private balcony.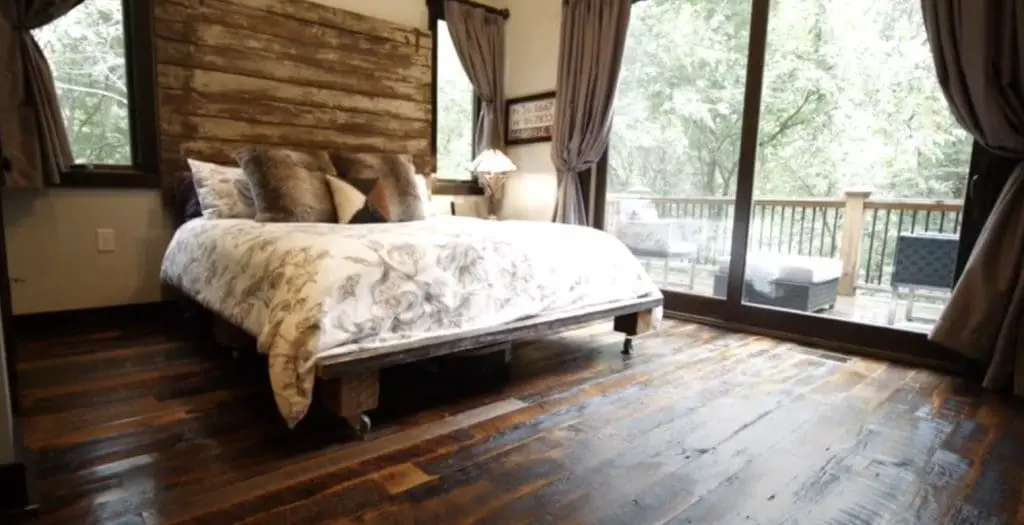 The Outdoor Area
Kane's exterior area is an ideal place for relaxation and entertaining. It features a covered front porch, perfect for enjoying the outdoors without worrying about the elements. Additionally, the screened-in back deck with a hot tub and a grill make it ideal for hosting parties or just spending quality time with family and friends.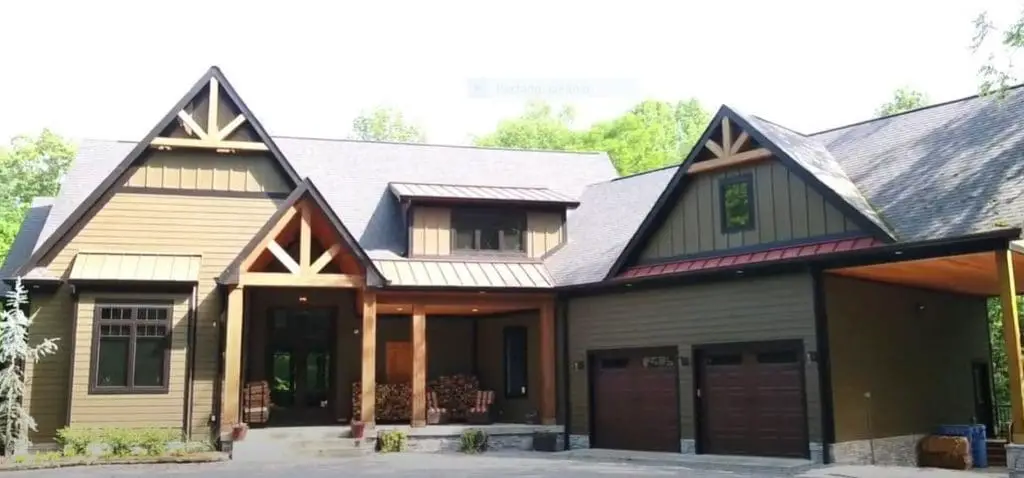 With its modern amenities and beautiful views, the exterior area of Brown's home is the perfect place to enjoy outdoor living at its finest. Aside from the amenities, Brown also has the luxury of having 25+ acres of wooded area to explore, be it on foot or an ATV. In fact, it was reported that he was lost in the forested area of his own property when he decided to do some exploration on the day that he moved in.
Other Features Added Through Renovations
With 30 acres of land at his disposal, Kane Brown certainly has a lot of renovation ideas. Currently, these home updates are in the works:
studio with a balcony that overlooks the family's huge swimming pool
a safe room
a playroom for their two children
a new bedroom for Kingsley
a new garage
The Neighborhood Near Kane Brown's Property
Although it is one of Davidson County's smallest suburbs, Whites Creek takes pride in its historic roots. Also called "Cowboy Town," it is home to some of the well-preserved historic and architectural structures of Middle Tennessee's cowboy era. Kane's home itself was previously owned by country music hitmaker and Grand Ole Opry member Terry Clark.
The Fontanel Mansion is among the top attractions in Whites Creek. It is one of the world's largest log homes. Aside from the Fontanel Mansion, the Music City Center is also a great place to drop by. Visitors might also like to visit the Bridgestone Arena, the site of some of the biggest acts in folk and country. The Ryman Auditorium is also worth a visit. It features over 100 years of entertainment history and performances by both internationally acclaimed and emerging artists.