Kevin Hart is one of Hollywood's top billed comedic actors. With an estimated net worth of USD 200 million, a lot of his fans and the public wonder where exactly a top billed comedian would call home. Or better yet, how does Kevin Hart's house look like?
Where Does Kevin Hart Live Now?
Like most A-list celebrities, Kevin Hart worked his way out of his hard upbringing to a lifestyle that many would often dream of. But beneath all that, all he ever wants is to provide a place for his family to feel safe and grow. Initially living in Tarzana, California, he had the unfortunate experience of being robbed in what should have been his safe haven.
This motivated his decision to purchase a 26-acre lot in a gated community in Calabasas, California, where he currently lives with his wife Eniko Hart and his 4 children. According to property records Kevin bought the land in 2015 for $1.35 million.  While there is little information about the aforementioned community, it can be said that it is on the outskirts of California, in a cul de sac street, and is surrounded by steep hillsides, where Hart built his home. Construction started in 2017 and Kevin spent around $5 million to complete his villa.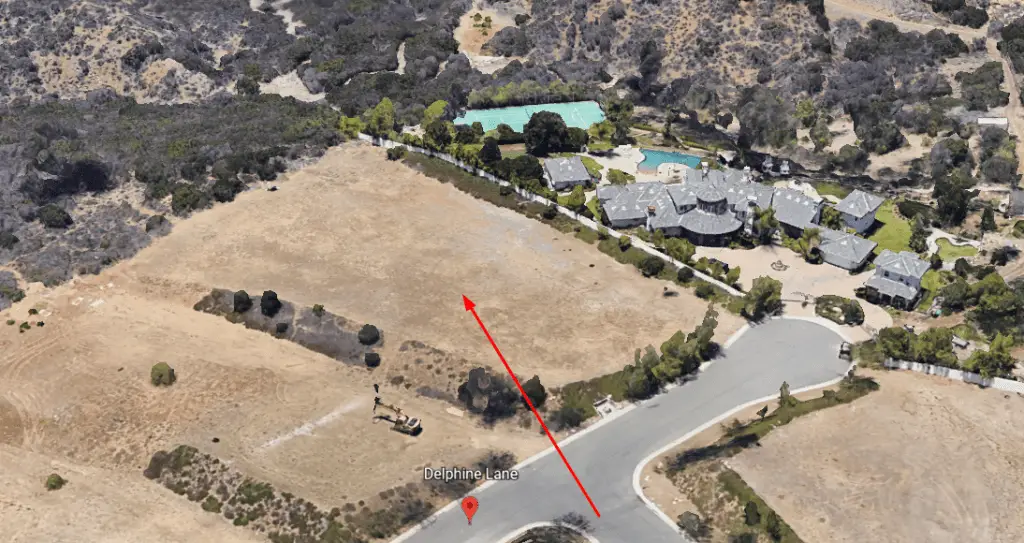 And if that wasn't impressive enough, Hart decided to expand his property and purchased the next door house and lot, giving him a grand total of 42 acre compound with the main house being 9,500 sqft and the next door house being 9,300 sqft. Below is an areal view and the front of the house next door that Kevin bought recently. The house with the tennis court at the back is the house that Kevin bought for a reported $7 Million.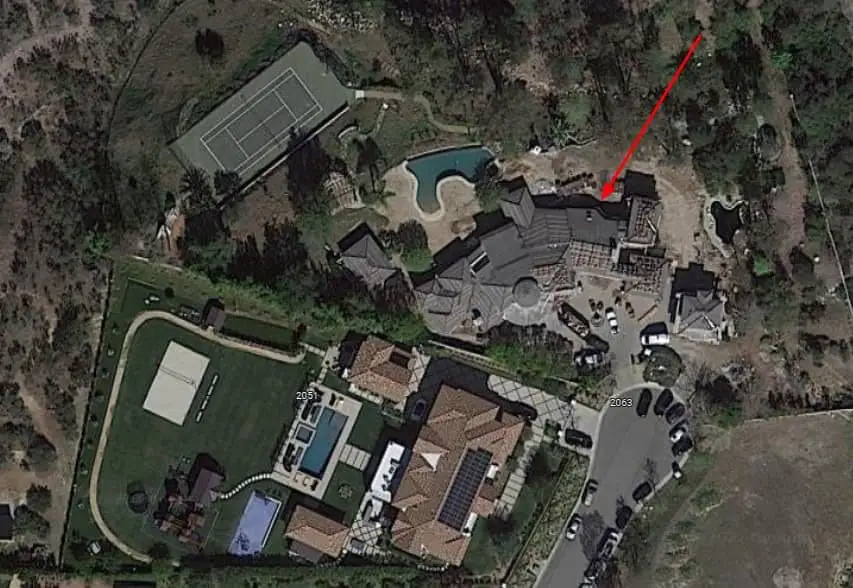 Kevin Hart's House Style
While Kevin Hart's main house exterior has elements of a quintessential Mediterranean villa, it utilizes a more modern streamline with its wide windows and sliding doors; designed to allow both natural sunlight and fresh air when needed.  Like every modern home, Kevin opted to have the exterior painted white.
This not only gives off a clean look, but it also reflects the heat of the California sun; giving off a somewhat cooling effect.  Kevin also chose a no frills neutral color scheme with the intention that it will be his family and the surrounding environment that will give the home a more pleasant aesthetic.
Interior Details
While most modern homes will have white tiled floors, Kevin decided to have hardwood flooring. Not only does it give off a warm, comforting feeling, it is also quite easy to maintain. In keeping with the exterior's overall modern look, the walls are painted white, making the interior taller and bigger than it was. 
To break the monotony, there are several exquisite wall art installations all over key areas. And with high ceilings fixed with modern lighting fixtures, you can be sure that the comedian and his family enjoy a good laugh or two echoing all over the house.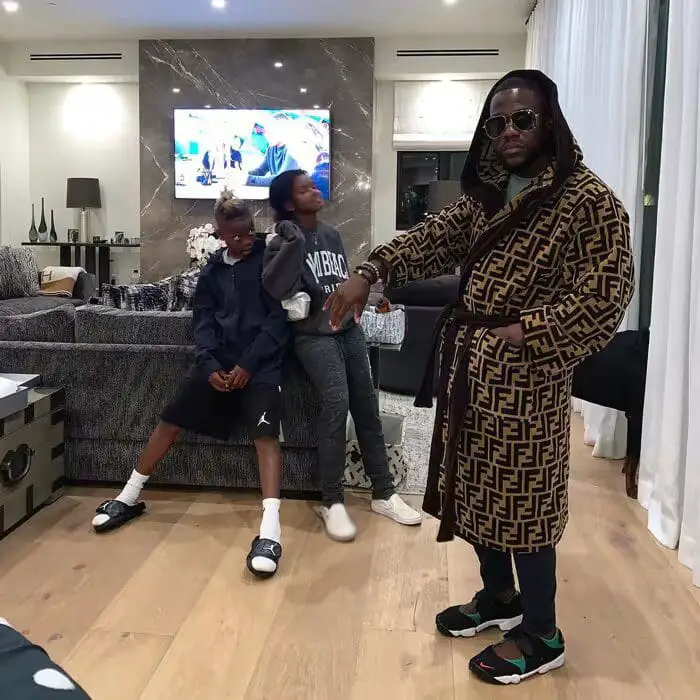 Living Room
Kevin Hart's living room speaks entirely on entertaining in a more modern and intimate setting. One can find a large grey modular sofa fronting a gray marble accented wall where a smart TV is mounted. In the center is a large coffee table perfect for displaying coffee table books and holding popcorn and soda during movie nights. To break the monochromatic hues of grays and whites, the Harts have placed uniquely pattern pillows on the sofa along with a comfortable afghan blanket for cozying up during cold nights.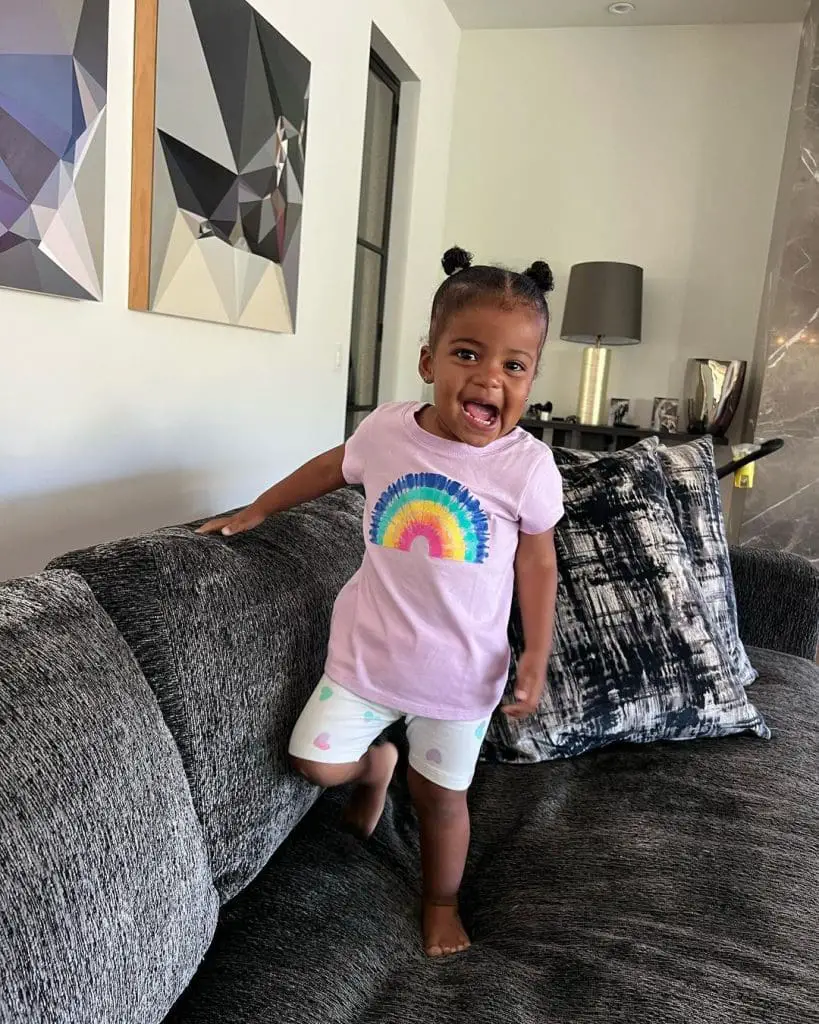 Kitchen and Dining
It is without saying that Kevin Hart is quite big on family dinners. So much so that his dining room has a large polished wood dining table that can sit up to 10 people accompanied with gray upholstered contemporary chairs that are both elegant and comfortable.  And speaking of home cooked meals, the family is extremely proud of their modern kitchen outfitted with every possible appliance once can use for crating lavish dinners.
The kitchen cabinetry utilizes white quartz counters, polished teak wood doors and stainless handles; providing a uniformed look.  An island counter stands across the kitchen where black stools are placed for when Kevin and his family will have bonding time preparing meals or simply having breakfasts on the go.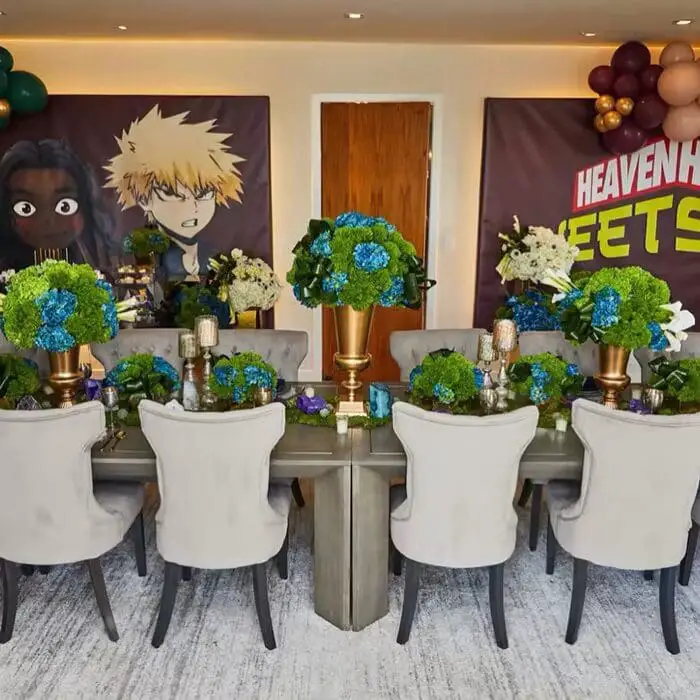 Gym and Pool
Perhaps a thing that most people don't know is that the comedian is big into fitness. In fact, he allocated a space in his home dedicated entirely to being active and fit. Kevin has not one but two swimming pools on his property. One is located in his cabana and even has a Jacuzzi in the center, perfect for swimming during the hot summer days. The other serves as the indoor swimming pool located just above his pool house.
And next to his cabana is his personal gym outfitted with workout equipment and rubberized flooring to make moving around easy and convenient. The gym's floor to ceiling glass windows provide not only the right amount of natural sunlight and air, but also a means for Kevin to watch over his family whenever they are relaxing in the backyard or playing in the playground.
Lawn and Backyard 
And speaking of being active, Kevin also created a beautifully landscaped backyard with custom made all weather furniture, cabana lounges and even has volleyball and basketball courts constructed. There is also a small fire pit ready for outdoor barbecues or nightly camping and even a custom made outdoor dining set made up of swings where he and his family can dine and relax.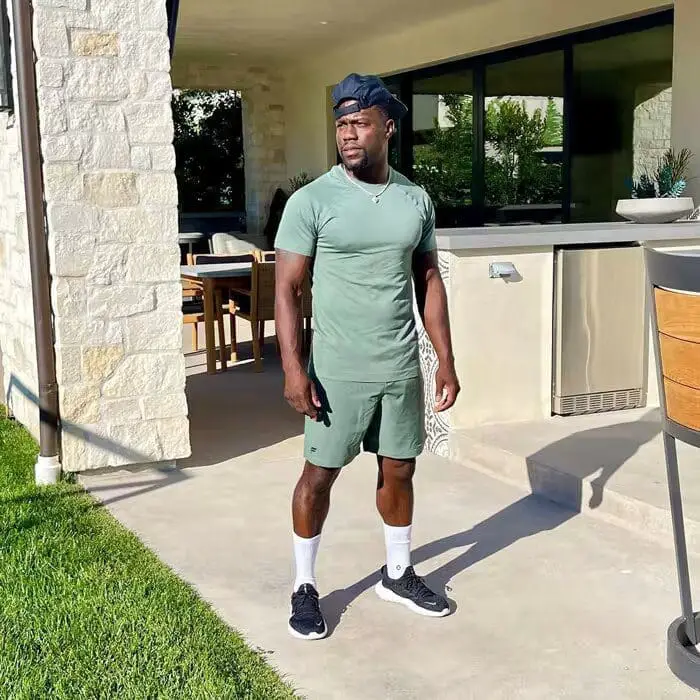 The Second House Next Door 
Kevin's second house next door, which serves as a 'spare' house for the family's use, has a distinctly classic Mediterranean look with its beige wall color and shingle tiled roofs. Similar to the main house, it has 6 bedrooms , 6 bathrooms, a large living room with wide windows and a cozy fireplace; a white contemporary kitchen with white stone countertops, a wine cellar in the basement and even a luxurious dining room.
The exterior grounds boast of an infinity pool which has a grotto and a waterfall, a koi pond and even a well landscaped and fully furnished backyard that would make anyone want to enjoy the outdoors more often than not.
Kevin Hart also owns a tiny house. You can read more about it on this post https://strangebuildings.com/kevin-hart-house-details-and-photos/