Luke Shaw, the talented English professional soccer player, has been making headlines not only for his exceptional skills on the field but also for his extravagant lifestyle. In this article, we delve into the details of Luke Shaw's stunning house, offering a glimpse into the opulent residence where he resides.
Luke Shaw's house (Source: RIGHTMOVE)
Where Does Luke Shaw Live Now?
Luke Shaw's primary residence is nestled in the beautiful city of Manchester, England. Although the exact address is not publicly available, it is known that his magnificent house is situated in an upscale neighborhood, reflecting his immense success in the world of soccer.
Luke Shaw's Contemporary House Interior
Sprawled across a vast half-acre plot, this lavish estate boasts a staggering 6,000 square feet of sheer luxury. Built in 2015, the residence showcases exquisite design elements and soaring windows that flood the interior with natural light.
Luke Shaw's interior (Source: RIGHTMOVE)
The three-story dwelling offers an array of amenities designed to cater to the most discerning tastes. Step inside, and you will find yourself enveloped in an atmosphere of grandeur. The under-floor heating system ensures optimal comfort throughout the home.
Luke Shaw's living area (Source: RIGHTMOVE)
Ascending the traditional staircase, adorned with a neutral color palette of whites and beiges, one reaches the master bedroom.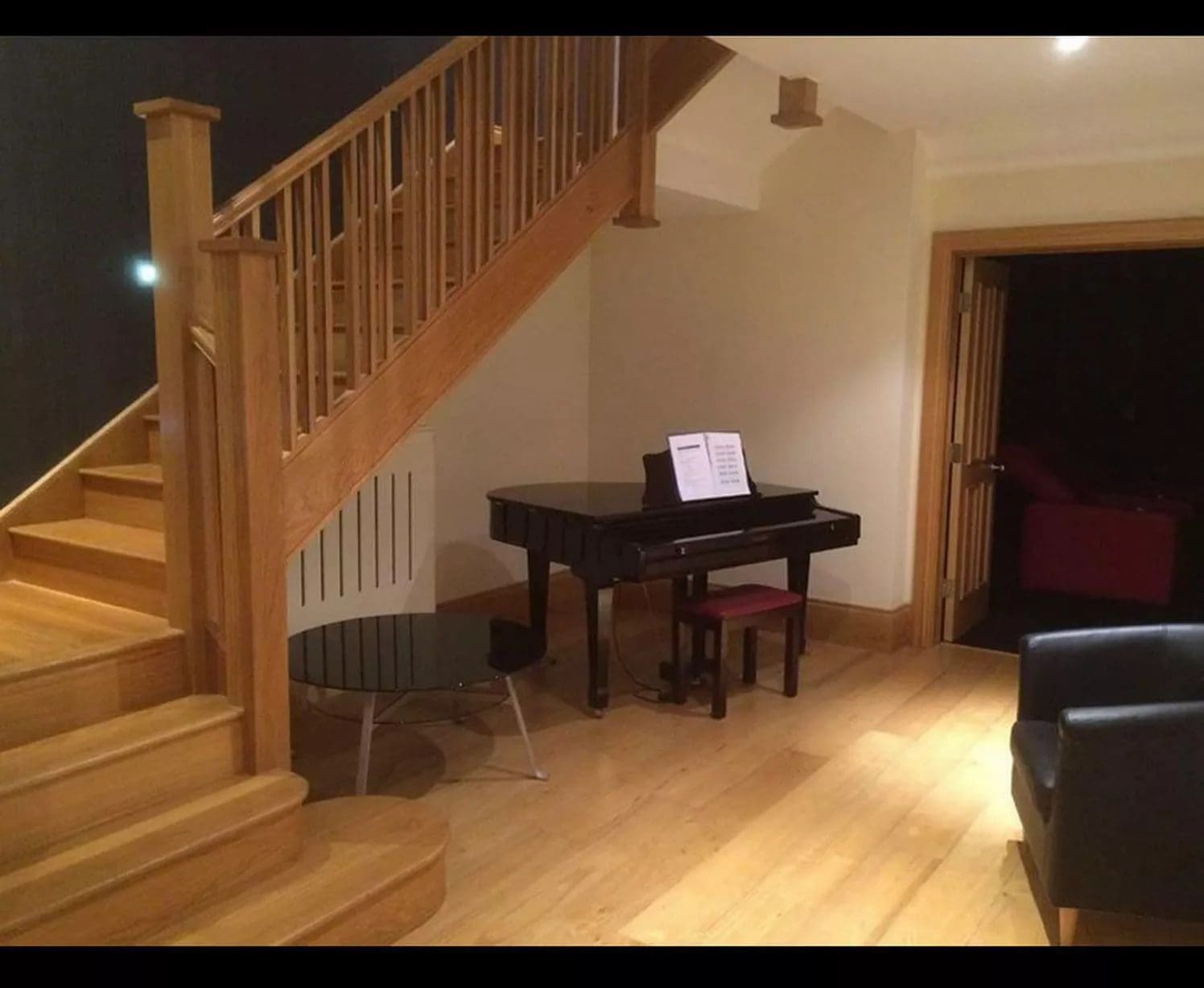 Luke Shaw's interior (Source: RIGHTMOVE)
Here, a spacious dressing room and an en-suite bathroom provide an oasis of tranquility and indulgence. The third level presents a unique opportunity for customization.
Luke Shaw's bedroom (Source: RIGHTMOVE)
Currently comprising an en-suite bedroom, study, and sitting room, this floor can be effortlessly transformed into a lavish penthouse suite, offering unrivaled panoramic views and an unrivaled sense of seclusion.
Luke Shaw's study room (Source: RIGHTMOVE)
With black granite worktops complementing the gray walls, and an expansive L-shaped sofa in the same elegant hue, this modern space is perfect for leisurely relaxation.
Luke Shaw's living area (Source: RIGHTMOVE)
Beyond the living area, the dining room seamlessly flows from the hallway, creating an atmosphere of effortless grace and charm. This residence leaves no stone unturned in providing an unparalleled experience of luxury and comfort.
Luke Shaw's kitchen (Source: RIGHTMOVE)
Venturing further into this hidden gem, one discovers an array of additional amenities that elevate this property to the realm of extraordinary. A fully equipped gym invites residents to pursue their fitness goals within the comforts of their own home.
Luke Shaw's gym (Source: RIGHTMOVE)
A pool table, strategically placed near the doors leading to the exquisite back garden, offers entertainment and friendly competition.
Luke Shaw's pool (Source: RIGHTMOVE)
A state-of-the-art cinema, complete with plush recliner chairs, guarantees an immersive movie experience.
Luke Shaw's cinema (Source: RIGHTMOVE)
To cap it off, an indoor swimming pool beckons residents to take a dip and bask in the ultimate relaxation, accompanied by a luxurious jacuzzi.
Luke Shaw's House Outdoor Area
The outdoor area of Luke Shaw's residence is nothing short of spectacular. The sprawling grounds boast meticulously manicured gardens, offering a serene escape from the bustling city life. It provides an ideal spot for relaxation and leisure, where Shaw can unwind and enjoy his downtime.
Luke Shaw's house (Source: RIGHTMOVE)
Luke Shaw's Neighbors
Luke Shaw's residence is nestled in a prestigious neighborhood that attracts various high-profile individuals. For example, Manchester United and City stars Raheem Sterling, John Stones and Kyle Walker, Harry Maguire, Marcus Rashford, Luke Shaw and Liverpool and Everton players Jordan Pickford and Jordan Henderson.
Luke Shaw's neighborhood (Source: Google Maps)
Other Houses Owned by Luke Shaw
While Luke Shaw's primary residence takes center stage, it is worth noting that his dedication to his current home is unmatched. As far as available information suggests, Shaw has focused his attention on a single residential property, devoting his time and resources to creating a truly remarkable abode.